Raspberry White Chocolate Chip Ribbon Cookies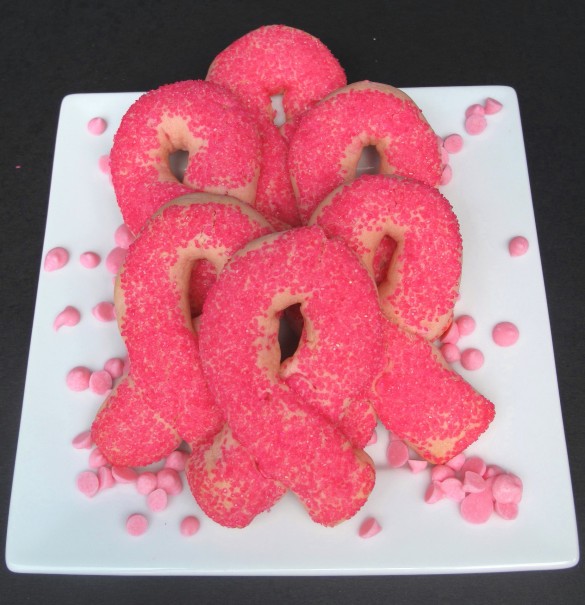 Author:
Wendy Sondov / themondaybox.com
2 ¼ cups all-purpose flour
1 ¼ teaspoons baking powder
¼ teaspoon salt
1 tablespoon raspberry jello powder
½ cup butter**, room temperature
1 cup confectioner's sugar
1 large egg
2 tablespoons water
1 teaspoons vanilla extract
½ cup white chocolate chips (colored or plain)
2-3 tablespoons pink decorative sugar (optional) for coating or sprinkling
**Desert-safe adaptations: Use vegetable shortening instead of butter.
Preheat oven to 375 degrees F. and line a baking sheet with parchment paper.
In a medium bowl whisk together flour, baking powder, salt, and jello powder.
In the bowl of an electric mixer, cream butter and sugar until light and fluffy.
Lower mixer speed and add egg, water, and vanilla extract, mixing thoroughly between additions.
Slowly add dry ingredients until combined.
Fold in white chocolate chips.
Using a medium scoop (2 tablespoon size) or tablespoon, scoop dough and roll into balls.
To form cookie: Mush a ball a few times in your hand to make dough smooth and evenly distribute chips, then roll out on counter into an 8" snake. Gently fold dough snake into an upside down "u". Cross left side over the right leaving an open loop at the top.
If coating in decorative sugar, pour some sugar onto a plate. Place the shaped dough, top side down, onto the sugar. Press gently with your palm to slightly flatten the dough and imbed the sugar.
Gently move formed dough ribbons onto prepared baking sheet, placing 1" apart.
If sprinkling with decorative sugar, sprinkle now.
Bake for 11-13 minutes until cookie is golden brown. ( If mailing, slightly underbake no more than 11 minutes.) Cool on wire racks.
When completely cool, store at room temperature in airtight container or ziplock bag for 2-3 weeks.
With bottoms together, wrap pairs of cookies in double plastic wrap then place in airtight containers or ziplock bags for mailing.
Recipe by
The Monday Box
at https://themondaybox.com/2013/06/raspberry-white-chocolate-chip-ribbon-cookies/