Chocolate Covered Graham Crackers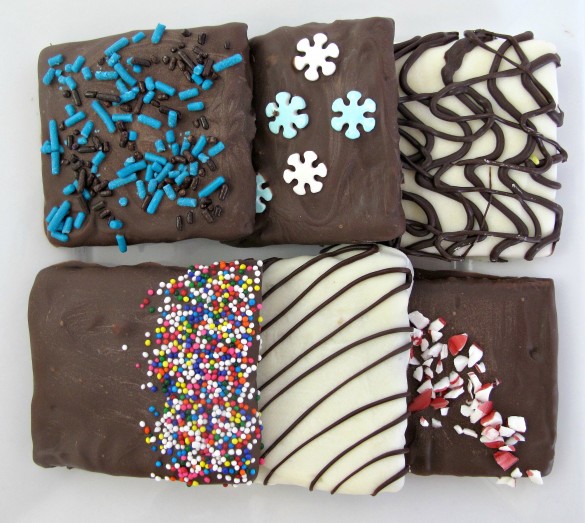 Author:
Wendy Sondov / themondaybox.com
12 graham crackers ( regular and/or chocolate) each cracker broken in half into 2 squares
2- 12 ounce bags chocolate melts (I used Ghirardelli)
Decorations: another bag of chocolate melts, sprinkles, crushed peppermint candy, crumbled cookies
Cover two cookie sheets with wax paper.
In a shallow bowl wider than the grahams, melt the candy/chocolate wafers in the microwave at medium power for one minute. Stir. If not completely melted, return to the microwave an heat for 15 second intervals until melted.
Place a graham cracker into the bowl of chocolate. Using two forks, press the cracker into the chocolate then turn it over to coat the underside.
Using a fork, lift the coated graham, scrape excess coating back into the bowl, and place the graham onto the prepared cookie sheet.
While the coating is still melted, add sprinkles or texture.
Repeat until the first cookie sheet is full then place in the refrigerator for 10-15 minutes to set the coating. The candy melts must set in the refrigerator and not at room temperature in order to dry slightly shiny.
Complete coating the remaining graham crackers, placing onto the second cookie sheet, and refrigerate to set.
To decorate with contrasting or same color drizzle, in the microwave melt candy/chocolate wafers in a small ziplock bag. Cut off a tiny bit of a bottom corner of the bag and drizzle onto the set surface of a coated graham cracker. Refrigerate again to set the drizzle.
When all of the coating and decoration has hardened, wrap the grahams individually in plastic bags or plastic wrap. Store in an airtight container at room temperature for at least 2-3 weeks.
Pack the individually wrapped crackers closely in a box or tin to prevent movement while shipping.
Recipe by
The Monday Box
at https://themondaybox.com/2013/11/chocolate-covered-graham-crackers/