Snickers Biscotti and Military Care Package #1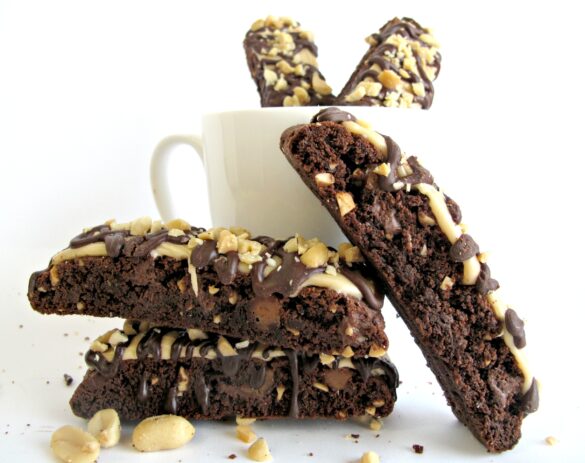 Author:
Wendy Sondov / themondaybox.com
Adapted from:
Alice Medrich's Chewy Gooey Crispy Crunchy
Biscotti Ingredients:
2 cups all-purpose flour
½ cup unsweetened Dutch-process cocoa powder
½ teaspoon salt
Note: If you use natural cocoa powder instead of Dutch-process , use ½ teaspoon of baking soda instead of the baking powder.
2 teaspoons baking powder
4 ounces semi-sweet chocolate, chopped or broken into small pieces
8 tablespoons (1 stick) butter, room temperature
1 cup granulated sugar
2 large eggs
2 teaspoons vanilla extract
½ cup semi-sweet chocolate chips
½ cup caramel bits (or caramel cubes chopped in 4-6 pieces each)
½ cup chopped peanuts (salted or unsalted according to taste)
Icing and Drizzle Ingredients:
2 cups confectioners sugar
1 cup (about 24) unwrapped caramel cubes
2 tablespoons milk
4 ounces semi-sweet chocolate, broken into small chunks
½ cup chopped peanuts
Pre-heat oven to 300 degrees F. Line a baking sheet with parchment paper.
In the bowl of a food processor, combine the flour, cocoa, salt, baking powder, and chopped chocolate. Pulse until the chocolate is ground into the flour mixture. (Running the processor continually rather than pulsing will create too much heat and will melt the chocolate instead of finely grinding it.)
In the bowl of an electric mixer, cream together the butter and sugar.
Mix in the eggs and vanilla.
Gradually add the flour mixture just until combined.
Stir in the chocolate chips, caramel bits, and peanuts.
Divide the dough in half and form two logs about 14" x 2". Place on baking sheet at least 4" apart. The logs will spread.
Bake for 30-35 minutes. Logs should be firm but not hard.
Cool on a wire rack for 30 minutes. Leave the oven on.
On a cutting board using a serrated knife, cut each loaf into ¾ -1 inch slices. (If the slices are crumbling, let the loaf cool a little longer.)
Stand the slices, ½ inch apart, on a parchment lined cookie sheet. Bake for 30 minutes until the surface of the cookies is dry ( though, the chocolate chips and caramel bits will be gooey).
Cool completely on a wire rack before icing.
FOR ICING: Carefully melt the caramel cubes in a microwave safe bowl at medium power. Heat for 30 seconds, remove and stir. Continue to heat for 10 seconds then stir, until the caramel is completely melted. Be careful. Melted caramel is extremely hot.
In the bowl of an electric mixer with the whisk attachment, combine the confectioners sugar, melted caramel, and milk until smooth and spreadable. If the icing is too thick, add tiny amounts of additional milk until the desired consistency is achieved.
Use a butter knife or off-set spatula to spread the icing over the tops of the biscotti.
Place the chocolate chunks in a zip lock bag and microwave at medium heat for about 30 seconds until completely melted.
Cut a tiny piece of one bottom corner from the bag, then pipe zigzags over the caramel frosted biscotti.
Immediately sprinkle with chopped peanuts.
Allow to set firmly (at least 2 hours) before wrapping or storing. Stored at room temperature in an airtight container, Snickers Biscotti stay fresh for up to 3 weeks.
Wrap pairs of biscotti in plastic wrap, cut sides together. Store in an air tight container or zip lock bag. Snickers Biscotti travel well in cool weather. Do not send frosted biscotti in hot weather.
Recipe by
The Monday Box
at https://themondaybox.com/2014/03/snickers-biscotti/