Honey Graham Sandwich Cookies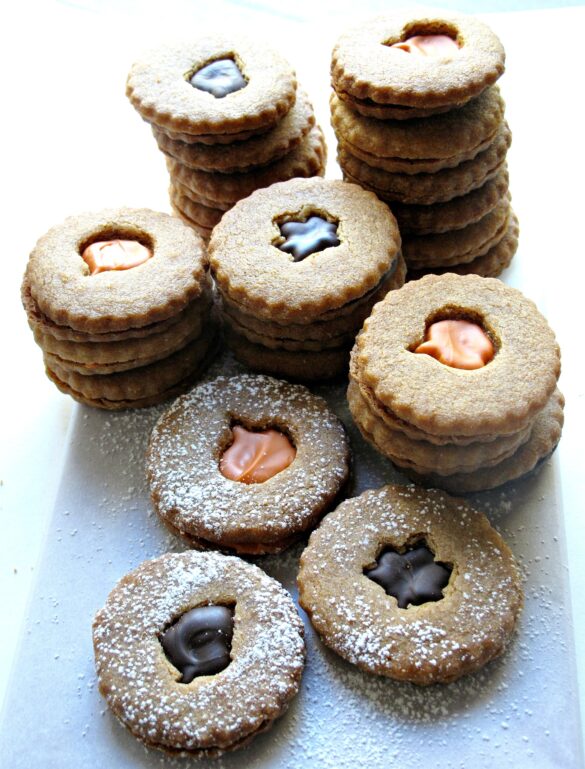 Author:
Wendy Sondov / themondaybox.com
Adapted from:
Betty Crocker's Cookie Book, 1999
Makes:
24 sandwiches (48 individual cookies)
1 cup vegetable shortening or butter
½ cup brown sugar, packed
¼ cup honey
2 cups whole wheat flour
½ teaspoon baking powder
¼ teaspoon salt
For sandwich filling: 1-1 ½ cups melting chocolate or flavored candy discs
Preheat oven to 375˚F. Line a baking sheet with parchment paper.
In the bowl of an electric mixer, cream together shortening/butter, brown sugar, and honey.
Mix in flour, baking powder and salt.
Roll out dough between sheets of parchment or waxed paper to ⅛" thickness.
Cut out shapes (circle, square, oval, rectangle) with 2 ½" cookie cutter and place on the prepared baking sheet about 1" apart.
Bake for 7-9 minutes or until edges are firm.
Allow to cool on the baking sheet until just cool enough to touch, about 2-3 minutes, then use a mini cookie cutter to cut shapes out of the center of half of the cookies. These will be used as the top cookies for the sandwiches.
Cool on the baking sheet for 5-10 minutes before transferring to a wire rack to cool.
When the cookies are completely cool, melt the chocolate or candy discs in the microwave or over a double boiler. Flip over the solid cookies (without cut-outs) so that the bottom is facing up. Spread about ½ teaspoon of the filling onto a solid cookie not quiet to the edge. Gently press a cut-out cookie on top.
Place the filled sandwiches on a baking pan, and refrigerate for 5-10 minutes or until the filling is set.
Store in an airtight container at room temperature for at least 7 days.
Double wrap pairs of cookies (with bottoms together) in plastic wrap, then place in an airtight container or zip lock bag. Due to the filling, these sandwich cookies should be shipped only during cool weather. The individual graham cookies without filling can be mailed year round.
Recipe by
The Monday Box
at https://themondaybox.com/2014/10/honey-graham-sandwich-cookies-and-military-care-package-5/