Cranberry-Clementine Whole Wheat Quick Bread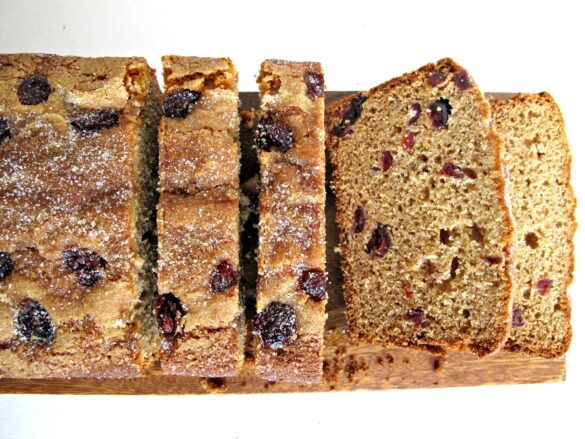 Author:
Wendy Sondov / themondaybox.com
Adapted from:
"The Blue Ribbon Country Cookbook" by Diane Roupe
Makes:
1 large loaf or 4 mini loaves
1 cup craisins, plus 1 tablespoon for decoration
1 ½ Cups all-purpose flour
¾ cups whole-wheat flour
1 teaspoon baking powder
1 teaspoon baking soda
¼ teaspoon salt
1 teaspoon cinnamon
½ teaspoon ginger
½ cup unsalted butter, melted
⅔ cup granulated sugar, plus 1 tablespoon for decoration
¼ cup honey
1 large egg, room temperature
1 tablespoon clementine zest
⅓ cup clementine juice
⅔ cup buttermilk
Preheat oven to 350˚F. Lightly butter 1 large 5"x 9" loaf pan or 4 mini-loaf pans on the bottom and only 1" up the sides.
In a large bowl, whisk together the flours.
In a medium bowl, toss the craisins and 2 tablespoon of the combined flours to coat. Set aside.
To the bowl with the remaining flour, add baking powder, baking soda, salt, cinnamon, and ginger. Whisk to combine.
In the bowl of an electric mixer, cream together the melted butter, sugar, and honey. Add the egg and the zest and beat at high speed for at least 3 minutes until light and very fluffy.
Gradually alternate adding the liquids (clementine juice and buttermilk) and flour mixture one fourth at a time, just until combined. Fold in the craisins
Spread the batter into the prepared pan, smoothing the top with a spatula. Sprinkle the top with a few craisins and 1 tablespoon of granulated sugar.
Bake the large loaf pan for 40-50 minutes. Half way, lay a sheet of foil on top of the loaf to prevent the top from burning. Start checking for doneness at 40 minutes. The loaf is done when a toothpick comes out clean. Bake mini-loaves for 20-30 minutes, covering half way through baking, and test for doneness starting at 20 minutes.
Cool the loaf in the pan for 15 minutes, then remove from the pan and cool completely on a wire rack. Do not slice until the loaf is completely cool or it will crumble.
Store at room temperature wrapped in foil and then in an airtight container for about 5 days or refrigerated for about 1 week.
This loaf will retain its moist texture longer if shipped unsliced. Wrap the loaf (if baked in a disposable pan, wrap the loaf right in the pan) first in foil, then in plastic wrap. Cranberry-Clementine Quick Bread will stay fresh for at least 5 days. Due to the high moisture content of the cake and fruit, this recipe is recommended for cold weather shipping only to avoid conditions that would promote mold.
Recipe by
The Monday Box
at https://themondaybox.com/2014/11/cranberry-clementine-whole-wheat-quick-bread-and-military-care-package-6/