Chocolate Chip Oatmeal Cookie Bars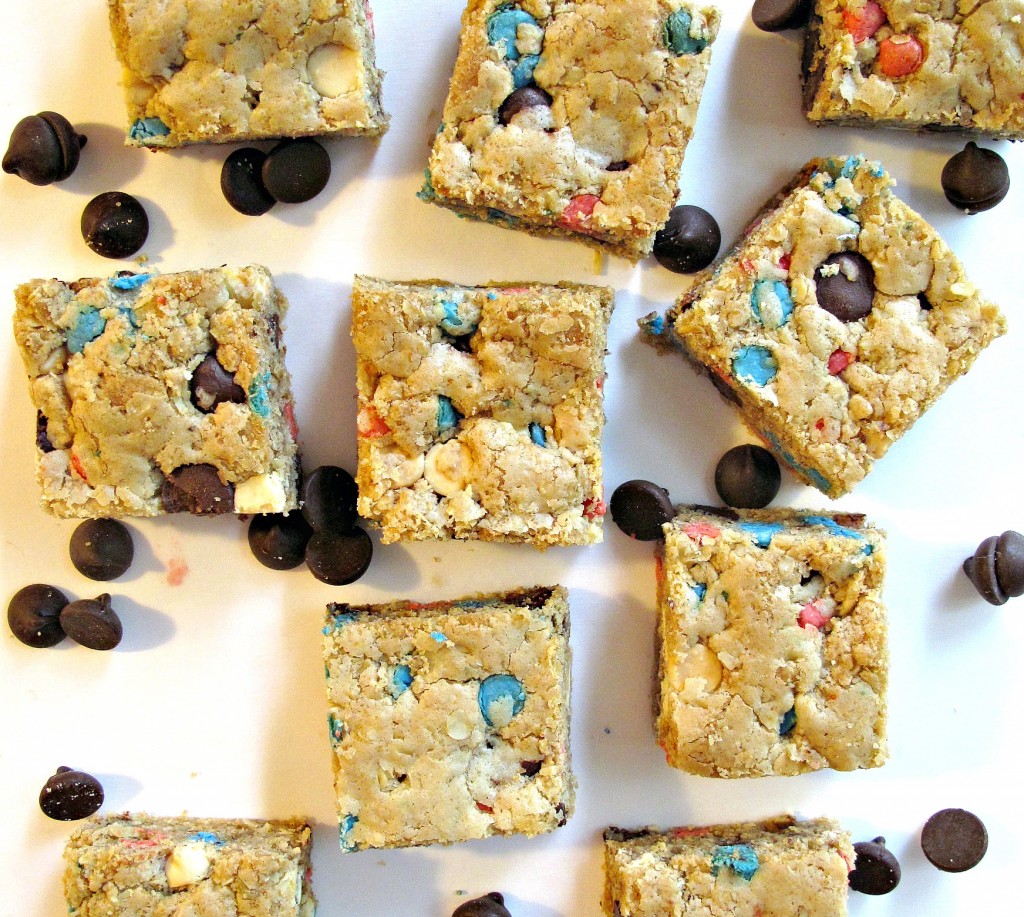 Author:
Wendy Sondov / themondaybox.com
Adapted from:
Nestle Very Best Baking
Makes:
1- 9"x 13" pan or about 20 bars
2 cups all-purpose flour
2 ¼ cups quick oats
1 teaspoon baking soda
¼ teaspoon salt
1 teaspoon cinnamon
1 cup butter flavored vegetable shortening (Crisco)
(1 cup butter can be used in place of the vegetable shortening for non-desert safe use)
1 ¼ cups granulated sugar
2 large eggs, room temperature
2 tablespoons water
2 teaspoons vanilla extract
1 cup dark chocolate chips
1 ½ cups white chocolate chips (for 4th of July bars use ½ cup each red, white, and blue chips)
Preheat oven to 350˚F.
In a medium mixing bowl, whisk together flour, oats, baking soda, salt, and cinnamon.
In the bowl of an electric mixer, cream together shortening and sugar until light and fluffy.
Beat in eggs, water, and vanilla.
Slowly add in flour mixture until combined.
Spread the batter into a 9" x 13" pan. Lay a sheet of wax paper over the batter and use the palm of your hand to gently press the batter into an even layer.
Bake for 18-23 minutes. The top will be set and a toothpick can be used to check for doneness. The bars will not brown. Over baking will result in a dry cookie.
Cool completely on a wire rack, then turn out onto a cutting board to slice into bars.
Store at room temperature in an airtight container for up to 10 days.
Double wrap bars individually or in pairs in plastic wrap before placing in airtight containers or ziplock bags. For longer storage or shipping, I recommend not cutting into individual bars, but wrapping the entire rectangle. Wrapping the entire pan of chocolate chip oatmeal cookie bars without cutting will preserve moisture and keep the bars from drying out in transit.
Recipe by
The Monday Box
at https://themondaybox.com/2015/06/chocolate-chip-oatmeal-cookie-bars/