3-2-1 Pumpkin Spice Chai Latte Cake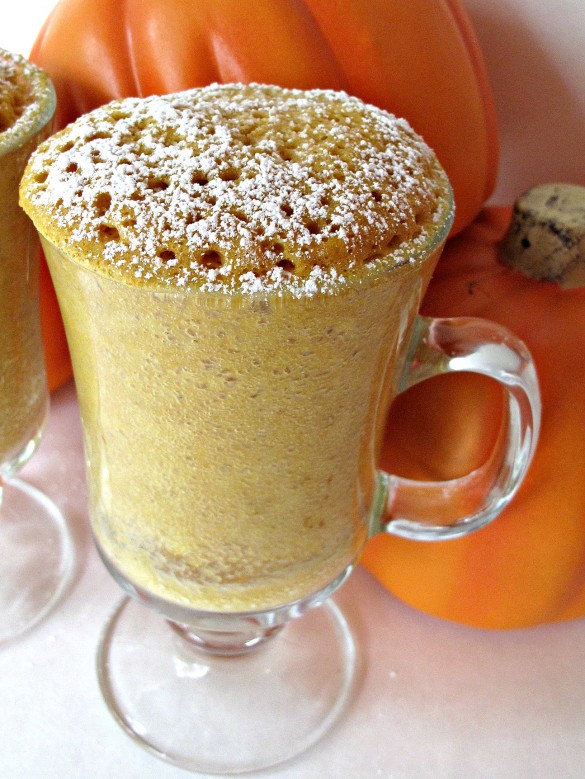 Author:
Wendy Sondov / themondaybox.com
Makes:
about 24 mug cakes
1 box Angel Food Cake mix
1 box vanilla cake mix
Water
Non-stick spray
1 can pumpkin puree
1 can chai latte powder mix
Confectioners' sugar (optional)
In a gallon sized ziplock bag, combine the two boxes of cake mix. Shake the bag to mix thoroughly.
Lightly coat the inside of a microwaveable mug with non-stick spray or use a disposable microwave-safe paper cup. Without the spray, the cake will not transfer out of the mug and the mug is harder to clean. If using a microwave-safe paper cup, no spray is needed.
Into the prepared mug/ paper cup, stir together 3 tablespoons of cake mix, 2 tablespoons of water, 1 tablespoon pumpkin puree, and 1 teaspoon chai latte powder mix. Microwave on high for 1 minute.
Sprinkle the top of the cake with confectioners' sugar, then eat it right out of the mug. To transfer the cake onto a plate, run a knife around the edge between the cake and the mug to loosen, turn out onto a plate, then add the confectioners' sugar.
Combine the two cake mixes into a gallon-size ziplock bag labeled with directions. Include a measuring spoon, pumpkin puree, and chai latte mix. If the care package is international, include microwave safe paper cups and omit the non-stick spray. If the care package is domestic, add either a can of non-stick spray (for use with a ceramic mug) or microwave safe paper cups (highly recommended for college students). Don't forget to include the "recipe".
Recipe by
The Monday Box
at https://themondaybox.com/2015/10/3-2-1-pumpkin-spice-chai-latte-cake/