Decorated Thanksgiving Sugar Cookies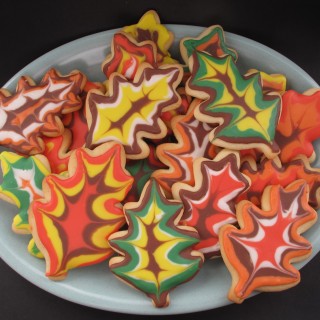 Author:
Wendy Sondov / themondaybox.com
Adapted from:
bakingdom.com
Makes:
about 3 dozen 3" cookies
FOR THE COOKIES:
5 cups all-purpose flour
2 teaspoons baking powder
2 teaspoons salt
1 ½ cups unsalted butter, softened
2 cups sugar
4 large eggs
2 teaspoons vanilla extract
FOR THE ICING:
4 cups confectioners' sugar
3 Tablespoons milk (add more as needed to achieve desired consistency)
3 Tablespoons light corn syrup
1 teaspoon vanilla
food coloring
FOR THE COOKIES:
In a medium bowl, whisk together flour, baking powder, and salt.
In the bowl of an electric mixer, cream together the butter and sugar. Add the eggs, one at a time. Add the vanilla. Beat until fluffy (about 3 minutes).
Add in the flour mixture, a little at a time, and beat until combined.
Cover in plastic wrap and refrigerate for at least 2 hours.
When ready to bake, preheat the oven to 400 degrees F. Line a baking sheet with parchment paper.
Roll out the dough on a floured surface or between two sheets of parchment paper to ⅛"-1/4" thickness. Cut into shapes.
Place cut-out cookies on prepared cookie sheet 2" apart.
Bake for 8-10 minutes until edges are golden brown.
Cool completely on wire racks before decorating.
Cookies can be wrapped and frozen to be iced at a later time. Be sure to defrost completely before icing.
FOR THE ICING:
Combine sugar and milk until smooth.
Add corn syrup and vanilla. Continue beating together until smooth and glossy. Add additional milk in tablespoon increments until desired consistency.
Divide into small bowls. Add food coloring and mix.
Spoon icing into piping bags or small plastic bag with bottom corner cut to form tiny piping opening.
Wrap pairs of cookies back to back in plastic wrap. Then place inside a large, freezer weight zip lock bag or air tight container. For shipping, make sure the cookies fit snuggly in their container with no wiggle room. These cookies will remain fresh wrapped and stored at room temperature for 2-3 weeks.
Recipe by
The Monday Box
at https://themondaybox.com/2012/11/decorated-thanksgiving-sugar-cookies/