Pineapple Cookies (凤梨酥) for Chinese New Year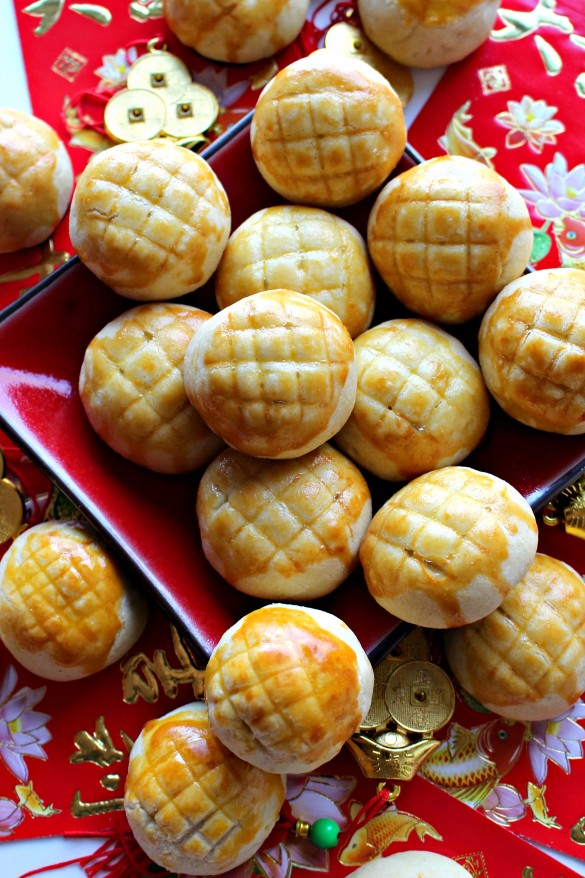 Author:
Wendy Sondov / themondaybox.com
Adapted from:
RasaMalaysia.com
PINEAPPLE JAM
1 large (20 oz.) can and 1 small (8 oz.) can sliced or chunked pineapple, packed in juice
¼ cup granulated sugar
COOKIE DOUGH
1 ¼ cups all-purpose flour
1 tablespoon cornstarch
⅛ teaspoon salt
4 tablespoons confectioners sugar
½ cup unsalted butter, room temperature
1 egg yolk
Optional: ½ teaspoon pineapple flavoring
EGG WASH COATING
1 egg yolk
½ tablespoon condensed milk (regular milk can be substituted but will produce a less shiny coating)
PINEAPPLE JAM
Drain the canned pineapple, and then, using your hands squeeze out any additional juice.
In a blender or food processor, puree the pineapple for 10 seconds.
In a medium saucepan over medium-low heat, combine the pineapple puree and ¼ cup sugar. Mix continually with a wooden spoon until thickened (approximately 30 minutes). Set aside to cool.
COOKIE DOUGH
Preheat the oven to 325°. Line a baking sheet with parchment paper.
In a large mixing bowl, whisk together flour, cornstarch, salt, and confectioners sugar.
In the bowl of an electric mixer (or in a food processor or by hand) combine the flour mixture, butter, 1 egg yolk, and (optional) pineapple flavoring until a smooth dough forms.
To make cookies, first prepare balls of pineapple filling. Scoop ¼ heaping teaspoon of filling and roll into a ball. Roll 16 filling balls.
Use a small scoop or 1 tablespoon, to scoop a ball of dough. Flatten the scoop of dough into a disc shape and place a filling ball in the center of the dough disc. Wrap the dough around the filling, and roll the dough into a ball.
Place the filled dough balls on the prepared baking sheet at least 2" apart.
Press the back of a butter knife into the dough ball to create a criss-cross pattern.
Combine the egg yolk and condensed milk to make an egg wash.
Brush the top of each cookie with the egg wash.
Bake for 18-20 minutes or until the tops are golden brown and the bottom edge begins to brown.
Allow to cool on the baking pan for 5-10 minutes before transferring to a wire rack to cool completely.
Store cooled cookies in an airtight container at room temperature for up to 1 week.
Double wrap pairs of cookies, bottoms together, in plastic wrap. Place wrapped bundles in a freezer weight zip lock bag or plastic container.
Recipe by
The Monday Box
at https://themondaybox.com/2016/02/pineapple-cookies-%e5%87%a4%e6%a2%a8%e9%85%a5-for-chinese-new-year/