Honey-Roasted Peanut Cookies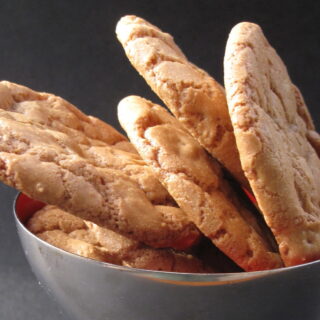 Author:
Wendy Sondov / themondaybox.com
Adapted from:
Nick Malgieri and Martha Stewart
1 cup all-purpose flour
¼ teaspoon salt
¼ teaspoon baking soda
4 Tablespoons unsalted butter, room temperature
1 ¼ cups light brown sugar, packed
1 large egg
1 teaspoon vanilla extract
1 cup honey roasted peanuts
Preheat oven to 350 degrees F. Line baking sheet with parchment paper.
In medium bowl, whisk together flour, salt, and baking soda.
Using an electric mixer, cream together the butter and sugar, about 2 minutes. Lower mixer speed and add egg and vanilla. Raise speed and continue mixing until light and fluffy, about 3 minutes.
On low speed, gradually add flour mixture. Mix until combined.
Stir in peanuts.
Using a small cookie scoop (2 teaspoons) place dough on prepared baking sheet about 3 inches apart. Using finger tips (moisten slightly if sticking) flatten the dough balls slightly to 1 ½" diameter.
Bake 10-13 minutes, until edges are golden. Don't under cook or the cookies will not be crunchy. Cool on wire racks.
Store at room temperature for up to 10 days in an airtight container.
Wrap cookies in plastic wrap in pairs with bottoms together. Place wrapped bundles in an airtight ziplock bag or container for storage. For optimal crunchy texture, store at room temperature for up to 10 days.
Recipe by
The Monday Box
at https://themondaybox.com/2012/11/honey-roasted-peanut-cookies/