Pumpkin Butterscotch Cakes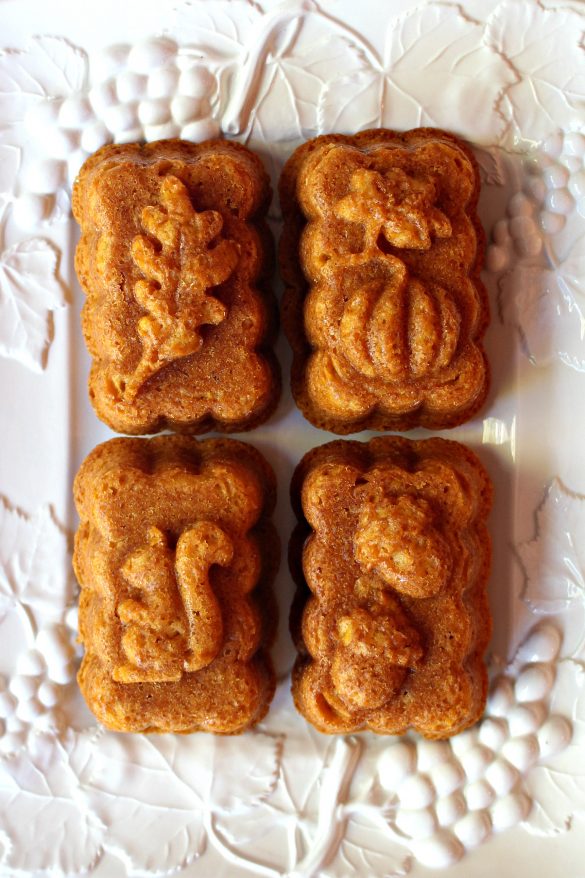 Author:
Wendy Sondov / themondaybox.com
Adapted from:
verybestbaking.com
Makes:
10 mini cakes or 1- 12-cup bundt
For cake:
2 cups all-purpose flour
1 ½ cups granulated sugar
1 tablespoon baking powder
2 teaspoons cinnamon
½ teaspoon salt
1 cup butterscotch chips
1 cup canned pumpkin puree
½ cup vegetable oil
3 large eggs
2 teaspoons vanilla extract
For optional icing:
4 tablespoons confectioner's sugar
¼ teaspoon pumpkin pie spice
1-2 teaspoons water
Preheat oven to 350° F. Coat baking pan with non-stick vegetable oil spray.
In a medium mixing bowl, whisk together flour, sugar, baking powder, cinnamon, and salt. Set aside.
In a large mixing bowl, microwave butterscotch chips at 70% for one minute. Stir. If not completely melted, return to microwave for an additional 20 seconds or until melted.
To the melted butterscotch, mix in the pumpkin puree until blended. Then stir in the oil, eggs, and vanilla.
Add the flour mixture to the pumpkin mixture and stir to combine.
Spoon the batter into the prepared pan, no higher than ¾" from the top of each mold.
Bake for 18-23 minutes for mini cakes, 40-50 minutes for large bundt pan. Cake is done when a toothpick inserted into the center of the cake comes out clean. If the batter rose above the top of the molds, and the cakes are touching each other, use a knife to score the touching edges before cooling.
Cool the cakes in the pan for 30 minutes before inverting to unmold onto a wire rack to cool completely.
Store at room temperature (or refrigerate) in an airtight container for about 5 days.
Optional: Pumpkin pie spice icing ingredients can be mixed with 1-2 teaspoons of water and drizzled on the cakes immediately before serving. If shipping the cakes, put the dry ingredients for the icing in a small ziplock bag with directions to mix with water and drizzle.
Wrap individual cakes in plastic wrap. Place wrapped cakes snuggly in a plastic storage container with no room for movement during shipping. If there is excess room at the top or sides of the container, use crinkled wax paper to fill the spaces.
Recipe by
The Monday Box
at https://themondaybox.com/2016/10/pumpkin-butterscotch-cakes/