Apple Pie and Pumpkin Pie Cookies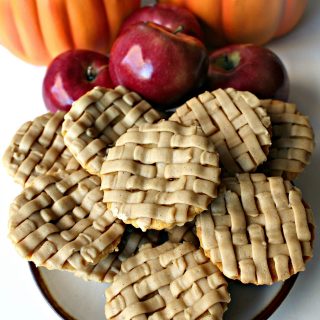 Author:
Wendy Sondov / themondaybox.com
Adapted from:
http://www.keepitsweetdesserts.com and http://tastesbetterfromscratch.com
¾ cup unsalted butter, room temperature
½ cup granulated sugar
¼ cup brown sugar
¼ cup apple butter or pumpkin butter
½ teaspoon pie spice
2 teaspoons vanilla
½ teaspoon salt
2 ¼ teaspoons baking powder
2 ¼ cups all-purpose flour
Caramel "Pie Crust" Frosting:
3 tablespoons unsalted butter
¼ cup heavy cream
½ cup brown sugar, packed
1 teaspoon vanilla
¼ teaspoon pie spice
1 ½ - 2 cups confectioners' sugar
In the bowl of an electric mixer, cream butter and sugars.
Mix in apple butter or pumpkin butter, pie spice, vanilla, salt, baking powder, and flour.
Cover in plastic wrap and refrigerate for at least 1 hour or until firm.
When ready to bake: Preheat oven to 350° F. Line a baking sheet with parchment paper.
Scoop dough with medium (2 tablespoon) cookie scoop into the cups of a 12- mold tartlette pan.
Gently press to flatten the tops of the dough balls.
Bake for 10-12 minutes.
Cool on baking sheet for 10-15 minutes, then invert the pan to remove the cookies and cool completely on wire racks. If the cookies don't pop out easily, sip the tip of a knife between the cookie and the pan to lift.
To prepare frosting: In a medium saucepan over medium heat, combine the butter, cream, and brown sugar. Stir constantly until boiling.
Remove the pan from the heat and stir in vanilla, pie spice, and 1 cup of the confectioner's sugar.
Cool to room temperature, then add additional confectioner's sugar slowly until the frosting is piping consistency. If you add too much sugar and the frosting is too thick, a bit of cream can be added to adjust the consistency.
For easier handling, divide the frosting into two piping bags. Using a #46 Wilton basket weave piping tip with the smooth edge facing up, pipe on the frosting "lattice pie crust" .
Allow icing to dry completely before storing.
Store in an airtight container at room temperature for up to 7 days.
Wrap cookies individually in plastic wrap, then place snugly in an airtight container using wrinkled wax paper to fill any empty spaces to eliminate any wiggling while shipping.
Recipe by
The Monday Box
at https://themondaybox.com/2016/11/apple-pie-pumpkin-pie-cookies-military-care-package-26/