No-Bake Chocolate Peanut Butter Banana Cookies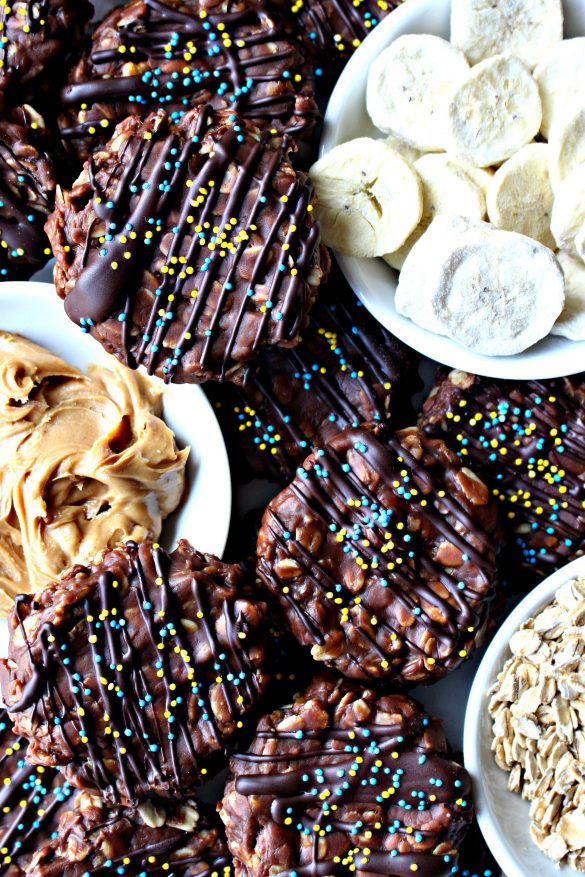 Author:
Wendy Sondov / themondaybox.com
Adapted from:
Karosyrup.com
Makes:
About 32- 2 tablespoon cookies
1 cup corn syrup
1 cup granulated sugar
1 cup peanut butter
1 tablespoon vanilla extract
1 cup semi-sweet chocolate chips (I use Whole Foods 360 Brand Fair Trade chips)
1 cup crumbled freeze dried banana
3 cups oats (regular or quick cooking)
For Peanut Butter Chocolate drizzle:
1 cup melting chocolate (I use Chocoley.com Bada Bing Bada Boom dark dipping and coating)
2 tablespoons creamy peanut butter
Nonpareil sprinkles
In a large sauce pan over medium heat, stir corn syrup and sugar to combine. Heat just to boiling, then remove from heat.
Add peanut butter, vanilla, and chocolate chips and stir until melted.
Add crumbled banana and oats. Stir to combine.
Scoop 2 tablespoon portions (medium scoop) of dough onto wax paper lines counter or baking tray.
Use finger tips to gently press dough into ½" thick discs.
To add drizzle: Place melting chocolate discs and peanut butter in a bowl. Microwave on 50% power for about 1-2 minutes until chocolate is melted. Mix to combine.
Drizzle the melted chocolate-peanut butter over the cookies and add sprinkles immediately.
Allow to firm for 1 hour.
Store cookies in layers separated by wax paper, at room temperature in an airtight container for up to 2 weeks.
No-bake cookies should be separated from one another with wax paper, either in small plastic wrap bundles inside a freezer weight ziplock bag or layered in an airtight container with extra wax paper on top to keep the cookies from shifting during shipment.
Recipe by
The Monday Box
at https://themondaybox.com/2017/02/no-bake-chocolate-peanut-butter-banana-cookies/