Pumpkin Cranberry Biscotti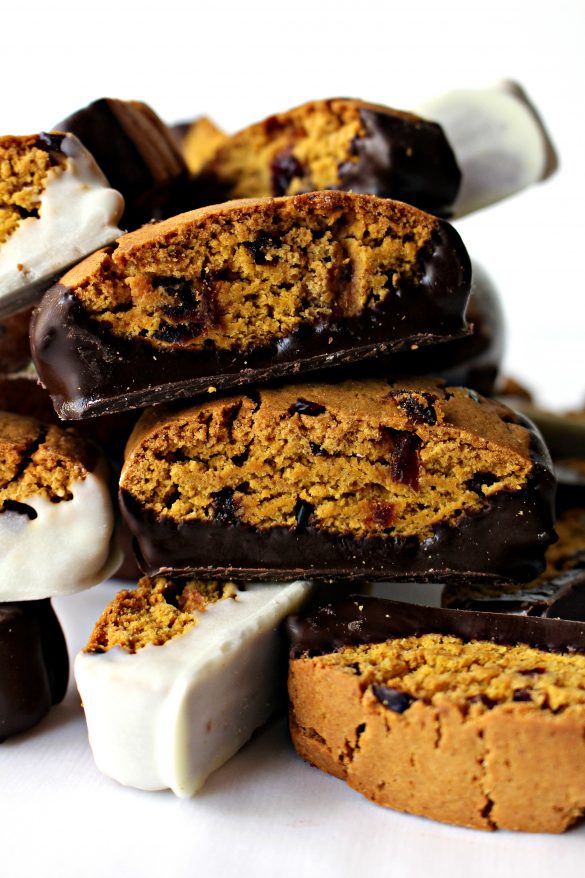 Author:
Wendy Sondov / themondaybox.com
Adapted from:
King Arthur Flour and SavingDessert.com
Makes:
about 30 mini-biscotti
4 tablespoons unsalted butter, room temperature
½ cup granulated sugar
1 teaspoon pumpkin pie spice
1 teaspoon cinnamon
1½ teaspoons baking powder
½ teaspoon salt
1 large egg
1 teaspoon vanilla extract
½ cup pumpkin butter, purchased or homemade (See recipe below)
2 cups all-purpose flour
½ cup dried cranberries (Craisins), chopped
½ cup (about 75g) white melting chocolate (I use Chocoley.com dipping and coating chocolate, white)
½ cup (about 75g) dark melting chocolate (I us Chocoley.com dipping and coating chocolate, dark)
FOR HOMEMADE PUMPKIN BUTTER (OPTIONAL)
1 15 oz can pumpkin puree
1 cup unsweetened apple juice
1 teaspoon pumpkin pie spice
½ cup brown sugar
¼ cup maple syrup
1 teaspoon vanilla
FOR HOMEMADE PUMPKIN BUTTER:
In a medium saucepan on medium heat, stir together all ingredients and bring to a boil.
Lower the heat to simmer. Use a pan lid to partially cover the pan to contain splatter. Cook until reduced by ½ for about 30 minutes.
Stir frequently, especially toward the end of cooking to prevent the pumpkin butter from sticking to the bottom of the pan and burning.
Allow to cool before using in biscotti batter.
WHEN READY TO BAKE:
Preheat the oven to 350°F. Line a baking sheet with parchment paper.
In the bowl of an electric mixer, cream together the butter, sugar, pumpkin pie spice, cinnamon, baking powder, and salt.
Beat in the egg, vanilla, and pumpkin butter.
Gradually add the flour and mix until smooth.
Divide the dough in half, and shape each half into a 10" x 2½" log. The logs should be about 4" apart on the baking sheet.
Bake for 25 minutes. Remove it from the oven and cool for 5 minutes.
Reduce the oven temperature to 325°F.
Move the logs onto a cutting board. Use a sharp serrated knife to cut the logs crosswise into ½" to ¾" slices.
Stand the sliced biscotti back on the baking sheet. Return the biscotti to the oven, and bake them about 25-30 minutes more, until the edges are turning golden.
Remove from the oven and cool completely on wire racks.
Melt the chocolate in a small bowl for 1 minute at 50%power. Stir. If not completely melted, return to the microwave and zap for 10 second intervals until melted.
Line a baking sheet that fits in your refrigerator with wax paper. Dip the bottoms of the biscotti in the melted chocolate and place on the prepared baking sheet.
Refrigerate the dipped biscotti for about 10 minutes or until the chocolate is set.
Store in an airtight container at room temperature, layers separated with wax paper, for at least 2-3 weeks. The biscotti are most crisp the first week after baking.
Wrap 2-3 biscotti, cut sides together, in plastic wrap. Stack the bundles,in an airtight container or freezer weight ziplock bag.
Recipe by
The Monday Box
at https://themondaybox.com/2017/10/pumpkin-cranberry-biscotti/