Chewy Chocolate Chunk Cookies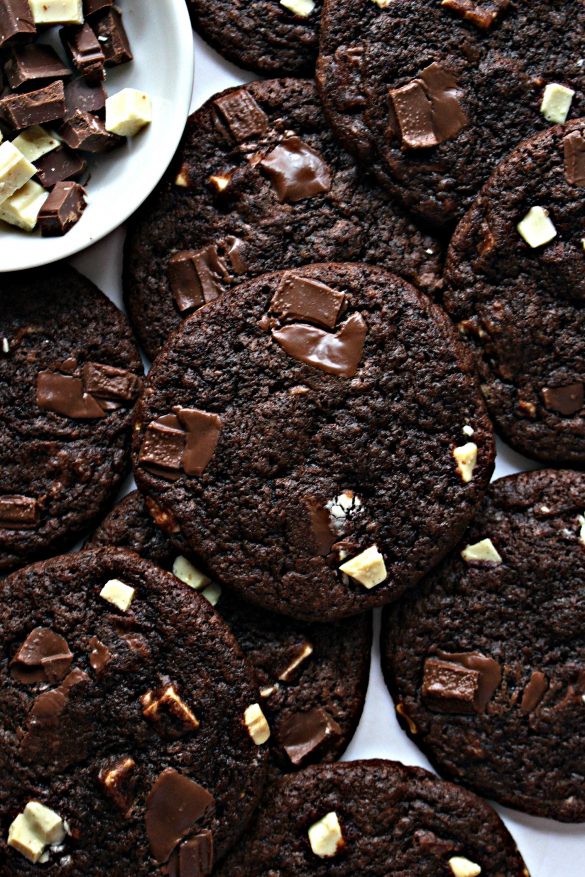 Author:
Wendy Sondov / themondaybox.com
Adapted from:
"The Good Cookie" by Trish Boyle
1 ½ cups all-purpose flour
6 tablespoons Dutch processed cocoa (I use Whole Foods 365 brand ethically sourced cocoa powder)
¼ teaspoon baking soda
⅛ teaspoon salt
2 teaspoons espresso powder
1 cup unsalted butter, room temperature
¾ cup brown sugar
¾ cup granulated sugar
2 large eggs
1 tablespoon vanilla
7 ounces (about ¾ cup) white chocolate, chopped into ¼" chunks
7 ounces (about ¾ cup) milk chocolate, chopped into ¼" chunks
**THIS DOUGH REQUIRES CHILLING FOR A MINIMUM OF 3 HOURS (UP TO 3 DAYS) BEFORE BAKING**
In a medium mixing bowl, whisk together the flour, cocoa, baking soda, salt, and espresso powder. Set aside.
In the bowl of an electric mixer, cream together the butter and sugars until light (about 3 minutes).
Beat in the eggs, one at a time. Mix in the vanilla.
Gradually add the flour mixture until just combined.
Set aside a small handful of the white and milk chocolate chunks for decorating. Fold the remaining chocolate chunks into the dough.
Cover with plastic wrap and refrigerate to firm the dough, for at least 3 hours (up to 3 days).
WHEN READY TO BAKE: Preheat oven to 350° F. Line a baking sheet with parchment paper.
Using a medium (2 tablespoon) scoop, portion the dough into balls and place 2" apart on the prepared baking sheet.
Gently press a few of the reserved chocolate chunks onto the top of each dough ball.
Bake for about 11 minutes or until set. The cookies will still look a little wet and will be soft.
Remove from the oven and allow the cookies to cool on the baking sheet for about 5 minutes before transferring them to a wire rack to cool completely.
Once completely cool, store Chewy Chocolate Chunk Cookies at room temperature in an airtight container for up to 1 week.
Double wrap pairs of cookies (with bottoms together) in plastic wrap, then place snugly in an airtight container or freezer weight ziplock bag.
Recipe by
The Monday Box
at https://themondaybox.com/2017/11/chewy-chocolate-chunk-cookies/