Beary Chocolate Brownie Bears communicate how "beary" much you care about the "beary" special people in your life. These dense, fudgy brownies, baked in a cupcake pan, are topped with an adorable chocolate bear.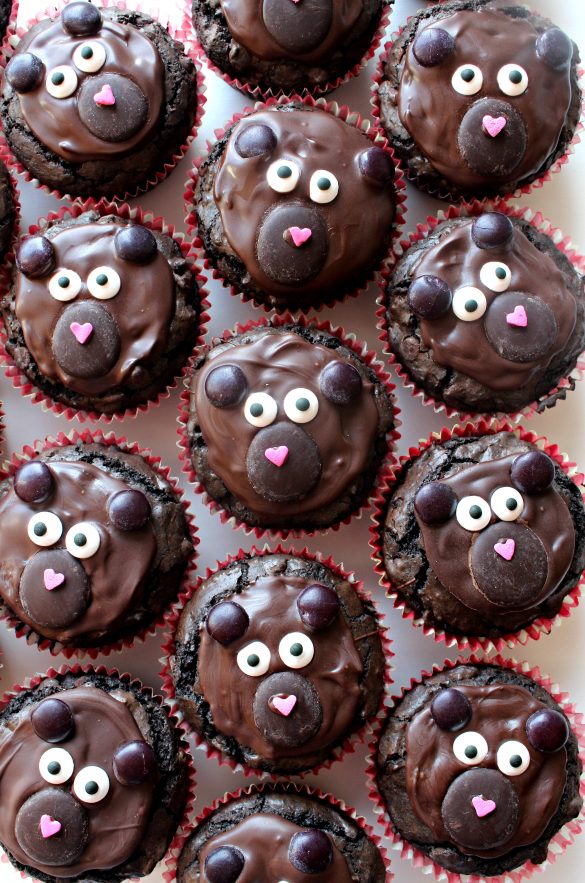 Military care packages for Valentines Day have been awkward for me. This year was different. After three years of struggling to decide what to send in Valentine's Day packages to mostly silent soldiers I never met, I finally figured out that Valentine's Day can celebrate heartfelt emotions other than love. Thanks, appreciation, and encouragement are all feelings that I hope to communicate to my adopted troops. Though technically a Valentine's care package complete with hearts and red wrapping, Beary Chocolate Brownie Bears helped me share a "Thank you 'beary' much for your service" themed care package. Though Valentine's Day has come and gone, a message of thanks and Beary Chocolate Brownie Bears are welcome year round.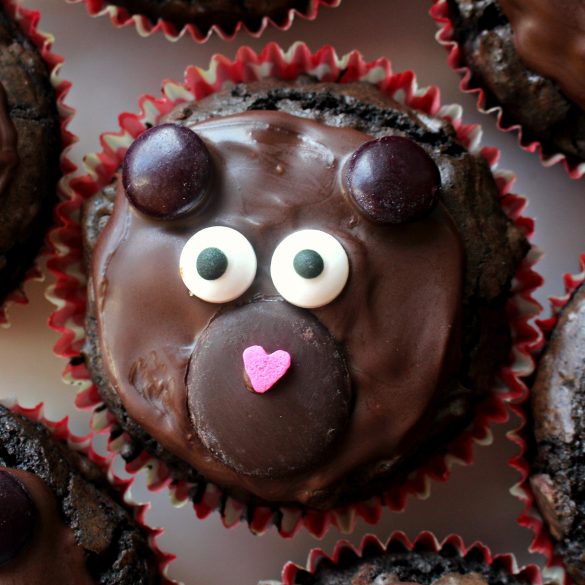 Ethically sourced cocoa, melting chocolate, and candy decorations make Beary Chocolate Brownie Bears a chocolaty treat you can feel good about sharing. I have been delighted to discover that finding ethically sourced ingredients is easy and doesn't have to be expensive. My favorite Fair Trade baking cocoa, semi-sweet chips, and white chocolate chips (I have tried several brands) are all Whole Foods' 365 brand. The candy brand, Unreal, is also available at Whole Foods. The ingredients in Unreal candy is all Fair Trade, and uses all-natural colors and less sugar than other brands. They make chocolate-peanut butter cups and the candy coated chocolate that I used for ears on the Beary Chocolate Brownie Bears.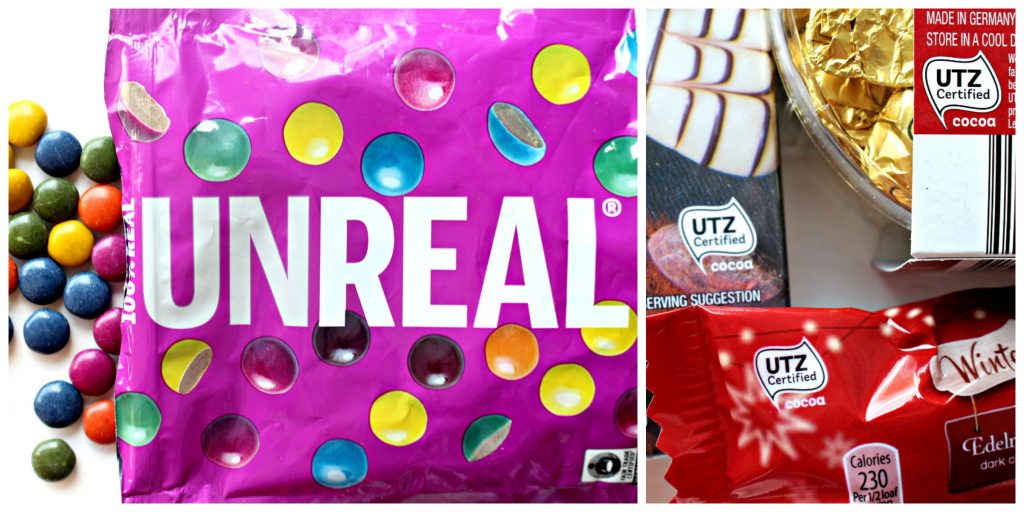 I was able to fill this care package with plenty of ethically sourced chocolate candy as well, at the same price (or lower) as buying the "biggie" national brands. Aldi's supermarket carries a brand of regular and holiday chocolates, Moser Roth, marked with the UTZ symbol, the European equivalent of Fair Trade. The foil wrapped bears, chocolate coated marzipan logs, and truffles are all UTZ!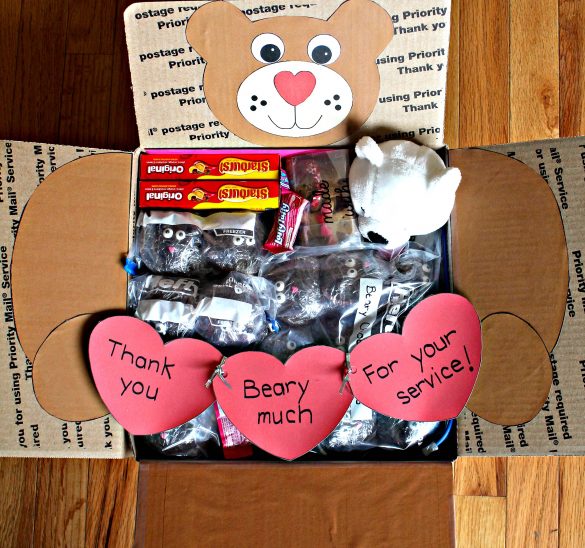 Part 1 Contents: A bear themed care package needs a bear on the box. I enlarged and cut out a free bear printable found online. The bear holds a garland of hearts that I attached to the box flaps after the contents were packed. The individual hearts are connected with twisty ties for flexibility.

This "Thank You Beary Much" care package contains a combination of red wrapped and bear themed items including: a stuffed bear, Krispie treats, chocolate bears, candy, puzzle books, and cheese crackers.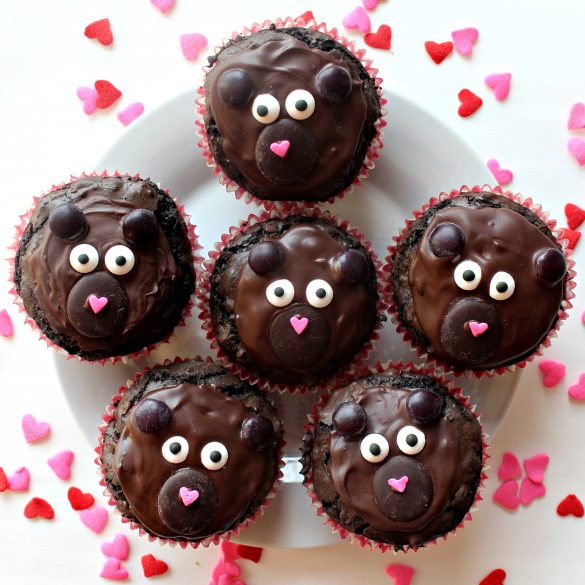 Part 2 Decorated Treat: Beary Chocolate Brownie Bears are made in a cupcake pan with the recipe below. Using cupcake papers makes it easy to remove the brownies from the pan and helps keep the brownies fresh longer. The brownies ( without the bear on top) are dessert safe, and are a great way to send chocolate when the weather is hot.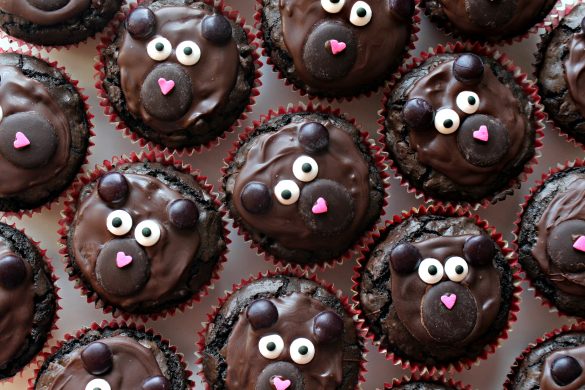 Once the brownies are completely cool, they can easily be transformed into bears using just a few decorating items placed on top of the chocolate face. Decorate one brownie at a time. For the bear's head to be a lighter color than the chocolate disc used for the snout, melt 1/2 cup of melting chocolate discs ( I use Bada Bing Bada Boom dark candy and molding formula) mixed with 1/2 cup of white chocolate discs ( I use Bada Bing Bada Boom white candy and molding formula). Spread about 2 teaspoons of melted chocolate on top of the brownie. While the chocolate is still melted, a disc of chocolate is added for the snout, two candy eyes go above the snout, and two candy coated chocolates are added for ears. Use a toothpick to dot a tiny bit of melted chocolate on top of the snout as glue for the heart sprinkle nose.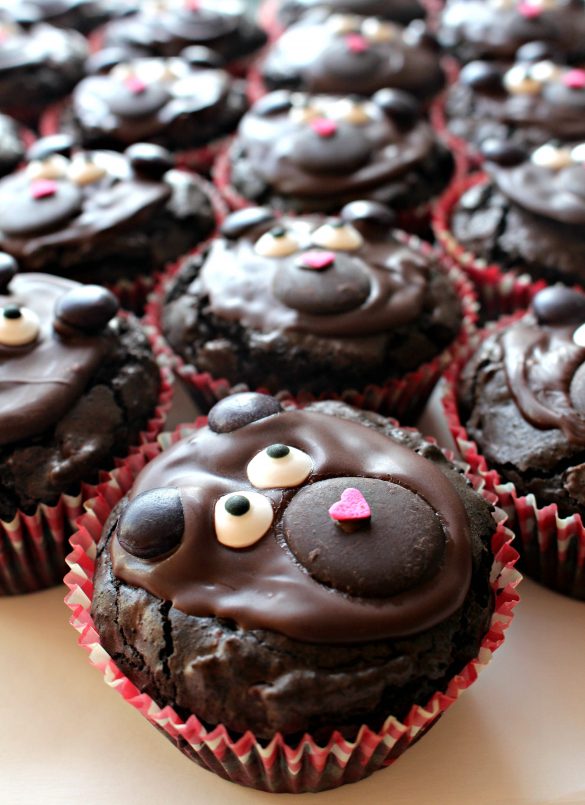 Beary Chocolate Brownie Bears
Author:
Wendy Sondov / themondaybox.com
Adapted from:
Nestle's verybestbaking.com
Makes:
20 brownie cupcakes
Ingredients
1 ½ all-purpose flour
1 cup baking cocoa
½ teaspoon baking powder
½ teaspoon salt
1 teaspoon espresso powder
⅔ cup butter-flavored vegetable shortening
2 cups granulated (white) sugar
4 large eggs
2 cups mini chocolate chips
For Decorating:
½ cup dark melting chocolate (I use Chocoley.com Bada Bing Bada Boom candy and molding)
½ cup white melting chocolate (I use Chocoley.com Bada Bing Bada Boom candy and molding)
20 dark brown chocolate discs
20 pairs of candy eyes
20 mini heart sprinkles
40 brown candy coated chocolate candies
Directions
Preheat oven to 350 degrees F.
Prepare 2 12-cup cupcake pans with cupcake papers.
In a medium bowl, whisk together the flour, cocoa, baking powder, salt and espresso powder. Set aside.
In the bowl of an electric mixer, combine the shortening, sugar, and eggs. Beat until light in color and fluffy (about 3 minutes).
Gradually add in the flour mixture, until combined.
Stir in the mini chocolate chips.
Use a large (1/4 cup) scoop to portion the batter into the prepared pan (it will be thick), using a spatula or spoon to flatten and smooth the surface of each brownie.
Bake for 15-18 minutes. The toothpick test doesn't work very well because of all of the melting chocolate chips. If the top is firm after 15 minutes, take it out. (Mine baked for 18 minutes). Cool completely in the pan.
When ready to decorate, melt the ½ cup of dark chocolate with the ½ cup of white chocolate. Stir until the color is uniform.
Decorate one brownie at a time. Spread about 2 teaspoons of melted chocolate into a circle on top of a brownie. Immediately, add the chocolate disc snout, the candy eyes, and the candy coated chocolate ears. Use a toothpick to dot a tiny bit of melted chocolate on top of the snout as glue for the heart sprinkle nose.
Store brownies at room temperature in an airtight container or zip lock bag for up to 2 weeks.
Packing tips
Wrap each Beary Chocolate Brownie Bear in plastic wrap before storing in a freezer weight ziplock bag or an airtight plastic storage container.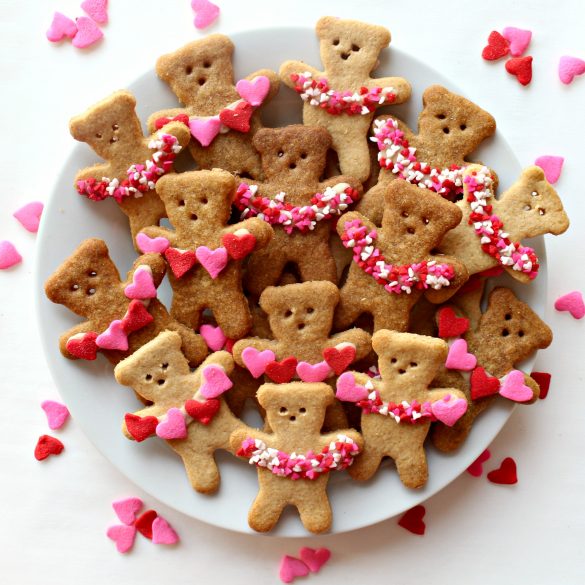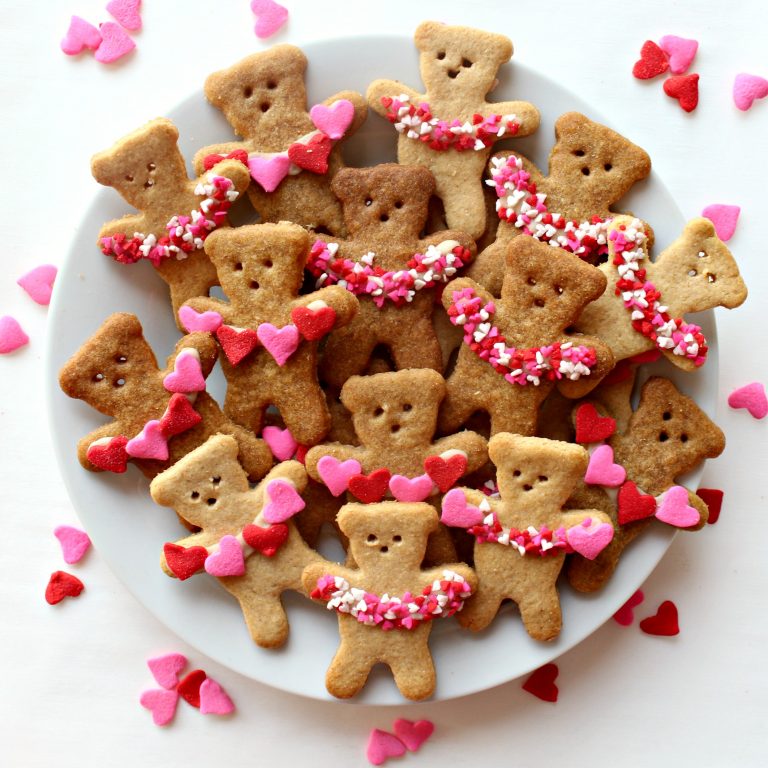 Part 3 New Recipe: Honey Graham Bears are the new recipe included in this box full of bears. These crunchy little honey flavored bears are as tasty as they are adorable! With garlands of heart sprinkles between their outstretched paws, Honey Graham Bears send a message to those you bake for, on Valentine's Day or any other day, that you love them "beary" much!
Part 4 Other Recipes for a Thanks or Valentine's DayTheme:
Sugar Cookie Roses (Time Saver Recipe)
Cozy Mug Sugar Cookies
Sugar Cookie Valentine Brownies
Valentine Envelope Sugar Cookies
Kiss Cookies
Rose Bud Butter Cookies
Hugs and Kisses Brownies
This was my last care package for Soldier L. His deployment in Kuwait is ending. I sincerely hope that my letters and packages brought him smiles and the reassurance that his service is appreciated. My best wishes for his safe travels home to his family!
I was not compensated for this post, however I did receive free product from Chocoley.com for use in this recipe. All opinions are 100% my own. I only use and recommend products I believe in.
Save
Save
Save
Save