I've stumbled upon a whole new world of magic microwave mug cakes! 3-2-1 Lemon Poke Cake is just what you would expect from a regular poke cake, fluffy lemon cake topped with sweet, creamy condensed milk that seeps through poked holes, moistening and flavoring from top to bottom! The only difference is that an individual serving of 3-2-1 Lemon Poke Cake is ready in just 1 minute!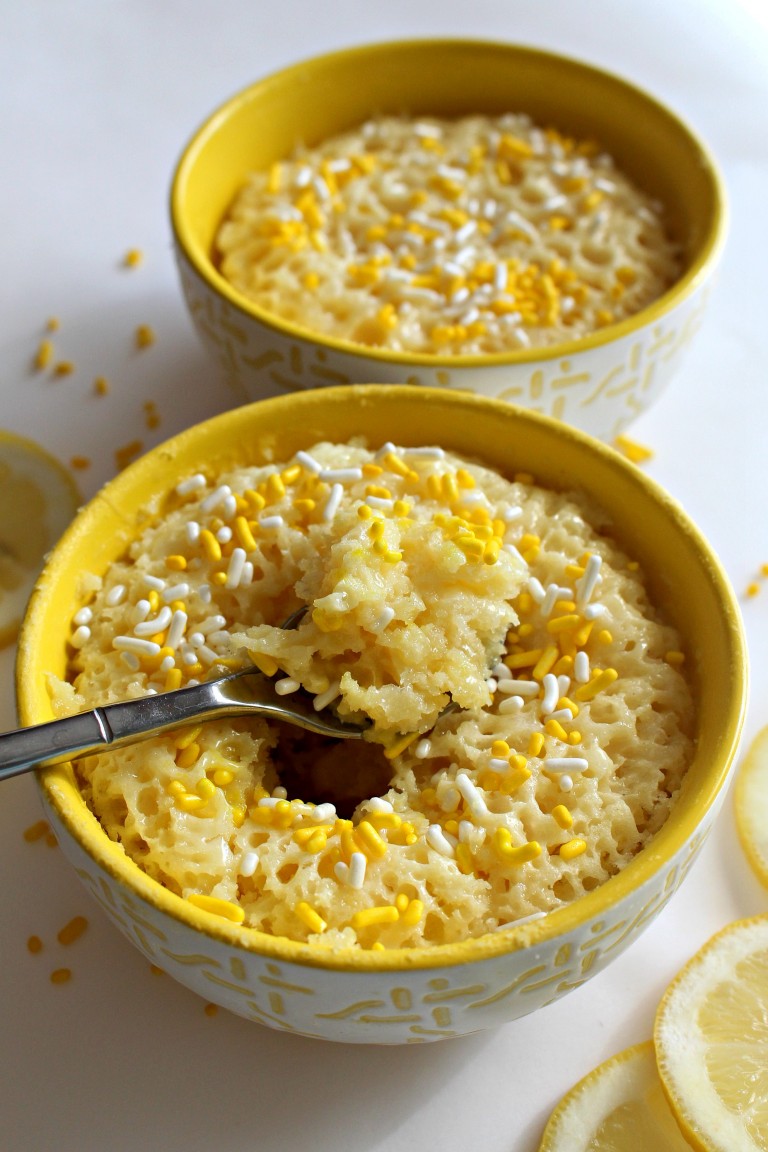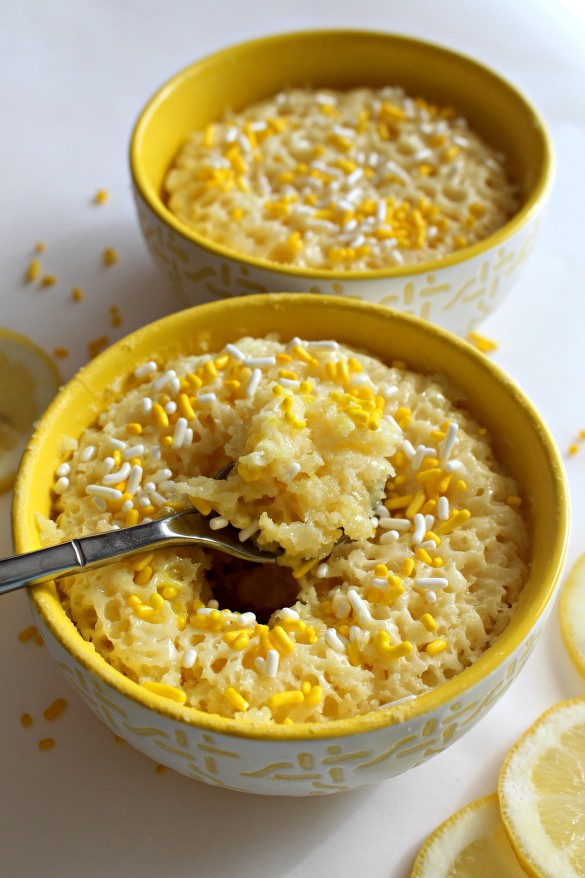 When I baked Pineapple Cookies last month, the glaze called for just ½ tablespoon of condensed milk, leaving an almost full can sitting in my fridge. A few days later, I was experimenting with 3-2-1 cake recipes and reached for some white chocolate syrup when I noticed the sweet condensed milk and decided to try using it
. Poke cake was not the first thing that came to mind. At first, I mixed a tablespoon of condensed milk into the cake mix. The resulting cake had a wet pudding-like texture, but the flavor was great so I persevered.
Then I used a wooden skewer to poke holes into the cake and poured the condensed milk on top after zapping. Within a minute or two, the milk had escaped down the holes into the cake. The 3-2-1 Lemon Poke Cake was fluffy with a condensed milk coated crumb.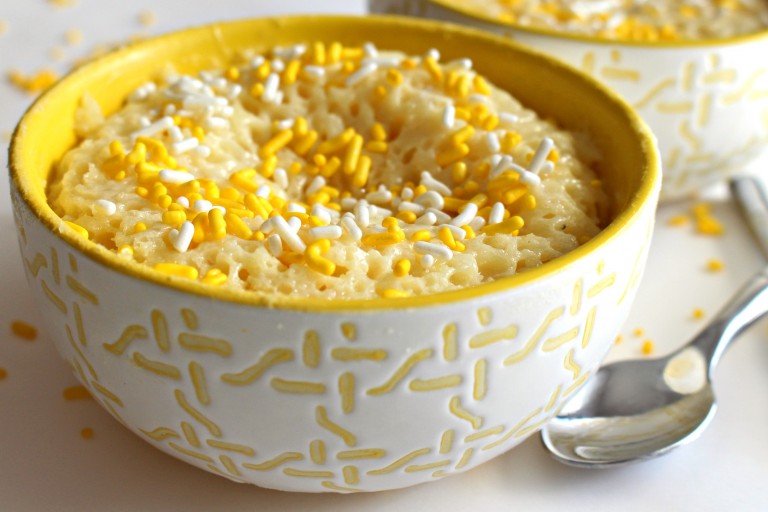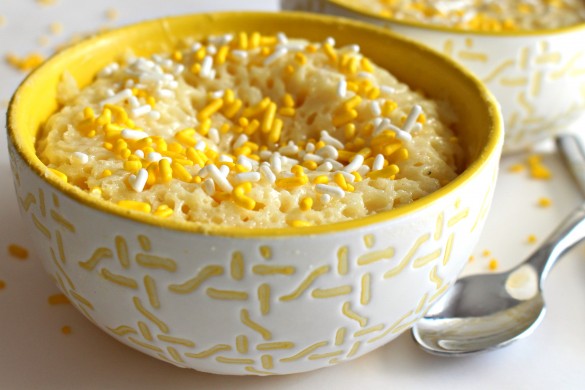 Lemon cake mix isn't that lemony to begin with and once it is moistened with condensed milk, it needed a lemon boost. Lemon curd is perfect for the job. It is a sweet-tart counterpart to the sweet cake and amplifies the lemon flavor.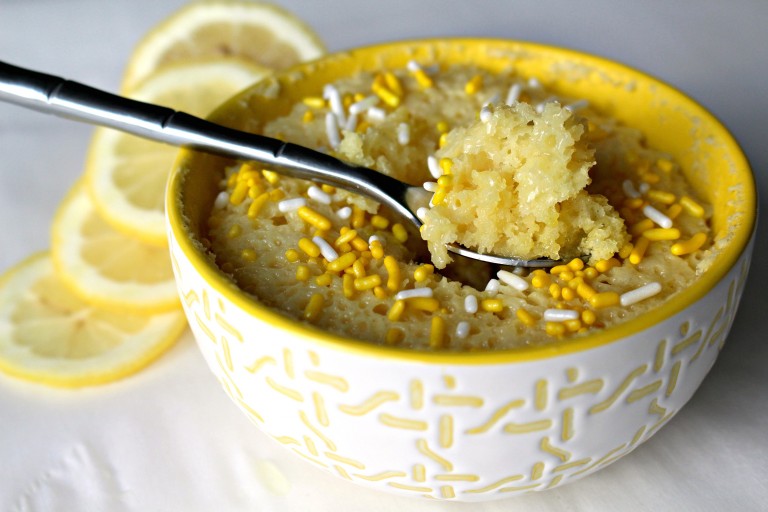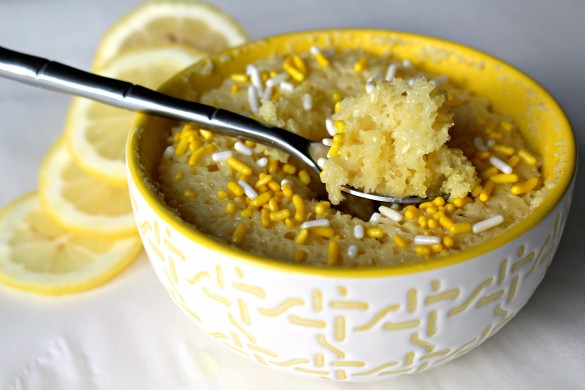 So far, I have done 3-2-1 poke cake trials with condensed milk and a variety of cake flavors. A few were fabulous and will definitely appear in future posts. However, if you are thinking of trying this with chocolate cake mix and condensed milk, don't. It was gross.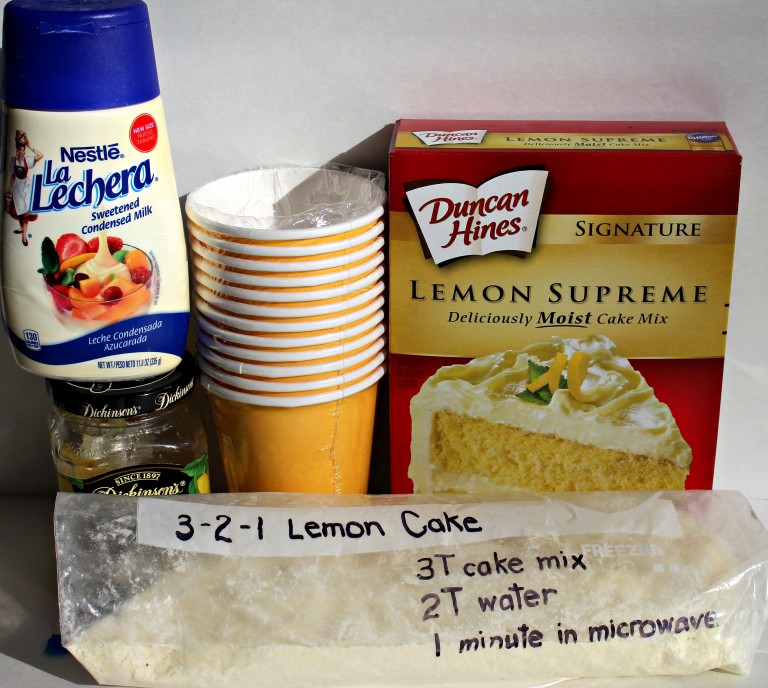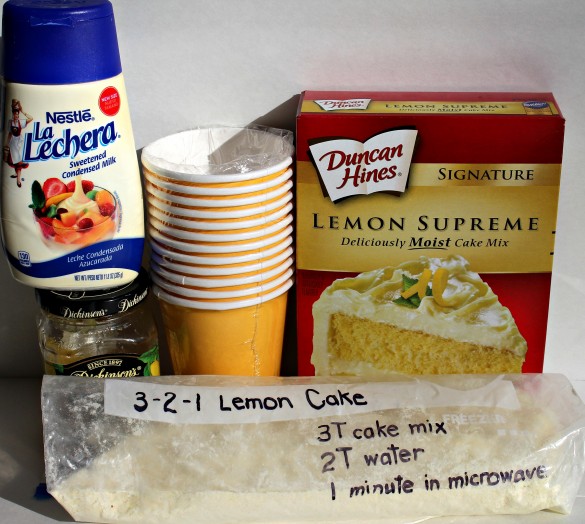 Shopping/shipping tip: I found a squeeze bottle of condensed milk in the Latin Foods section of my supermarket. Though sending a can of condensed milk is care package safe, a plastic, resealable bottle makes opening and storing much easier.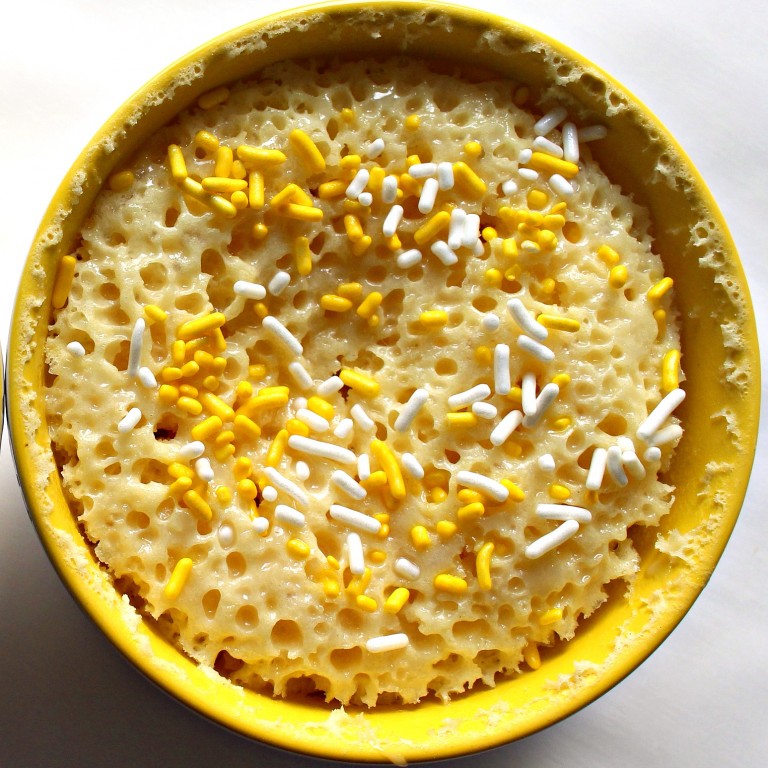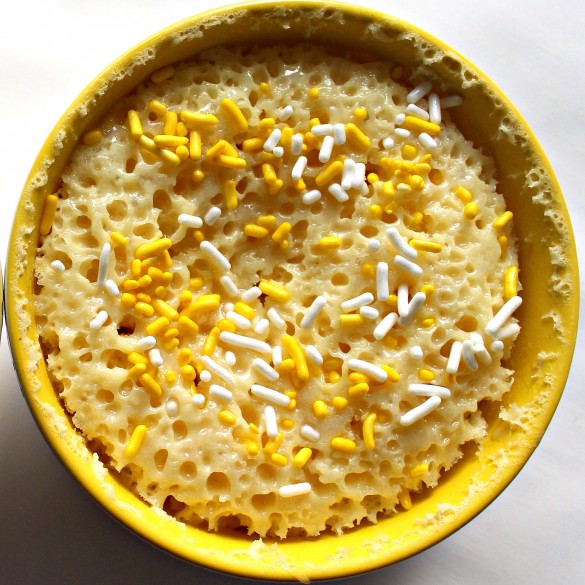 Happily surrounded by spring and with summer soon to follow, a mug of 3-2-1 Lemon Poke Cake is like having sunshine for dessert!
You can read more about desert safe ingredients and find an index of all of the desert safe recipes on The Monday Box by clicking here.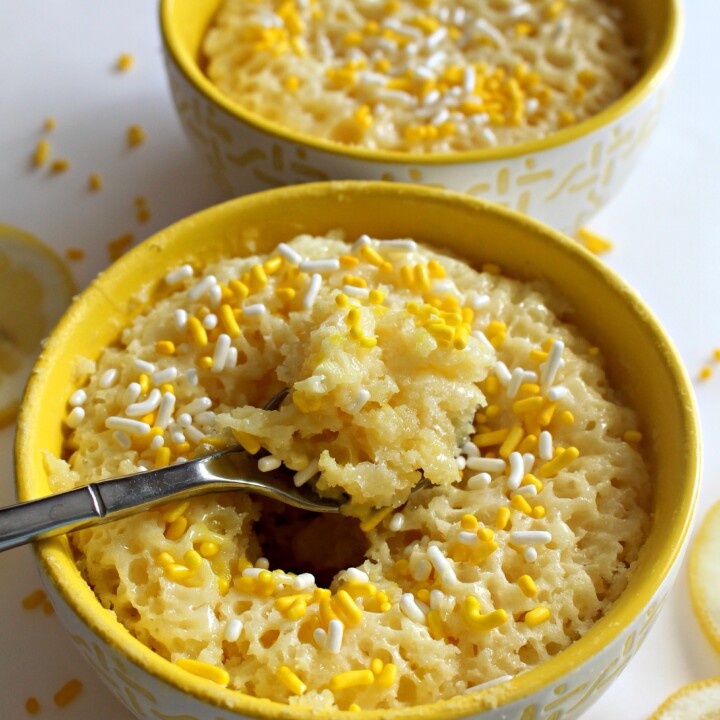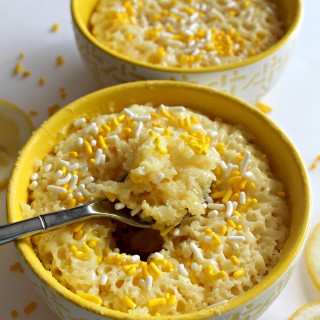 3-2-1 Lemon Poke Cake
A fluffy lemon cake in a cup, top with creamy condensed milk. Microwave ready in just one minute!
Print
Rate
Ingredients
1

box

Angel Food Cake mix

1

box

lemon cake mix

Non-stick spray

Water

1

bottle

condensed milk

1 ½

cups

lemon curd or lemon pie filling

sprinkles
Instructions
In a gallon sized ziplock bag, combine the two boxes of cake mix. Shake the bag to mix thoroughly.

If not using a disposable cup, lightly coat the inside of a microwaveable mug/bowl with non-stick spray.

(Here comes the 3-2-1 part) Into the prepared mug, stir together 3 tablespoons of cake mix and 2 tablespoons of water. Mix to combine. Scoop 1 tablespoon of lemon curd into the center of the batter. Do not mix.The cake will rise around the lemon curd, so don't worry if some is not submerged.

Microwave on high for 1 minute.

Remove from the microwave and use a skewer or chop stick to poke about 10 holes through the top of the cake. Pour 1-2 tablespoons of condensed milk over the cake and allow to soak in for a few minutes.

Decorate with sprinkles and enjoy!
Notes
Packing tips
Combine the two cake mixes into a labeled gallon-size ziplock bag.
Include a measuring spoon, microwavable paper cups, wooden skewer, bottle/can of condensed milk and a jar of lemon curd.
Write out directions on an index card or directly on the ziplock bag.
Nutrition
Calories:
196
kcal
|
Carbohydrates:
43
g
|
Protein:
2
g
|
Fat:
2
g
|
Saturated Fat:
1
g
|
Polyunsaturated Fat:
1
g
|
Monounsaturated Fat:
1
g
|
Trans Fat:
1
g
|
Cholesterol:
1
mg
|
Sodium:
354
mg
|
Potassium:
27
mg
|
Fiber:
1
g
|
Sugar:
29
g
|
Vitamin A:
1
IU
|
Vitamin C:
1
mg
|
Calcium:
74
mg
|
Iron:
1
mg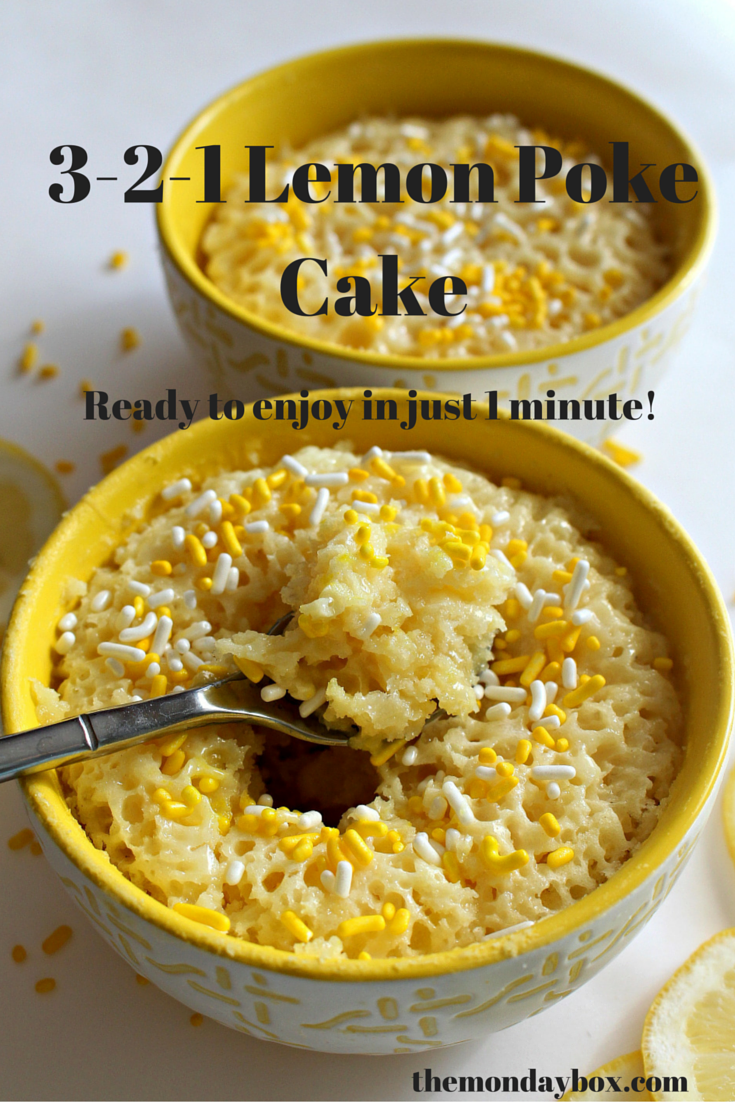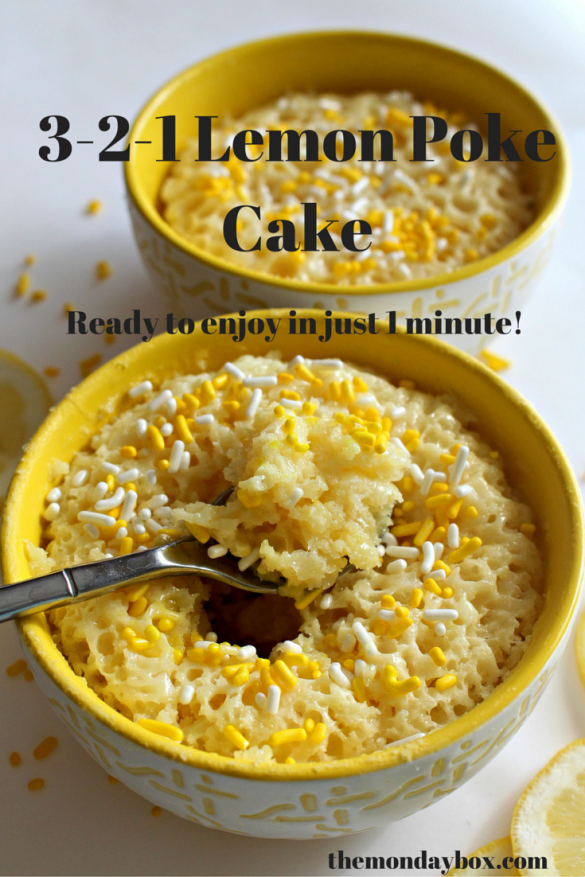 Looking for more luscious lemon desserts? Click the photo for these lemony recipes!
Save