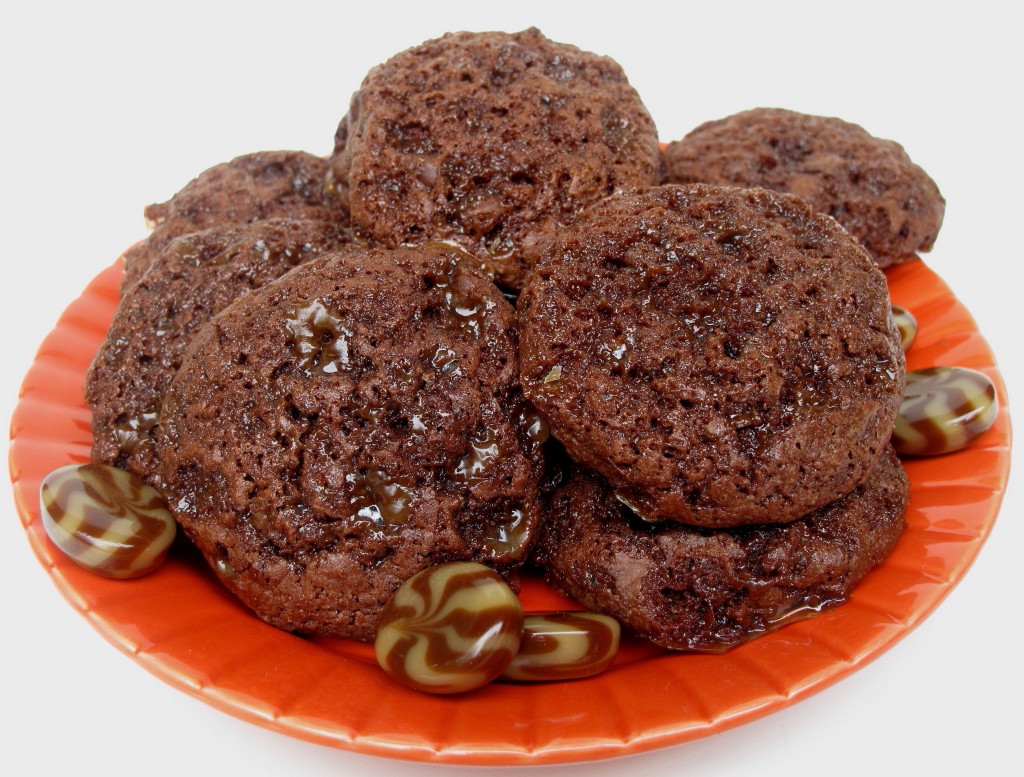 Today I offer you a life lesson in cookie form. Well, maybe two life lessons squooshed into one. If at first you don't succeed…change your perspective.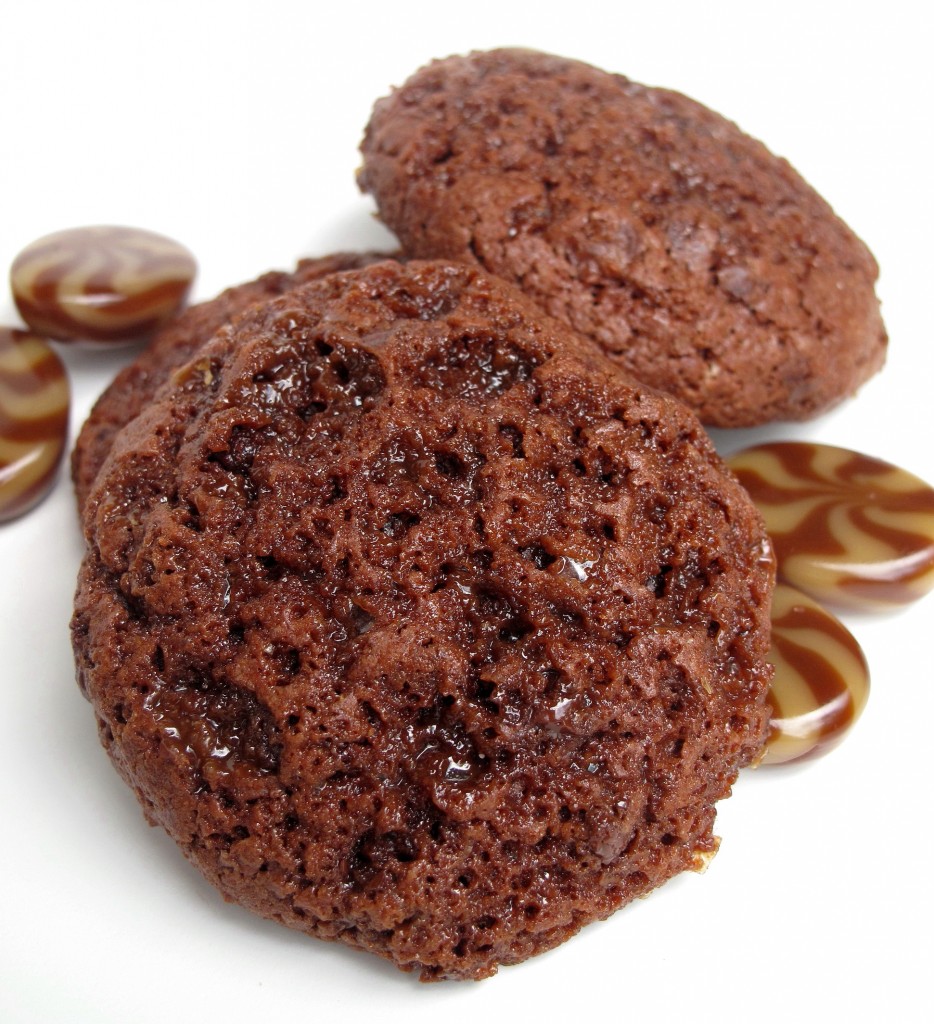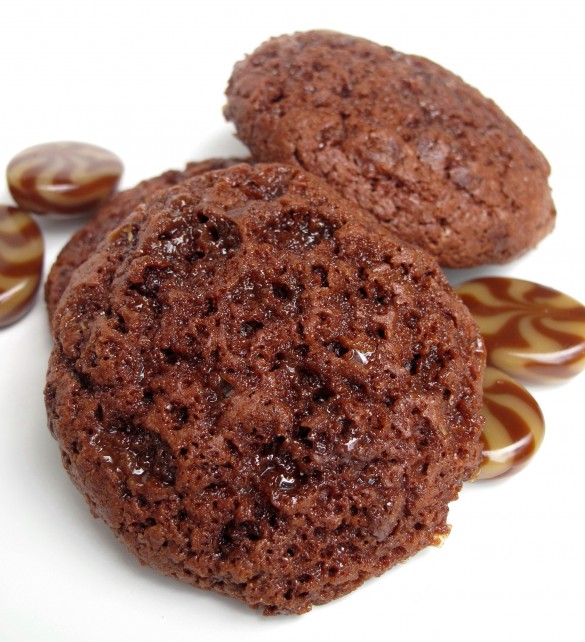 Let me introduce you to the Moon Cookies a chocolate orb complete with craters of deliciousness. This is what the moon would look like if it was made of chocolate instead of green cheese. This Moon Cookie is soft and chewy chocolaty mocha.  It has shiny craters of caramel coffee that encrust the cookie surface. It was a wonderful, unexpected mistake.
The Moon Cookie recipe began as a humble crackle-top brownie cookie recipe. Google "crackle cookie" and you will find about 1,270,000 results. Most look and taste identical. Many are sturdy and long lasting, making them prime candidates for care package cookies. They are definitely a pretty cookie with their dark chocolate cracks making a mosaic out of the powdered sugar dome. I wanted to include them on The Monday Box, but another blogged crackle cookie seemed a bit redundant. Improving the flavor by adding espresso powder was easy. But what to do to make this cookie distinguishable from the rest at first glance?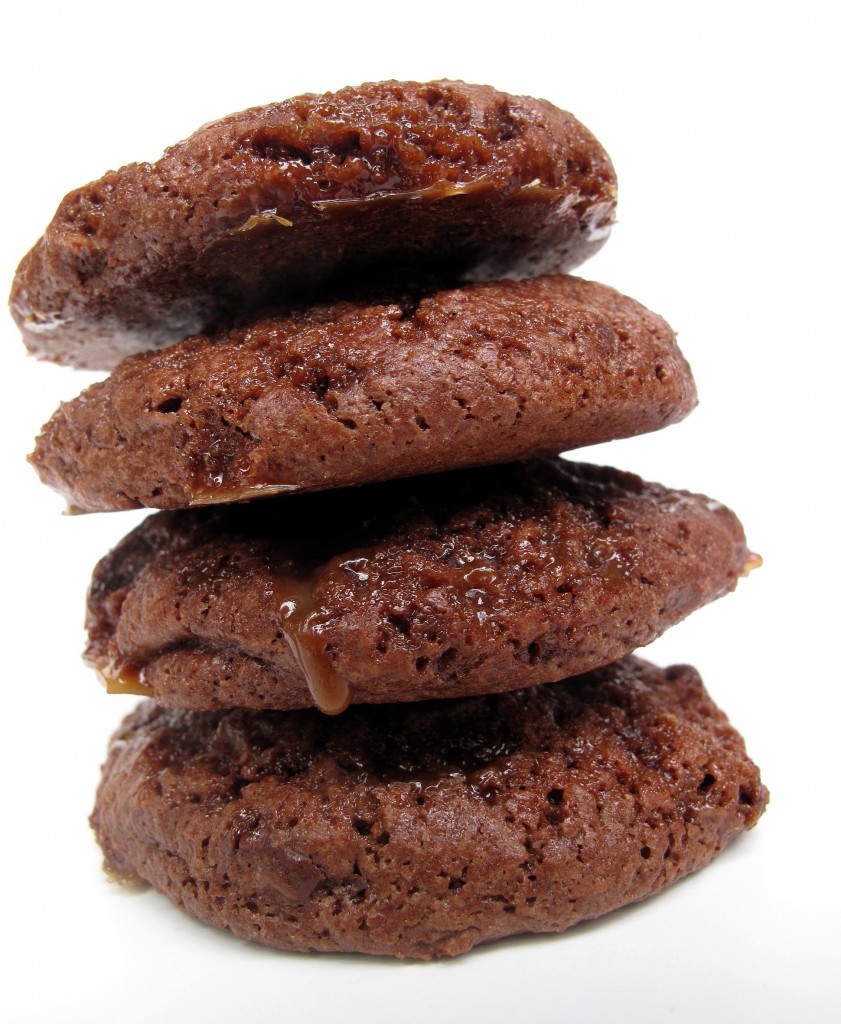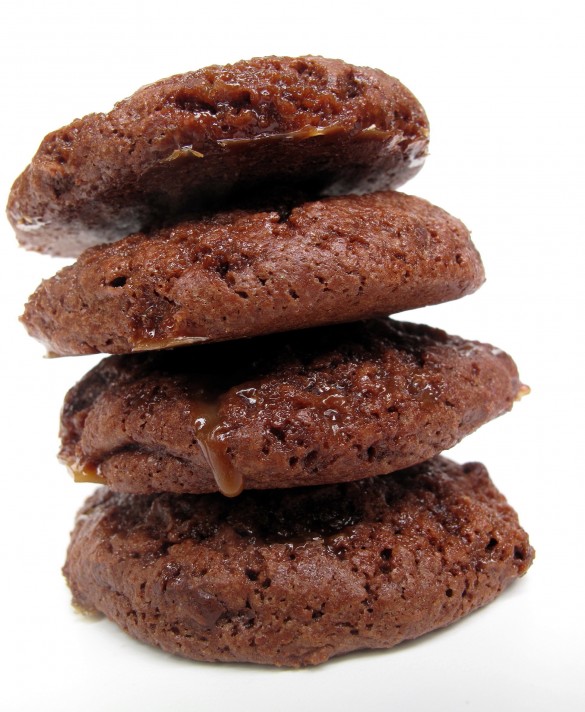 First, I tried coloring nonpareil sprinkles in shades of caramel and brown. (Did you know you could color your own sprinkles?! I learned how on Pinterest. It's very cool.) They looked beautiful, like African beadwork, but the almost solid surface crunch was too much and ruined the taste and texture of the cookies. Perhaps another use at another time.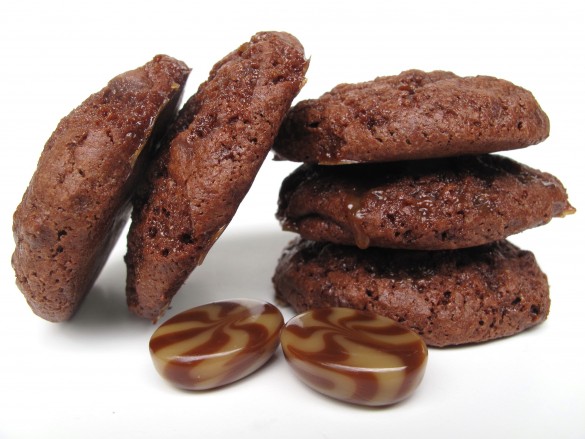 Then, I remembered reading somewhere about using crushed hard candy for flavoring. I also remembered that hard candy melts in the oven when used for recipes like stained glass cookies.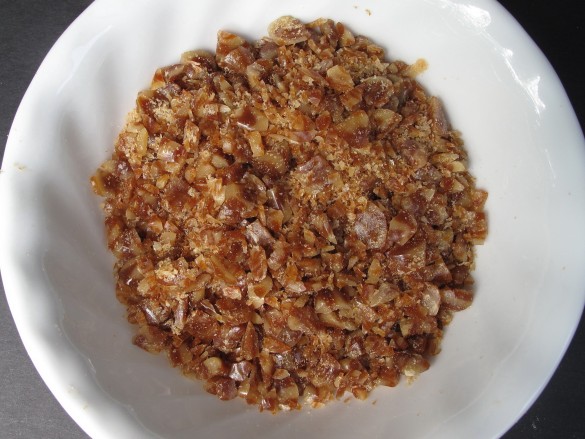 My first serendipitous event occurred when my supermarket was out of plain coffee candy. How different could caramel-coffee be? So, I bought that. I highly recommend you repeat this serendipitous action. The caramel adds something wonderful to these cookies and you still get the coffee kick.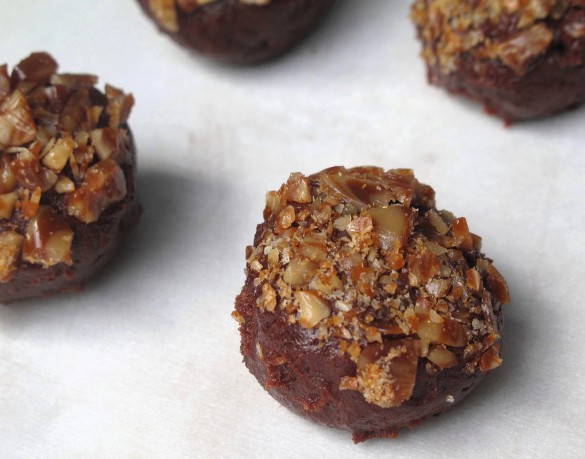 Next comes the life lesson. I pulverized the candy used to coat my first batch. I was going for a sparkly look. When the cookies came out of the oven, they were covered in what looked like tiny bubble holes where the melted coating had sunken into the cookie. Not what I expected and not a particularly appealing sight. In a few places the holes, later determined to be craters, were larger. These craters were created when chunks of candy melted into the cookie. As the molten candy cooled it hardened into shiny pools of caramel coffee crunch. "Ah, ha!" moment.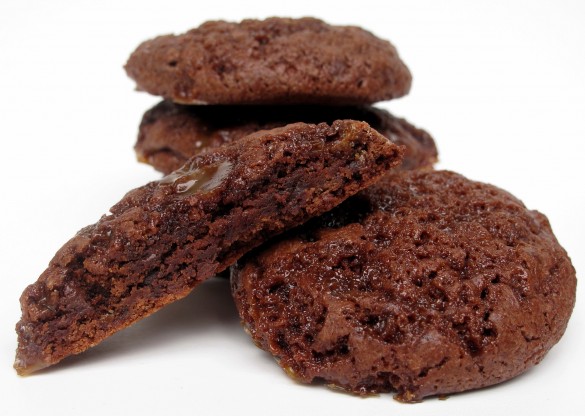 The cookies were shiny and delicious, but until I put on my rose colored glasses I thought they were ugly. Then I saw them from a different perspective. Not ugly cookies, Moon Cookies! My cookies looked like a chocolate moonscape. A star (technically a satellite) is born! There are definitely other Moon Cookie flavors waiting in the wings.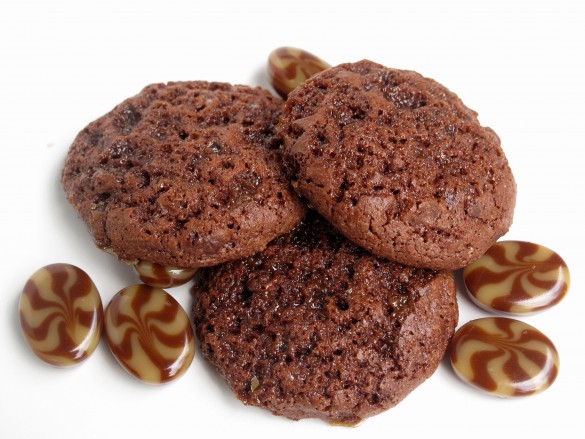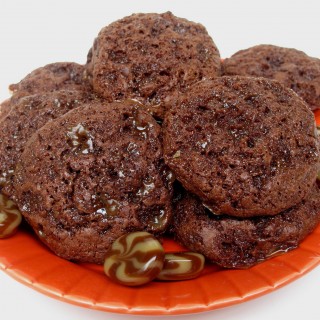 Print
Caramel Mocha Moon Cookies
As an Amazon Associate I earn from qualifying purchases.
Ingredients
1 ½

cups

all-purpose flour

1 ½

cups

granulated sugar

1 ½

teaspoons

baking powder

½

teaspoon

salt

1

tablespoon

espresso powder

6

tablespoon

unsalted butter or vegetable shortening***

melted in a cereal-sized bowl and cooled to room temperature

¾

cup

cocoa powder

natural, not Dutch processed

3

large eggs

room temperature

1

teaspoon

vanilla extract

1

cup

mini chocolate chips

25

caramel coffee hard candies

I used Werther's, coarsely crushed

***Desert safe adaptations: Use vegetable shortening.
Directions
In a medium bowl, whisk together flour, sugar, baking powder, salt, and espresso powder.

Add the cocoa powder to the melted butter (or vegetable shortening) and mix until smooth

In the bowl of an electric mixer (or a large mixing bowl if preparing by hand), combine the eggs and vanilla.

Mix in the cocoa-butter mixture.

Gradually add the dry ingredients, stirring until smooth and resembles brownie batter.

Fold in mini chips.

Refrigerate for several hours or overnight. To speed up the chilling process, put the batter in the freezer for about 30 minutes. This is a sticky dough. It is ready to use as soon as it is firm enough to scoop and roll into balls.

When ready to bake: Pre-heat oven to 350 degrees F. Line a cookie sheet with parchment paper.

Place hard candies into a freezer strength zip lock bag. Using a rolling pin or meat hammer, coarsely crush. Some pieces will crush down to sugar but leave as many pieces the size of mini chocolate chips as possible. Pour crushed candy into a small bowl.

Scoop tablespoon sized dough and roll by hand into balls. (Even chilled, this dough can be sticky. I washed excess dough from my hands every 2-3 balls for easier rolling.)

Gently press the top of each ball into the crushed candy.

Place on prepared cookie sheet, at least 2" apart. For less cookie spread, refrigerate the cookies on the sheet for 15 minutes before baking. This is not required but results in a slightly thicker cookie.

Bake for 12-14 minutes. Remove from oven and allow to cool on the baking sheet for about 10 minutes before placing on wire racks until completely cool. The candy craters will sink further into the cookies and harden as the cookies cool.

Cookies will remain fresh 2 weeks or longer when stored at room temperature in an air tight container or zip lock bag.
Packing Tips
Double wrap pairs of cookies (with bottoms together) in plastic wrap, then place in an airtight container or zip lock bag. For storage longer than 2 weeks, vacuum sealing is recommended.