Celebration Sprinkle Cookies, chewy chocolate sugar cookies dipped in creamy chocolate and adorned with sprinkles, are the cookie equivalent of a neon sign proclaiming, "You are WONDERFUL and this is YOUR special day!"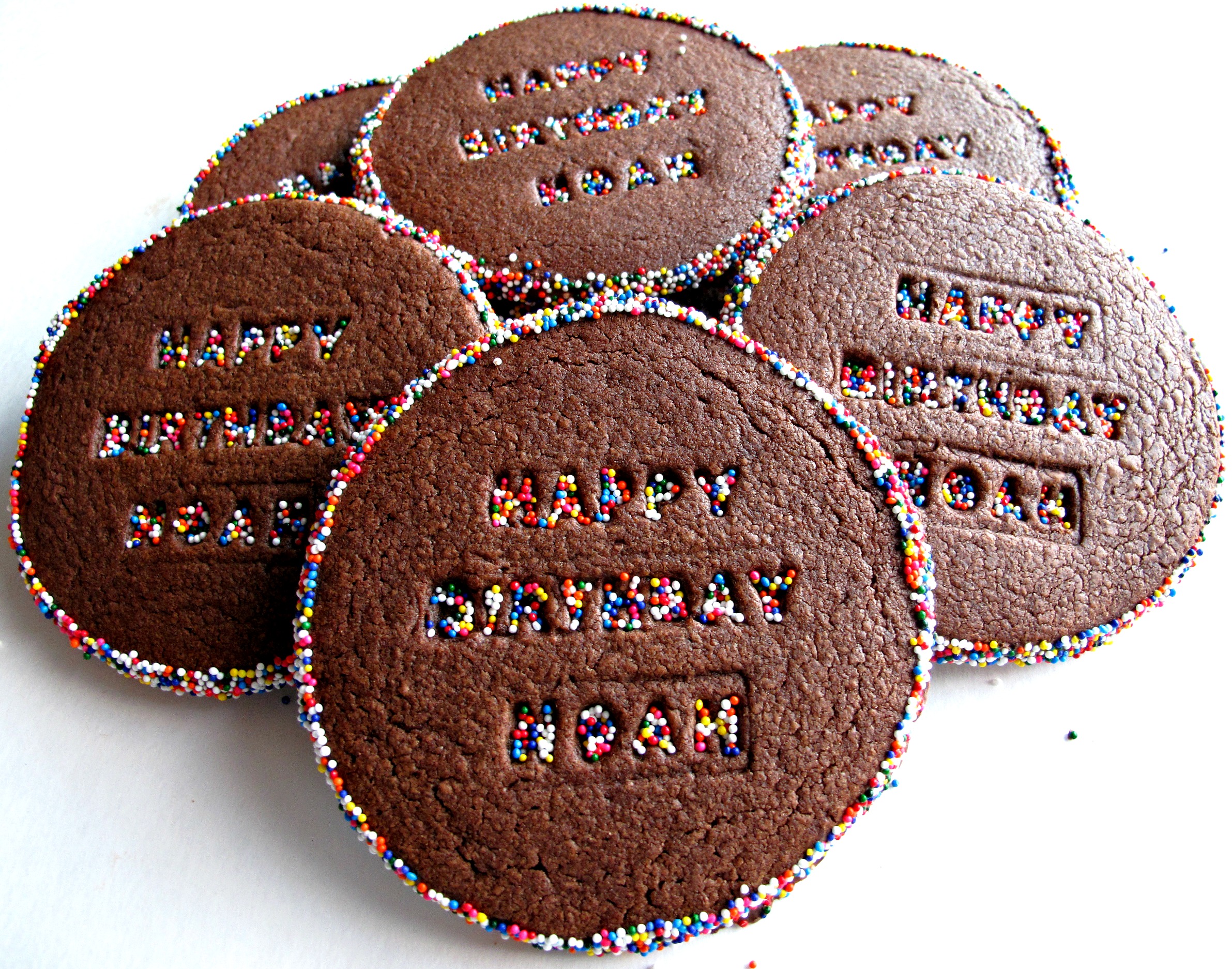 Anyone who knows me, or has read my About page, or has spent about 2 seconds browsing this blog, knows that I am a bit obsessed with creating special desserts for my kids' birthdays.
It started when my kids were babies and I first began dabbling in cake decorating. Clowns, Dalmatians, football fields, and hula dancers were my focus of birthdays past.
Now my "kids" are 26 and 22 and I am still obsessing over celebration baking!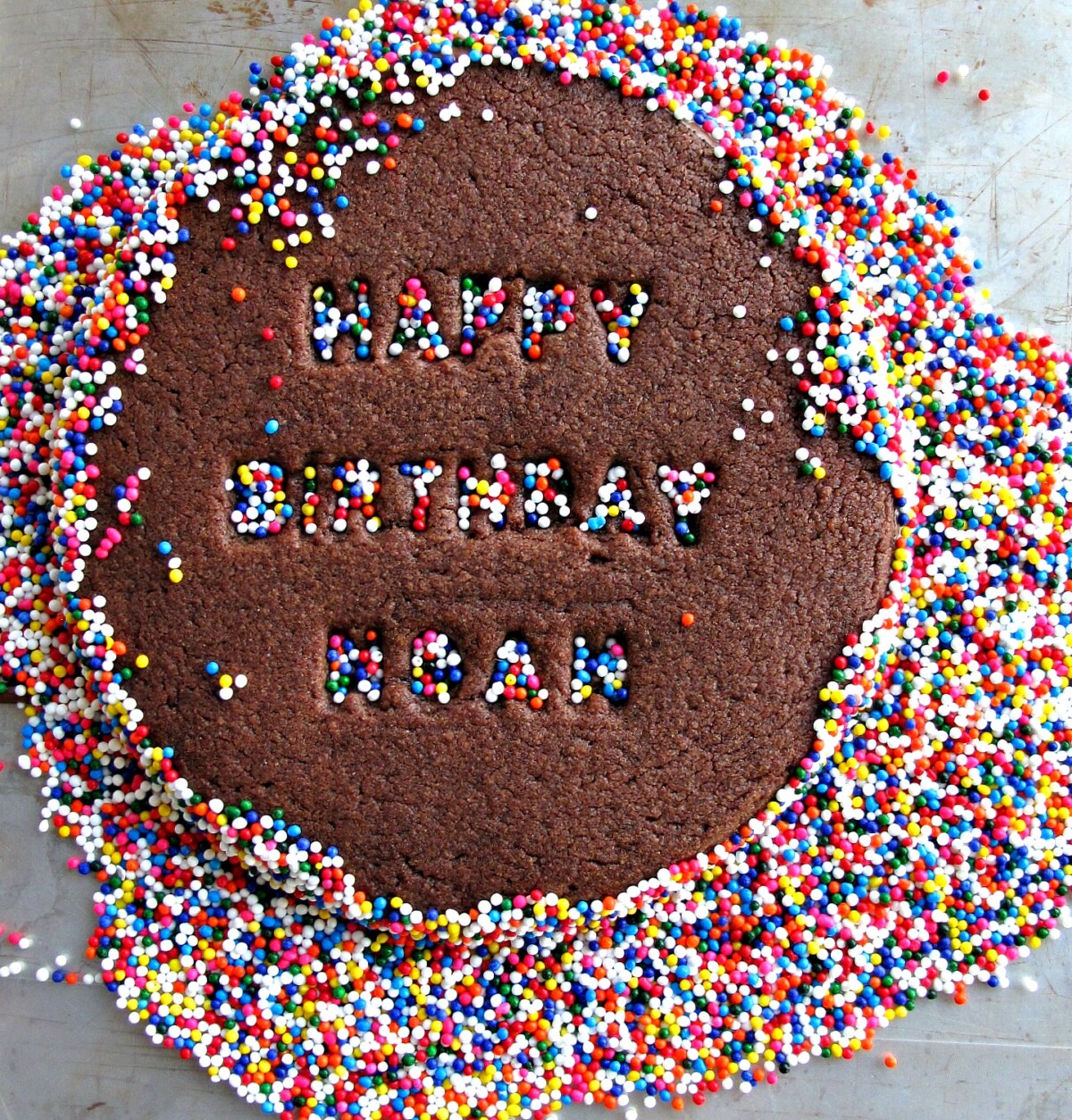 For my son's past two birthdays, I baked goodies shaped like birthday cakes.
Birthday Cake Pops were my first attempt at cakes pops. I was delighted with how much the little cake-shaped pops resembled birthday cakes, especially when the real candle on top was lit!
Last year, Birthday Cake Surprise Cookies also looked like miniature cakes complete with real candles, but instead of soft cake balls on a stick, these were birthday cake shaped cookies with a surprise stash of mini M&M's inside!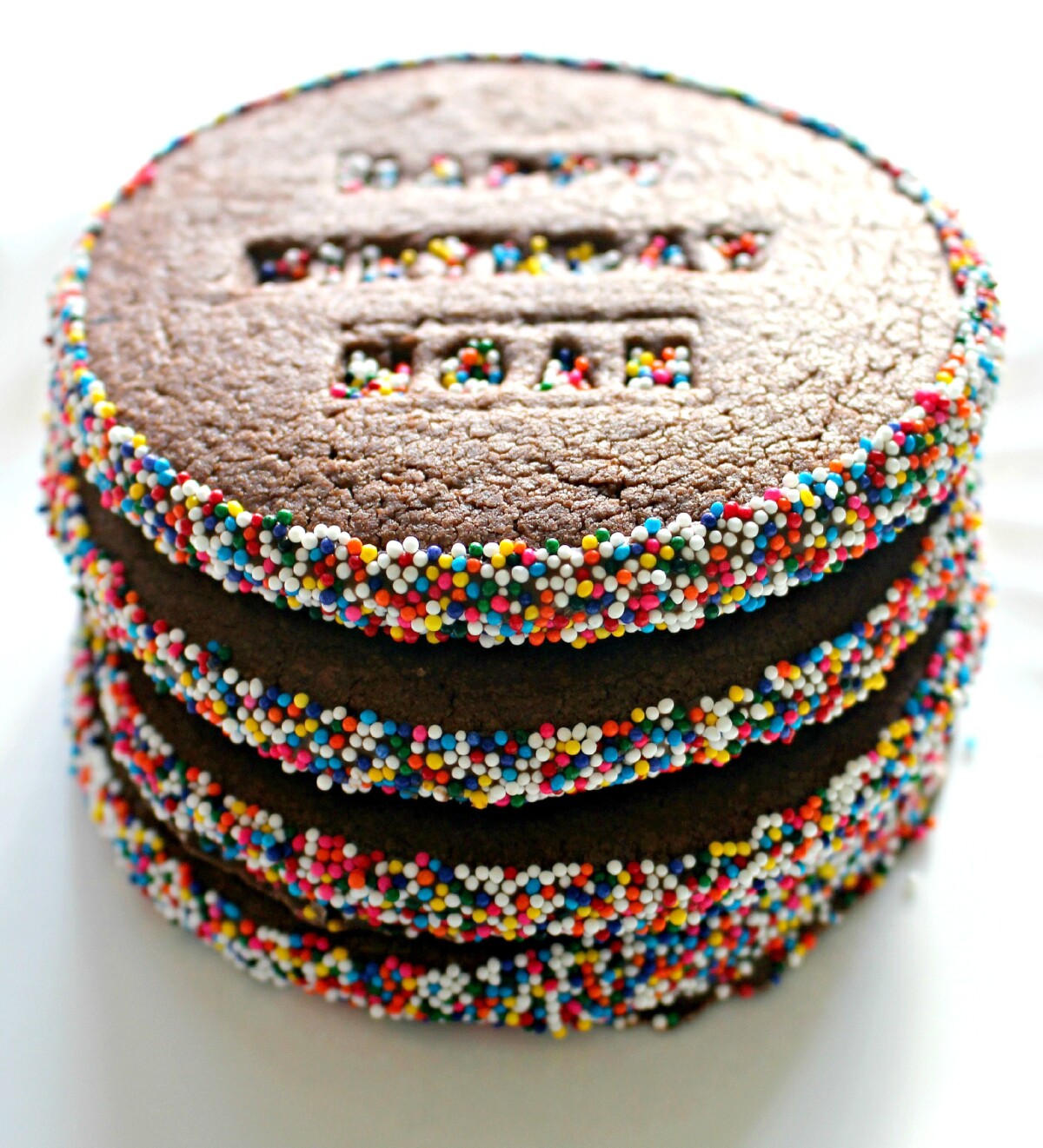 For this year's birthday treat the emphasis is on "celebrate", and I let multitudes of rainbow colored sprinkles do the talking.
The same delicious roll-out chocolate sugar cookies from Lilaloa that I have used so many times before, gets bathed in chocolate, then embellished with nonpareil sprinkles.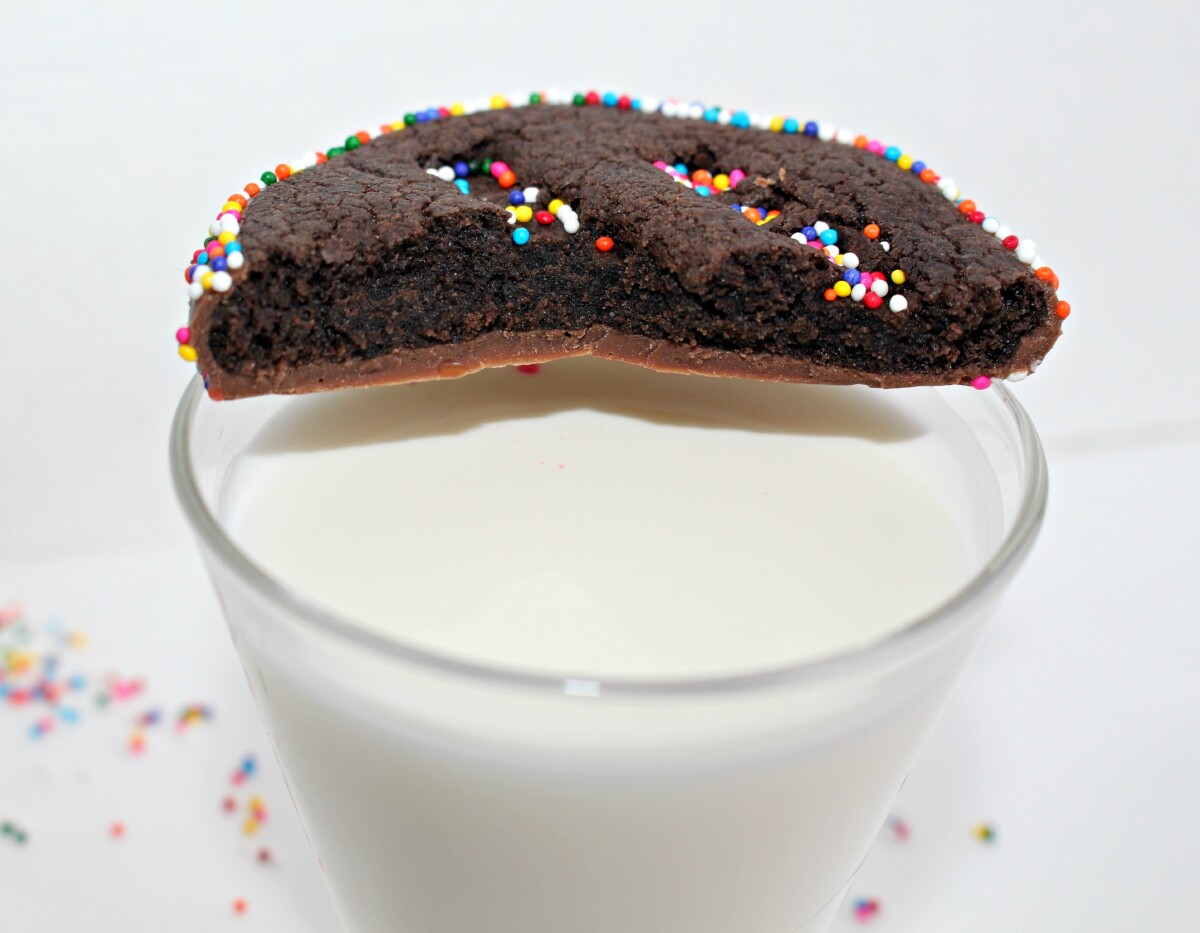 I embossed the birthday message onto the cookies using a fun set of cookie cutters I purchased at World Market (I have been told that William Sonoma has a similar set).
The set comes with three cookie cutters and an alphabet of little individual plastic letters and prearranged phrases. The cookie cutters are made to imprint up to two lines.
Because I wanted three lines, I didn't use the special cookie cutters for imprinting. Instead, I pressed the letters into the dough myself. The words "happy" and "birthday" were premade.
For ease of handling, I made an imprinting stamp with my son's name using the individual letters double sticky taped onto a piece of cardboard.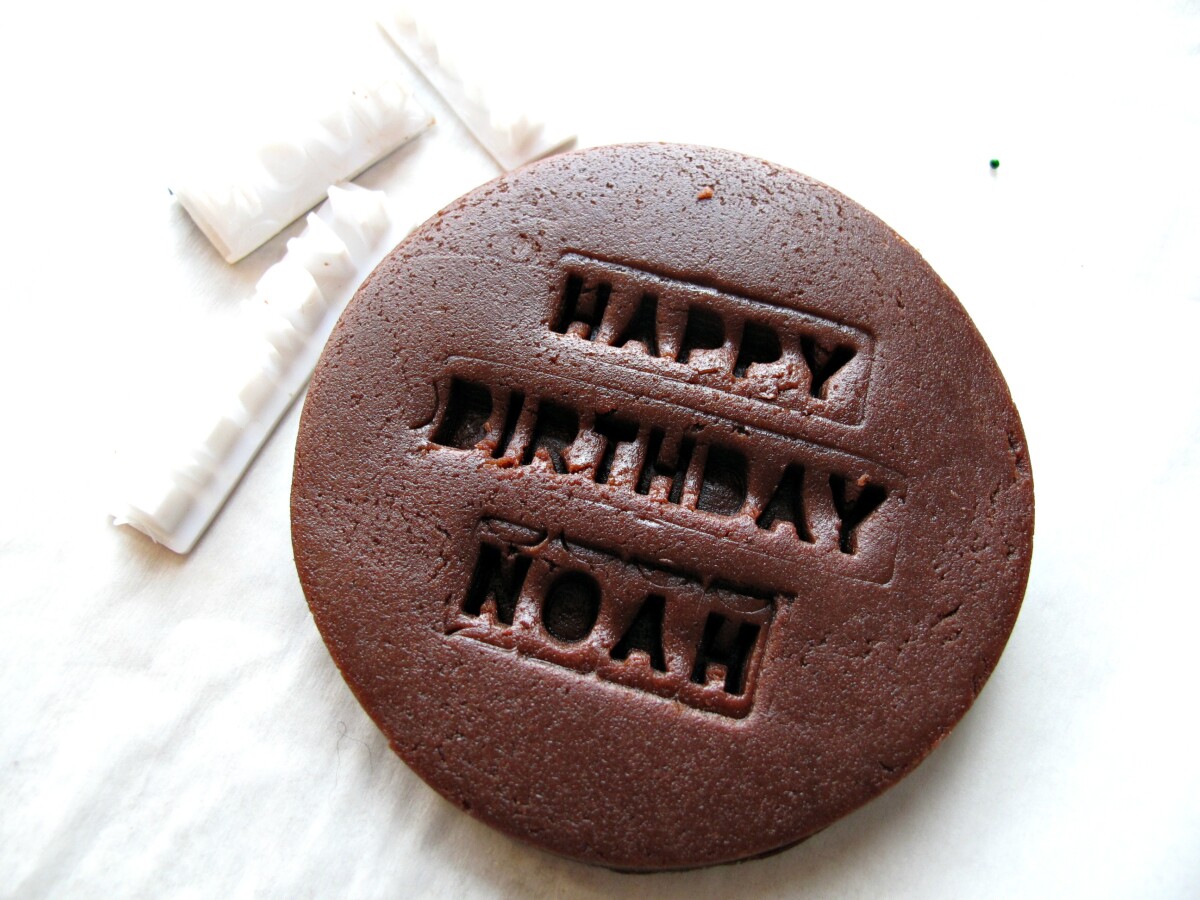 The message is probably easier to read without sprinkles, but I couldn't help adding some extra pizzazz.
Immediately after removing the cookies from the oven, I sprinkled the nonpareils into the imprinted letters, then gently brushed off the excess with a pastry brush.
The heat of the cookies melts the sprinkles just slightly, holding them in place.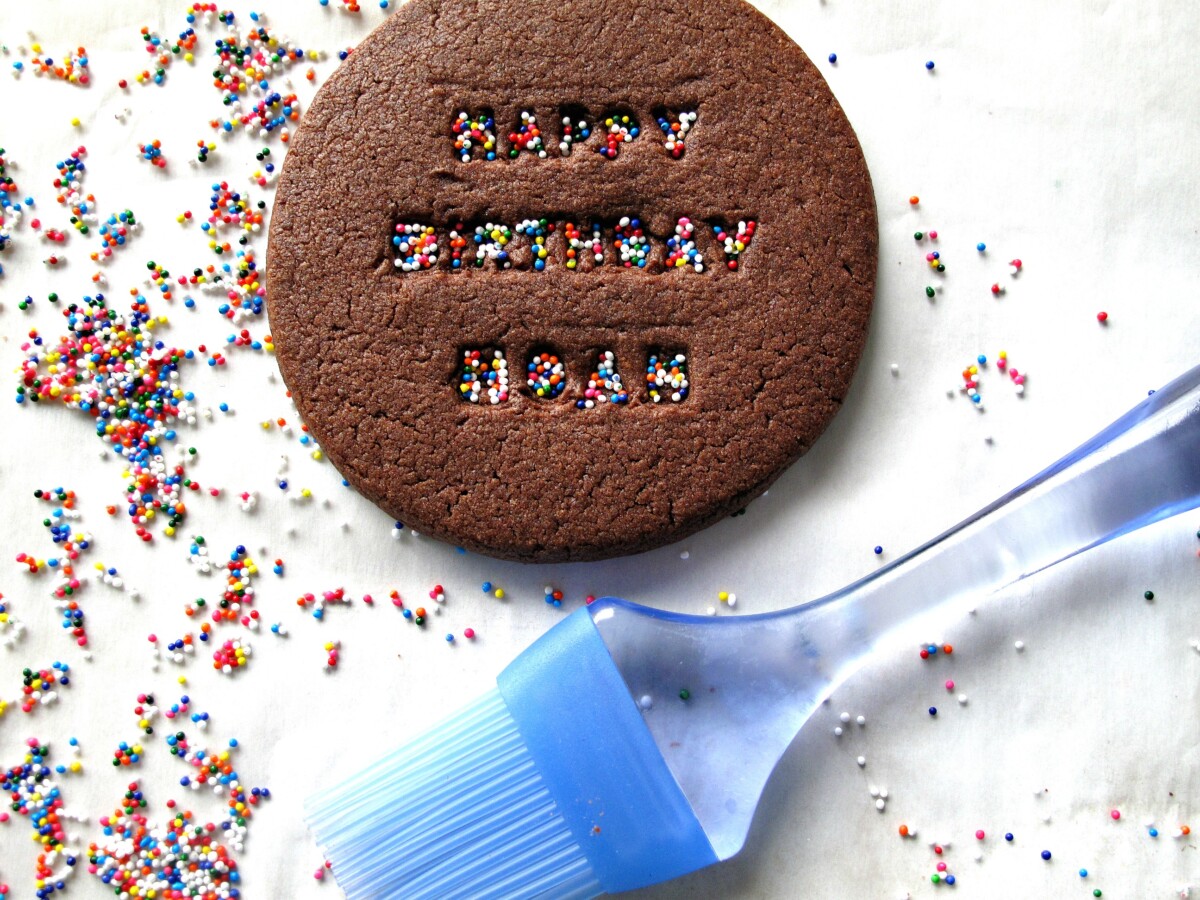 Once the cookies were completely cool, I placed them into a bowl of melted chocolate coating discs ( chocolate meant to be melted for dipping and coating) to cover the bottom and sides of the cookies.
Sprinkles were added to the melted chocolate on the sides of the cookies. After 10-15 in the refrigerator to set the chocolate, the Celebration Sprinkle Cookies were party ready!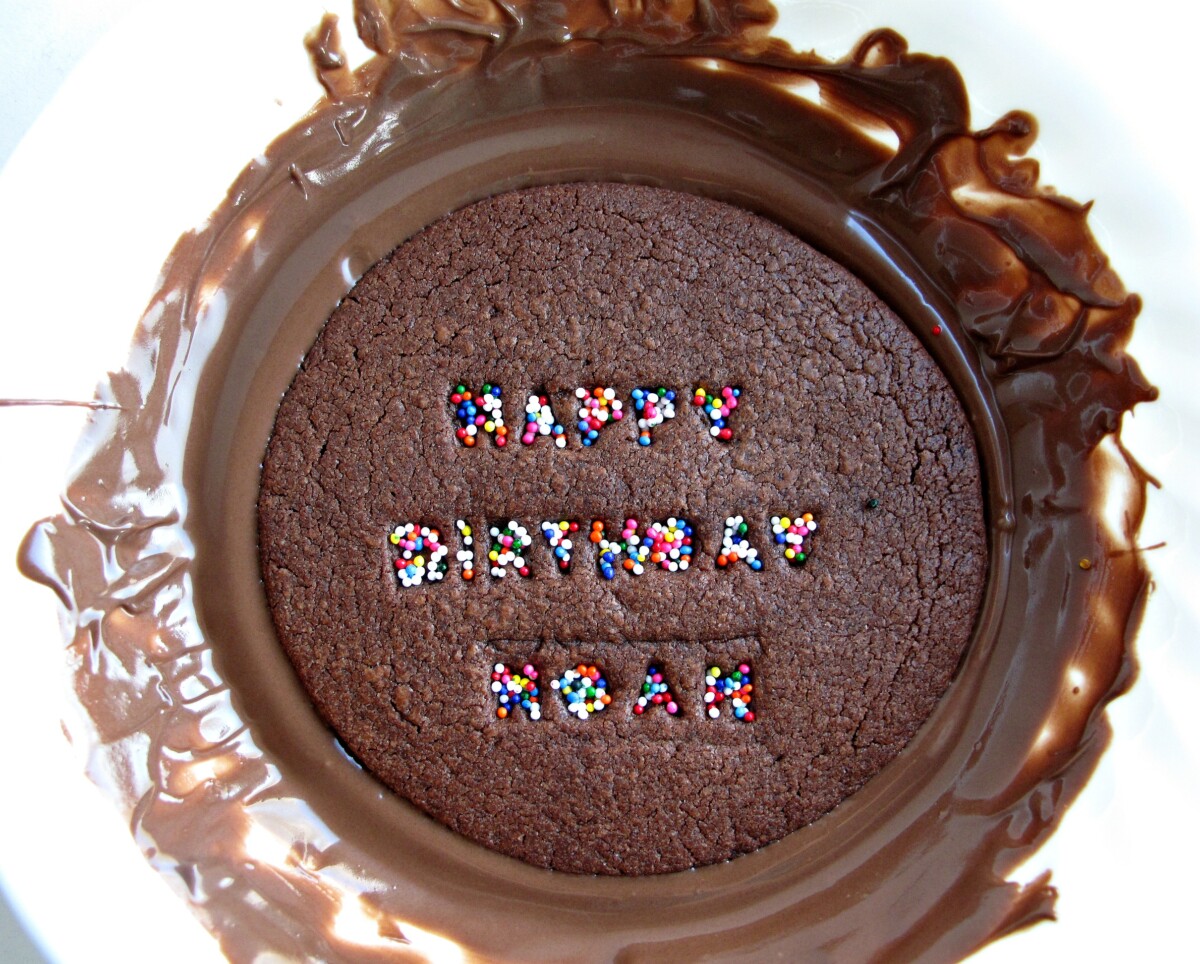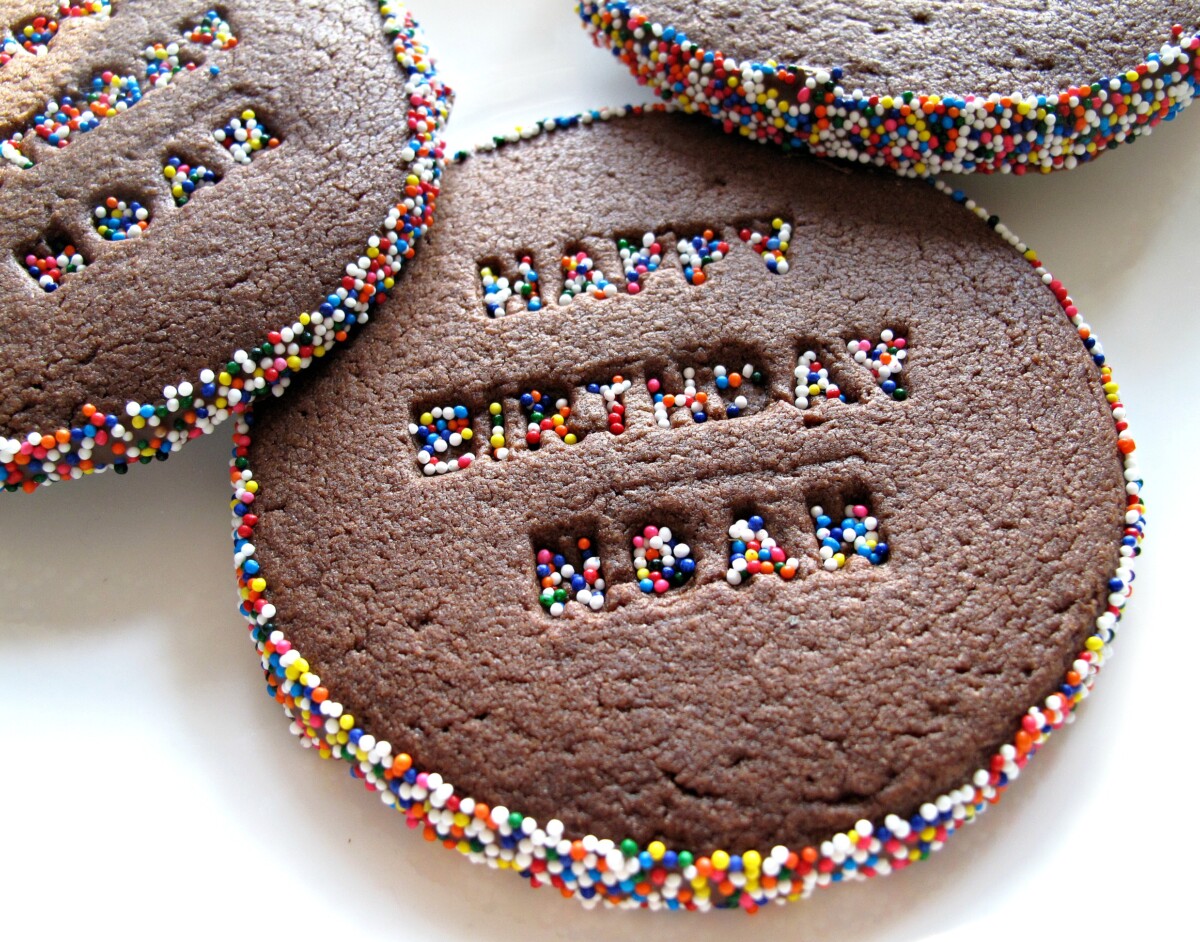 Happy Birthday, Noah! I love you.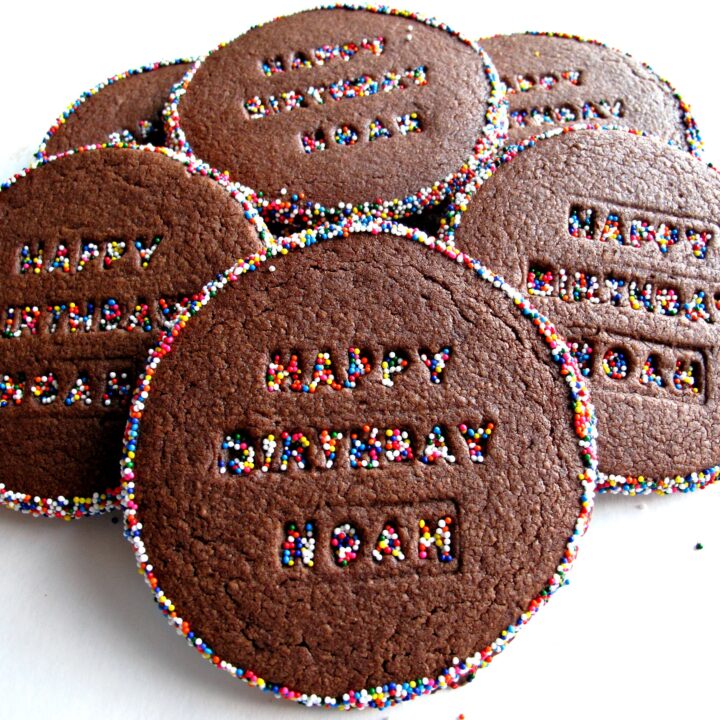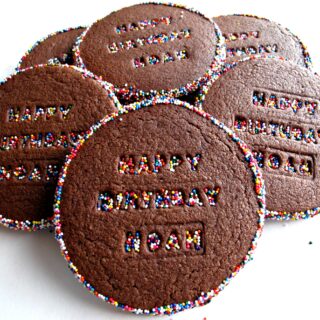 Celebration Sprinkle Cookies
Chewy chocolate sugar cookies dipped in chocolate and sprinkles.
Print
Rate
Adapted From:
lilaloa.com
Ingredients
1

cup

unsalted butter

room temperature

¼

cup

shortening

1 ½

cups

granulated sugar

2

large eggs

1

teaspoon

vanilla extract

½

teaspoon

salt

¾

teaspoon

baking powder

⅔

cup

cocoa

3 ½

cups

all-purpose flour

3 ½

cups

melting chocolate discs

chocolate discs meant for dipping and coating

1

cup

nonpareil sprinkles
Instructions
Cookies
Pre heat oven to 375˚F. Line a baking sheet with parchment paper.

In the bowl of an electric mixer, cream butter and sugar just until combined.

Mix in eggs and vanilla. Then mix in salt, baking powder and cocoa.

Gradually add flour, 1 cup at a time. If making the cookies right away, use 3 ½ cups of flour. If refrigerating dough for use in several hours or several days, use only 3 cups of flour.

Roll out dough between two sheets of parchment paper to slightly less than ½" thick ( about ⅜")

Cut out circles and imprint with cookie stamps.

Transfer to prepared baking sheet and bake for 7-8 minutes.

Immediately after removing from oven, fill the imprinted words with sprinkles. Gently brush off excess sprinkle with a pastry brush.

Cool on baking sheet for 10 minutes then transfer to a wire rack to cool completely.
Decorating
Line a baking pan with sides (a size that will fit in your refrigerator) with wax paper. The sides are necessary to contain loose sprinkles.

Melt half of the chocolate coating discs in a shallow bowl in the microwave at 50% power for 30 seconds. Stir, then return to the microwave for 10-20 second intervals at 50% power just until completely melted.

Depending on the size of your pan, work with groups of 3 or 4 cookies. Place a completely cooled cookie on top of the melted chocolate and gently press down until the bottom and sides of the cookie are immersed in chocolate. Use two forks under the cookie, one on each side, to gently lift the cookie out of the chocolate and onto the prepared baking pan. Immediately cover the chocolate coated sides of the cookie with sprinkles. After completing 3 or 4 cookies place the pan in the refrigerator for 10-15 minutes to set the chocolate. Repeat with the remaining cookies, melting additional chocolate discs as needed.

Store at room temperature in an airtight container for up to 2 weeks. Separate layers of cookies with wax paper.
Notes
Chocolate dipped cookies are only care package friendly during cold weather months. For a festive presentation, wrap each Celebration Sprinkle Cookie individually in a cellophane party bag and tie with a ribbon. Place 6 wrapped cookies into a gallon size zip lock bag, removing as much air as possible. Pad the shipping box carefully to be sure there is no movement in transit.
Nutrition
Calories:
635
kcal
|
Carbohydrates:
85
g
|
Protein:
7
g
|
Fat:
34
g
|
Saturated Fat:
19
g
|
Trans Fat:
1
g
|
Cholesterol:
58
mg
|
Sodium:
125
mg
|
Potassium:
236
mg
|
Fiber:
5
g
|
Sugar:
55
g
|
Vitamin A:
439
IU
|
Calcium:
41
mg
|
Iron:
3
mg