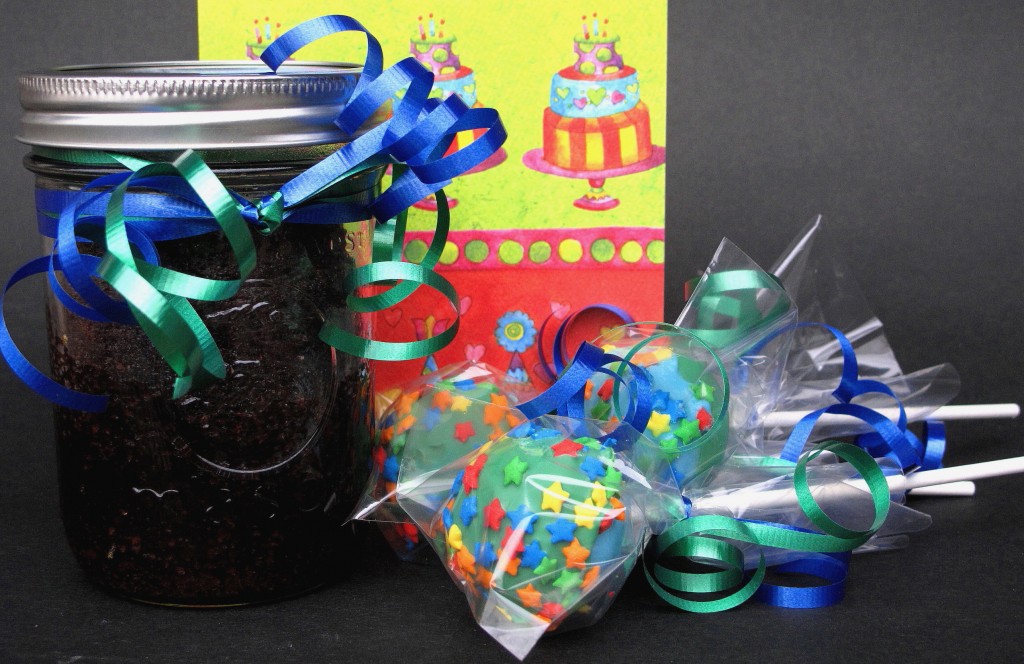 "Birthday Soup is good to eat, but not as good as Birthday Cake."
― Else Holmelund Minarik, Little Bear
 A birthday is both a celebration and an opportunity. The birthday person celebrates the anniversary of their birth. For friends and family it is an opportunity to express their love for the birthday person and also to let them know how important they are in our lives. Good wishes come in many forms; a call, a text, a card, a hug, a smile. And a cake.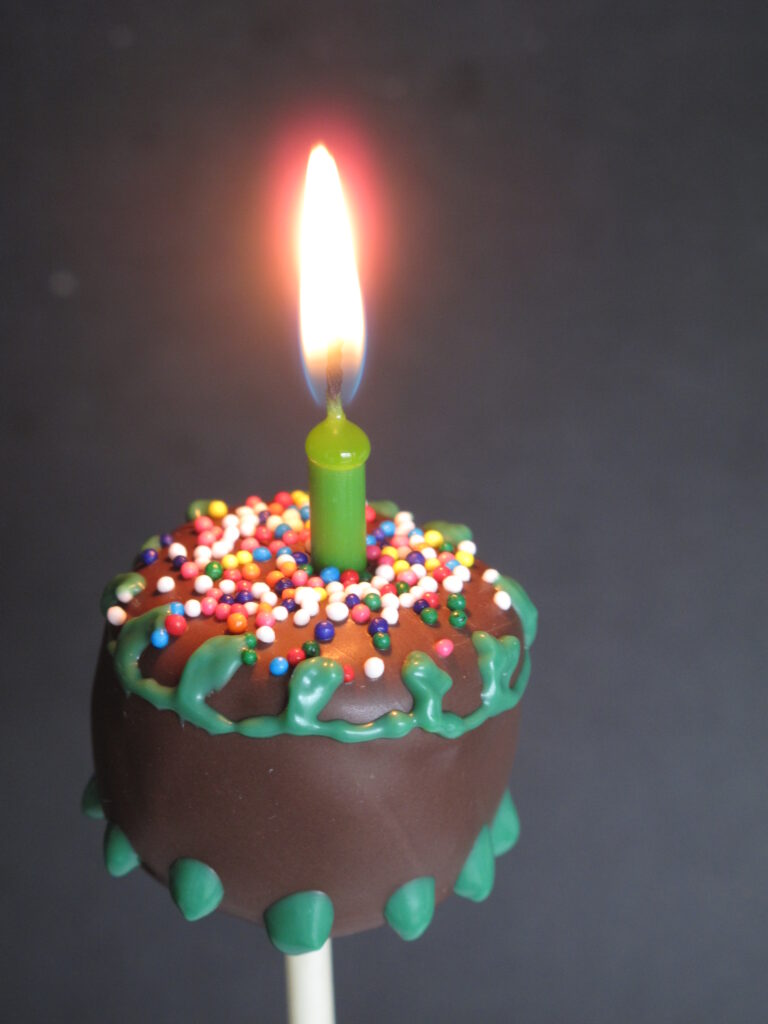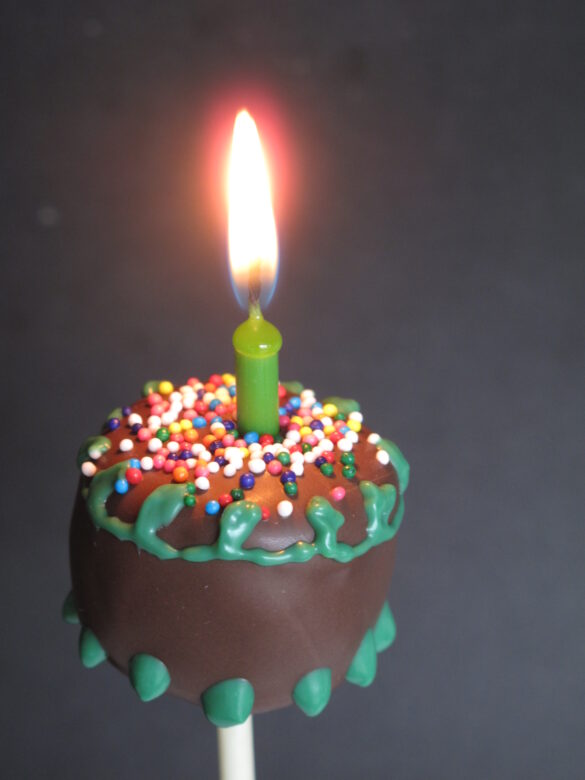 Cake isn't easy to share if the birthday person is far away but it can be done! A birthday-in-a-box care package can include cake.
My Monday Box recipient turned 20 last week. Amazing. Though we wouldn't be together to celebrate, I sent him a birthday-in-a-box. I think there are several elements essential to a celebratory care package. First, presents. These can be actual gifts or token items just to elicit a smile. I sent some football related items (his birthday was on Super Bowl Sunday) and an official  I.O.U., written on a scroll in "legalese", for when the birthday boy actually needs something. Then, balloons. If your box is traveling far, send a bag of balloons to be blown up on arrival. My box was only traveling 300 miles, a next day delivery, so I sent a fully inflated mylar birthday balloon. (Hint: If you send a helium balloon, tape the string to the inside of the box so it doesn't fly away when the box is opened.) Finally, cake and candles. There has to be cake. Both cake pops and cake-in-a-jar are wonderful for care package birthday cakes.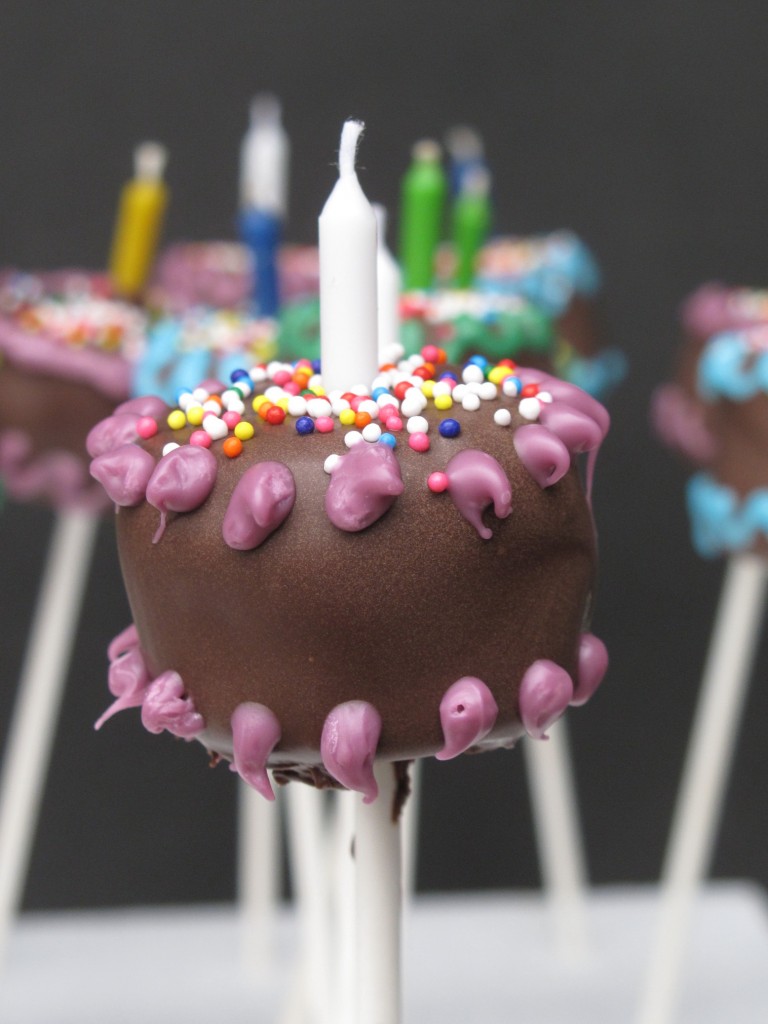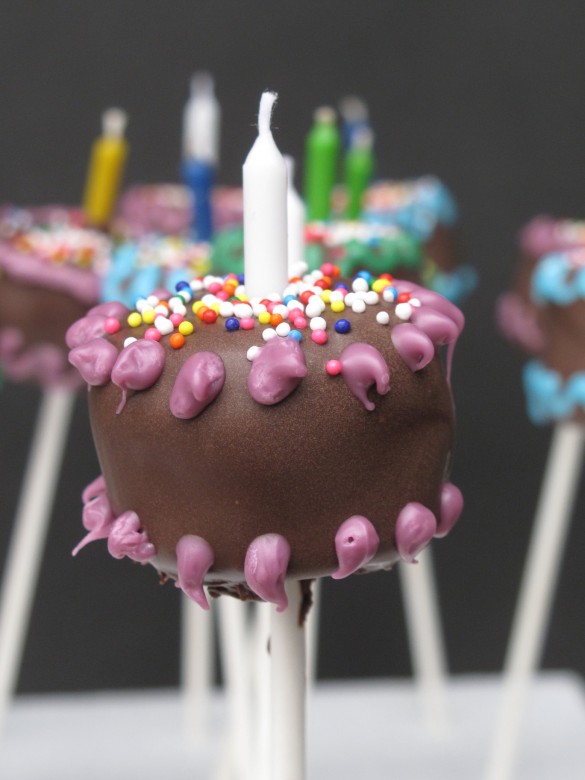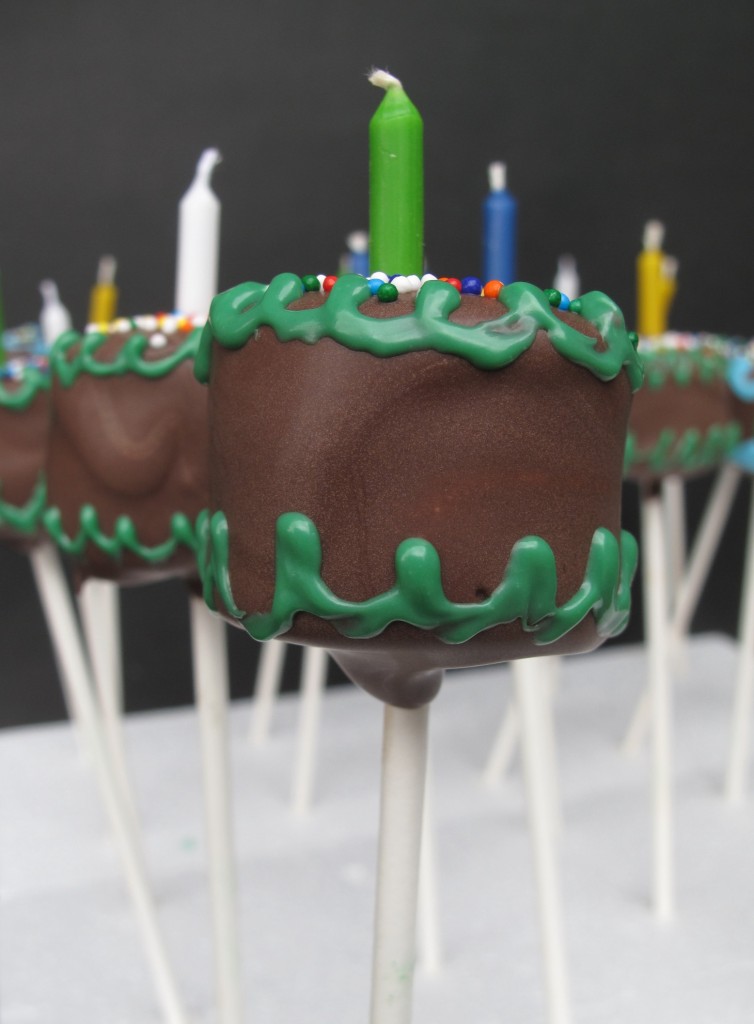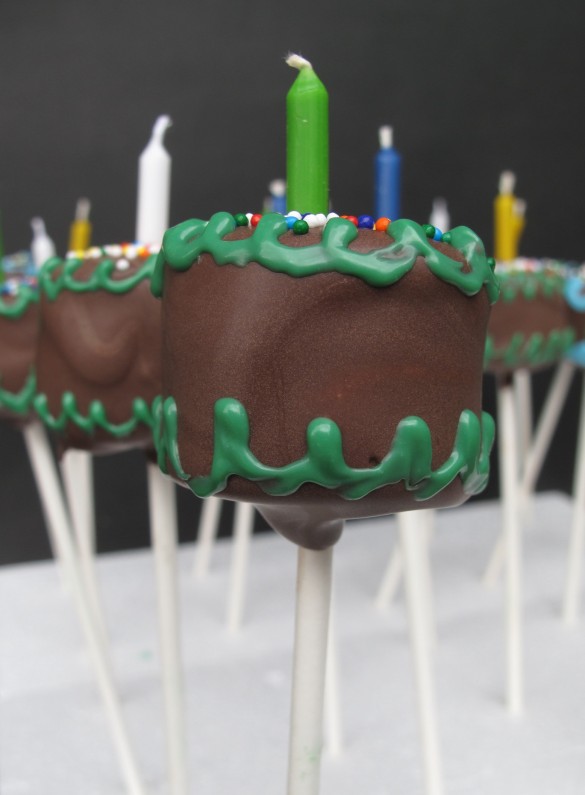 Cake pops are little balls of a truffle-like dough made by combining crumbled cake with icing. Cake pops last a long time (at least 2-3 weeks) because the cake/frosting part is enclosed in candy coating. If you use packaged cake mix and frosting, there is the added "benefit" of preservatives. I have no personal experience sending these to distant lands. However, while in the checkout line at the candy/cake making store, I struck up a conversation with the woman behind me. She had a son-in-law on an aircraft carrier in the Persian Gulf and sent him monthly care packages filled with her molded chocolates, made with the same candy melts used to coat cake pops. Apparently, melted chocolate was never an issue. All of her candies were received and enjoyed intact.  Just to be safe, I wouldn't send these in hot weather.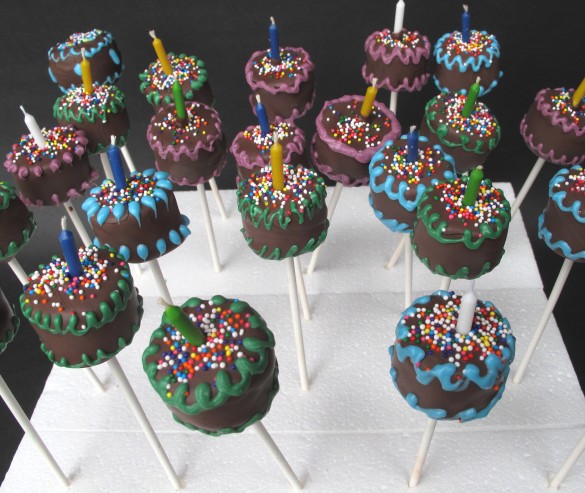 There are many websites that give excellent detailed directions and tips on making cake pops. Bakerella.com is one of the best known and for a good reason. That woman is talented! You can see a short Bakerella video on cake pop basics here. As you can see in my photos, I am a total cake pop novice. As a matter of fact, these were the first cake pops I have ever made. I didn't expect (and didn't get) perfection. I just had fun. The finished product tastes just as good whether it is gorgeous or not. I saw birthday cake decorated pops on Strawberry Chic and Munchkin Munchies.  Pint Sized Baker, another website of a talented lady, has helpful tutorials and great ideas for cake pops. Following the directions on Pint Sized Baker I produced 21 (20 plus 1 for good luck) birthday cake pops complete with candles. My details were added with candy melts piped out of a frosting bag (though a plastic bag with corner cut would work just as well). I covered each pop with a lollipop bag and twisty tie. All 21 pops nestled snuggly in a shirt box which was packed into the care package.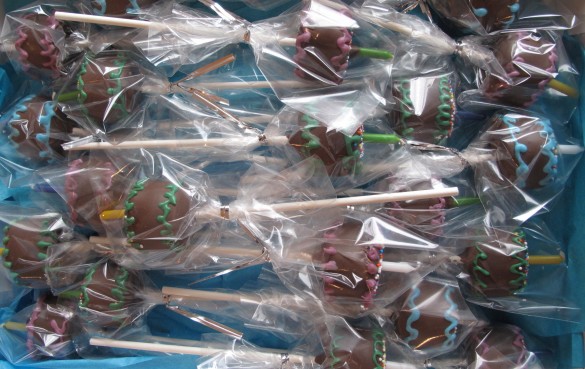 If you don't feel up to cake shaped pops, anyone can make a plain ball-shaped pop dipped then sprinkled. Again, mine are amateur, but cute enough. (I probably shouldn't have tried the bi-color double dipping.)  I really think it is highly unlikely that any birthday-in-a-box recipient is going to critique your cake pop skills other than to say, "Yum."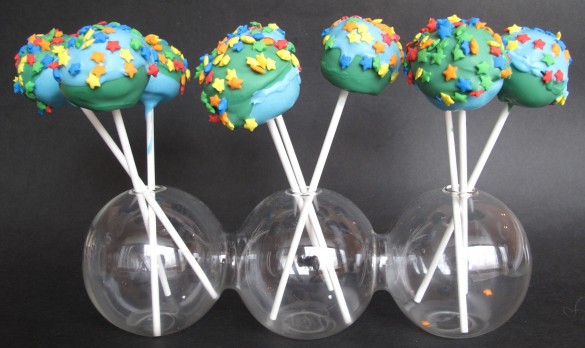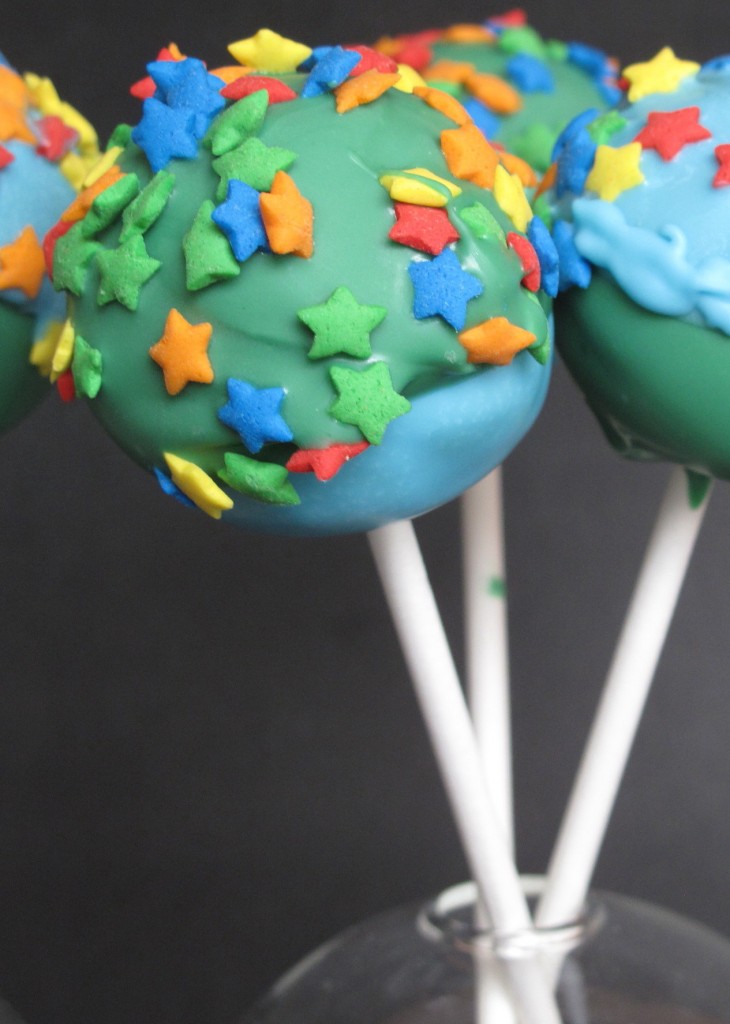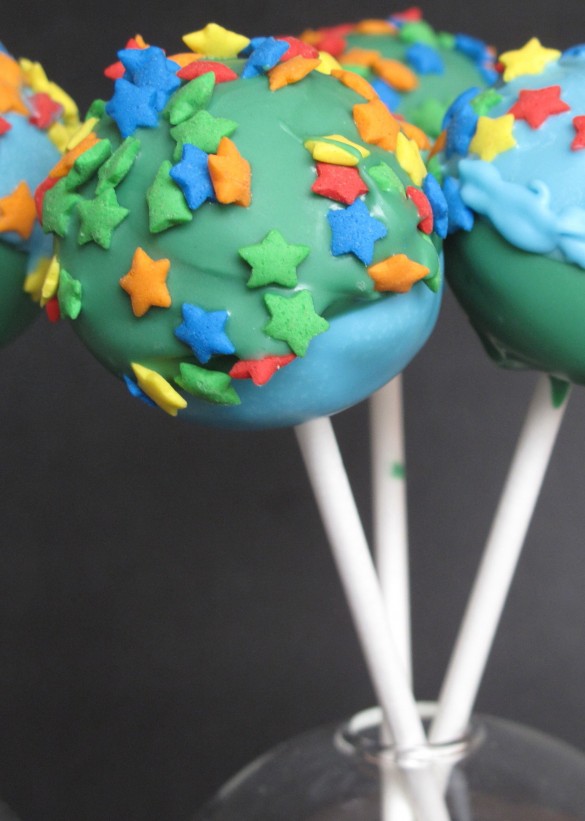 The cake pop tips I found most useful were: Don't over do the frosting added to the cake crumbs or the ball won't hold its shape. Cold is your friend but frozen is not. Keep the cake balls in the fridge as you work with them in small batches. If the coating is too thick you can add a small amount of shortening or coconut oil but too much will make the coating drip all over the place. Dip the stick in a bit of coating before inserting into the cake ball, then set the cake pop aside and let it dry before fully dipping to coat the ball. Tap, tap, tap to remove excess coating. Use sprinkles immediately after dipping in coating. That stuff sets up fast.  Piped coating and sprinkles can often cover up cracks that may form. If you find the finished pops to be ugly, eat with your eyes closed.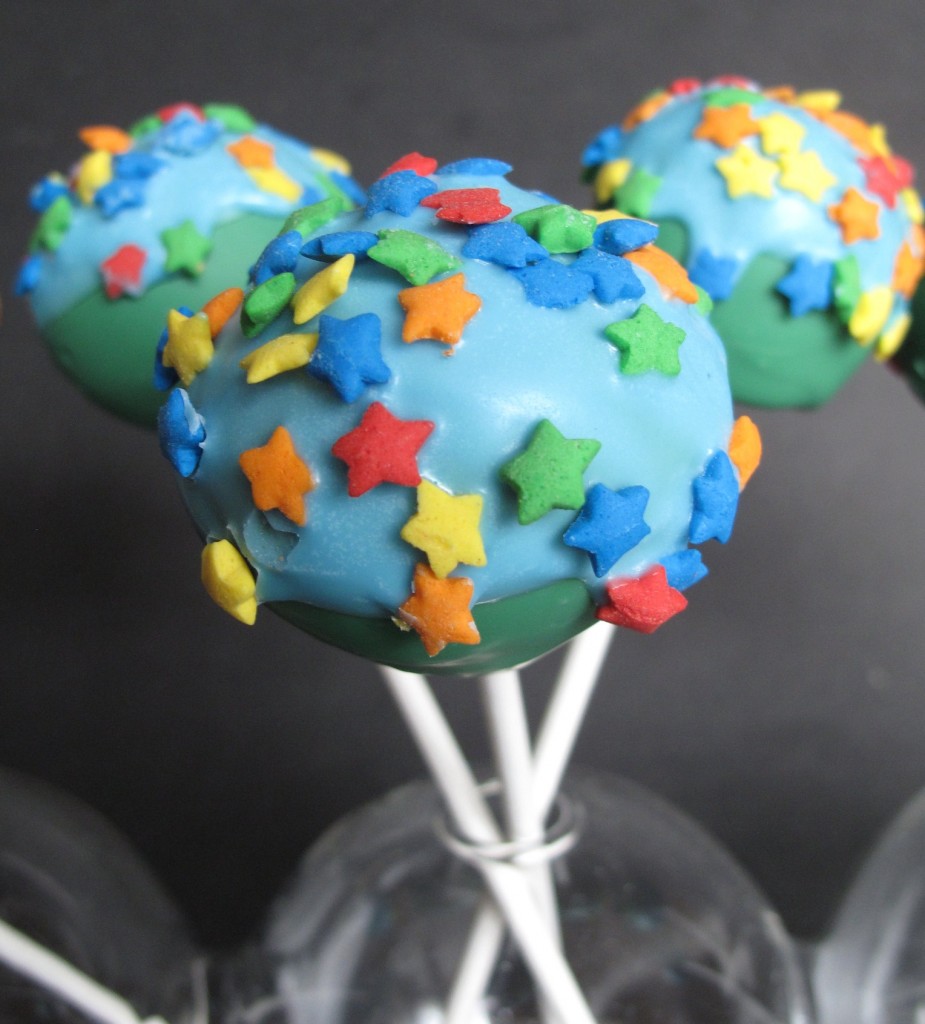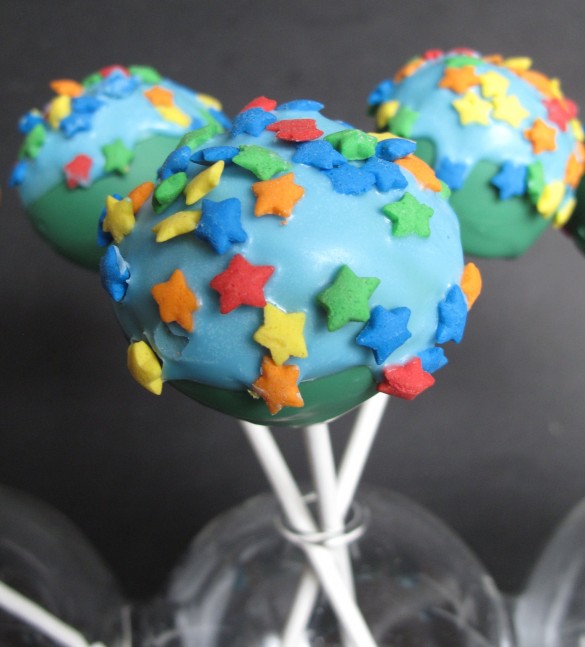 A cake-in-a-jar is a trendy item that can be made travel safe. I found very helpful directions and recipes at Loving a Soldier and Fifty Two Cakes. Both sites offer the experience of military families who have included these cakes in numerous care packages. The basic idea is to bake a small cake inside sterilized canning jars. Then, as soon as the cakes come out of the oven, the lids are screwed on ( NO frosting). As the cake cools, a vacuum is created and the jar seals. In theory, this should keep the cake fresh for many weeks. There is always a risk of spoiling but families who have taken care to sterilize the jars and lids have had great success in shipping cakes to loved ones far away.
A standard cake mix makes enough batter for 5 pint-sized jar cakes. The recipe I used, Chocolate Fudge Cake, is for 2 cakes. Just multiply for larger quantities. In general, each pint jar gets filled about half way with 1 cup of batter. The batter rises as the cake bakes. You don't want to overfill or the lids won't seat correctly.
If you use a wide mouth jar and a cake mix, the cake will easily dump out for slicing and eating. Some people like to include a can of frosting in the care package. This Chocolate Fudge Cake is so moist and fudgy no frosting is needed. It also doesn't slide easily out of the jar for serving the way a drier cake does. Portions have to be scooped out or eaten from the jar with a spoon (my method of choice).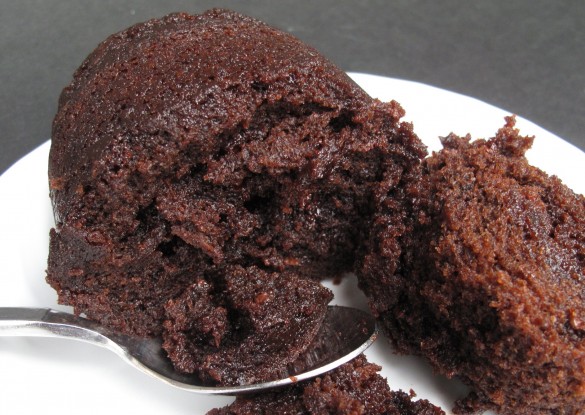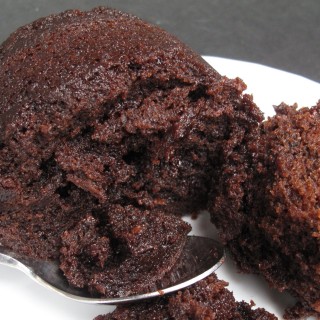 Print
Chocolate Fudge Cake-in-a-Jar and Beginners Cake Pops for Birthday-in-a-Box
Servings
2
pint-sized jar cakes
As an Amazon Associate I earn from qualifying purchases.
Ingredients
1

cup

all-purpose flour

1

cup

granulated sugar

½

teaspoon

baking soda

¼

teaspoon

cinnamon

1

teaspoon

espresso powder

optional

1/3

cup

unsalted butter

¼

cup

water

3

tablespoons

cocoa

I prefer Dutch processed for richer chocolate flavor

¼

cup

buttermilk

1

egg

½

teaspoon

vanilla extract

2

tablespoons

mini chocolate chips
Directions
Preheat the oven to 325 degrees F.

Place two 1 pint canning jars (preferably wide mouth), lids, and rings in large sauce pan filled with water. Boil for 10 minutes. Carefully remove jars and dry thoroughly. Leave the lids and rings in the water to keep warm until needed.

Coat the inside of each jar with non-stick spray. Place on a baking pan with sides. ( I used my jelly roll pan but a cake pan would be fine.)

In a bowl, whisk together the flour, sugar, baking, soda, cinnamon, and espresso powder (if using).

Combine butter, water and cocoa powder in a medium saucepan over medium heat. Stir constantly until the butter is melted and blended with the water and cocoa. Pour into a large bowl.

Add the flour mixture to the cocoa mixture and stir to combine.

Stir in the buttermilk, egg, and vanilla until blended. Mix in the mini chips.

Divide the batter between the two prepared jars (approximately 1 cup in each). Wipe off any batter that gets on the sides or rim of the jars.

Replace the jars on the baking pan (not touching each other). Bake for 35-40 minutes. Top of cake should spring back when touched. A wooden skewer can be used to test for doneness.

Remove the pan with jars from the oven. Carefully (the jars are HOT) wipe off any baked-on batter or crumbs from the rims of the jars. Place a lid and ring on each jar and screw on firmly. Lids should "click" sealed in about 15 minutes.
Packing Tips
Make sure to wrap each jar individually in bubble wrap and place inside a well padded box. Pay special attention to padding the top, bottom and sides of the mailing carton
UPDATE January 2016: Recently, while at a food blog conference I was privileged to meet Jennie Nguyen from the consumer information site BestFoodFacts.org . Though I personally have had success sending cake-in-a-jar care packages, I asked her for food safety information. This is her response.
"What is the shelf life of cake baked in a glass/mason jar? Are there certain ingredients in cake that create a shorter shelf-life?  It is not safe to bake cake in a glass jar and then to close the jar with a canning lid!  Research at Kansas State University (Aramouni et al, 1994) showed that heat-stable microorganisms can survive the baking process and multiply in breads baked in a jar during storage. Research at other universities with commonly available recipes for consumers has shown the same potential for dangerous products to result. You will see these products made commercially; however, additives, preservatives and processing controls not available for home recipes are used. Canning jar manufacturers also don't endorse baking in their canning jars."
Please be advised that The Monday Box no longer endorses using Cake-in-a-jar for care packages with shipping times longer than 1 week.