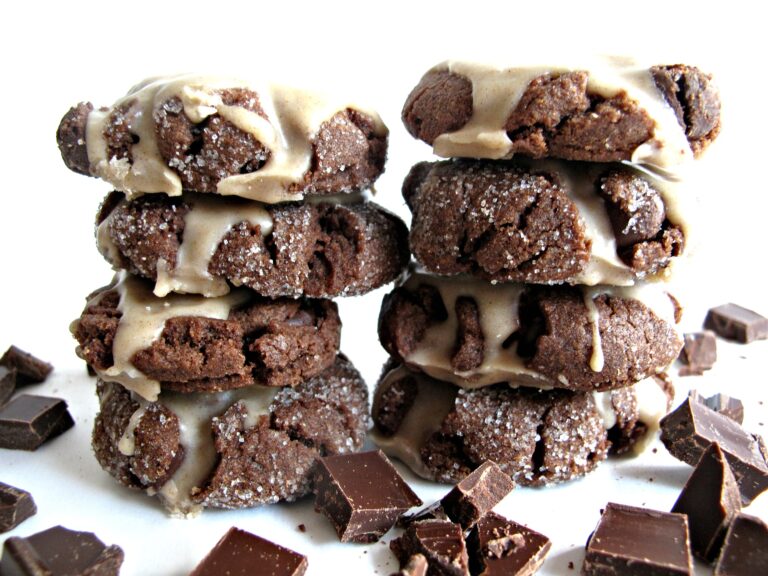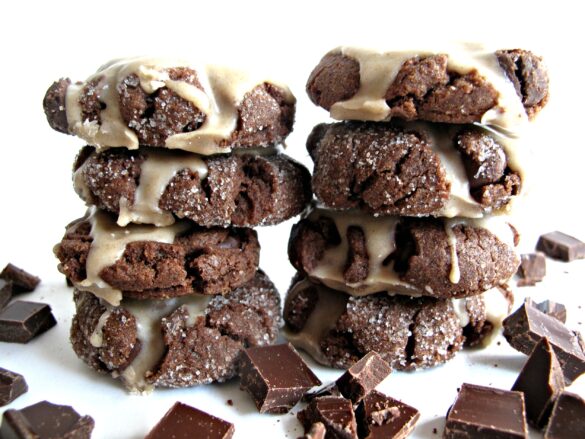 I have never been an outdoors person. There are bugs outdoors. I don't do bugs. (Yes, I know there are sometimes bugs indoors too, but that's why I have the Orkin Man on speed dial.) Once many years ago, I went camping to impress my new husband with my willingness to try new things, but when we almost asphyxiated due to a citronella candle I insisted on lighting inside the tent to kill mosquitos, outdoorsy activities were laid to rest.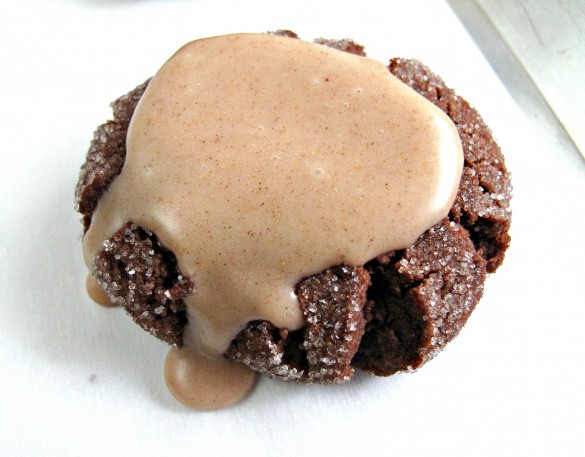 Then, last summer, our Sheltie, Pax, adopted us and I began my daily visits to the dog park. Outdoors. Pax was a puppy and needed to burn off some energy. Also, I think I have turned into a Crazy Dog Lady. Like the promise of the U.S. Postal Creed (with some poetic license), neither snow nor rain nor heat nor gloom keeps me from taking Pax to the dog park. This requires a whole new wardrobe. Many, many layers of Under Armor were essential this winter. I wore snowboarding socks and boots manufactured for polar exploration. I was prepared. Now it is the beginning of a St. Louis summer. Temperatures have already reached above 90 degrees F with typical thick, muggy humidity. I don't know about Pax, who hates hot weather, but I am prepared for summer too. Shorts and a t-shirt are the coolest dog park attire. A drink bottle of something cold helps, and after the park, something spicy. Like Chocolate-Ginger Cookie Nuggets.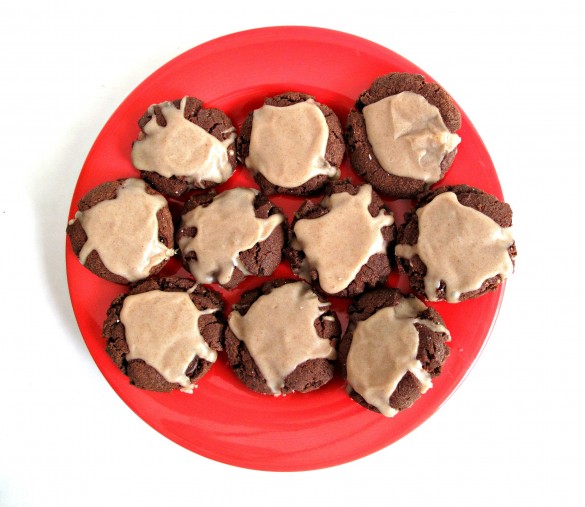 Though ginger is most commonly used as a winter baking spice, small amounts of this spicy root can help cool your body through sweating. To be honest, I didn't bake my Chocolate-Ginger Cookie Nuggets with enough ginger to produce much cooling sweat. I used just enough to give a burst of ginger flavor and a mild spicy tingle to these crunchy chocolate cookies. The icing also has the added zip of ginger and cinnamon. Munching on these cookies made me happy enough to ignore the heat. Feel free to increase the ginger to your personal taste and cooling needs.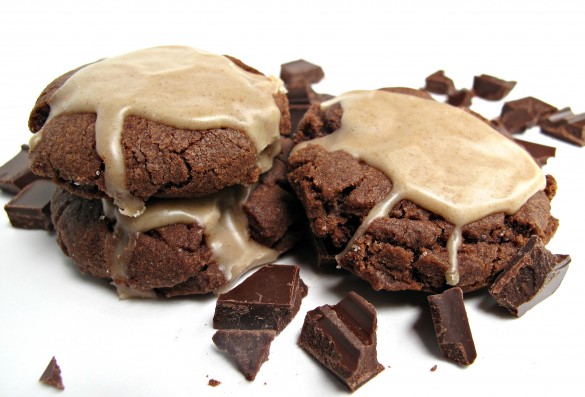 You can read more about desert safe ingredients and find an index of all of the desert safe recipes on The Monday Box by clicking here.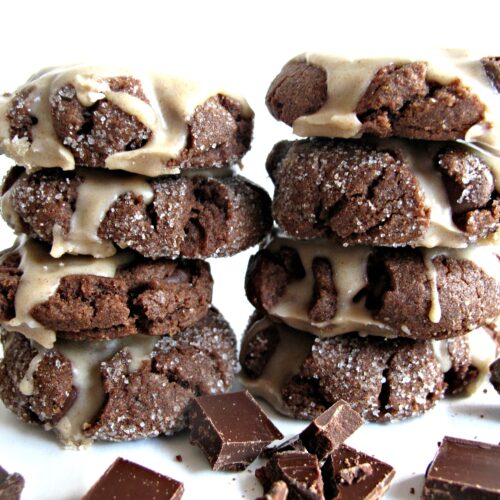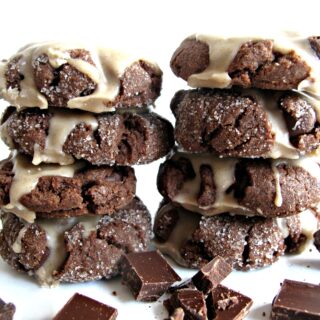 Print
Chocolate-Ginger Cookie Nuggets
As an Amazon Associate I earn from qualifying purchases.
Ingredients
½

cup

unsalted butter

room temperature or vegetable shortening***

1

cup

plus ½ cup granulated sugar

1

large egg

room temperature

1

teaspoon

vanilla extract

1 ½

cups

all-purpose flour

1/3

cup

baking cocoa

½

teaspoon

baking powder

½

teaspoon

baking soda

¼

teaspoon

salt

1

teaspoon

ground ginger

1

teaspoon

cinnamon

½ -3/4

cup

dark chocolate chips

Ginger Frosting***

1

cup

confectioners sugar

2

tablespoons

milk or water

½

teaspoon

vanilla

¼

teaspoon

cinnamon

1

teaspoon

ginger

Desert Safe Adaptations: Vegetable shortening is recommended to reduce the risk of spoilage when shipping during hot weather. Skip the frosting. These cookies

rolled in sugar, are pretty even without the frosting which could melt during hot weather shipping.
Directions
Preheat oven to 350˚F. Line a baking sheet with parchment paper.

• In a medium mixing bowl, whisk together flour, cocoa, baking powder, baking soda, salt, ginger, and cinnamon.

• In the bowl of an electric mixer, cream butter/vegetable shortening and 1 cup granulated sugar until light and fluffy. Add vanilla and egg and beat until combined.

• Add flour mixture. Mix until combined.

• Stir in chocolate chips.

• Using a small, 1 tablespoon scoop, form dough balls. Roll each ball in granulated sugar before placing on prepared baking sheet, 2" apart.

• Before baking, press lightly on each cookie with a spatula to flatten slightly. Bake for 10-12 minutes. (Cookies made with butter will spread more and be flatter. Flatter cookies cook faster. Cookies made with vegetable shortening will spread very little. Thicker cookies may require the longer cooking time to bake all the way through and achieve a crunchy texture.)

• Allow cookies to cool for 5 minutes on the baking tray, then transfer to wire racks to cool completely before storing or icing.

FROSTING: In a small bowl mix all ingredients together until smooth. Consistency should be just thin enough to drizzle from a spoon.

Place cookies on a wire rack over wax paper (to catch the drips). Place about one teaspoon of icing on the top of each cookie. The icing will drip over the sides and cracks of the cookie. Allow the icing to set(firm) completely at room temperature (several hours) before packing or storing.

Store at room temperature in an airtight container in layers separated by waxed paper for up to 7 days. Cookies will get crunchier and the spices more pronounced as the cookies age.
Packing Tips
Double wrap pairs of cookies (with bottoms together) in plastic wrap, then place in an airtight container or zip lock bag. For longer storage, vacuum sealing is recommended.