If variety is the spice of life, then these Chocolaty Chip Muffins could be called Spice of Life Muffins. The rich chocolaty dough pairs well with a variety of flavors, so I made them with 5 different kinds of chips. Semi-sweet chocolate chips. Cinnamon chips. Peanut butter chips. Butterscotch chips. Mint chips. Bake one type or a variety.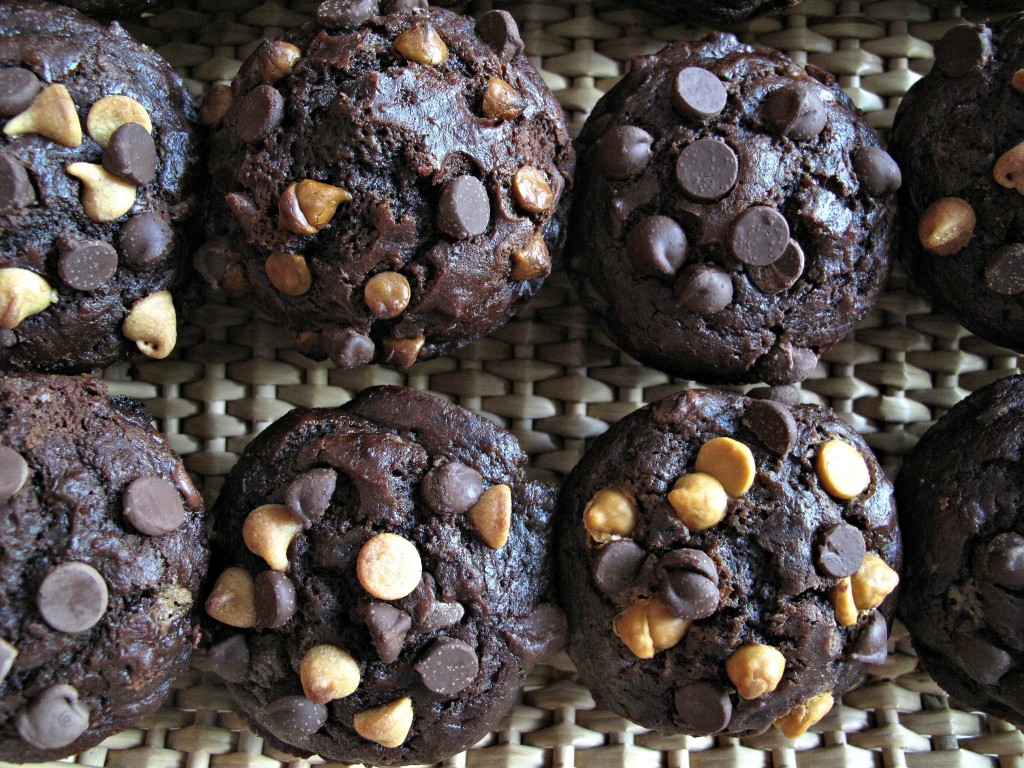 I have mentioned before that I have a sprinkle cabinet in my kitchen and, though I embrace my multitude of sprinkles as a collection, my husband sees it more as a hoard. Obviously, it is a matter of perspective. I think baking bloggers need sprinkles. Sprinkles can be viewed as business tools. Baking bloggers also need chips. I have a collection of those too. In their own cabinet. More business tools.
Originally, these were going to be chocolate-chocolate muffins, a small chocolaty quick bread, flecked with melted semi-sweet chocolate chips. But as I was reaching for the semi-sweet chips, I noticed that every chip in the cabinet sounded like a good combination with a chocolate muffin. Why limit yourself when variety is so easy? Chocolate chips on the inside and a combination of chips on the outside is the way to go for differently flavored muffins in just one batch.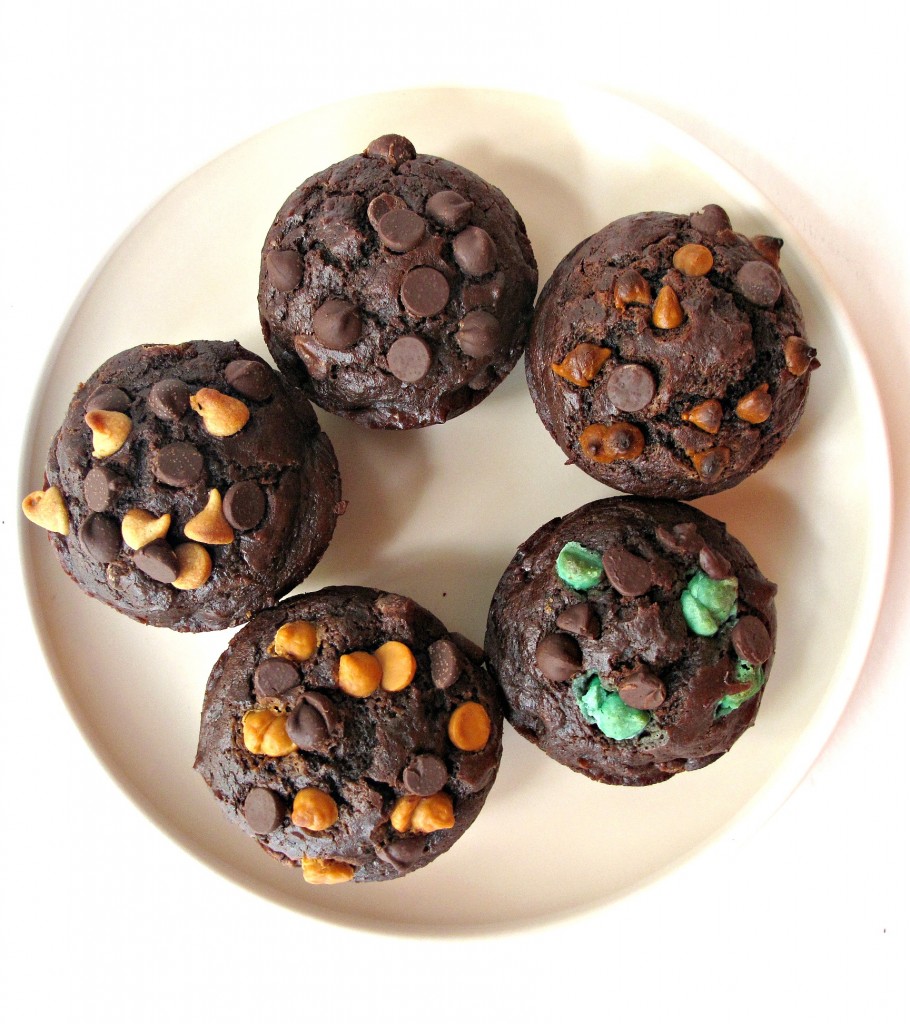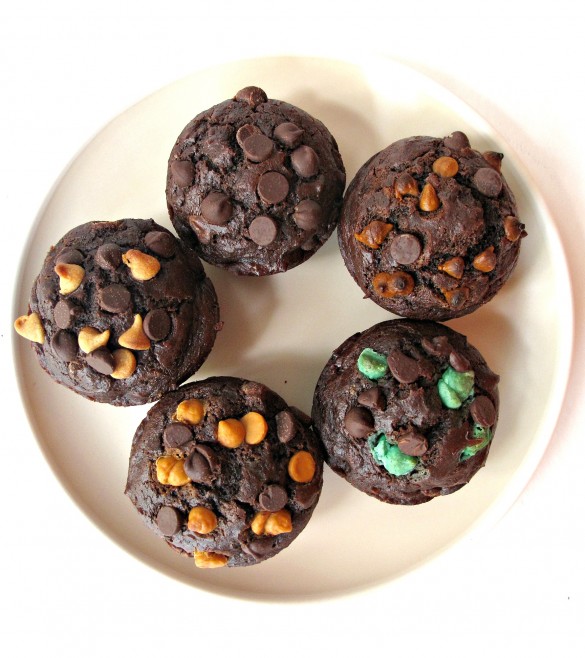 I don't bake too many muffins. Muffins often stay fresh for a very short time, making them not a good choice for care packages. Muffins are great for eating at home or for a local care package treat, but any further and the recipient eats stale muffins. I got a request for muffins that prompted me to do some muffin research and recipe experimentation. In the end, after a number of ingredient and method tweaks, I offer you the recipe for Chocolaty Chip Muffins. Though I was hoping for a longer shelf-life, I consider these muffins edible for a maximum of 5 days (after the first 2 delicious days, 10-15 seconds in the microwave brings out moisture and a fresher taste), which is long enough for the muffins to be travel worthy when mailed a short distance.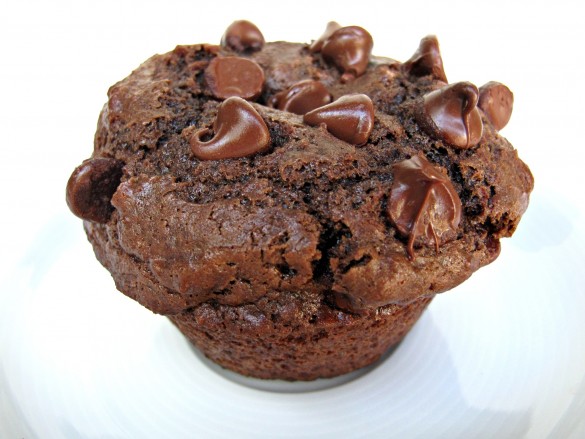 I learned a lot as I baked batch after batch of muffins. As far as baking definitions go, there are differences between muffins and cupcakes. A cupcake is basically a little cake. The batter for cupcakes, usually beaten with an electric mixer to cream the butter and sugar, is often sweeter than muffin batter. A cupcake is usually iced or glazed, and is considered a dessert. Muffins fall under the quick bread category. They are sweet but not as sweet as cupcakes and though they are sometimes glazed, they are rarely frosted. Muffins are mixed gingerly by hand (no creaming involved) to achieve a light texture. Muffins have somehow been categorized as breakfast food. (As in, "I am having dessert for breakfast.") The top of a cupcake should be flat. The top of a muffin should be domed.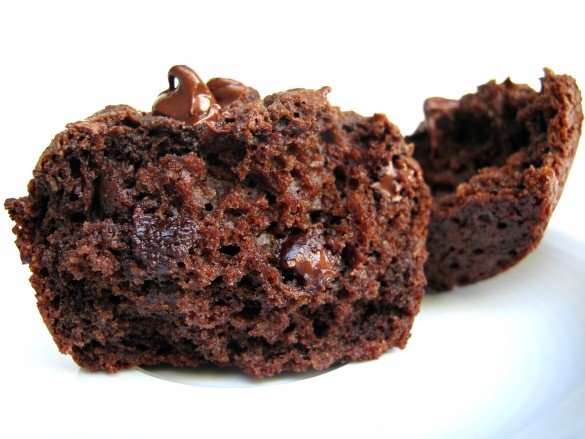 These muffin baking tips were quite useful:
• To create a light, fluffy texture, mixing should be minimal. Follow the method directions in a muffin recipe carefully. In this recipe for Chocolaty Chip Muffins, the dry ingredients (including the chips) are whisked together in one bowl and the wet ingredients are whisked together in another bowl. The two are then mixed together with a gentle folding motion just until combined.
• The muffin pan should be sprayed thoroughly with baking spray. Don't use a baking spray with flour because the flour will burn.
• Fill the muffin cups ¾ full to avoid overflow and promote domed tops.
• Don't overdo it with the chips on top. Too many chips will flatten the top of the muffin.
• Bake at 400°F to promote a fast initial rise for those sought after domed tops.
• Check for doneness at the least amount of time and remove as soon as a toothpick inserted in the middle comes out clean.
• Do not let the muffins cool in the pan. Remove them onto a wire cooling rack as soon as possible. Left in the pan the muffins will continue to cook and may stick to the bottom.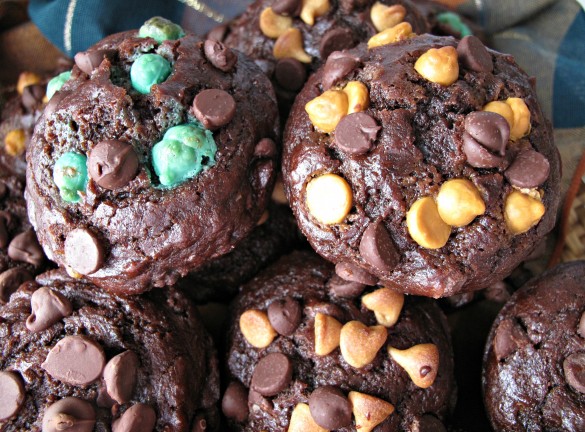 Chocolate muffins with a generous amount of chocolate chips inside and out, might be pushing the definition of breakfast food. Or not. Whenever you eat them, Chocolaty Chip Muffins are sure to put a smile on your face.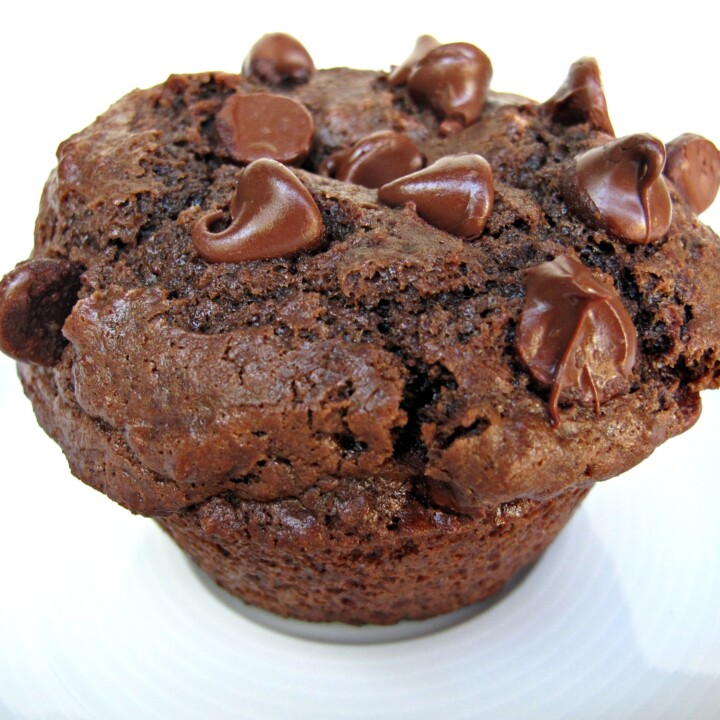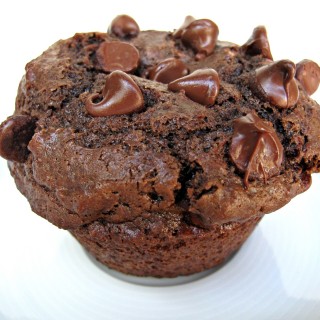 Ingredients
2

cups

all-purpose flour

½

cup

granulated sugar

½

cup

brown sugar

packed

¾

cup

chocolate chips

or ½ cup chocolate chips plus ¼ cup flavored chips

½

cup

unsweetened cocoa

1

teaspoon

espresso powder

1

teaspoon

baking soda

1

teaspoon

vanilla extract

1

large egg

1

cup

sour cream

or full fat plain yogurt

½

cup

milk

½

cup

vegetable oil

¼

cup

chocolate or flavored chips for decorating muffin tops
Instructions
Preheat oven to 400° F. Use non-stick spray to grease a 12-cup muffin pan.

In a large bowl, combine flour, sugars, ¾ cup chocolate chips, cocoa, espresso powder, and baking soda.

In a medium bowl, whisk together vanilla, egg, sour cream, milk, and oil.

Pour the liquid mixture into the large bowl with the flour mixture.

Stir/fold gently until barely combined and no dry mixture is visible.

Use a large scoop to divide the batter into the 12 greased muffin cups. Each muffin cup should be about ¾ full.

Press a few chips (chocolate plus any other flavor chip) onto the top of each muffin.

Bake for 11-14 minutes or until a toothpick inserted in the center comes out clean. Overbaking will cause a dry muffin, so start checking for doneness at 12 minutes.

Remove the muffins from the pan as soon as possible and place on a wire rack to cool completely.

Store at room temperature in an airtight container for up to 5 days. The muffins can be heated for 10-15 seconds in the microwave to freshen.
Notes
Wrap each muffin individually in plastic wrap. Place wrapped muffins in a large freezer weight ziplock bag or plastic storage container. Muffins with mint chips should not be mailed with other flavors. Mint tends to permeate everything in the package.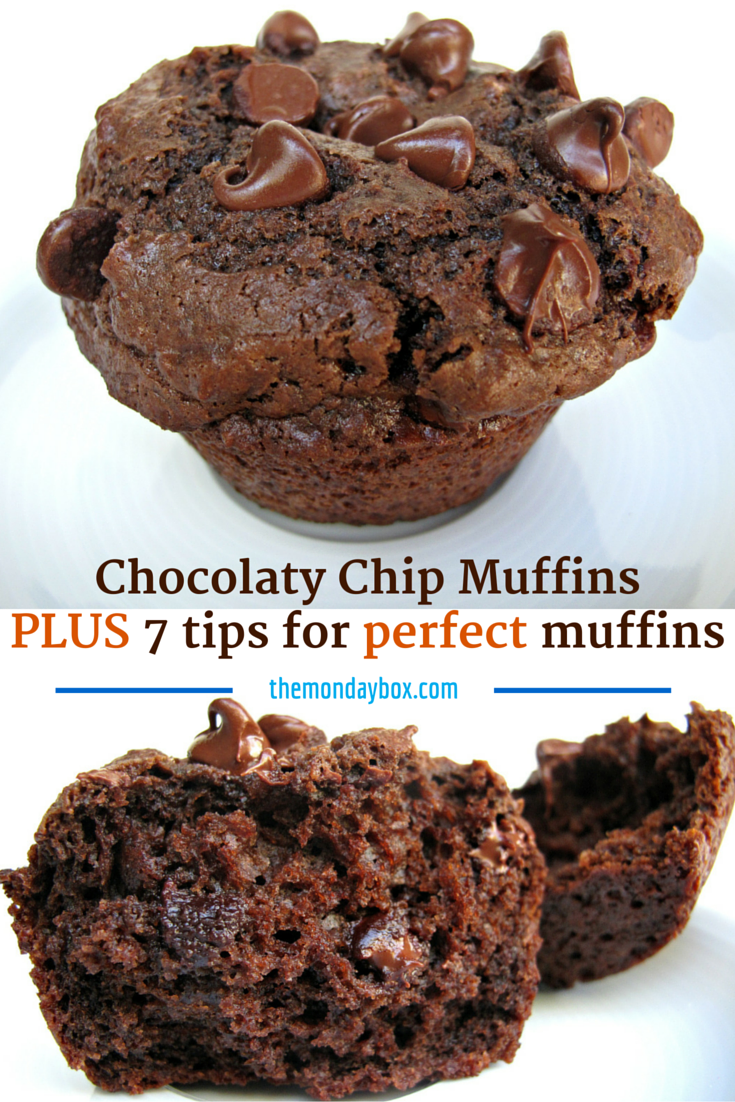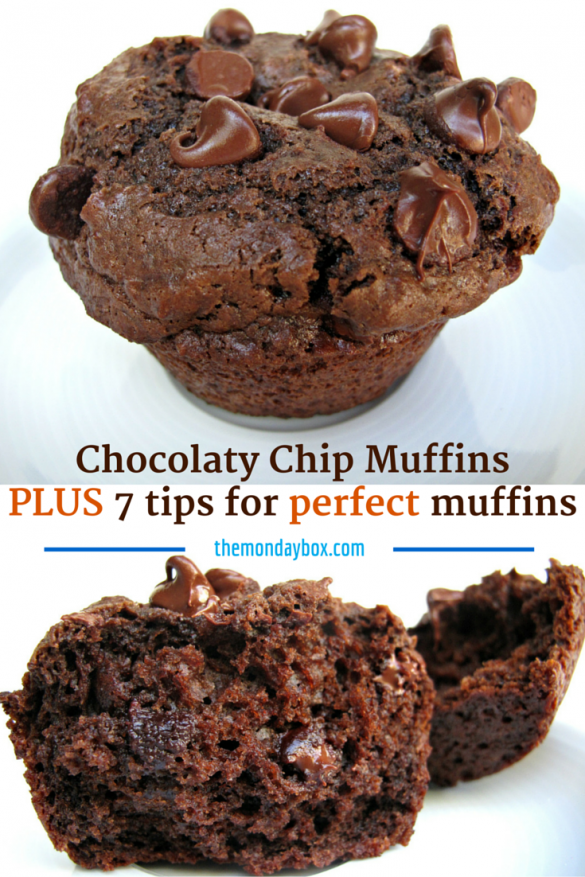 Save