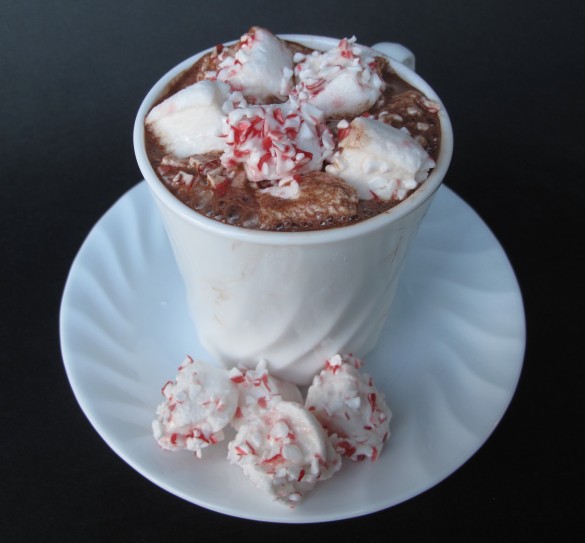 Technically, this blog is about baked goods and this post isn't about something baked. However, it's the winter. It's cold outside. Thoughts stray toward warm steaming mugs of something soothing. Some wintery locations simply call for more than a glass of milk when it comes to cookie dunking. May I suggest creamy hot chocolate with homemade marshmallows?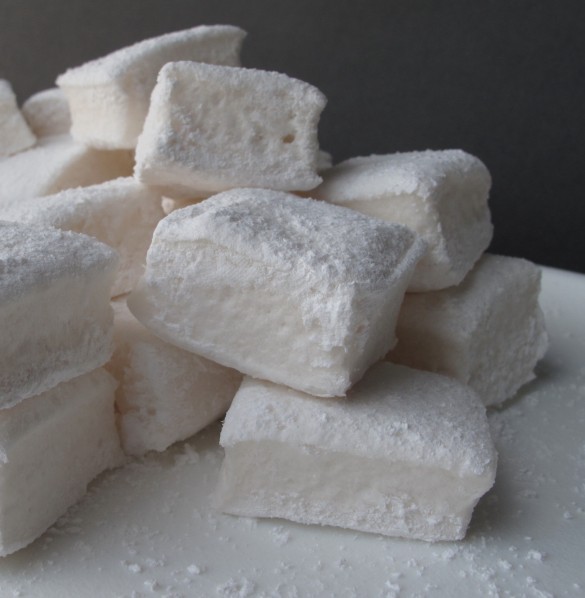 This is what it looks like outside my window today. I am quite happy to be inside with my mug of hot chocolate.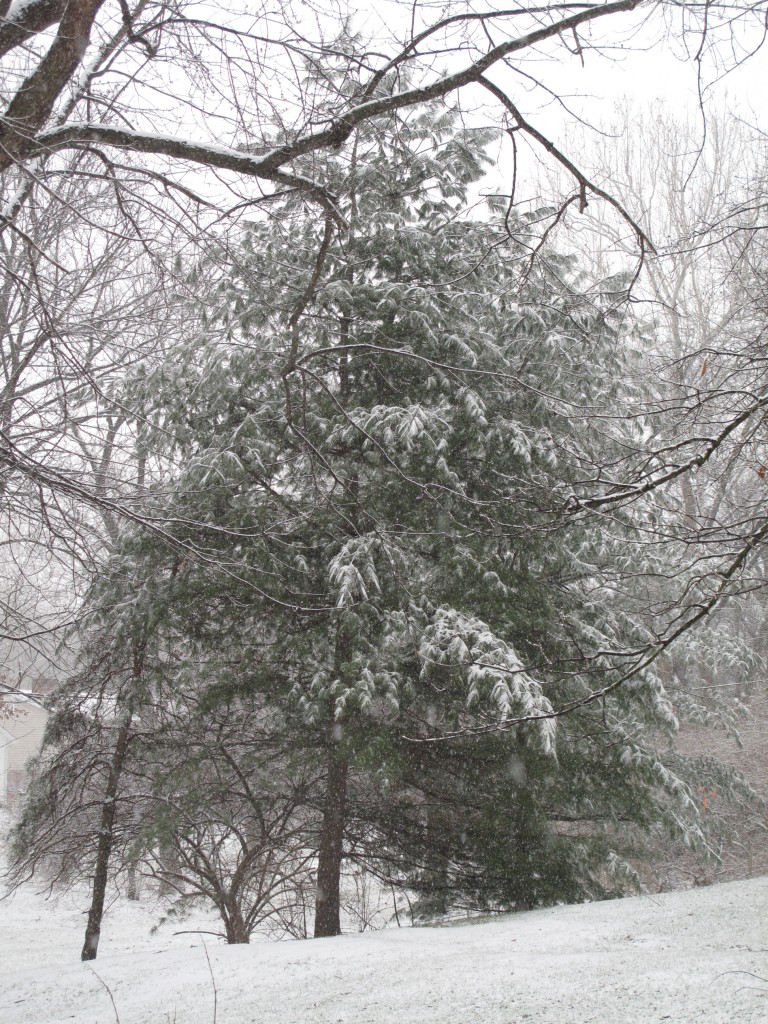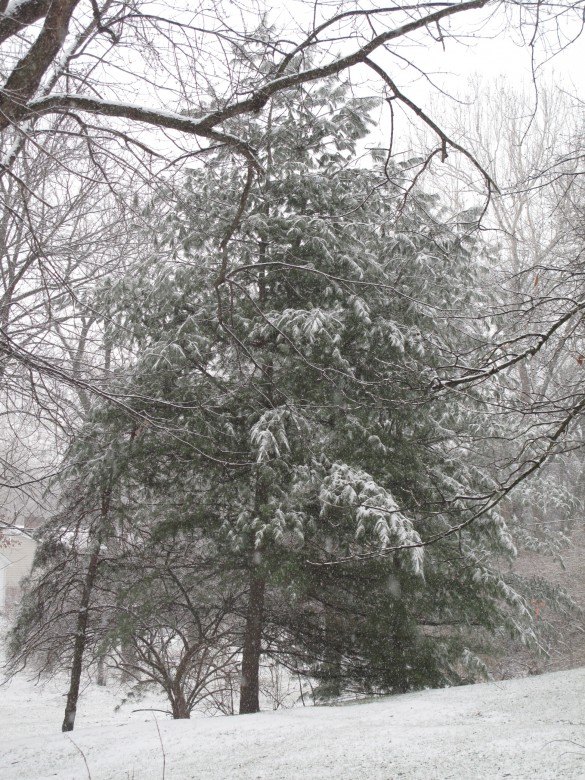 This hot chocolate mix is super easy to pull together. It is also versatile. You can personalize the flavor based on your chocolate preference: white chocolate, dark chocolate, milk chocolate. If you use a chocolate that you like to eat, it will be a chocolate you like to drink. For care package mailing, store the mix in a ziplock bag or canister and include a 1/3 cup measuring cup and directions. Using hot milk results in a richer drink but for care package recipients without easy access to milk, hot water works too.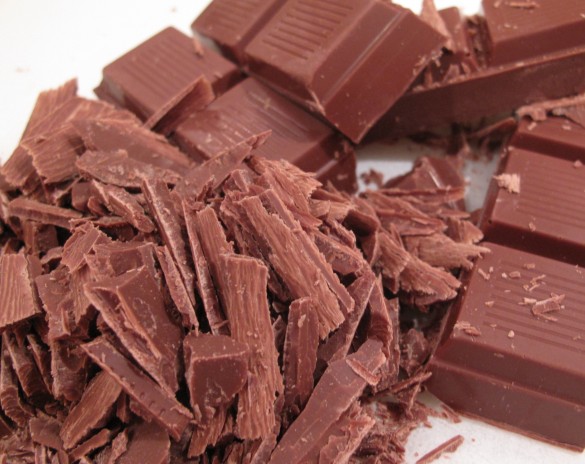 Though I highly recommend making homemade marshmallows, another option is to include commercial marshmallows in your care package. For packages where marshmallows melting in transit is a concern, look for these tiny marshmallow bits in the baking or ice cream sundae makings aisle of your supermarket. They are too hard to nibble on but melt well in a cup of hot chocolate.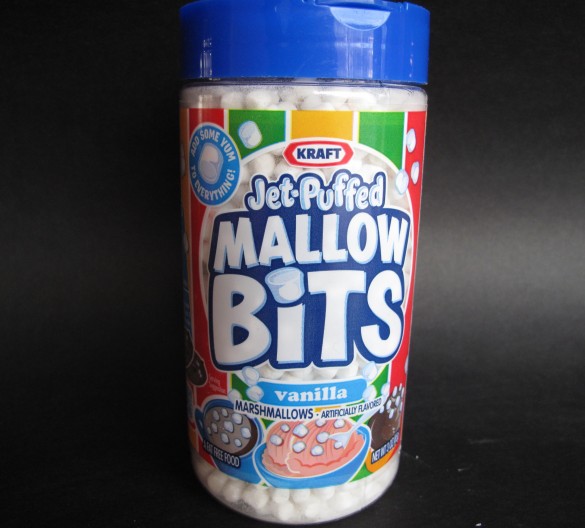 Homemade marshmallows are very impressive gifts. Well, unless you have actually made them before, then they are not so impressive because then you know how easy they are to make. The one caveat is that you really do need to use a candy thermometer to know when the sugar mixture is heated to the correct stage. Marshmallows are great for mailing as long as melting isn't a concern. Stored in an airtight container at room temperature, these tasty treats will keep for up to 1 month.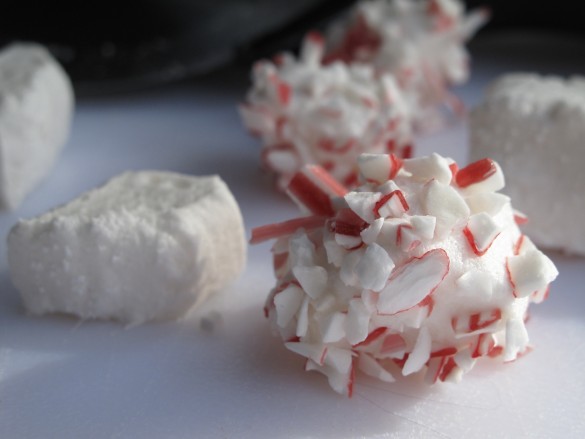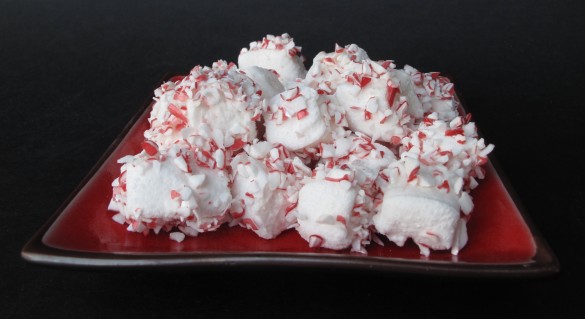 I used the same recipe to make two flavors and two shapes of marshmallows. My mini-marshmallows are vanilla (with vanilla extract only) and were piped into strips, set, then cut and rolled in powdered sugar. The peppermint marshmallows used ½ teaspoon of peppermint extract in addition to the vanilla extract. I poured the marshmallow "batter" into a baking pan to set, then cut into squares and rolled some in crushed peppermint candy and some in powdered sugar..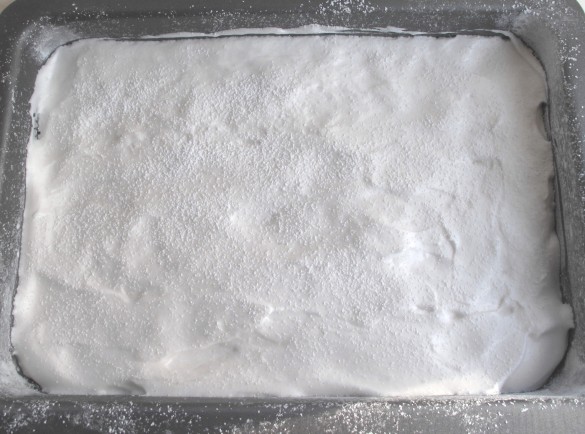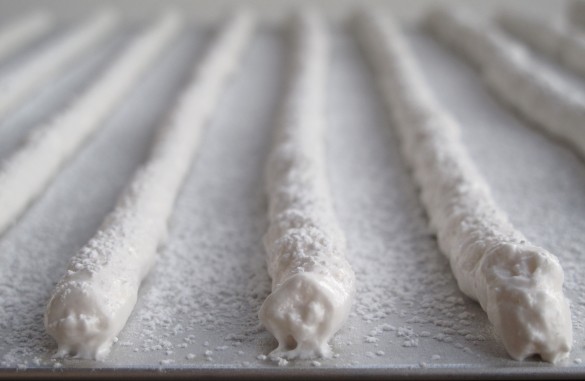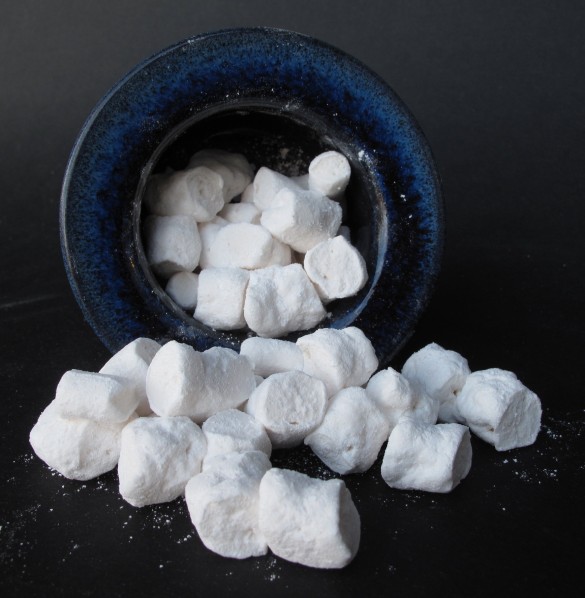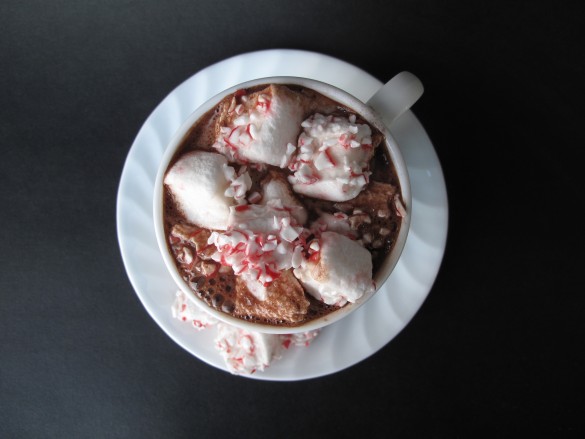 Hot Chocolate Mix Adapted from The Baker Chick and Brown Eyed Baker
3 cups nonfat dry milk powder
2 cups confectioners (powdered) sugar
1 ½ cups Dutch processed cocoa powder (regular cocoa powder will work but won't be as chocolaty)
1 ½ cups chocolate (white, milk, dark), chopped
¼ teaspoon salt
In a large bowl, whisk together all ingredients.
Pour half of the mixture into the bowl of a food processor. Pulse just until the chocolate is finely ground. Pour into an airtight container and repeat with the second half of the mixture.
To make hot cocoa, add 1 cup of hot milk (preferred) or hot water into a mug with containing 1/3 cup of mix. Stir to dissolve. Top with marshmallows.
Store cocoa mix in an airtight container at room temperature for up to 3 months.
Mini-Marshmallows
Adapted from The Baker Chick and Marshmallow Madness by Shauna Sever
¾ cup confectioners (powdered) sugar, for coating
4 ½ teaspoons unflavored powdered gelatin (2 [.25 oz] envelopes)
¾ cup cold water, divided
¾ cup granulated sugar
½ cup light corn syrup
1/8 teaspoon salt
2 teaspoons vanilla extract
(1/2 teaspoon peppermint extract, only if making peppermint flavored)
(1 cup of crushed peppermint candy, only if making peppermint flavored)
Lightly oil a baking sheet (piping method) or 13"x9" baking pan (pan method), then dust lightly with powdered sugar.
In a small microwave-safe bowl, sprinkle gelatin over ½ cup of cold water. Set aside to soften for about 5 minutes.
Microwave the gelatin, about 30 seconds, until melted.
In the bowl of an electric mixer whisk on low speed, ¼ cup of corn syrup and the heated gelatin. Keep the mixer running at low speed. (Tip: Heated gelatin can smell nasty. Nothing is spoiled. Don't panic. The smell will go away.)
In a medium saucepan over medium high heat, stir together sugar, ¼ cup of corn syrup, ¼ cup of water, and salt until dissolved and beginning to boil. Boil gently until the candy thermometer reads 240 degrees F. (Tip: Do not walk away during this process. The mixture heats quickly and can burn quickly if you aren't watching.)
Pour the hot sugar syrup into the mixer bowl. Increase the speed to high and beat for 8-10 minutes until white and thick.
Add flavoring (vanilla and optional peppermint) and beat just until blended, about 1 minute. (Tip: Be more interested in the consistency of the mixture rather than the timing. When the batter hold a firm peak, it's ready.)

Piping method:

Using a disposable icing bag with the tip cut off or a plastic bag with a corner cut off, pipe the marshmallow in stripes onto the prepared baking sheet. Dust the tops with powdered sugar. Refrigerate, uncovered, for 6 hours or overnight. Cut the stripes into mini-marshmallows using kitchen sheers or a knife. Dip the sticky ends in powdered sugar or crushed peppermint candy. Store in an air-tight container at room temperature for up to 1 month.

Pan method:

Pour/scrape the marshmallow batter into the prepared baking pan. Dust with powdered sugar. Refrigerate, uncovered, for 6 hours or overnight. Invert the pan releasing the marshmallow onto a cutting board (if necessary, use a lightly moistened knife to release edges.) Cut into desired squares (a pizza cutter works very well for this). Toss the sticky edges in powdered sugar or crushed peppermint candy. (Note: I have made these pepppermint marshmallows without a problem several times. Once, however, my candy coated marshmallows began to get sticky and wet. I tossed them in powdered sugar and they were fine.)Store in an air-tight container at room temperature for up to 1 month.