Caramel Slices Cookies are the perfect balance of crisp and crunchy. Like thin biscotti, these cookies are sturdy enough to dunk in your coffee, but airy enough to munch on their own. Melted caramel in the dough gives these slice and bake treats their browned sugar flavor and beautiful golden color.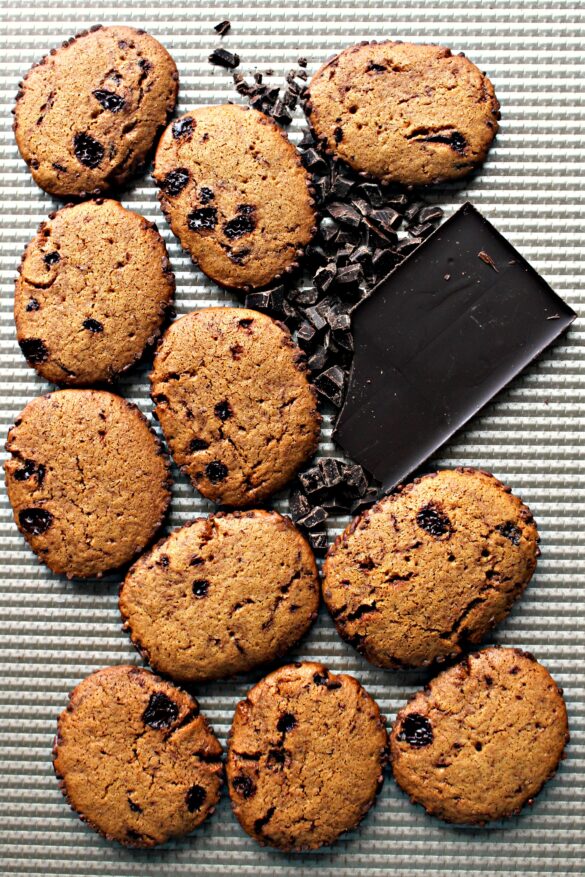 (The Monday Box participates in affiliate marketing programs. As an Amazon Associate I earn from qualifying purchases. Additional affiliate programs may be linked when applicable. If you chose to purchase a product after following a link on this page, I will receive a small commission, at no cost to you, which helps make The Monday Box possible.)

For 6 years, The Monday Box partnered with the Chocoley Chocolate, a small, family owned candy making supply company in Atlanta. There are dozens of candy and chocolate dipped cookie posts on The Monday Box that were sponsored by Chocoley Chocolate.
Unfortunately, a few weeks ago the company suddenly and unexpectedly announced they were closing.
Chocoley not only sold chocolate products, but also sold fillings for making homemade candy. I had recently received a 5 pound block of caramel from them to use in recipe development.
At the time of their going out of business announcement, I was working on a series of caramel cookie recipes. The plan for a sponsored series was cancelled, but couldn't let this Caramel Slices Cookies recipe go unpublished.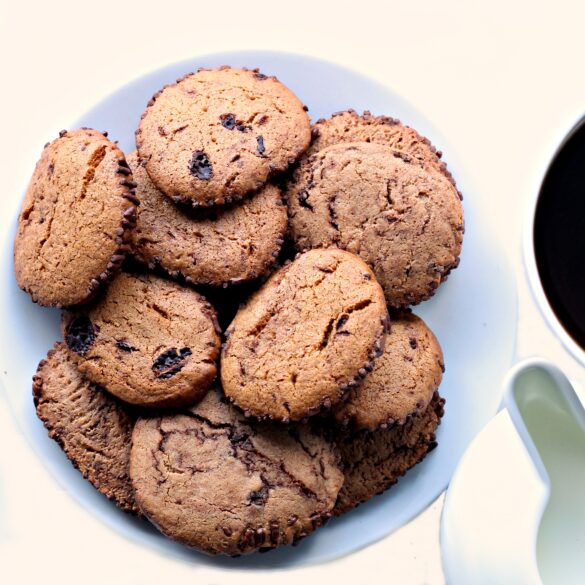 The Caramel Slices Cookies recipe now uses store bought caramel squares (like Kraft caramels) for these wonderfully crunchy cookies. Perhaps, it's not as convenient to unwrap all those little squares, but the flavor is still delicious.
Though I haven't tried any of these brands, Peter's , Callebaut , and Merckens all sell 5 pound caramel blocks on Amazon, if you don't want to unwrap individual caramel squares.
This recipe was inspired by caramel walnut refrigerator cookies in "The International Cookie Cookbook" by Nancy Baggett. According to the cookbook, the nut filled version of these cookies originated in Winnepeg, Canada.
I substituted chopped dark chocolate for the walnuts due to my nut allergies. I added sprinkles because sprinkles make the world a better place.
HOW TO MAKE CARAMEL SLICE COOKIES
Whisk together the flour, baking powder and baking soda. Set aside.
Place the caramel in a bowl that has been coated with cooking spray and microwave at 50% power for 2 minutes. Stir until smooth. Set aside.
In the bowl of an electric mixer, beat the egg and vanilla.
Add the flour mixture and mix until combined, dry and crumbly.
Pour in the melted caramel. Mix until a dough forms.
Stir in the chopped chocolate.
Divide the dough in half and chill in the freezer until the dough is firm enough to roll into logs.
Roll each half of dough into a log on a sheet of parchment.
Roll the dough logs in sprinkles, then wrap in plastic wrap and freeze to firm.
When ready to bake, cut into ¼" thick slices.
Bake on a parchment lined baking sheet for 9-10 minutes.
TIPS FOR SUCCESSFUL CARAMEL SLICE COOKIES
Melt the caramel in the microwave at 50% power to avoid burning. Do NOT melt at full power.
It is important to coat the bowl used to melt the caramel with cooking spray before putting the caramel in to prevent sticking. The melted caramel will slide right out of the coated bowl.
Scrape the mixing bowl frequently when combining the ingredients to minimize the amount of caramel that gets stuck to the mixing bowl.
I don't recommend using caramel syrup for this recipe. Caramel syrup will make a mushy dough that won't firm up for slicing and baking.
Shorter dough logs (7") are much easier to roll in sprinkles than longer logs.
Ethically sourced (UTZ) chocolate sprinkles are made by the Dutch company De Ruijter and are sold on Amazon and at World Market in 7ounce or 14 ounce boxes. The Dutch use the sprinkles on their morning toast!
Dough logs can be stored in the refrigerator for up to 3 days or in the freezer for up to 3 months.
Make sure your cookies are firm when you take them out of the oven. Even after cooling, if your cookies need further crisping, they can be returned to the oven.
TOOLS YOU MAY NEED
BAKING SHEET DUTCH CHOCOLATE SPRINKLES


MORE CARAMEL COOKIE RECIPES
Caramel Stuffed Brown Sugar Cookies

CARAMEL SLICES RECIPE
These slice and bake caramel cookies are great for dunking in coffee, tea, or milk. Their long shelf life makes them an ideal care package cookie too!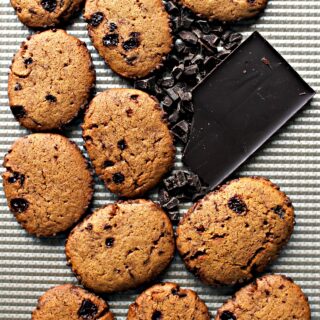 Caramel Slices Cookies
Ingredients
1 ½

cups

+ 5 tablespoons all-purpose flour

1/8

teaspoon

baking powder

¼

+ 1/8 teaspoon baking soda

12

ounces

caramel

About 40 unwrapped Kraft caramels

1

egg

2

teaspoons

vanilla

¼

cup

finely chopped dark chocolate

Chocolate jimmies sprinkles

I use UTZ certified, fairly traded De Ruijter Milk Chocolate Sprinkles
Directions
In a medium mixing bowl, whisk together the flour, baking powder, and baking soda. Set aside.

Spray a mixing bowl, big enough to hold the caramel, with cooking spray.

Melt the caramel in the microwave at 50% power for about 2 minutes. Stir until smooth. Set aside to cool to warm (2-3 minutes).

In the bowl of an electric mixer, beat the egg and vanilla.

Add the flour mixture, one half at a time, and mix until combined. The mixture will be dry and crumbly.

Add the melted caramel and beat on low speed until a dough forms.

Stir in the chopped chocolate.

Divide the dough in half and place each half on a sheet of parchment paper.

Freeze the dough for 20-30 minutes or until it is firm enough to be formed into logs.

Remove from the freezer and form each half of the dough into a log about 6 inches long.

Place each log on the center of the parchment paper, and fold the parchment over the dough. Press a dough scraper or ruler against the bottom edge of the dough logs to remove air pockets and compress the dough.

Spread the chocolate jimmies sprinkles in a jelly roll pan (sided baking pan). Roll each dough log in the sprinkles to coat.

Wrap the sprinkle coated dough logs in parchment, then plastic wrap. Chill in the refrigerator until firm (about 1 ½ hours).

Dough logs can be stored in the refrigerator for up to 3 days or in the freezer for up to 3 months.

When ready to bake, preheat the oven to 375° F and line a baking sheet with parchment paper.

Unwrap the chilled dough log and cut into 1/8"-1/4" thick slices.

Place the slices on the prepared baking sheet about 1 inch apart.

Bake for 9-10 minutes, until golden.

Remove from oven. Leave on the baking sheet for 5 minutes before transferring to a wire rack to cool completely.

Store in an airtight container at room temperature for up to 2 weeks.
Packing Tips
Wrap stacks of cookies in plastic wrap. Stack the wrapped bundles in columns in a freezer weight ziplock bag.