Every rich, velvety bite of Espresso Chocolate Shortbread Cookies will delight mocha lovers. These melt-in-your-mouth espresso cookies are studded with chocolate toffee bits, for a wondrous flavor treat.
Even better, this shortbread travels well in care packages and the flavor improves over time! You are sure to find many snacking and gifting possibilities for these scrumptious cookies.Updated from the original April 2013 version. Last updated November 2018.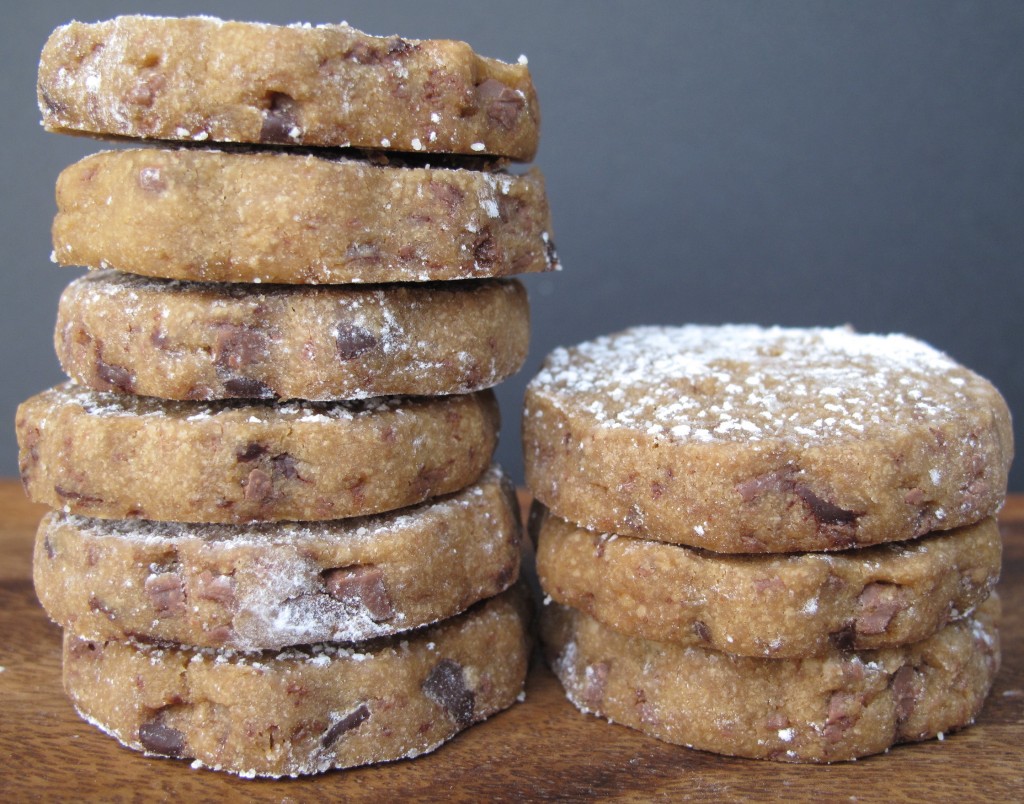 For my 40th birthday (a long time ago), I decided to celebrate by taking my husband and two children on their first trip to Europe.
Inspired by Diana Gabaldon's Outlander series (an historic fiction/romance which begins in the United Kingdom), I chose Scotland as our destination. It is a beautiful, magical country.
As my children learned how to be travelers, I learned about prepping for and planning family focused trips. It is truly amazing to me what kinds of interests can be sparked in children with just a little preparation.
Before our trip, we read fairy tales of the Highlands, discussed Nessie at length, and even read a children's version of Macbeth.
With a ten year old and five year old in tow, our itinerary spent less time in museums and more time enjoying trains and boats, exploring castles and gardens, and searching for prehistoric beasties.
I had some unrealistic expectations on that trip. My children did not mysteriously turn into little adults. They continued to act like the children they were and had the same number of melt downs and grumpy moments as they would have had at home.
On a longer travel day, when they had been cooped up too long together in the back seat of the rental car, they squabbled just like they would have at home. I am not sure why I was surprised.
However, what I also didn't expect was the long lasting, positive impact those 3 short weeks in Scotland would have on our family, my daughter in particular.
It was on this trip, at the Oban Highland Games, that my daughter first saw and fell in love with competitive Highland dance.
She watched the groups of girls (and a few boys) dance the same three dances over and over as they competed for the highest individual performance score.
The music of the pipers flowed into her soul and she desperately wanted to know how to dance to its beat.
When we got back to St. Louis, a series of amazing coincidences led us to Sandra Brown, a woman who we believe (with a certain amount of bias) is the world's best Scottish dance teacher.
My daughter has now been involved in Scottish Highland dance and a part of Sandra's Dance Caledonia for 19 years! Though we have no Scots in our background, from time to time we consider ourselves to be honorary Scots.
As honorary Scots, my daughter performs in Pride of Scotland tartan. As honorary Scots, we are aware that Robert Burns is the national poet of Scotland and we attend the annual Burns Dinner held in his honor here in St. Louis (and all over the world).
As honorary Scots, we are supposed to savor haggis, but don't. We do, however, savor shortbread, Scotland's gift to the world of cookies.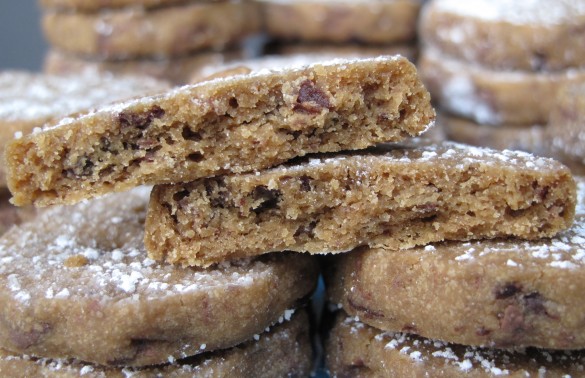 I wish that I had thought of posting an espresso shortbread recipe this winter. Espresso Chocolate Shortbread Cookies are wonderful care package cookies.
Kept in an airtight container at room temperature, shortbread will stay fresh for 3-6 weeks. The flavor improves over time. However, the key here is room temperature. This is NOT a hot weather cookie.
These are butter cookies and can go rancid if you ship them during the summer. If the weather is already too hot at your care package destination, enjoy espresso shortbread at home now and bake them for mailing when it's cool again.
Tips For Making Espresso Chocolate Shortbread Cookies
The recipe for these espresso chocolate chip cookies is originally from Dorie Greenspan's Baking: From My Home to Yours. It is not a traditional shortbread because of the added chocolate and espresso, but it is delicious.
This recipe calls for rolling out the dough inside a gallon size ziplock bag. This prevents the unchilled dough from sticking to the rolling pin or counter. The bag is also the perfect size for a ¼" thick rectangle of dough.
The rolled out dough should be chilled for 2 hours to 2 days or can be frozen in the bag to be defrosted and used later.
Once chilled the dough can be cut with a knife into rectangle fingers or into squares. Cookie cutters can also be used (I used a 1 ½" scalloped edge round cutter). The dough scraps can be rolled out again.
Be sure to prick the cookies with a fork before baking. The small holes release air so the cookies will bake flat.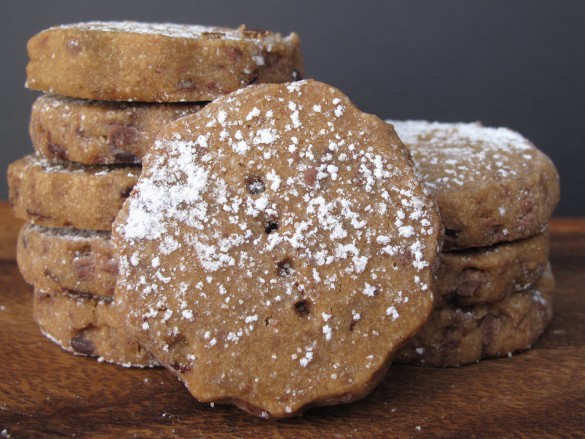 More Shortbread Recipes
Spiced Chocolate Shortbread Cookies
Chocolate Chocolate Chip Shortbread Cookies
Chocolate Peppermint Shortbread Cookies
Espresso Chocolate Shortbread Recipe
Espresso Chocolate Shortbread Cookies are so delicious, you will definitely want to share some. The coffee lovers in your life will thank you!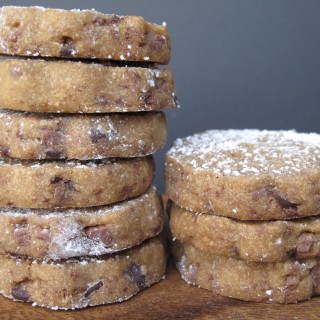 Print
Espresso Chocolate Shortbread Cookies
As an Amazon Associate I earn from qualifying purchases.
Ingredients
1

tablespoon

instant espresso powder

1

tablespoon

boiling water

2

sticks unsalted butter

room temperature

⅔

cup

confectioners' sugar plus extra for dusting

½

teaspoon

vanilla extract

2

cups

all-purpose flour

1

toffee chocolate bar

3.5-4 ounces, finely chopped

¾ cup of mini chocolate chips can be used instead of the chopped chocolate bar
Directions
In a very small bowl, dissolve the espresso powder in the boiling water.

In the bowl of an electric mixer, combine the confectioner's sugar and butter for 3 minutes at medium speed.

Add the vanilla and espresso, beating until incorporated.

Add the flour and mix at low speed until just combined.

Fold in the chopped chocolate.

Transfer the dough into a gallon sized zip lock bag but do not close the bag.

Roll the dough into rectangle the width of the bag and ¼" thick (approximately 9"x 11"x ¼"). While rolling, make sure no creases are formed in the dough from wrinkles in the plastic.

Zip the bag closed removing as much air as possible. Refrigerate for 2 hours- 2 days.

When ready to bake: Preheat oven to 325 degrees F. Line a baking sheet with parchment paper.

Cut open the zip lock bag and place the dough rectangle on a cutting board.

Using a sharp knife or cookie cutter, cut the dough into desired shapes and transfer to the baking sheet.

Use a fork to poke holes in each cookie.

Bake for 18-20 minutes.

Dust with confectioner's sugar while the cookies are still hot.

Cool completely on a wire rack.

Store at room temperature in an airtight container for at least 3 weeks.
Notes
Wrap small piles of cookies in plastic wrap then place in an air tight container or zip lock bag for mailing.
Baking Tools I Used and Recommend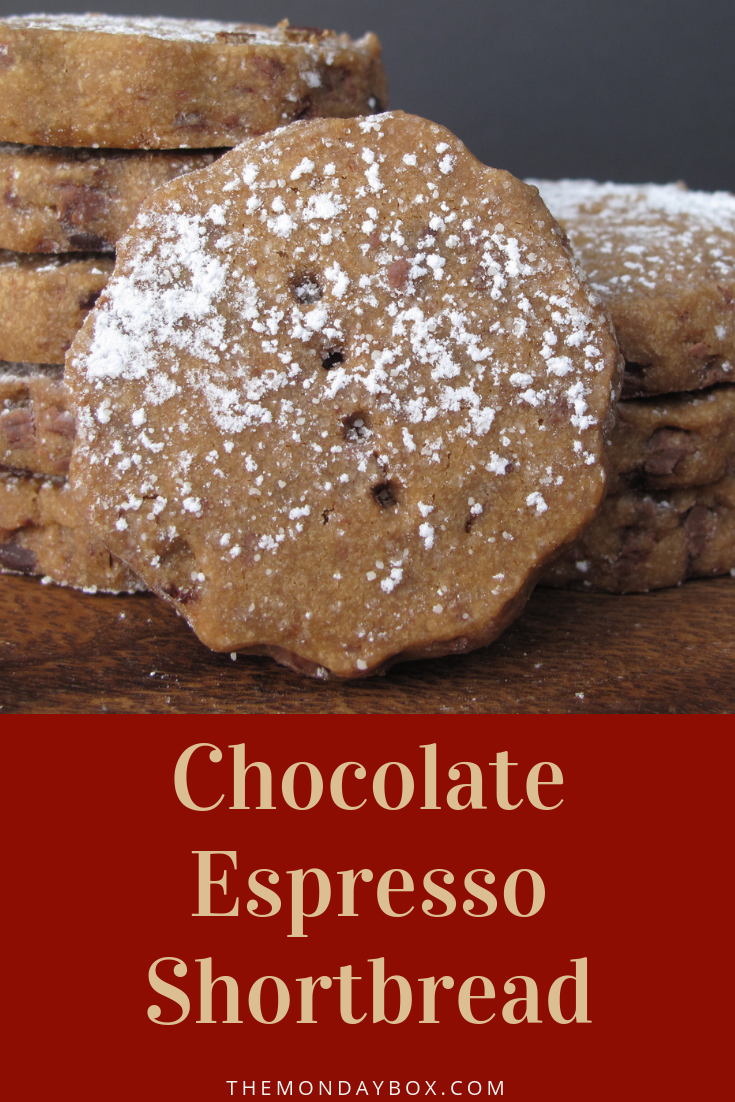 Save