Orange Mug Cake is another tasty mug cake recipe to add to the list of 3-2-1 cake variations on the Monday Box, all made with shelf-stable ingredients ideal for sending in care packages. This 3 ingredient mug cake is an instant cup of sunshine!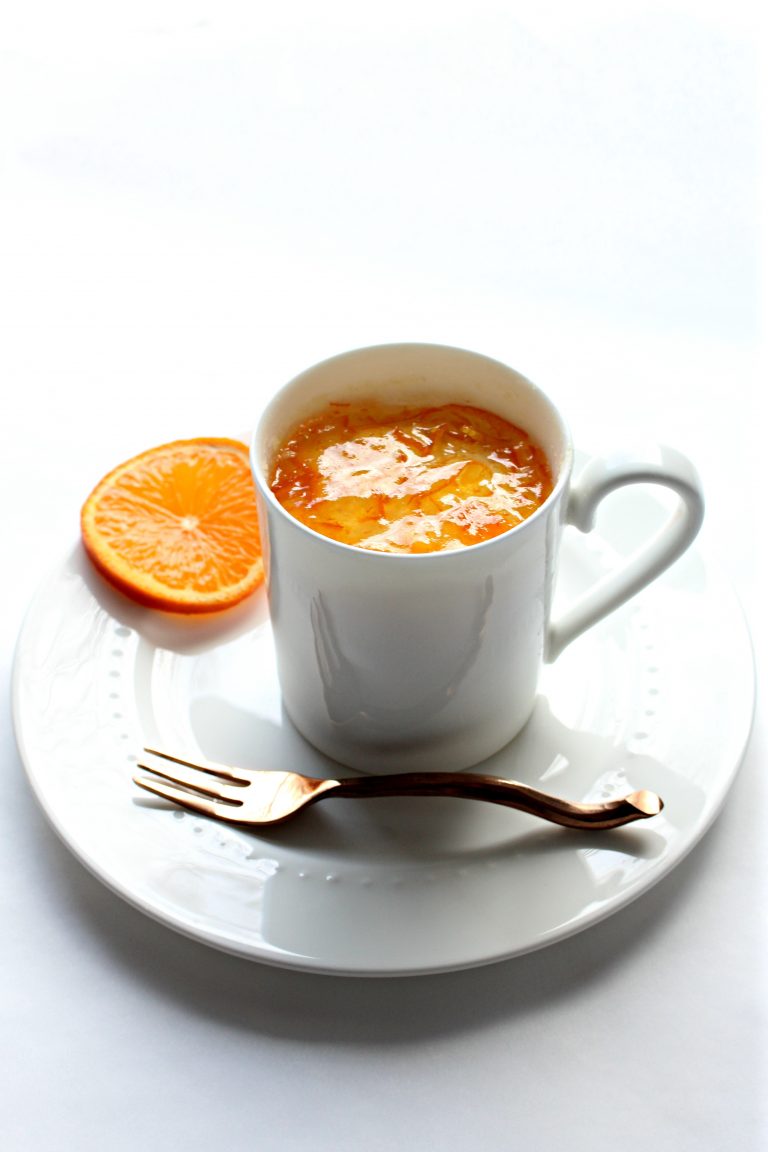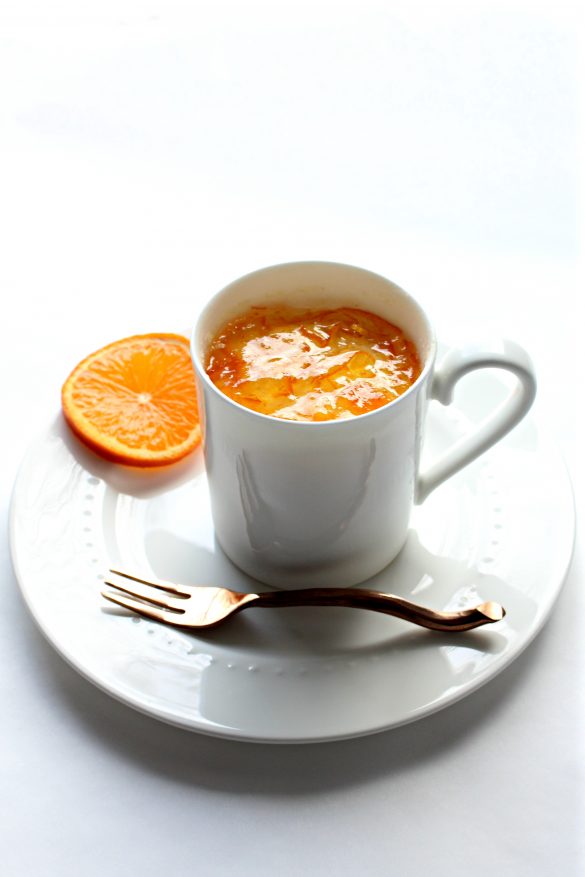 When I published the first basic 321 mug cake recipe on The Monday Box almost six years ago, I honestly never expected the enthusiastic response the recipe received. This recipe almost doesn't qualify as a recipe. It's more like a simple set of directions. And it isn't even baked! Mug cakes are zapped in the microwave.
There were several factors I hadn't taken into account. A LOT of people are looking for quick and easy. BuzzFeed, always on trend, knew what I didn't and happily sent a LOT of microwave mug cake enthusiasts to The Monday Box to take a look.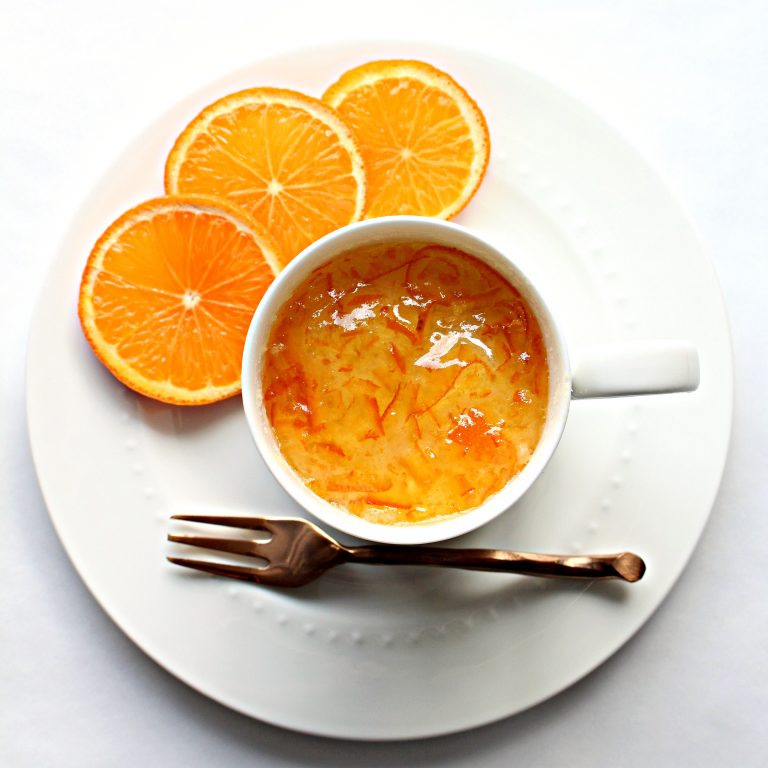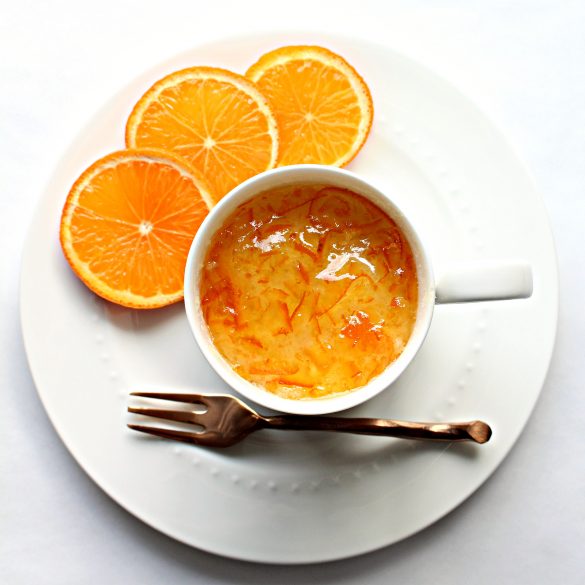 Most importantly, though anyone can quickly prepare and enjoy a mug cake recipe at home, you can also send the shelf-stable ingredients for mug cakes made with cake mix, like this Orange Mug Cake, in care packages to college students and deployed military, two groups that truly appreciate hot, sweet, fresh snacks made in minutes with minimal tools.
When my son was in college, he used his care package supply of mug cake mixes to fuel his late night study sessions. It was his vast collection of used cake mugs waiting to be washed that inspired my strong recommendation that disposable microwave-safe paper cups be included in mug cake care packages!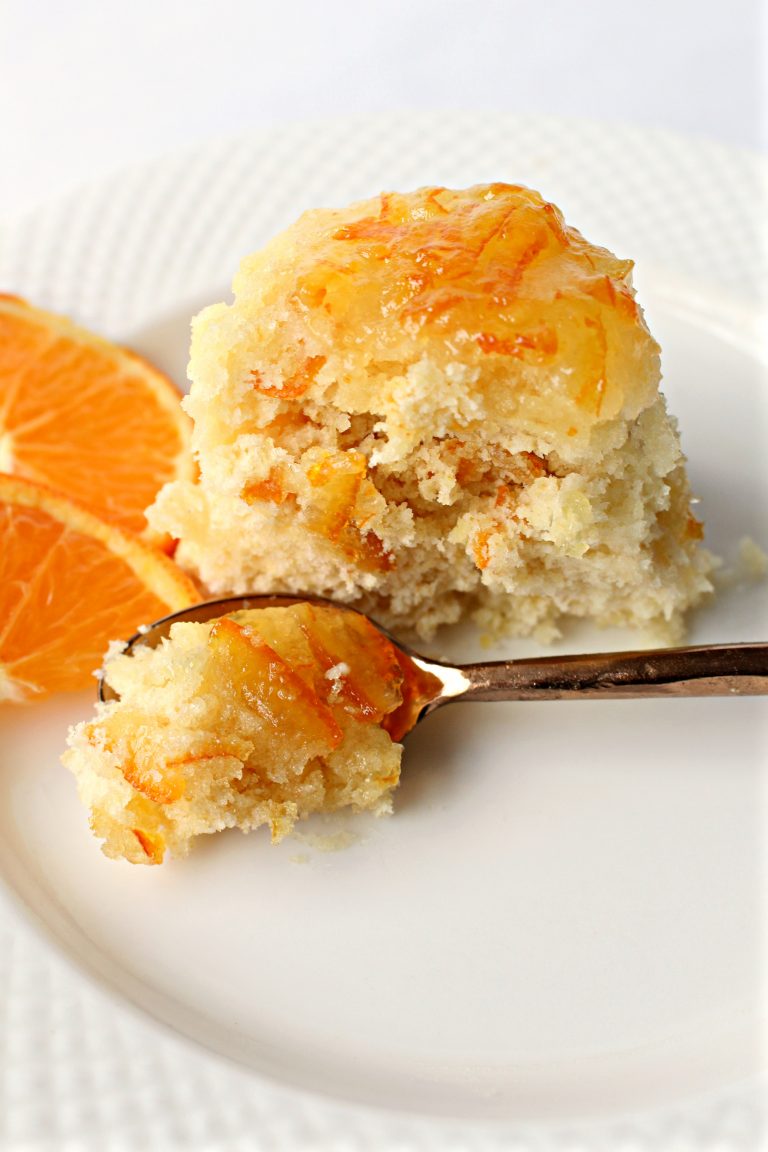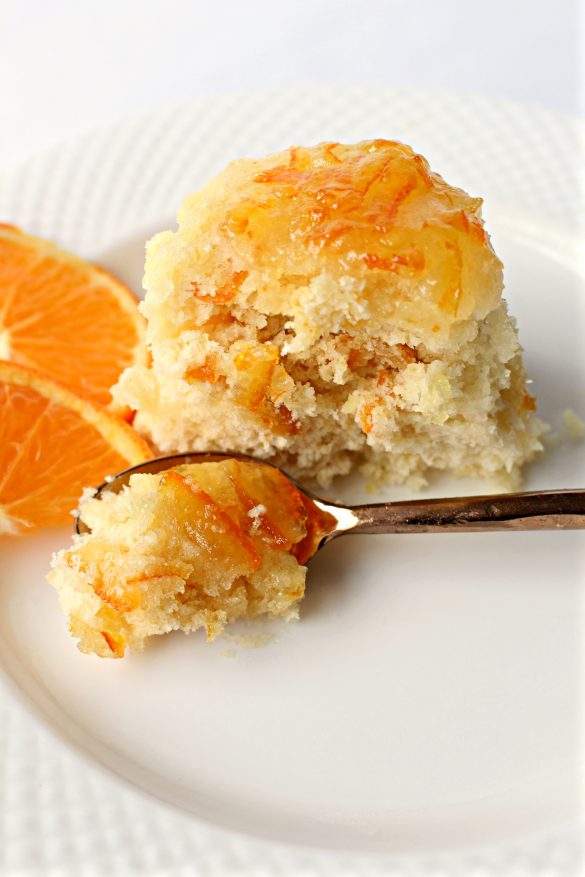 I frequently send the ingredients for mug cake recipes in military care packages. One of the first questions I ask the service members I "adopt" through Soldiers' Angels is whether they have access to a microwave. If the answer is yes, a mug cake recipe and ingredients will be packed and shipped asap. I always include enough so that my soldier can share! I am delighted to have received enthusiastic reports about the mug cakes from my own adoptees and the adoptees of other Soldiers' Angels!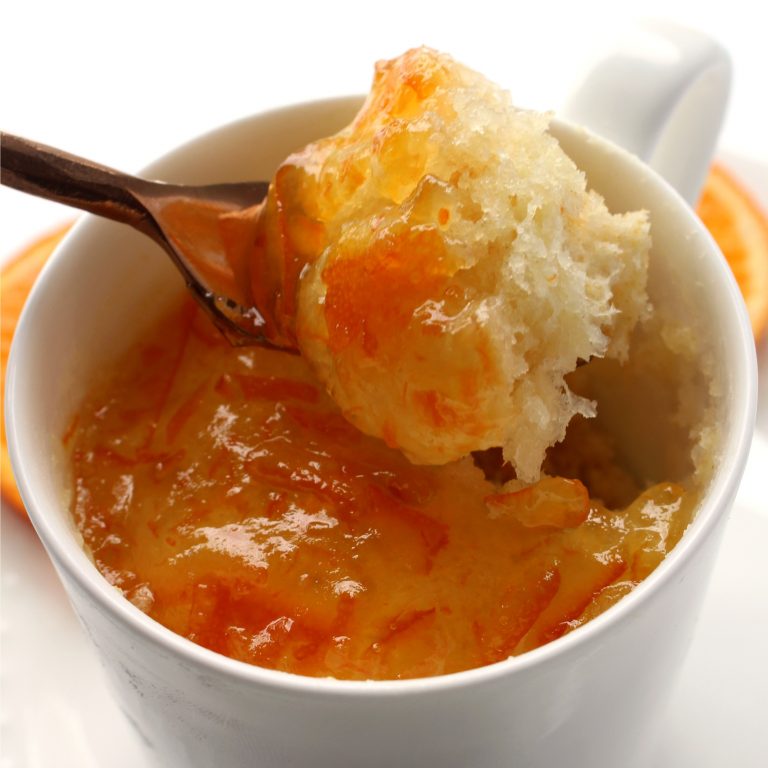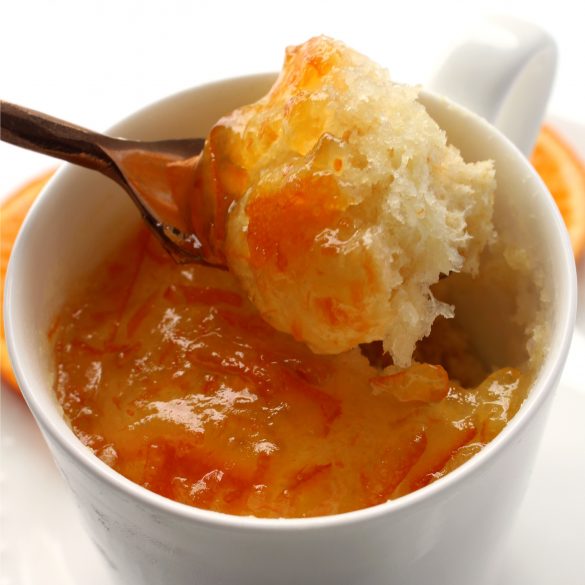 FREQUENTLY ASKED QUESTIONS ABOUT 123 CAKE RECIPES
HOW DO YOU TURN A CAKE MIX INTO A MUG CAKE?
The "magic" mix for microwave mug cakes combines a box of any flavor of cake mix with a box of angel food cake mix. For example, this recipe for Orange Mug Cake uses yellow cake mix combined with angel food cake mix. Three tablespoons of the mixture stirred together with two tablespoons of water, creates the basic batter for a mug cake. Additional ingredients, like chips or syrups, can be added for flavor before or after the one minute microwave cooking time.
HOW DO YOU MAKE A MOIST MUG CAKE?
The tastiest microwave mug cakes include an ingredient that adds extra moisture to the texture of the cake. One tablespoon of syrup (chocolate, caramel, strawberry) or jam adds both flavor and moisture to mug cakes. Orange Mug Cake includes orange marmalade for flavor and moisture.
HOW LONG DO YOU COOK A MUG CAKE?
Though most mug cake recipes say to microwave the mug cake for one minute, the correct cooking time can vary by 5-15 seconds, due to the size or power of each microwave. After making your first mug cake, you will have a better idea of whether you need to add or subtract a little cooking time.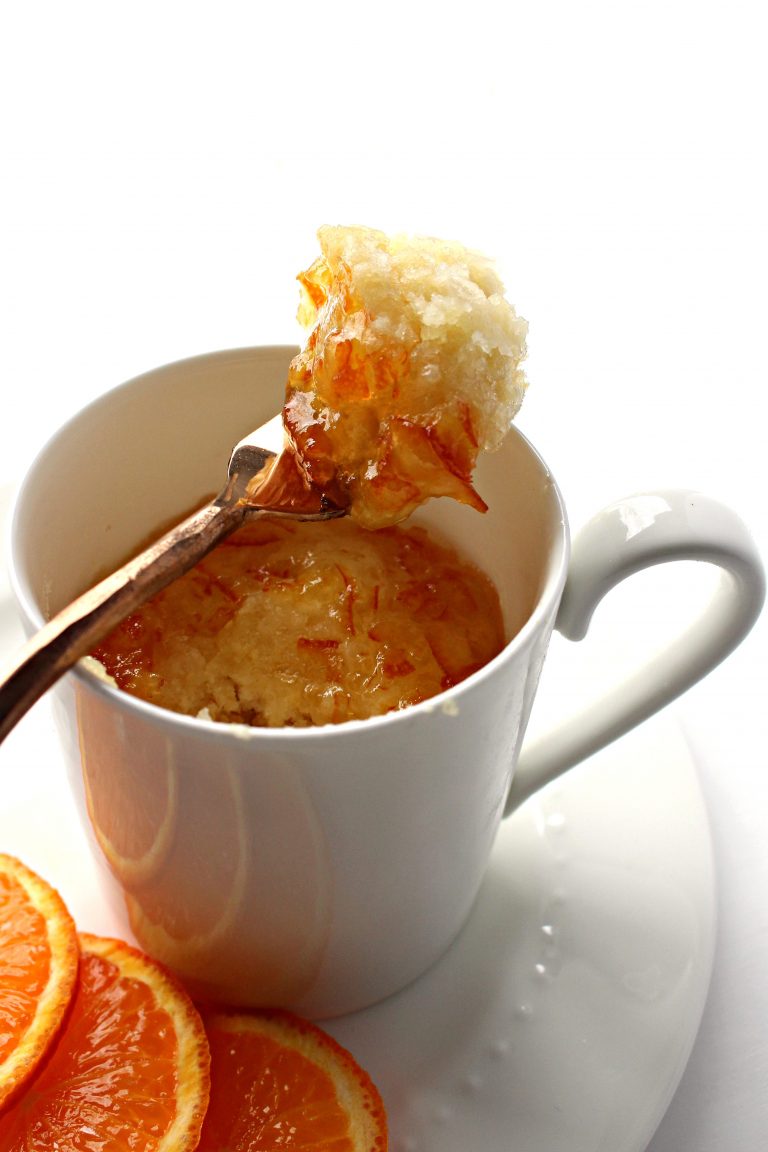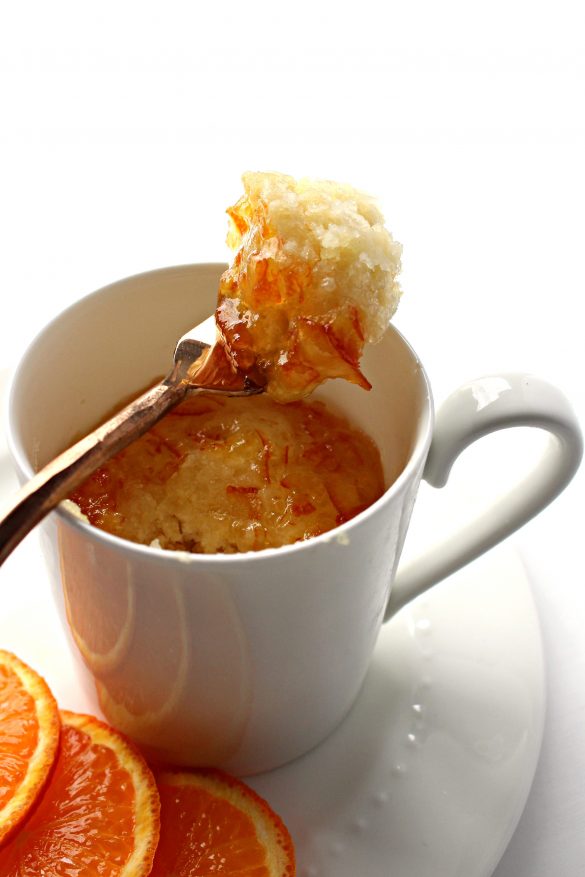 ORANGE MUG CAKE VARIATIONS
Additional ingredients can be added to mug cakes either within the batter before cooking or on top of the cake after cooking. Try these delicious add-ins for Orange Mug Cake.
Chocolate chips (dark or white)
Shredded coconut
Chopped canned fruit
Chopped dried fruit
Slivered almonds
(The Monday Box participates in affiliate marketing programs. As an Amazon Associate I earn from qualifying purchases. If you choose to purchase a product after following a link on this page, I will receive a small commission, at no cost to you, which helps make The Monday Box possible.)
FOR MUG CAKE CARE PACKAGES YOU MIGHT NEED
MORE MUG CAKES TO MAKE IN ONE MINUTE!
ORANGE MUG CAKE RECIPE
Stir up some mug cake cake mix for instant treats at home or for care package gifting. Adding just a bit of marmalade transforms the vanilla mix into a quick and easy citrus flavored snack!
If you love this recipe please give it 5 stars.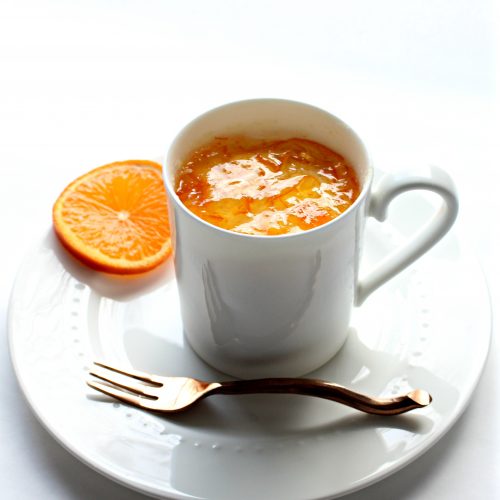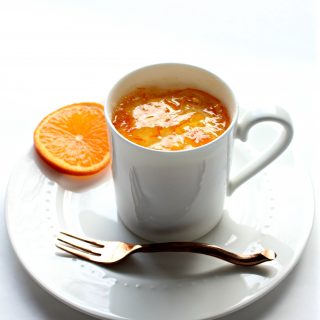 Print
Orange Mug Cake
As an Amazon Associate I earn from qualifying purchases.
Ingredients
1

box Angel Food Cake mix

1

box vanilla yellow cake mix

Non-stick spray if not using disposable cups

Water

1

jar orange marmalade

makes 8 mug cakes, 3 jars for 24 mug cakes
Directions
In a gallon sized ziplock bag, combine the two boxes of cake mix. Shake the bag to mix thoroughly.

If using a microwaveable mug, lightly coat the inside of a with non-stick spray. Without the spray the cake will not transfer out of the mug and the mug is harder to clean. If using a disposable, microwave safe paper cup, no non-stick spray is needed.

In the prepared mug/cup, stir together 3 tablespoons of the combined cake mix, 2 tablespoons of water, and 1 tablespoon of orange marmalade.

Microwave on high for up to 1 minute until cooked.

If you plan to eat the cake right out of the mug, add 1 tablespoon of orange marmalade on top of the cooked Orange Mug Cake. Return to the microwave for 10- 15 seconds to heat and melt the marmalade.

If you plan to transfer the cake out of the mug onto a plate, run a knife around the edge between the cake and the mug to loosen, dump out onto a plate, then add the 1 tablespoon of marmalade and return to the microwave for 10-15 seconds.

Enjoy!
Notes
Combine the two cake mixes into a gallon-size ziplock bag. Use permanent marker to label the bag with preparation directions. Include a 1 tablespoon measuring spoon and a jar of orange marmalade (1 jar/8 mug cakes). If the care package will be sent internationally, include microwave safe paper cups. Snack sized or 6-8 oz drinking cups work well. If the care package is mailed domestically, add either a can of non-stick spray (for use with a ceramic mug) or microwave safe paper cups.