Cranberry Clementine Whole Wheat Quick Bread is a soft, moist clementine flavored loaf bursting with sweet-tart cranberries. This whole grain loaf makes a delicious breakfast bread and a satisfying addition to tea time and study breaks.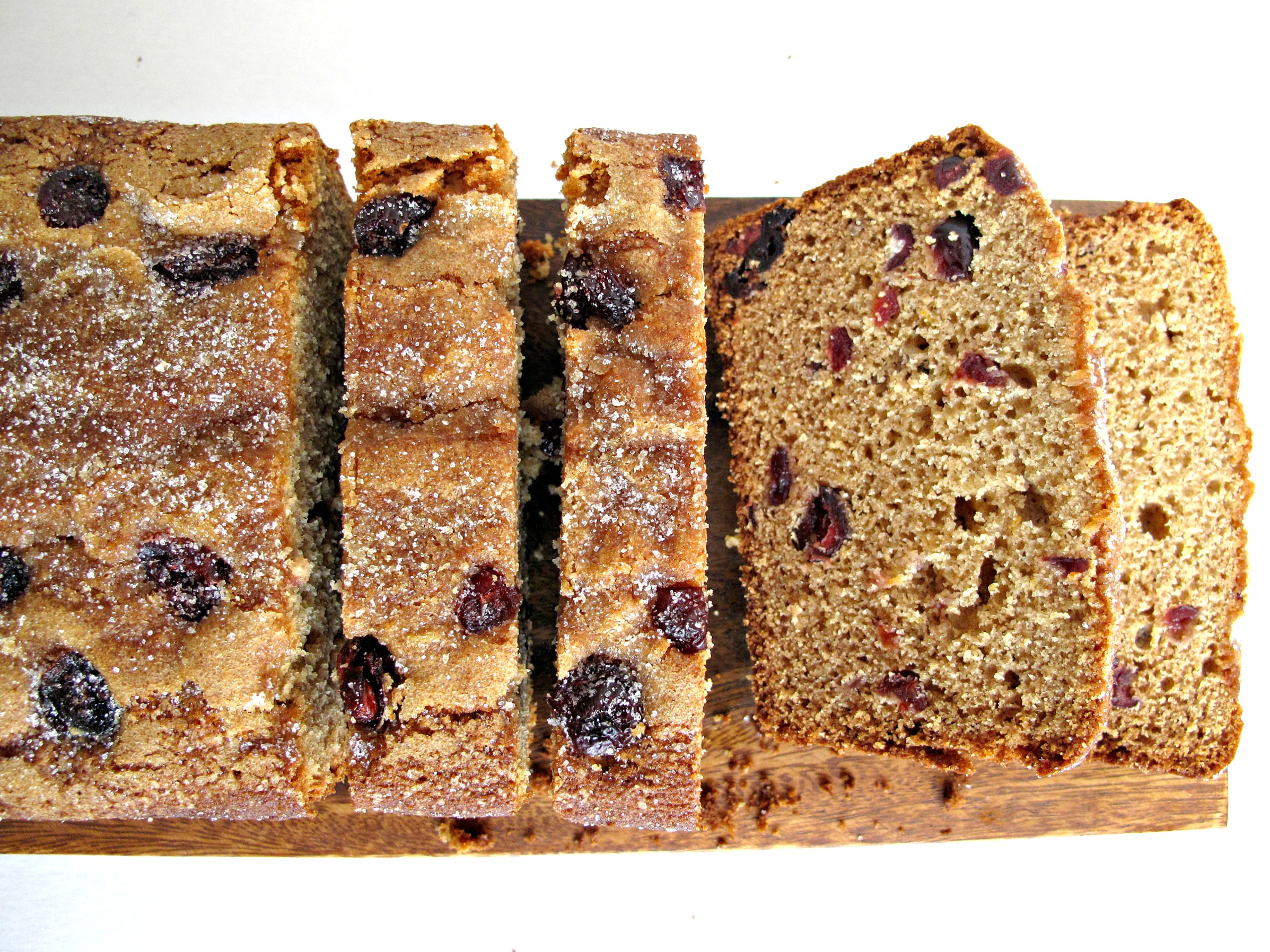 Why you'll love this recipe
I try to purposefully pause throughout the year to be thankful. Sometimes I am more successful than others. It's so easy to get caught up in the day to day details of life, and not take note of daily little things that should be appreciated.
I have been married an absurdly long time, but a moment I remember quite clearly occurred during my wedding ceremony. The rabbi did something small, yet unusual, that created a memory I keep close to my heart.
Our wedding was held in a botanical arboretum ( kind of a giant greenhouse with floral displays), with a small gathering of family and friends on the paths around us. In the middle of the ceremony, the rabbi stopped.
He asked us to put our feet back on the ground, to truly be in the moment, and to look around us at the smiles on the faces of the people dearest to us in the whole world.
Thirty-four years later, I clearly remember those smiles. I am so thankful to have held onto that moment in time, and to have shared it with those I love.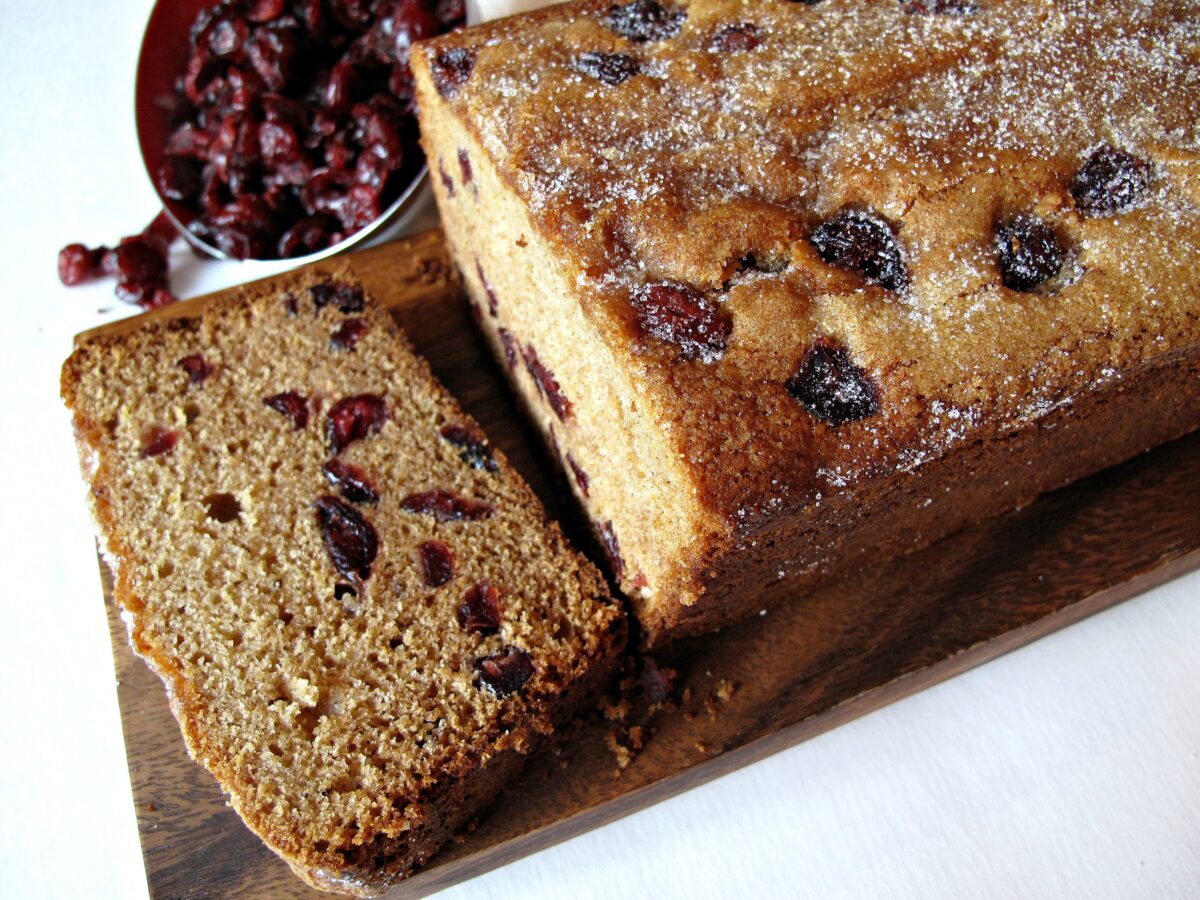 I was thinking about all I have to be thankful for as I packed this month's military care package. Though my care packages always include a cheery thank you note, this thank you note seemed especially relevant.
I hope my Thanksgiving note to Soldier B. conveyed my heartfelt appreciation for the sacrifices military personnel make as they proudly serve our country. Many men and women will spend their holidays doing a dangerous job far from those they love. I wish them all a safe Thanksgiving and safe return home.
Four weeks have gone by since I sent my October military care package. The Halloween themed box was the first care package addressed to Soldier B. instead of Paratrooper Derik, who happily has returned home.
I hadn't heard from Soldier B. and was concerned that maybe the care package hadn't made it to Afghanistan. I only had Soldier B.'s APO address, so I had no other way of contacting him. It is completely understandable that sending out emails couldn't be a priority for an active duty soldier.
I decided to go ahead with the November package and give it a bit more time. You can imagine how delighted I was when I found a message from Soldier B. in my email last night!
The box arrived, the Halloween decorations were displayed, the cookies were devoured, and most wonderfully, Soldier B. reports that the box made the soldiers "feel a little bit of home!" Mission accomplished.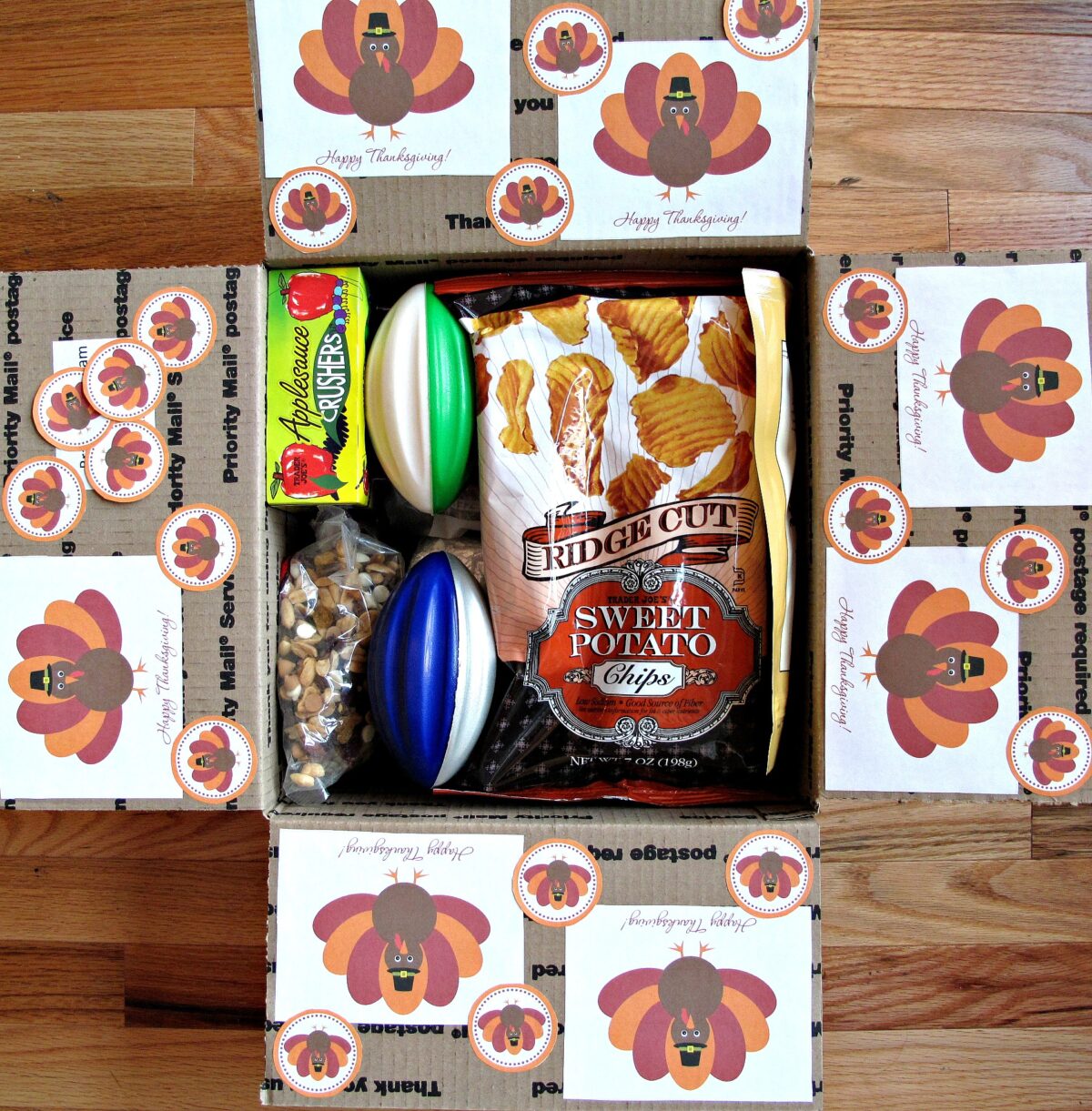 Care Package Contents
The obvious theme for a November care package is Thanksgiving. My intent was to gather an assortment of items that symbolize the traditional foods and activities of Thanksgiving day. In lieu of a turkey (which would spoil) or a parade (which wouldn't fit) I packed up these alternatives.
Commercialism in America appears to jump from Halloween directly to Christmas. The Dollar Store, my usual source of fun, themed goodies had little to offer, other than two foam footballs for traditional after feasting sport.
Instead, this box was filled with symbolic foods from Trader Joe's (I hope the symbolism is obvious); turkey jerky, apple sauce in squeeze containers, sweet potato chips (which may become sweet potato powder by the time they get to Afghanistan), cranberry and nuts mix.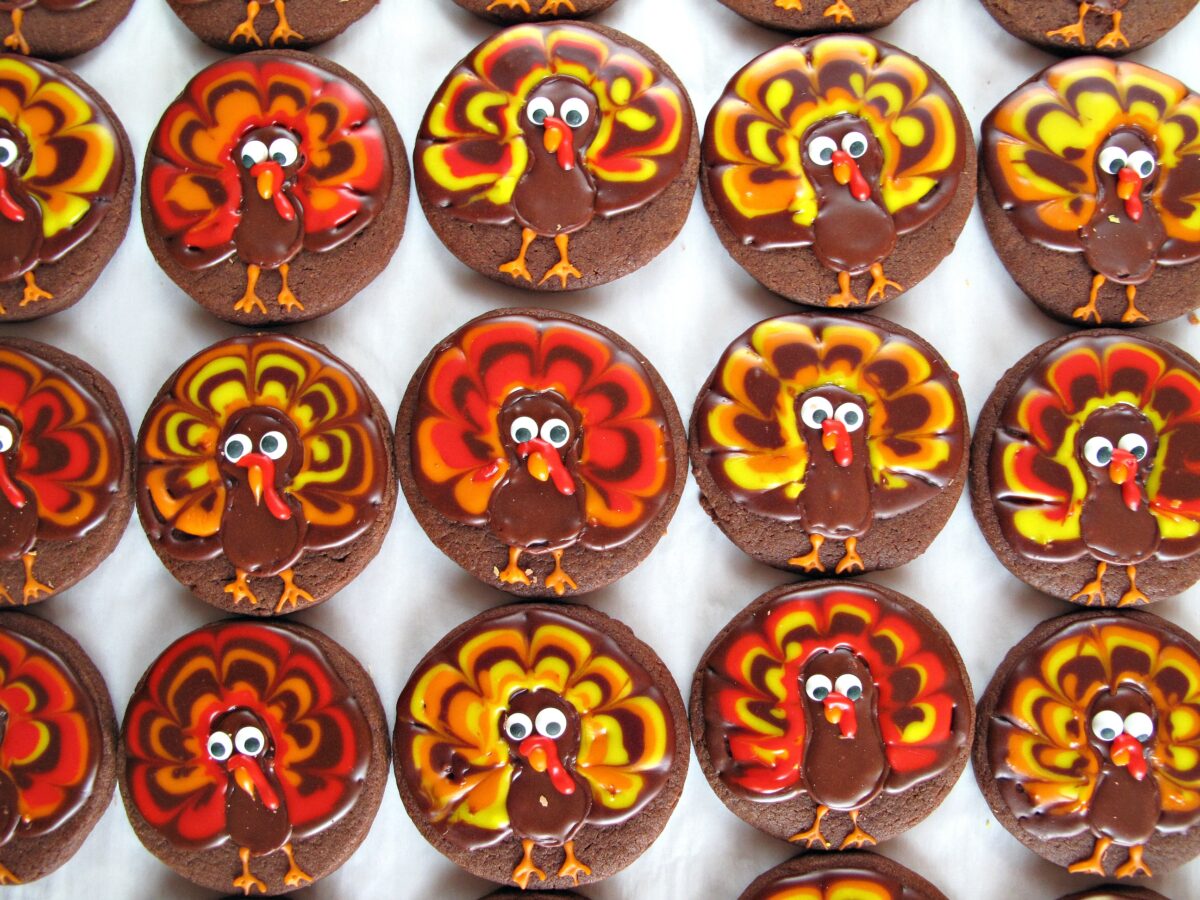 Circle Sugar Cookies:
As faulty and imperfect as they are, I love these little turkeys. If slightly quirky and unique poultry appeal to you, this design is not fast, but it is easy.
My biggest tips for keeping the icing from beginning to dry too quickly (the cause of the messy turkey in my process photos) is to make sure the icing is fluid rather than thick and pasty, and do NOT stop and take photos every few minutes.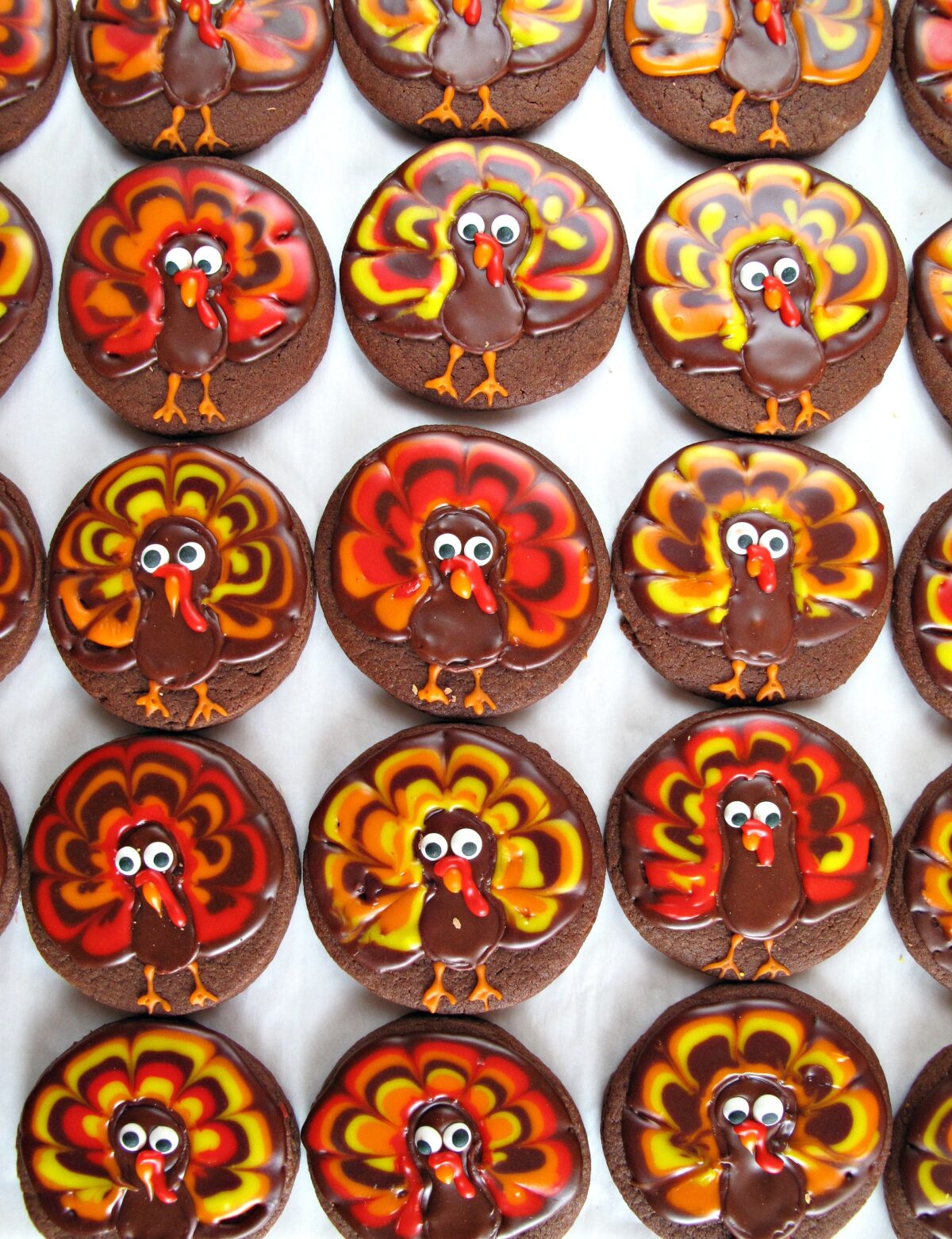 I used one batch of vanilla sugar cookie dough and one batch of chocolate sugar cookie dough.
I needed two batches of faux royal icing for 48 cookies, but I did have some icing left over. I made one batch of icing chocolate by adding ¼ cup of cocoa and a few drops of brown food coloring. The other batch of icing was divided in three and colored orange, yellow, and red.
I used a piping tip to gently press guide lines on the cookies, then outlined the circles with brown icing. Let the outline dry slightly (about 1 hour) before flooding with more brown icing. Wait until the surface is dry before continuing (another hour).
Add the details to the face and the legs. The feathers are created by outlining with several colors, then dragging a toothpick from the outer edge toward the turkey body.
If the colored icing lines are wet (not drying due to photo taking) the toothpick will drag easily, the line will disappear, and a marble effect will resemble feathers.
New Recipe: Cranberry-Clementine Whole Wheat Quick Bread
The flavors of this Cranberry-Clementine Whole Wheat Quick Bread are completely Thanksgiving.
I was flipping through "The Blue Ribbon Country Cookbook" for a loaf or a bar recipe that would work in this care package, when I spotted the original recipe. Cranberries are my favorite Thanksgiving food.
Four loaves later, with a wide variety of tweaks and not a little frustration, I give you this delectable Thanksgiving (or anytime) quick bread.
The original recipe had great flavor but was dry. So I added buttermilk. Cakes and loaves made with buttermilk are always moist.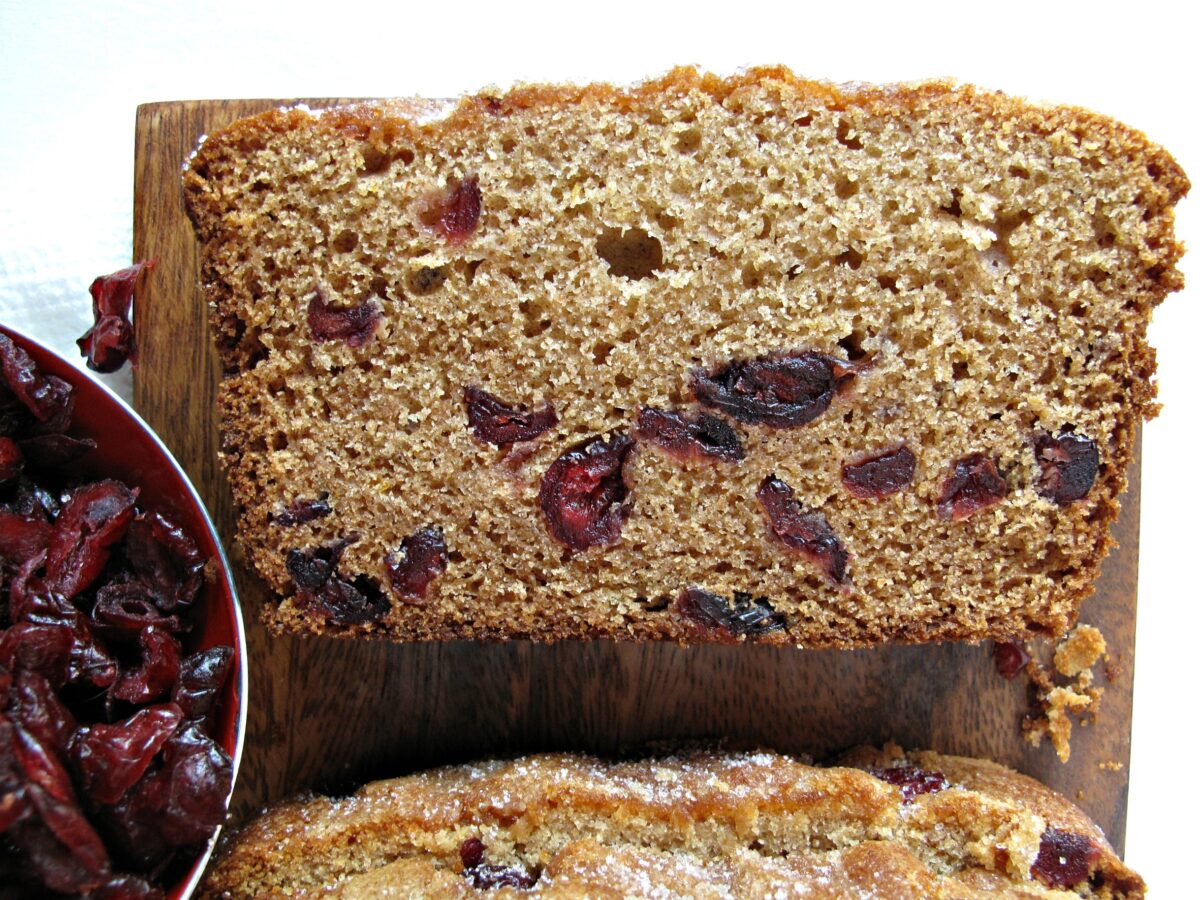 Storage
Stored airtight at room temperature, Cranberry-Clementine Quick Bread stays moist and delicious for at least 5 days. Refrigerated it stays fresh for at least 7 days.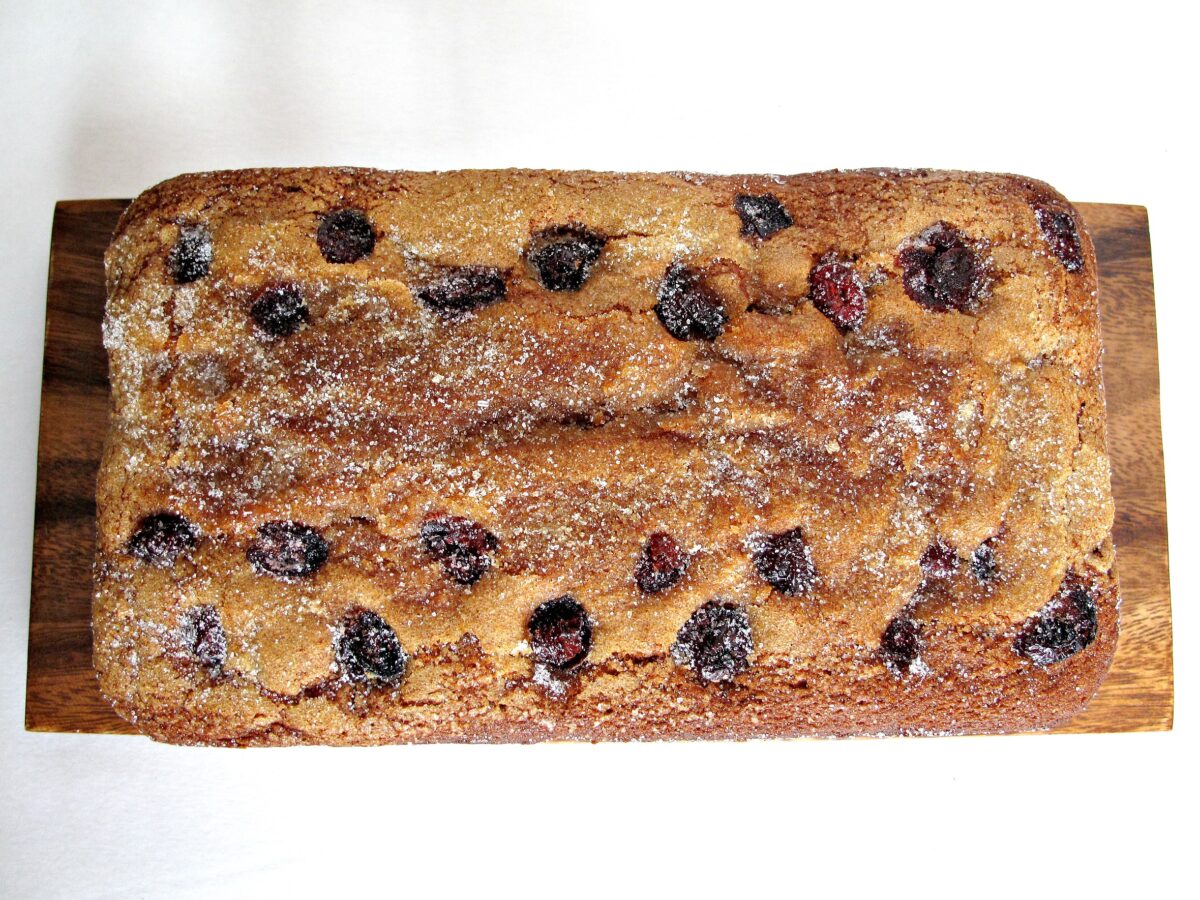 More quick bread recipe
Quick and easy Gingerbread Loaf is mixed in the blender! This soft loaf cake is filled with warming spices.
Chocolate Marble Pound Cake made in mini loaf pans makes a eye catching gift and a tasty snack!
This Lemon Loaf is even better than the loaf at Starbuck's! The soft, lemony loaf is made even more delicious adding sweet-tart lemon syrup and icing on top.
Yogurt makes this Chocolate Loaf Cake super moist and delicious!
Ready to bake? Join the free membership group to get new recipes and a newsletter delivered to your inbox! You can also stay in touch on Facebook, Pinterest, and Instagram. I'd love to stay in touch!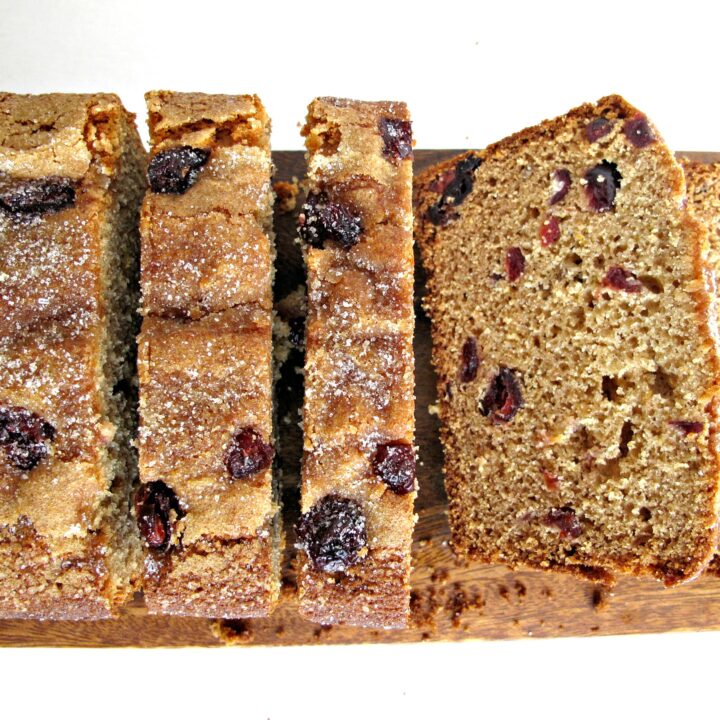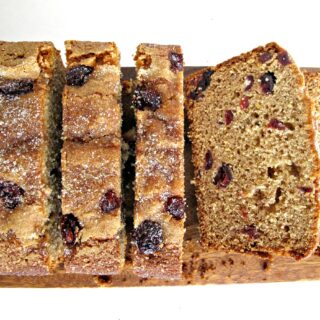 Cranberry-Clementine Whole Wheat Quick Bread
Soft, moist clementine whole wheat quick bread with sweet-tart cranberries and a crunchy sugar topping.
Print
Rate
Adapted From:
"The Blue Ribbon Country Cookbook" by Diane Roupe
Ingredients
1

cup

craisins

plus 1 tablespoon for decoration

1 ½

Cups

all-purpose flour

¾

cups

whole-wheat flour

1

teaspoon

baking powder

1

teaspoon

baking soda

¼

teaspoon

salt

1

teaspoon

cinnamon

½

teaspoon

ginger

½

cup

unsalted butter

melted

⅔

cup

granulated sugar

plus 1 tablespoon for decoration

¼

cup

honey

1

large egg

room temperature

1

tablespoon

clementine zest

⅓

cup

clementine juice

⅔

cup

buttermilk
Instructions
Preheat oven to 350˚F. Lightly butter 1 large 5"x 9" loaf pan or 4 mini-loaf pans on the bottom and only 1" up the sides.

In a large bowl, whisk together the flours.

In a medium bowl, toss the craisins and 2 tablespoon of the combined flours to coat. Set aside.

To the bowl with the remaining flour, add baking powder, baking soda, salt, cinnamon, and ginger. Whisk to combine.

In the bowl of an electric mixer, cream together the melted butter, sugar, and honey. Add the egg and the zest and beat at high speed for at least 3 minutes until light and very fluffy.

Gradually alternate adding the liquids (clementine juice and buttermilk) and flour mixture one fourth at a time, just until combined. Fold in the craisins

Spread the batter into the prepared pan, smoothing the top with a spatula. Sprinkle the top with a few craisins and 1 tablespoon of granulated sugar.

Bake the large loaf pan for 40-50 minutes. Half way, lay a sheet of foil on top of the loaf to prevent the top from burning. Start checking for doneness at 40 minutes. The loaf is done when a toothpick comes out clean. Bake mini-loaves for 20-30 minutes, covering half way through baking, and test for doneness starting at 20 minutes.

Cool the loaf in the pan for 15 minutes, then remove from the pan and cool completely on a wire rack. Do not slice until the loaf is completely cool or it will crumble.

Store at room temperature wrapped in foil and then in an airtight container for about 5 days or refrigerated for about 1 week.
Notes
Packing tips
This loaf will retain its moist texture longer if shipped unsliced.
Wrap the loaf (if baked in a disposable pan, wrap the loaf right in the pan) first in foil, then in plastic wrap.
Cranberry-Clementine Quick Bread will stay fresh for at least 5 days.
Due to the high moisture content of the cake and fruit, this recipe is recommended for cold weather shipping only to avoid conditions that would promote mold.
Nutrition
Calories:
263
kcal
|
Carbohydrates:
44
g
|
Protein:
4
g
|
Fat:
9
g
|
Saturated Fat:
5
g
|
Trans Fat:
1
g
|
Cholesterol:
35
mg
|
Sodium:
196
mg
|
Potassium:
92
mg
|
Fiber:
2
g
|
Sugar:
25
g
|
Vitamin A:
299
IU
|
Vitamin C:
3
mg
|
Calcium:
49
mg
|
Iron:
1
mg