The batter for this soft, moist Gingerbread Loaf Cake is mixed in a blender! Quickly and easily bake these scrumptious loaf cakes and fill your kitchen with the warming aromas of cinnamon and ginger. Bake some to enjoy and some to gift!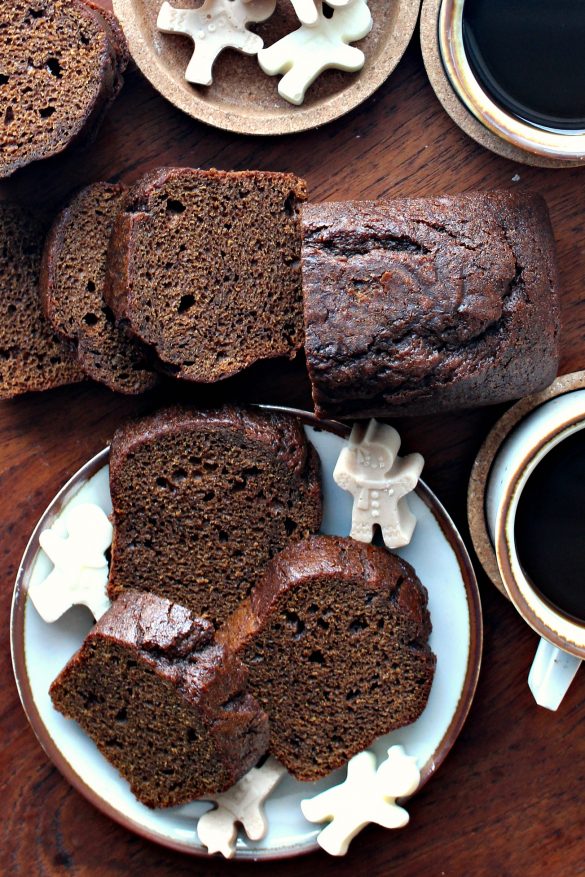 I love gingerbread in all of its forms, whether chewy cookies and bars, or tender cakes. My only requirement is that I don't want gingerbread that tastes like cloves. I hate cloves.
I often tweak the spices in gingerbread recipes by leaving out the cloves, substituting additional cinnamon or ginger.
Recently I read a British recipe for gingerbread cake that didn't list the spices individually. Instead, the recipe called for a blend called cake spice.
In the United Kingdom, cake spice is a common blend, commercial or homemade, often used in Christmas baking. The blend is made of cinnamon, nutmeg, allspice, ginger, cloves, and sometimes includes star anise as well. The cloves worried me.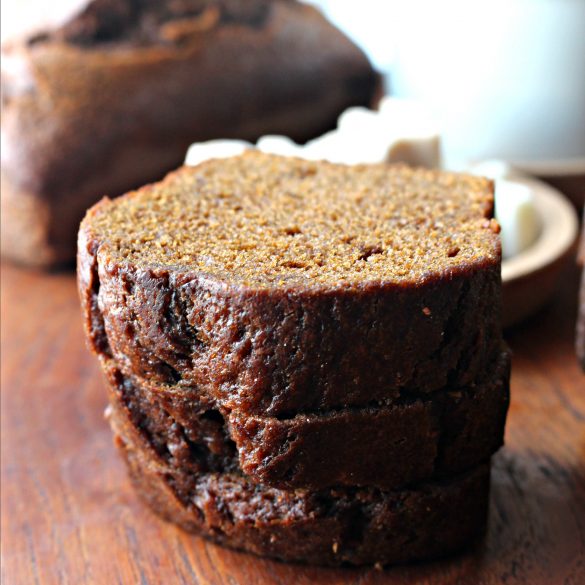 Cake spice isn't available at my American supermarket. However, I found some at Penzey's Spices. One sniff of this heavenly blend reassured me that cloves only played a supporting role.
This Gingerbread Loaf recipe is all about simple and easy. I used the cake spice blend to cut down on ingredients. If you don't have cake spice, you can substitute the ginger and cake spice with 2 teaspoons ground ginger, 1 1/2 teaspoons cinnamon, 1/4 teaspoon allspice, and 1/4 teaspoon ground cloves.
A blender isn't required for making this Gingerbread Loaf, you can mix this batter with an electric mixer too. I found that mixing with a blender is super quick. Just a few pulses combined the ingredients and produced a batter that baked up soft and tender.
When using a blender for cake batter, there are a few tips to keep in mind. Using these tips will allow the ingredients to combine properly and keep the cake from turning out tough and chewy.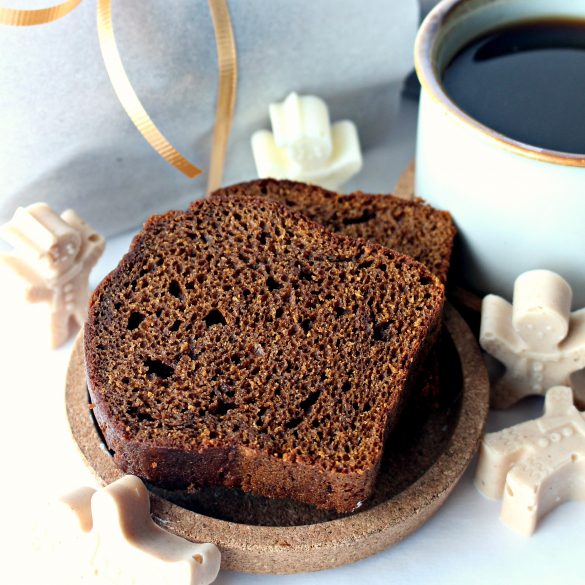 How to use a blender for baking
Add all of the wet ingredients first.
Add the dry ingredients after the liquid ingredients have been combined.
Use the pulse feature only for minimal mixing. Overmixing the batter will produce a rubbery loaf.
If the recipe calls for add-ins, like chocolate chips or nuts, add those last. Only pulse once or twice, or mix by hand, to distribute the add-ins without chopping them up.
Directions
Coat loaf pans with cooking spray and line with parchment paper. (1.)
Combine the dry ingredients in a large bowl.
In the blender, pulse to combine the oil, molasses, eggs, buttermilk, and vanilla.
Add the dry ingredients to the blender, one half at a time, pulsing just until mixed.(2.)
Pour the batter into the prepared loaf pans and bake for 25 minutes (mini loaves) or 50 minutes (large loaf). (3. and 4.)
(The Monday Box participates in affiliate marketing programs. As an Amazon Associate I earn from qualifying purchases. Additional affiliate programs may be linked when applicable. If you chose to purchase a product after following a link on this page, I will receive a small commission, at no cost to you, which helps make The Monday Box possible.)
Tools you may need

More loaf cake recipes
Gingerbread loaf recipe
A slice of gingerbread cake may be the best part of winter! This recipe makes four mini loaves. The warming spices and sweet, soft cake are a holiday treat you will want to savor and to share.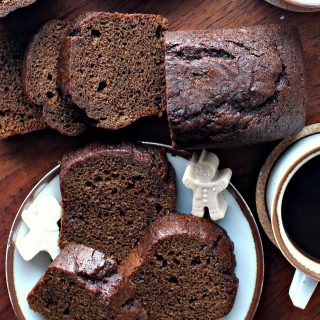 Gingerbread Loaf Cake
Makes
4
mini loaves (3" x 5 ½") or one large loaf (9" x 5")
Ingredients
2

cups

all-purpose flour

1/4

cup

granulated sugar

1

teaspoon

baking soda

1/4

teaspoon

salt

1

teaspoon

cocoa

1

teaspoon

ground ginger

2

teaspoons

cake spice*

see note

1/2

cup

vegetable oil

3/4

cup

mild molasses

2

large eggs

1

cup

buttermilk

2

teaspoons

vanilla extract
Directions
Preheat oven to 350° F. Spray the loaf pans with cooking spray. Use a strip of parchment paper to line the long sides and bottom of the pans. Flour the unlined sides.

In a large mixing bowl, whisk together the flour, sugar, baking soda, salt, cocoa, ginger, and cake spice.

In the blender, pulse the oil, molasses, eggs, buttermilk, and vanilla until combined.

Add half of the flour mixture. Pulse to combine. Add the remaining flour and pulse just until incorporated.

Pour batter into prepared pan(s). Bake for 25-30 minutes for mini loaves or 50-55 minutes for large loaf, until a toothpick inserted into center of the loaf comes out clean.

Remove from the oven and allow to cool in the pan for about 10 minutes. Use the overhanging parchment strips to lift the loaves out of the pans and onto wire racks to cool completely.

Wrapped airtight in plastic wrap, Gingerbread Loaves stay fresh for 7-10 days.
NOTE:
Cake spice is a British spice blend available in the United States from Penzey's spice stores and online. The mixture includes ginger, nutmeg, cloves, and sometimes star anise. Cake spice provides a gingerbread flavor to baked goods. If no cake spice is available, substitute the ginger and cake spice in this recipe with 2 teaspoons ground ginger, 1 1/2 teaspoons cinnamon, 1/4 teaspoon allspice, 1/4 teaspoon ground cloves.
Packing Tips
Double wrap loaves in plastic wrap and place in a freezer weight ziplock bag or plastic storage container. Moist loaves ship best in cool weather.