Christmas Pretzels are a deliciously simple answer to holiday snacking and gifting. No baking and no special tools are required to create these adorable chocolate treats. Pretzel rings, melting chocolate, and sprinkles are the only ingredients. This is an easy, fast and fun activity for the whole family.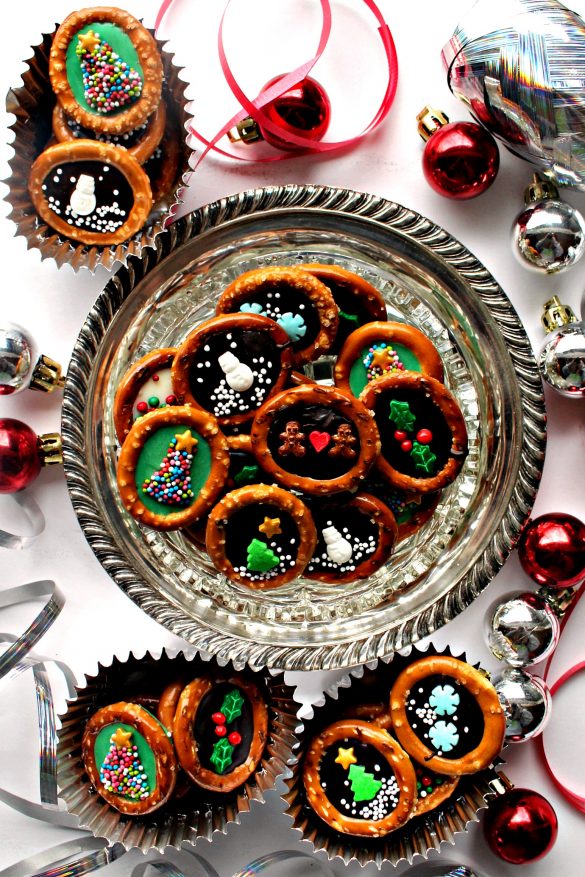 Need a last minute gift or just one more treat to add to your holiday cheer? Sprinkles to the rescue.
These cute, little, chocolate pretzel bites would be unremarkable if it wasn't for the magic of sprinkles. Adding a few sprinkle shapes or a dusting of nonpareils transforms plain chocolate pretzels into adorable Christmas Pretzels.
Admittedly, I have a large sprinkle collection, but every sprinkle I tried created a smile inducing design. My multi colored Christmas trees don't even use Christmas sprinkles. You can literally use any sprinkles you have to create your own eye catching design.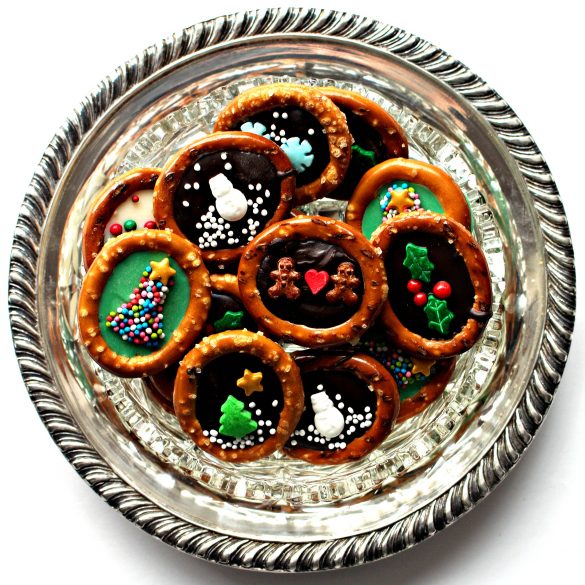 To create Christmas Pretzels, you will need a bag of pretzel rings (I bought mine at Aldi's) and melting chocolate.
You will also need some sprinkles. I made a variety of designs using nonpareils in Christmas colors, gingerbread people with hearts, snowmen with white nonpareil "snow", pine trees with a gold star and white nonpareil "snow, snowflakes with white nonpareil "snow", holly leaves with red berries, and Christmas trees made of multicolored nonpareils and a gold star.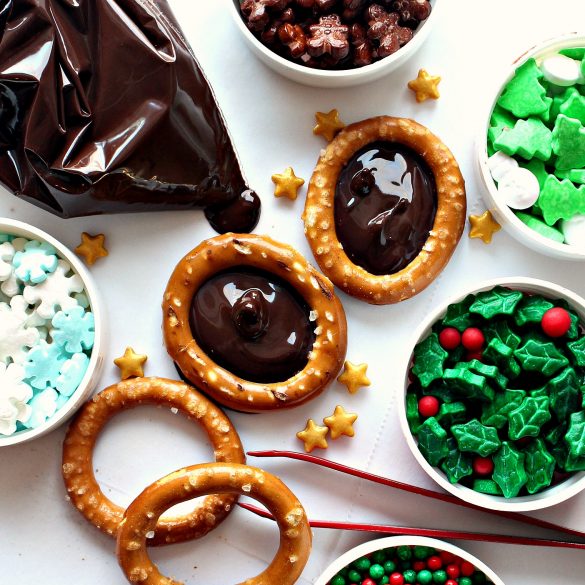 Directions
Most of the Christmas Pretzels are made in the same 5 steps.
Place the pretzels on a wax paper lined pan.
Melt the chocolate and transfer it to a zip lock bag.
Cut a corner off the bag and pipe the chocolate into the center of the pretzels. (Gently tap the pan on the counter to flatten the chocolate surface.)
Add sprinkles.
Place in the refrigerator until firm.
To make the multi colored Christmas trees on a green background:
Place the pretzels on a wax paper lined pan.
Melt white chocolate, then mix in a few drops of green candy coloring.
Transfer the green chocolate to a ziplock bag.
Cut a corner off the bag and pipe the chocolate into the center of the pretzels. (1.)
Refrigerate to until firm. Bring the pretzels back to room temperature (5 minutes).
Using the remaining green chocolate, pipe a triangle onto one pretzel and place a gold star at the top (2.)
Cover the triangle with multicolored nonpareils. (3.) Tip off excess nonpareils and reuse. (4.)
Repeat with the remaining pretzels.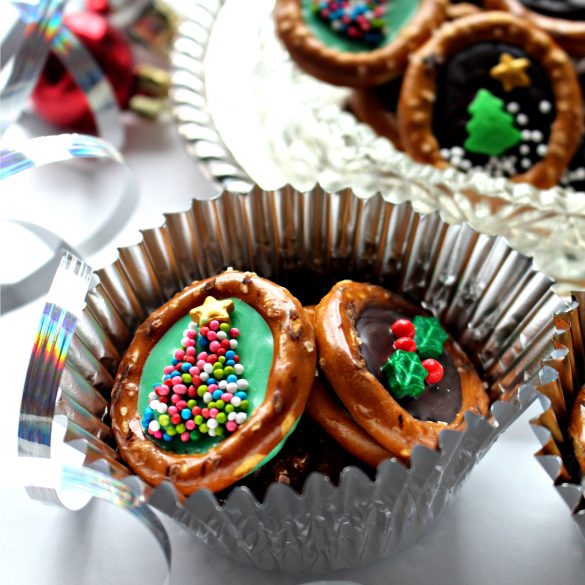 Tips
Use good quality melting chocolate, both for flavor and to avoid chocolate bloom (white coating that forms on untempered chocolate).
Work in small batches so that chocolate doesn't begin to set while you are decorating.
Set chocolate in fridge for a shiny finish. Don't chill beyond firming.
Never use regular food coloring with chocolate. Regular food coloring is water based and can cause the chocolate to seize, turning it cement-like. Only use candy coloring, which is oil based.
Tweezers are helpful for placing sprinkle shapes onto the melted chocolate.
The pretzels with multicolored nonpareil Christmas trees can also be made with uncolored white or dark chocolate instead of the green.
(The Monday Box participates in affiliate marketing programs. As an Amazon Associate I earn from qualifying purchases. Additional affiliate programs may be linked when applicable. If you chose to purchase a product after following a link on this page, I will receive a small commission, at no cost to you, which helps make The Monday Box possible.)
Ingredients you may need
HOLLY SPRINKLES GINGERBREAD BOY SPRINKLES

More easy Christmas treats
Christmas pretzels recipe
With minutes to spare you can easily make these colorful Christmas candies. Place a handful in foil cupcake liners on dessert buffets or at holiday table settings.
Package them in decorative tins for teachers, neighbors, and coworkers. Send some sweet holiday cheer in a care package. Snacking as you create is encouraged.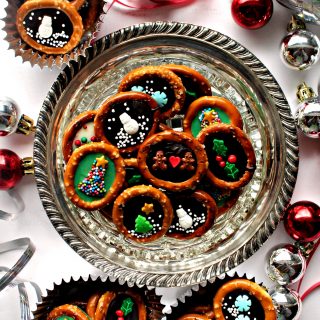 Christmas Pretzels
Ingredients
20

pretzel rings

1

cup

melting chocolate

Sprinkles
Directions
Line two small baking pans with wax paper.

Arrange 5 pretzels on the wax paper in each pan.

In a small bowl, melt the chocolate in the microwave at 50% power for 1-2 minutes until smooth.

Transfer the melted chocolate into a small ziplock sandwich bag.

Cut a small piece off one corner of the sandwich bag.

Pipe chocolate to fill the centers of 5 pretzel rings in one pan.

Gently tap the pan on the counter to flatten the chocolate surface and eliminate bubbles.

Immediately add sprinkles.

Place the pan in the refrigerator to firm for about 3 minutes.

Pipe chocolate into the pretzels in the 2nd pan, tap the pan, and add sprinkles.

Place the 2nd pan in the refrigerator to firm for about 3 minutes.

When the chocolate is firm, remove the pretzels from the pans.

Arrange the remaining pretzels in the pans.

If the melted chocolate in the piping bag begins to firm, reheat in the microwave.

Repeat to use up the pretzels and the chocolate.

Store Christmas Pretzels in an airtight container for up to 2 weeks.
Packing Tips
Add Christmas Pretzels to a freezer weight ziplock bag. Remove as much air as possible before sealing. Pad the bag of pretzels with bubble wrap or tissue paper. Pack securely in the shipping box to ensure no movement in transit. Only ship chocolate during cool weather.