I added this post to my list of mug cake recipes earlier in the week as I packed for a short family trip to Sanibel Island, Florida. Hopefully, while you are enjoying this Piña Colada Mug Cake, we will relax while soaking up healthy amounts of vitamin D. Though our family has been to Sanibel Island before, we have never visited during the dreaded Spring Break crowds.
However, that is when my 2 adult children were available and we all needed a warm get-away,so we decided to give it a try. In the past, we found Sanibel to be a wonderful destination for family time, just hanging out, shelling, biking, breathing. That's our unscheduled plan for this trip as well.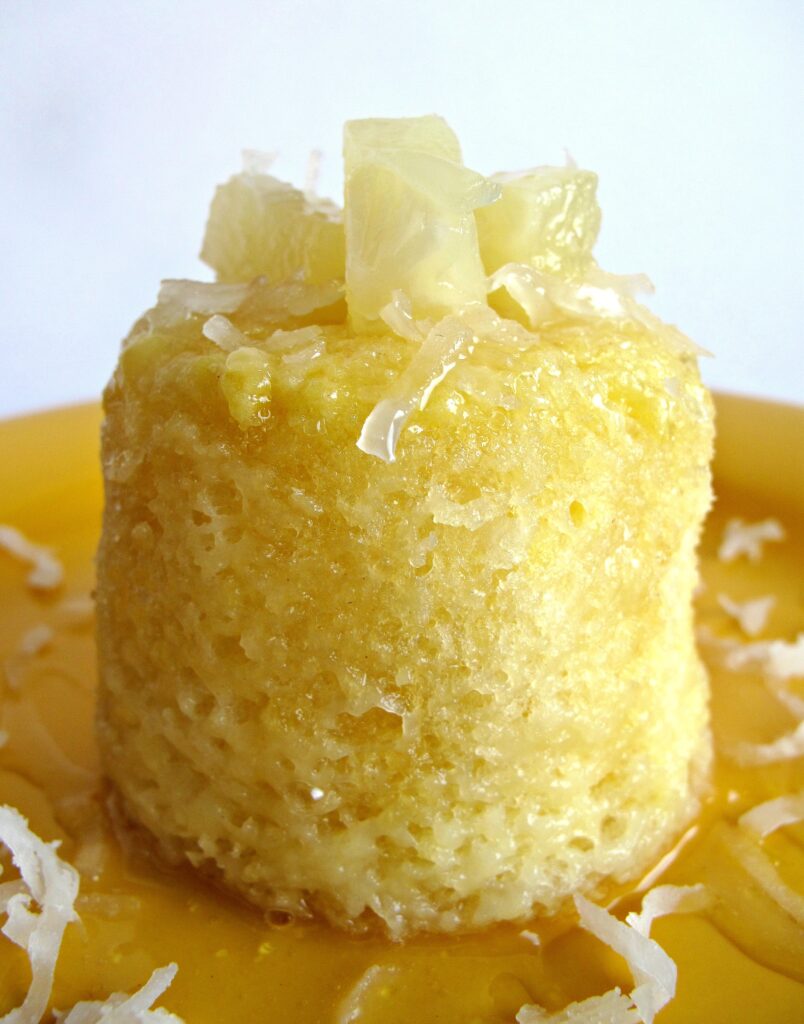 If you can't get away but need a break from still wintery weather (or want to send a care package to someone needing warmth), I offer you a cup of instant sunshine in the form of a Piña Colada Mug Cake. Imagine fluffy vanilla cake speckled with shredded coconut and juicy bits of pineapple.
Then top this tropical treat with generous drizzles of sweet coconut cream. Now stop imagining and grab a mug. A Piña ColadaMug Cake can be ready to eat in 1 microwave minute!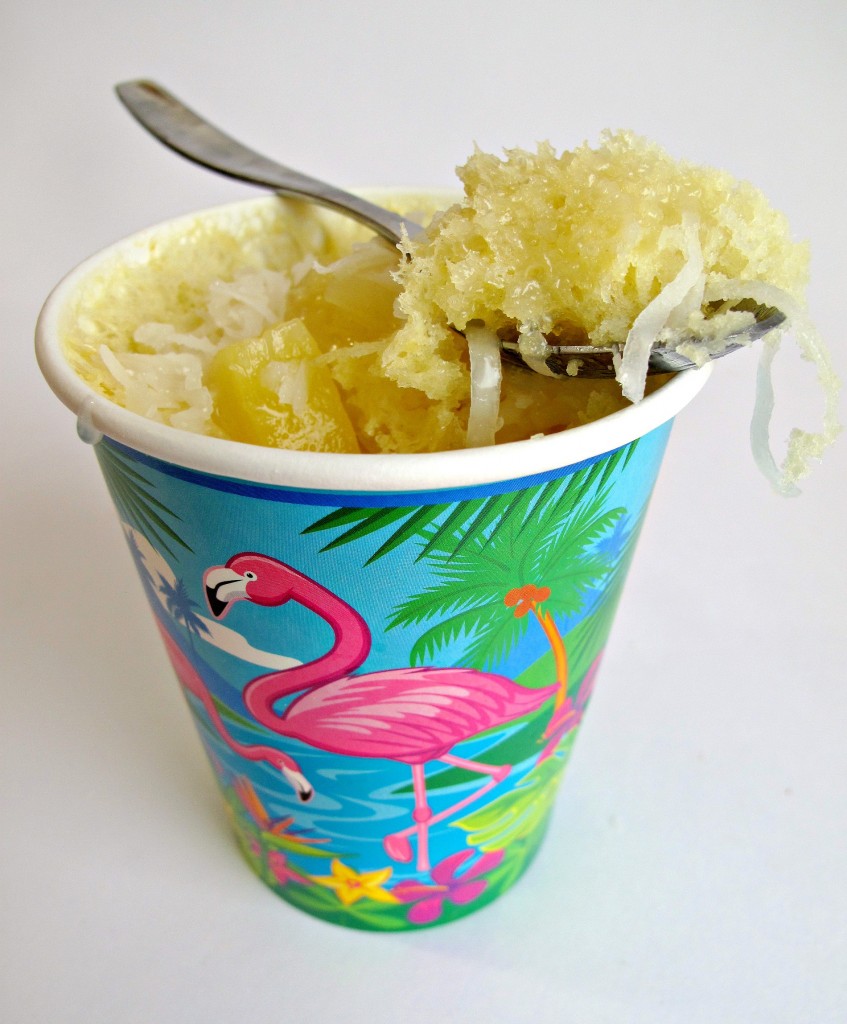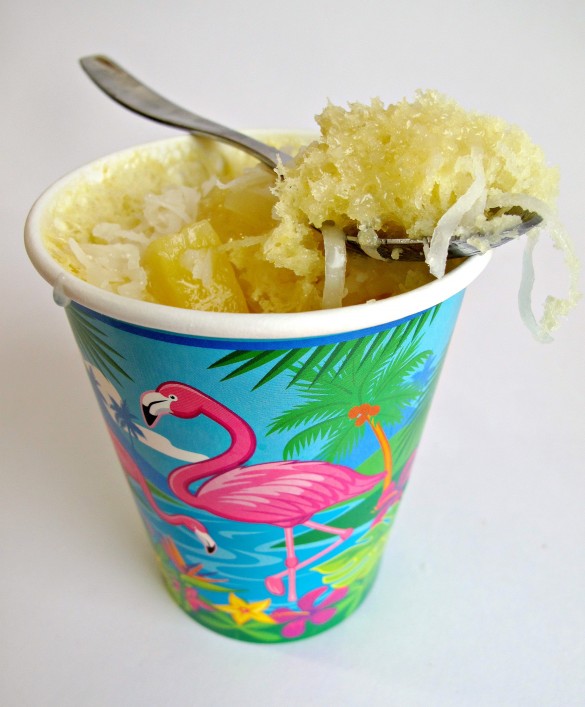 A Piña Colada Mug Cake is made with the magic mixture of one box of vanilla cake mix plus one box of angel food cake mix. I combine mine in a large zip lock bag. Three tablespoons of this cake mixture is stirred together with two tablespoons of water.
Then mix in a tablespoon of sweetened coconut and a tablespoon of drained pineapple bits. After one minute in the microwave, drizzle generously with coconut cream. Take a bite and taste the sunshine.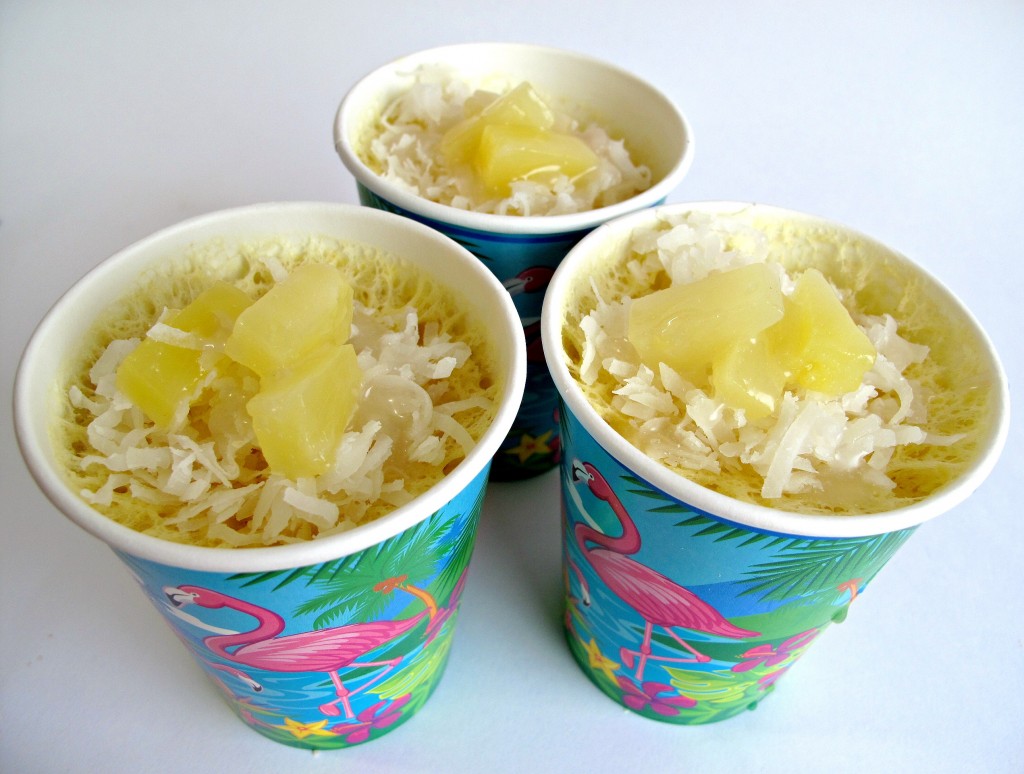 When I first started playing with 3-2-1 cakes, I wasn't thrilled. Plain microwaved cake tastes a little like a sponge. Adding goodies to the mix helped, but something was still missing. The trick, it turns out, is syrup.
Sweet, moist syrup turns a novelty dessert into an on-purpose, I-really-love-this dessert! In the case of Piña Colada Mug Cake, the coconut cream (not to be confused with coconut milk) is a must. It moistens the cake and adds a big splash of sweet coconuty flavor.
Coconut cream, in cans or plastic bottles, can be found in the baking aisle or sometimes in the liquor aisle with ingredients for mixed drinks. Our supermarket only carries it in cans, but I have seen coconut cream online in plastic bottles. World Market carries coconut syrup, another good choice, in a small plastic bottle. I prefer the bottle for care packages because the bottle can be easily opened and then closed for storage.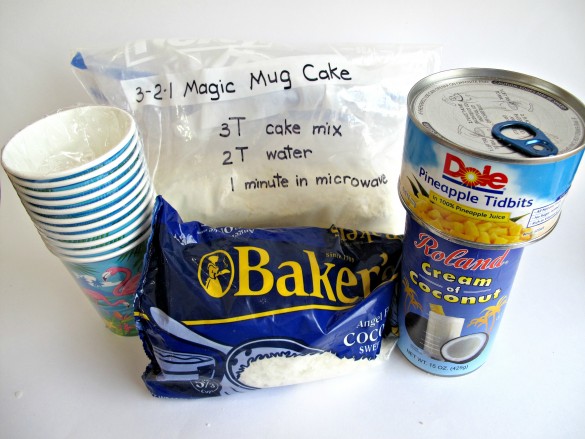 For care package use, pour the two cake mixes into a gallon-size zip lock bag labeled with directions, add a bag of sweetened shredded coconut, a few small cans of pineapple tidbits, a measuring spoon and a package of microwave safe paper cups or a can of non-stick spray.
Please note that aerosol cans are not allowed in international care packages. To mail internationally and/or for no clean-up, I highly recommend adding microwave safe paper cups to your military or college care packages.
A note to those who are gluten-free: 3-2-1 cakes CAN be made with gluten-free cake mix! The angel food cake mix is not necessary. We use Betty Crocker gluten-free mixes for gluten-free 3-2-1 cakes but I see no reason why other brands wouldn't work as well. Enjoy!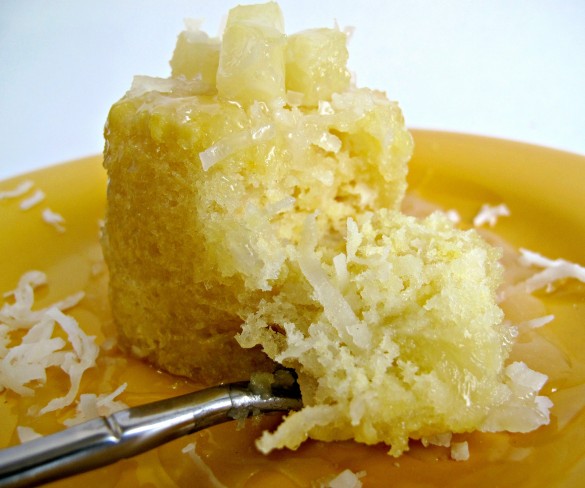 You can read more about desert safe ingredients and find an index of all of the desert safe recipes on The Monday Box by clicking here.
FOR MUG CAKE CARE PACKAGES YOU MIGHT NEED:
PIÑA COLADA MUG CAKE RECIPE
You can quickly and easily mix up your own mug of sunshine! Enjoy a taste of the tropics then share the ingredients and recipe in your next care package !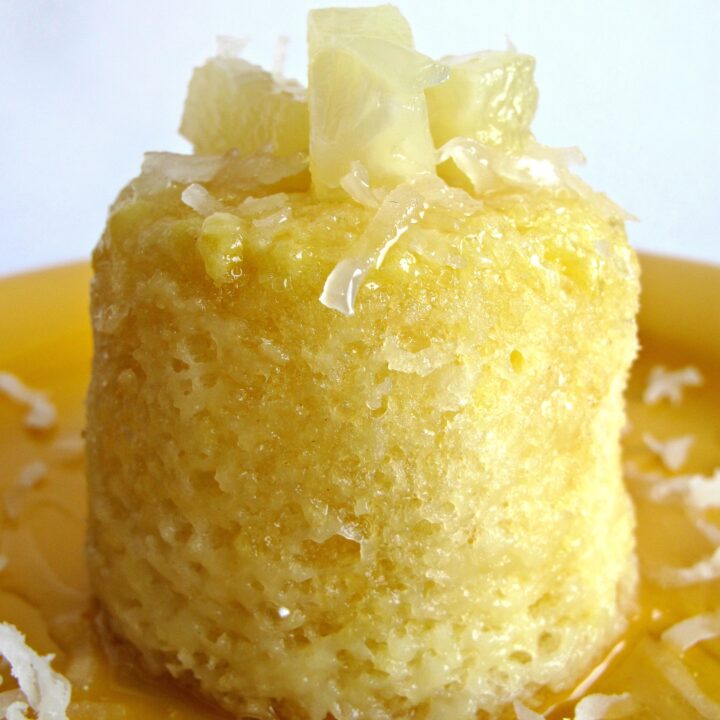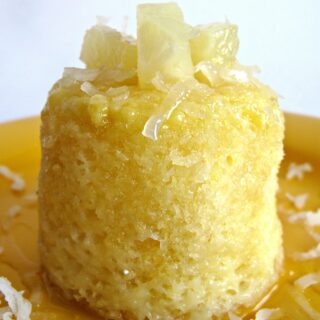 Piña Colada Mug Cake
Individual mugs of  fluffy vanilla cake speckled with shredded coconut and juicy bits of pineapple.
Print
Rate
Ingredients
1

box

Angel Food Cake mix

1

box

yellow cake mix

Non-stick spray

if not using disposable cups

Water

24

tablespoons

sweetened shredded coconut

(1 bag)

1

can pineapple tidbits

packed in pineapple juice, drained

1

bottle

coconut cream or coconut syrup
Instructions
In a gallon sized ziplock bag, combine the two boxes of cake mix. Shake the bag to mix thoroughly.

Lightly coat the inside of a microwaveable mug with non-stick spray or use a disposable microwave safe paper cup. (Without the spray the cake will not transfer out of the mug and the mug is harder to clean.)

(Here comes the 3-2-1 part) Into the prepared mug, stir together 3 tablespoons of cake mix and 2 tablespoons of water. Mix in a tablespoon of coconut and a tablespoon of pineapple.

Microwave on high for 1 minute.

Sprinkle the top of the cake with a little coconut, a few bits of pineapple, and a generous drizzle of coconut cream/syrup. Then eat it right out of the mug. If you want to transfer the cake onto a plate, run a knife around the edge between the cake and the mug to loosen, dump out onto a plate, then add the coconut, pineapple, and coconut cream/syrup.
Notes
Packing tips
Combine the two cake mixes into a labeled gallon-size ziplock bag.
Include a measuring spoon, a bag of sweetened shredded coconut, a can of pineapple tidbits packed in juice, and a can/bottle of coconut cream/syrup.
If the care package is international, include microwave safe paper cups.
If the care package is domestic, add either a can of non-stick spray (for use with a ceramic mug) or microwave safe paper cups.
Nutrition
Calories:
115
kcal
|
Carbohydrates:
17
g
|
Protein:
1
g
|
Fat:
5
g
|
Saturated Fat:
3
g
|
Sodium:
168
mg
|
Potassium:
85
mg
|
Fiber:
1
g
|
Sugar:
10
g
|
Vitamin A:
1
IU
|
Vitamin C:
1
mg
|
Calcium:
28
mg
|
Iron:
1
mg
MORE MUG CAKES TO MAKE IN 1 MINUTE!
Save
Save