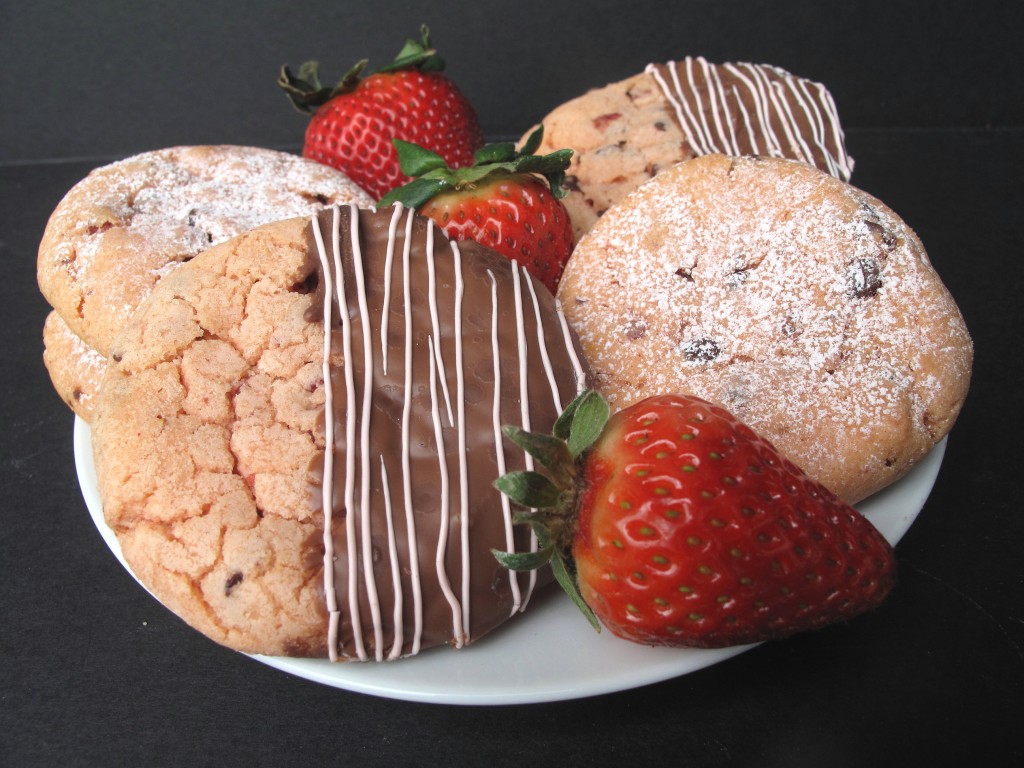 Almost 25 years ago, on Mothers Day, I received my first Mother's Day present. She was an itsy bitsy five pound premmie with black-brown hair and big blue eyes. Quite a present. My daughter made me a mother.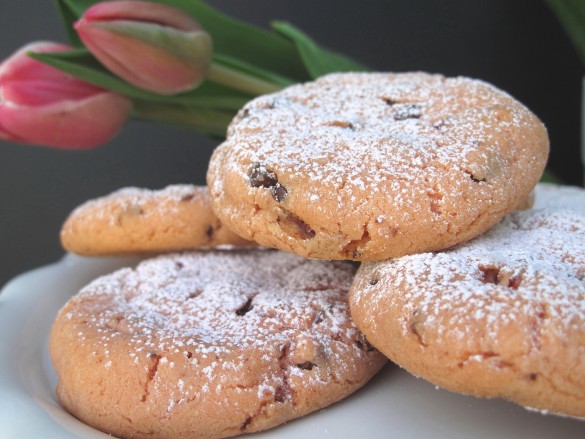 My favorite way to celebrate Mother's Day is being with my kids. Presents aren't important. Shared moments are the gift I crave. My kids have always liked to turn the tables on Mothers Day and cook for me.  From the preschoolers "cooking" my breakfast for a tray in bed, to more elaborate meal presentations later on.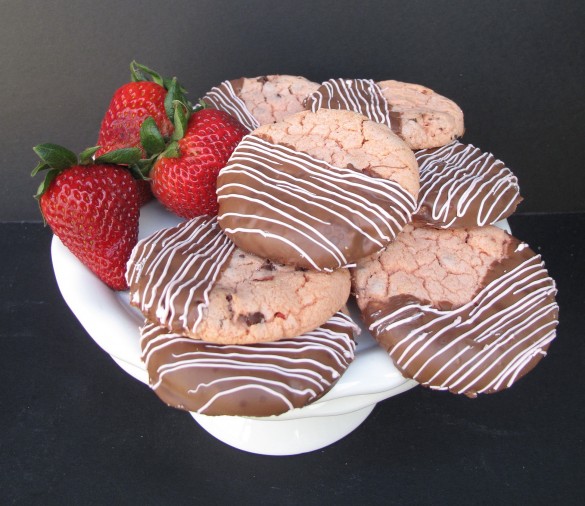 When my son was in middle school, he and a best buddy began the Mothers Day Dinner tradition. The boys would get together in the morning and plan a menu including appetizer, main dish, and dessert. They would find recipes online, do the grocery shopping themselves, and then spend the rest of the day cooking with almost no outside help. The meals were adventurous and delicious. There were occasional glitches that we will call learning experiences (the chicken needs to be defrosted before putting it on the grill). Presentation was paramount. Squiggles of chocolate syrup adorned the plates of home made sorbet. The unifying ingredient in all of the menus was love.  This tradition continued until the guys went off to college and aren't home in May. I miss them.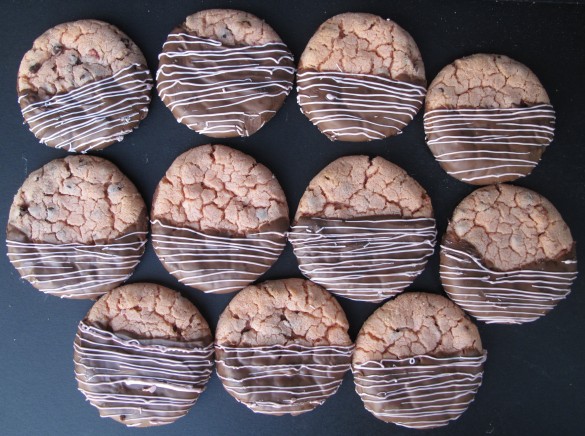 It's a lot easier to spend Mother's Day with your kids when they are little (or even medium sized) and live with you. When they are full sized, they go off to college or move to other cities. I am lucky that my daughter has returned to St. Louis for the time being, but it's hard to get the whole family together. I have learned to celebrate any time we are able to be together. On Mother's Day I kind of get a promissory note for hanging out some time in the future.
But what if it's not the kids who aren't home for Mother's Day, but the mom? That is the situation for deployed military moms. I recently learned that there are over 214,000 women in active U.S. military service and approximately 40 percent of them are moms. That means that there are a lot of moms who are deployed, serving their country abroad and not with their kids for Mother's Day. That has to be so difficult for the moms and  for their children. This recipe for Chocolate Covered Strawberry Cookies is dedicated to those military moms in appreciation for their courage and sacrifice.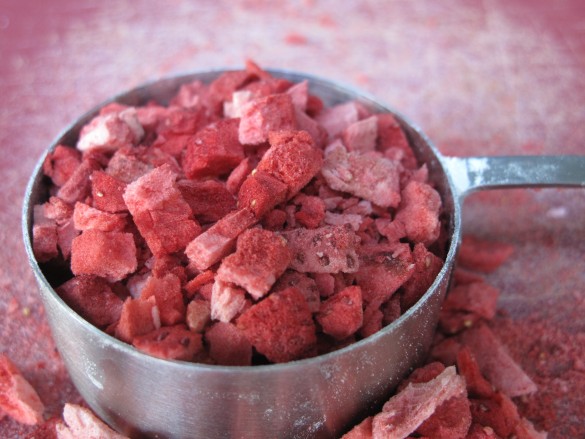 Chocolate covered strawberries make a wonderful Mother's Day gift but don't make a good care package item. Instead, how about a desert-safe recipe for cookies that taste like chocolate covered strawberries? These cookies start out crunchy-chewy and become just crunchy over time, but are still delicious and full of strawberry-chocolate flavor. With these cookies in a Mothers Day care package, chocolate covered strawberries can even be sent to moms in the desert.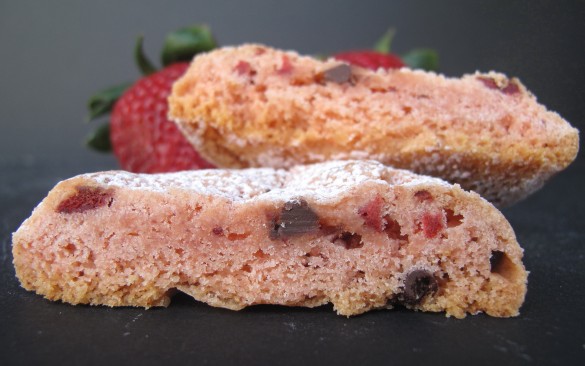 To make this recipe desert-safe I used vegetable shortening and white sugar. The strawberry flavor comes from two tablespoons of strawberry jello powder and chopped freeze dried strawberries. A dusting of strawberry flavored confectioner's sugar adds the finishing touch.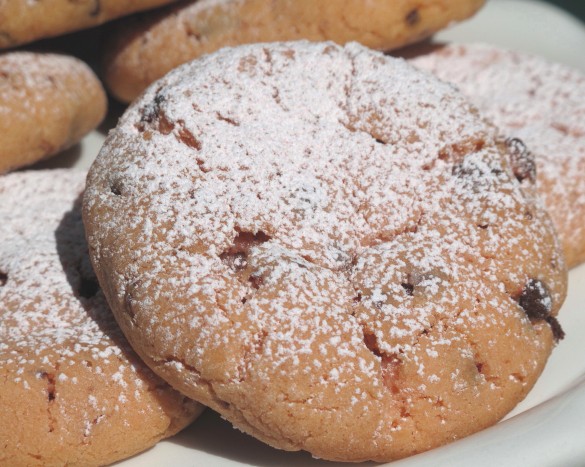 When desert-safe is not a concern, the original recipe used butter instead of shortening and a combination of light brown (¾cup) and granulated (¼ cup) sugar. Cookies made with butter and brown sugar will be chewy for longer than those made with vegetable shortening and only granulated sugar. The strawberry-chocolate cookies can be dipped in melted chocolate or sprinkled with flavored confectioners sugar.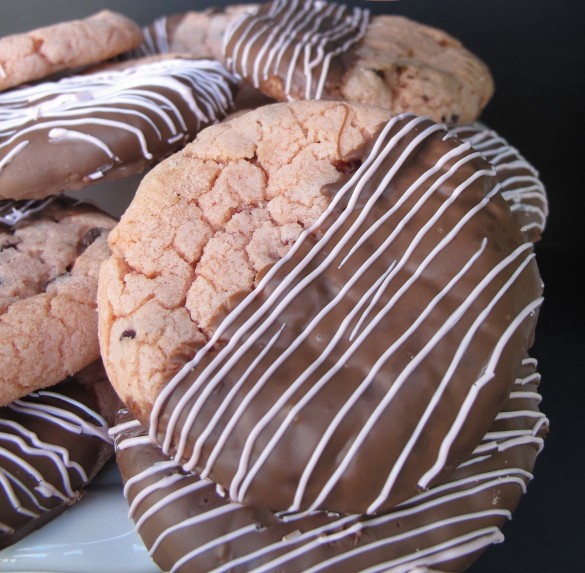 Note about flavored confectioner's sugar: I made a great discovery while working on these cookies. I  found an easy way to make FLAVORED confectioners sugar!! By grinding up freeze dried fruit (in this case strawberries) in the food processor with confectioners sugar, a colored, flavored powdered sugar is the result! This is a great topping for care package goodies as well as cookies and cakes at home. You have to try this! It's easy and tasty and the possible uses are limitless!
You can read more about desert safe ingredients and find an index of all of the desert safe recipes on The Monday Box by clicking here.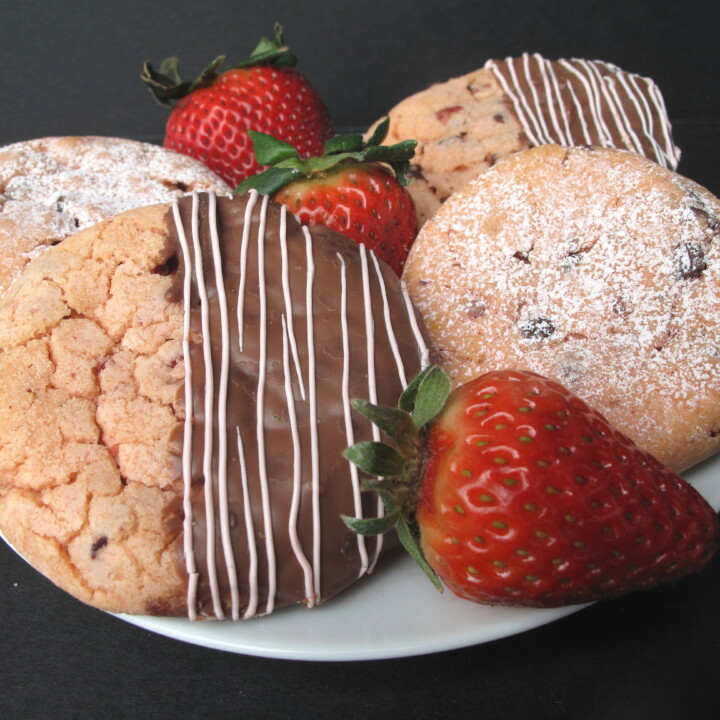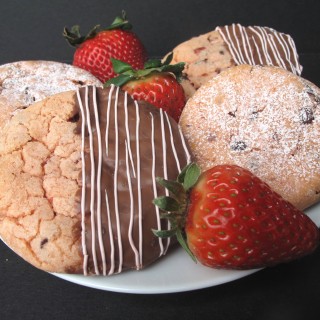 Chocolate Covered Strawberry Cookies
Crunchy cookies flavored with freeze dried strawberries and speckled with chocolate chips.
Print
Rate
Adapted From:
lilluna.com
Ingredients
Cookies
2 ¼

cups

all-purpose flour

1

teaspoon

baking soda

½

teaspoon

salt

3.4

oz.

instant vanilla pudding mix

2

tablespoons

strawberry jello powder

1

cup

butter-flavored vegetable shortening

or unsalted butter, room temperature

1

cup

granulated sugar

2

large eggs

room temperature

1

teaspoon

vanilla extract

¾

cup

freeze dried strawberries

chopped small

½

cup

mini chocolate chips
Strawberry confectioners' sugar
½

cup

confectioner's sugar

2-3

tablespoons

freeze dried strawberries

For chocolate dip:

1

cup

chocolate chips

milk, semi-sweet, or dark

¼

cup

white chocolate chips
Instructions
Preheat oven to 350 degrees F. Line a cookie sheet with parchment paper.

In a medium bowl whisk together the flour, baking soda, salt, pudding mix, and jello powder. Set aside.

In the bowl of an electric mixer, cream shortening and sugars.

Add eggs and vanilla. Beat until fluffy.

Gradually add the flour mixture until blended.

Stir in chopped freeze dried strawberries and chocolate chips.

Using a two tablespoon scoop, place balls of dough (golf ball size) onto cookie sheet about 2" apart. Press down lightly on each ball to flatten slightly into a disc or puck shape.

Bake for 10 minutes, until set. (under bake by 1 minute if mailing these cookies)

Cool on wire rack. When completely cool, decorate with flavored confectioners sugar or dip in melted chocolate.

To make flavored confectioners sugar, place confectioner's sugar and freeze dried strawberries in food processor and pulse until completely pulverized and mixed. Dust onto cookies with mesh strainer.

To decorate with melted chocolate, melt chocolate chips in a small microwave safe bowl for 1 minute. Stir until completely melted. Dip half of cookie in melted chocolate and place on a wax paper lined baking pan. When all cookies have been dipped, refrigerate for about 10 minutes until chocolate is hardened. Then melt white chocolate in a microwave safe bowl for 1 minute. Stir until completely melted. Pour into a ziplock bag and seal. To make fine lines on top of darker chocolate, cut a tiny corner off the ziplock bag and pipe lines onto the cookies. Return the baking tray to the refrigerator for another 10 minutes to set the white chocolate.

Store in an airtight container at room temperature for up to one week.
Notes
Packing tips
For longer storage, vacuum sealing or individually double plastic wrapping is recommended. Wrap pairs of cookies (with bottoms together) in plastic wrap, then place in airtight container or zip lock bag.
Nutrition
Calories:
131
kcal
|
Carbohydrates:
19
g
|
Protein:
1
g
|
Fat:
6
g
|
Saturated Fat:
2
g
|
Trans Fat:
1
g
|
Cholesterol:
8
mg
|
Sodium:
71
mg
|
Potassium:
74
mg
|
Fiber:
1
g
|
Sugar:
13
g
|
Vitamin A:
15
IU
|
Vitamin C:
56
mg
|
Calcium:
8
mg
|
Iron:
1
mg
I was not compensated for this post, however I did receive free product from Chocoley.com for use in this recipe. All opinions are 100% my own. I only use and recommend products I believe in.
Readers looking for strawberry treats loved these recipes too! Click on the photo for the recipe!