My family loves banana bread. I even have a favorite "go to" banana bread recipe. However, I bake it and we enjoy it at home. I don't mail it.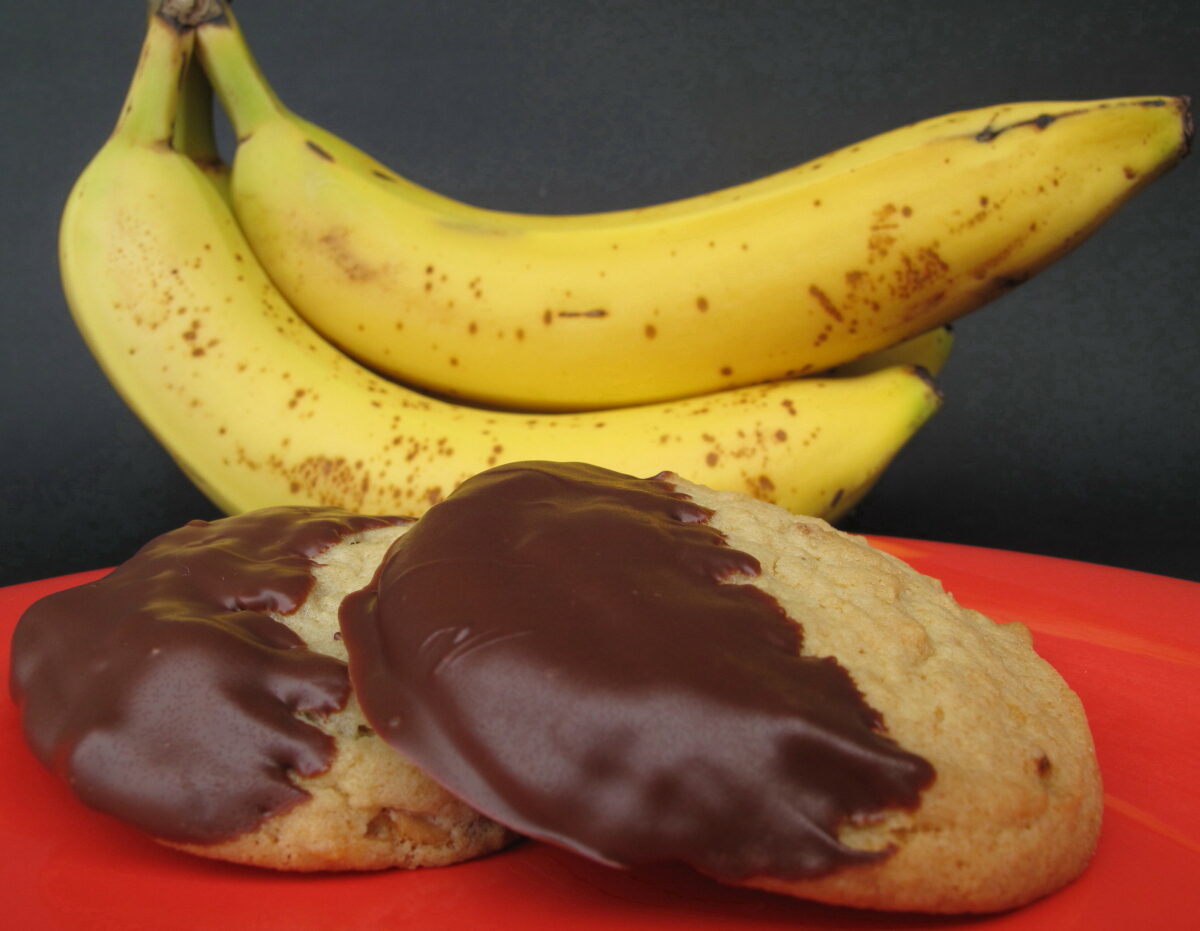 A very, very long time ago, my mother sent me a care package at college. It wasn't a regular occurrence, so I was pretty excited. I'm not sure how long it took back then for a package to travel from South Carolina to St. Louis but I am guessing about 5 days, longer if a weekend was involved. When I opened the box, the contents left me puzzled. It wasn't St. Patrick's Day, but inside my care package was a green loaf cake. Unwrapping the loaf, I got a strong whiff of banana. Green banana bread? My mom was one of the original health nuts, so a cake made with green food coloring was out of character. You probably can guess where this is going. I only wish I had guessed before deciding to taste what turned out to be a moldy, slightly rancid banana bread.
Moist, sugary cakes don't travel distances well. A fruit or vegetable bread can spoil in 5 days sitting on an air conditioned kitchen counter. You give those little microbes a warm cozy spot, nestled in a box in the back of a UPS truck, and they will go to town. If it's the winter where banana bread is mailed from and also winter where it is going, and the journey will take only a few days, it's likely your fruity loaf will be fine. I choose not to risk it. However, just in case anything I send might unexpectedly spoil, my Monday Box recipient has been warned numerous times, that I won't intentionally send him anything green.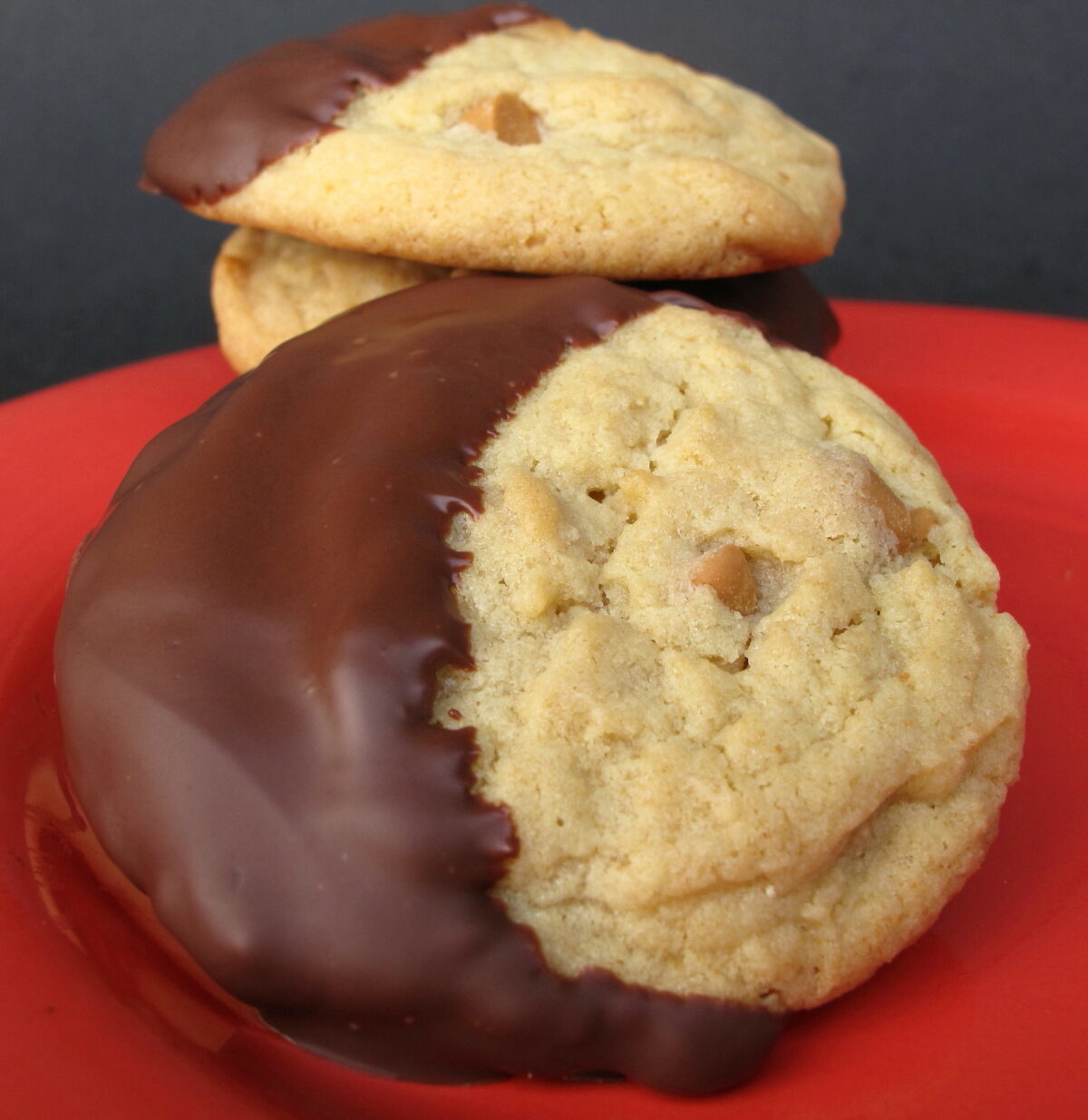 I seem to be making a habit of putting the flavors of favorite drinks and foods into cookie form. Last week is was chocolate espresso in a brownie cookie. This week it's banana bread in a cookie. Banana bread cookies that will travel well! I am really excited about this soft, chewy Banana Chip Butterscotch Pudding Cookie. There are so many times that my baking imaginings don't work out. This time the results met my expectations and then some.
My not-so-secret ingredient is freeze dried banana slices. I bought mine at Trader Joe's, but I have seen freeze dried fruit in the produce section of my supermarket and at Whole Foods. Don't confuse freeze dried with plain dried fruit. Think astronaut food. Freeze drying involves frozen food being placed in a refrigerated vacuum which extracts the water content. Freeze dried bananas are very light and crunchy, even crumbly.
I easily chopped up the slices into chunks and added them to cookie dough flavored with banana cream instant pudding. The bigger banana chunks give a slight crunch. The little pieces sort of melted into the cookie. Butterscotch chips compliment the banana. The butterscotch isn't a strong separate flavor but somehow gives the cookies a baked sugar banana bread flavor. It's hard to describe. You will just have to try them.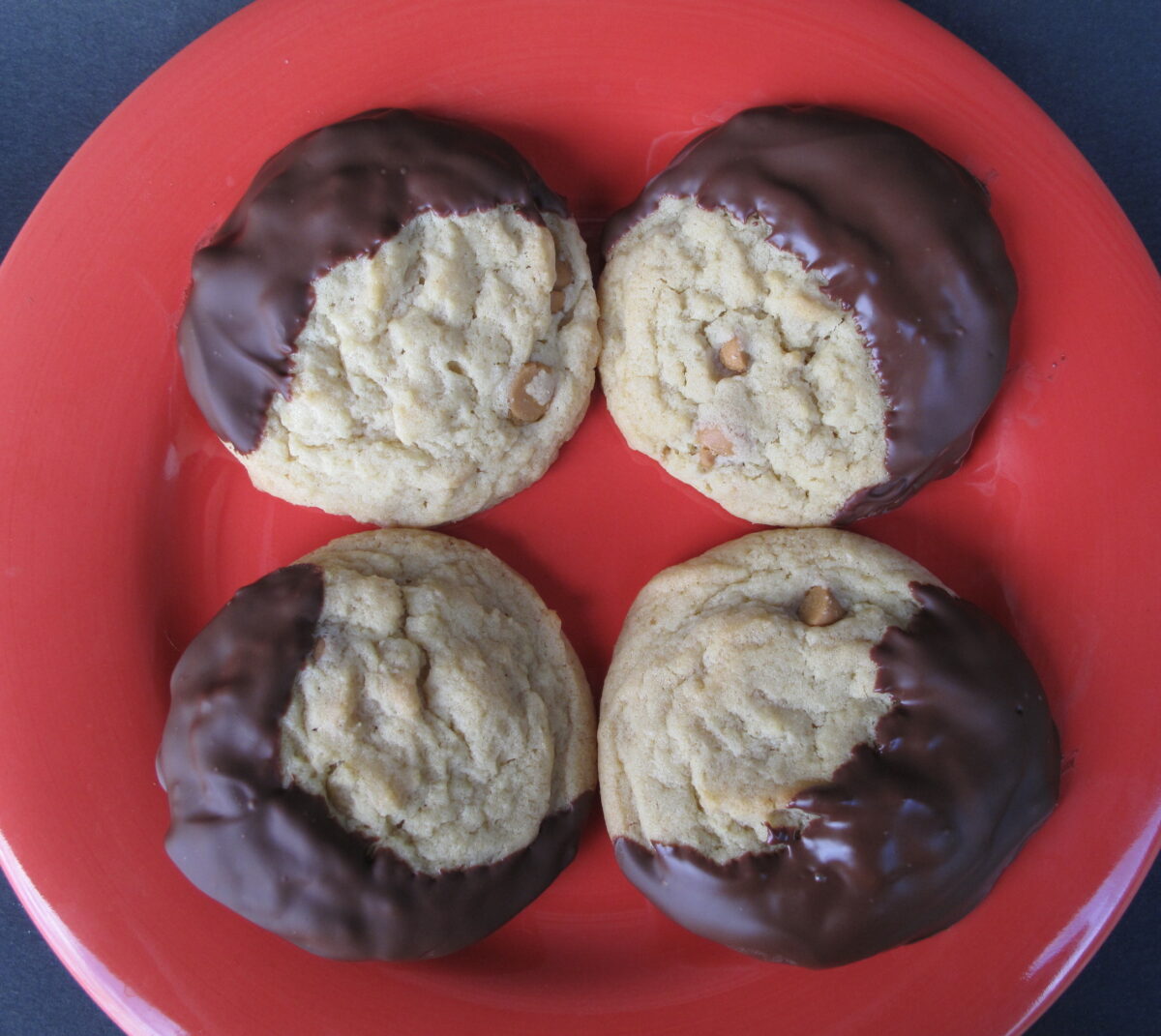 Dipping the cookies in melted chocolate was the icing on the cake, or cookies in this case. Skip the chocolate coating if you are mailing these to or from a warm location. If the thought of leaving out chocolate makes you sad, toss ½ cup of semi-sweet chips into the batter. Baked in chocolate chips don't melt into a mess like chocolate coating can.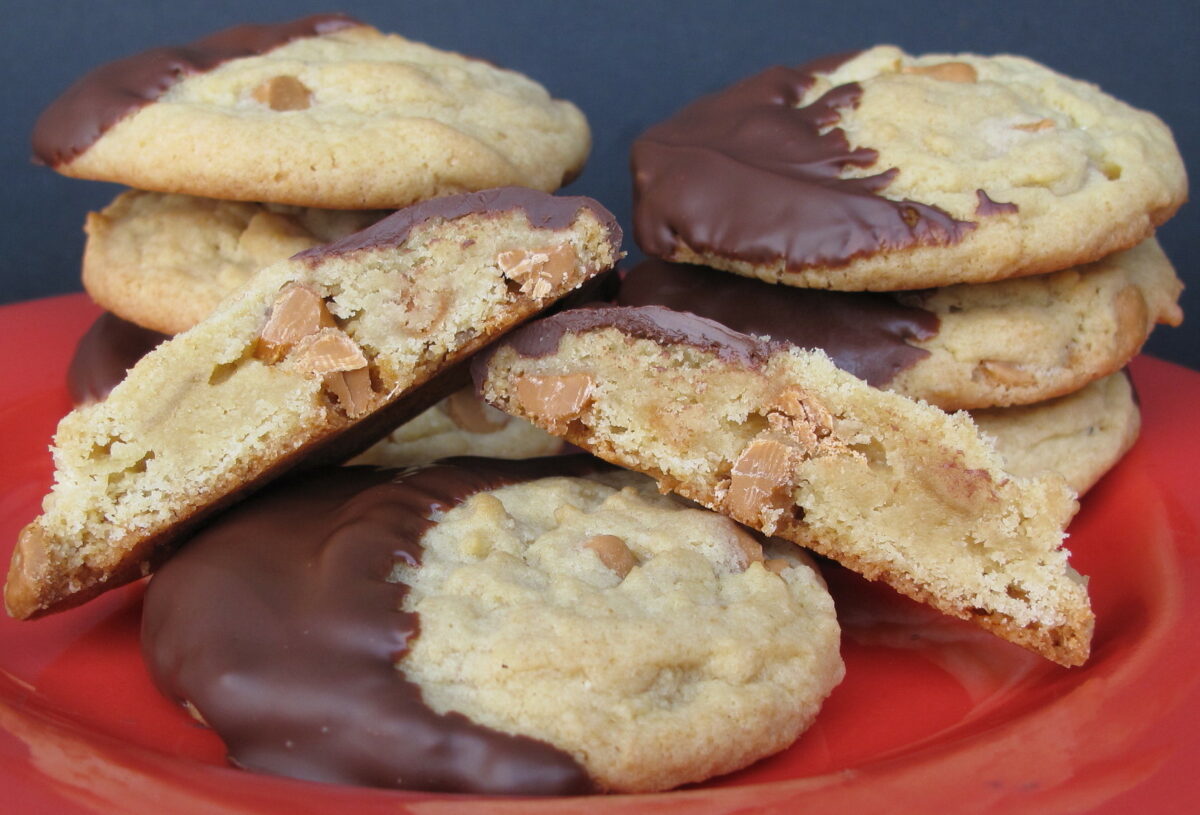 Ready to bake? Join the free membership group to get new recipes and a newsletter delivered to your inbox! You can also stay in touch on Facebook, Pinterest, and Instagram. I'd love to stay in touch!
Banana Chip Butterscotch Pudding Cookies
Banana bread flavor in a chewy, chocolate dipped cookie.
Print
Rate
Adapted From:
Jell-o recipes
Ingredients
2 ¼

cups

all-purpose flour

1

teaspoon

baking soda

½

teaspoon

salt

1

cup

unsalted butter

room temperature

¾

cup

brown sugar

packed

¼

cup

granulated sugar

3.4

oz.

banana cream instant pudding mix

2

large eggs

1

teaspoon

vanilla extract

1

cup

freeze dried banana slices

coarsely chopped

½

cup

butterscotch chips

1

cup

chocolate chips

milk, semi-sweet, dark, melted for dipping (optional)
Instructions
Preheat oven to 350 degrees F. Line a cookie sheet with parchment paper.

In a medium bowl whisk together the flour, baking soda, and salt. Set aside.

In a large bowl, use an electric mixer to cream butter and sugars.

Add eggs, pudding mix, and vanilla. Beat until fluffy.

Gradually add the flour mixture until blended.

Stir in chopped freeze dried banana and butterscotch chips.

Scoop heaping tablespoons of dough onto cookie sheet about 2" apart.

Bake for 10-12 minutes, until slightly golden around edges.

Cool on wire rack

Optional: When completely cool, dip cookies in melted chocolate. Place dipped cookie on wax paper until chocolate firms up.

Store in an airtight container at room temperature for up to 5-7 days. If cookies are chocolate dipped, separate layers of stored cookies with wax paper.
Notes
Packing tips
Double wrap pairs of cookies in plastic wrap, with bottoms together. Package in air tight container or zip lock bag.
Nutrition
Calories:
237
kcal
|
Carbohydrates:
32
g
|
Protein:
2
g
|
Fat:
11
g
|
Saturated Fat:
7
g
|
Trans Fat:
1
g
|
Cholesterol:
41
mg
|
Sodium:
170
mg
|
Potassium:
59
mg
|
Fiber:
1
g
|
Sugar:
19
g
|
Vitamin A:
315
IU
|
Vitamin C:
1
mg
|
Calcium:
15
mg
|
Iron:
1
mg