This week, the Cookie Month '14 bloggers are sharing recipes for cookies that are their family favorites. My contribution is Pumpkin Chocolate Chip Pillow Cookies, with options for white flour, whole wheat, and gluten free versions.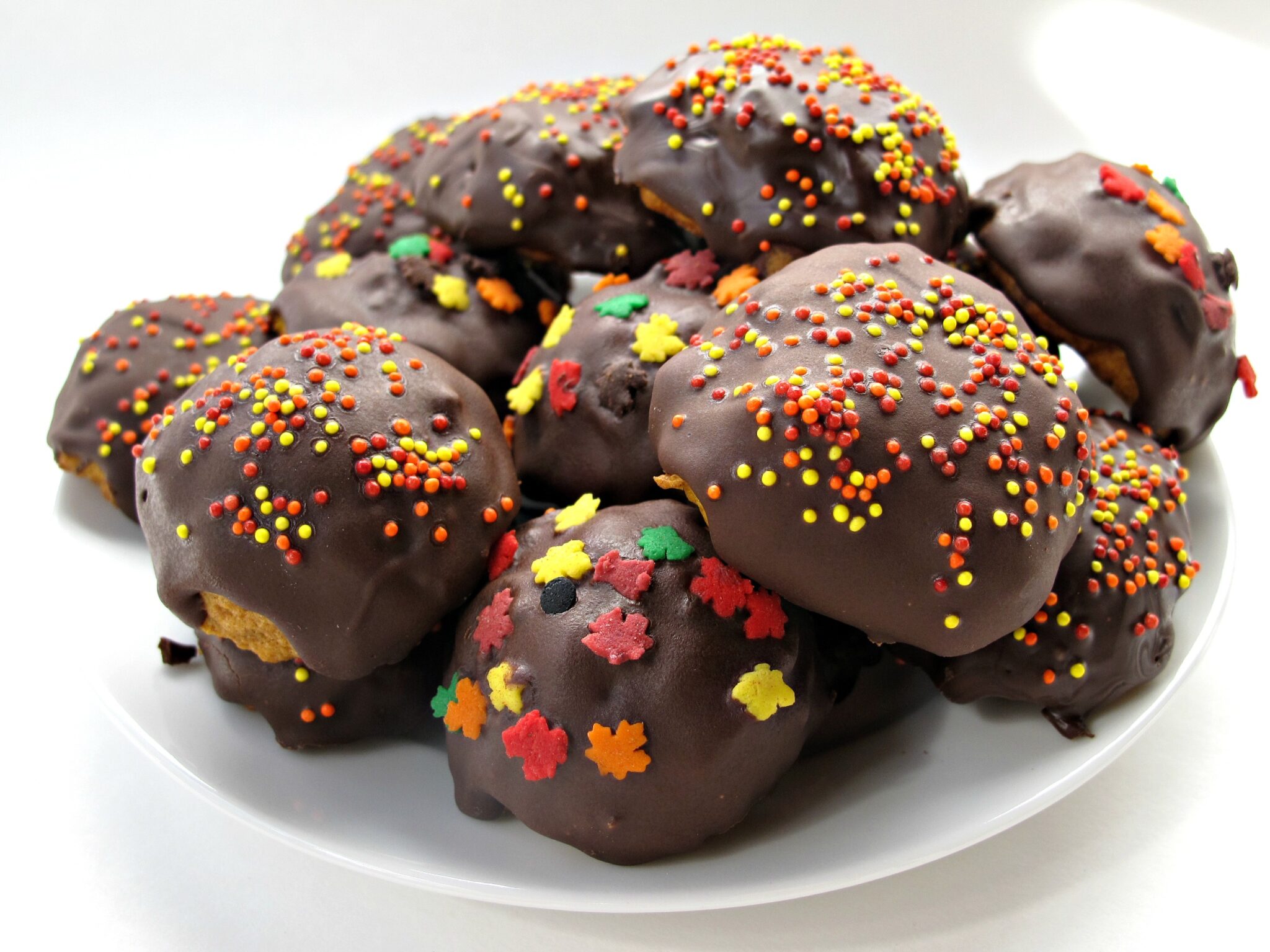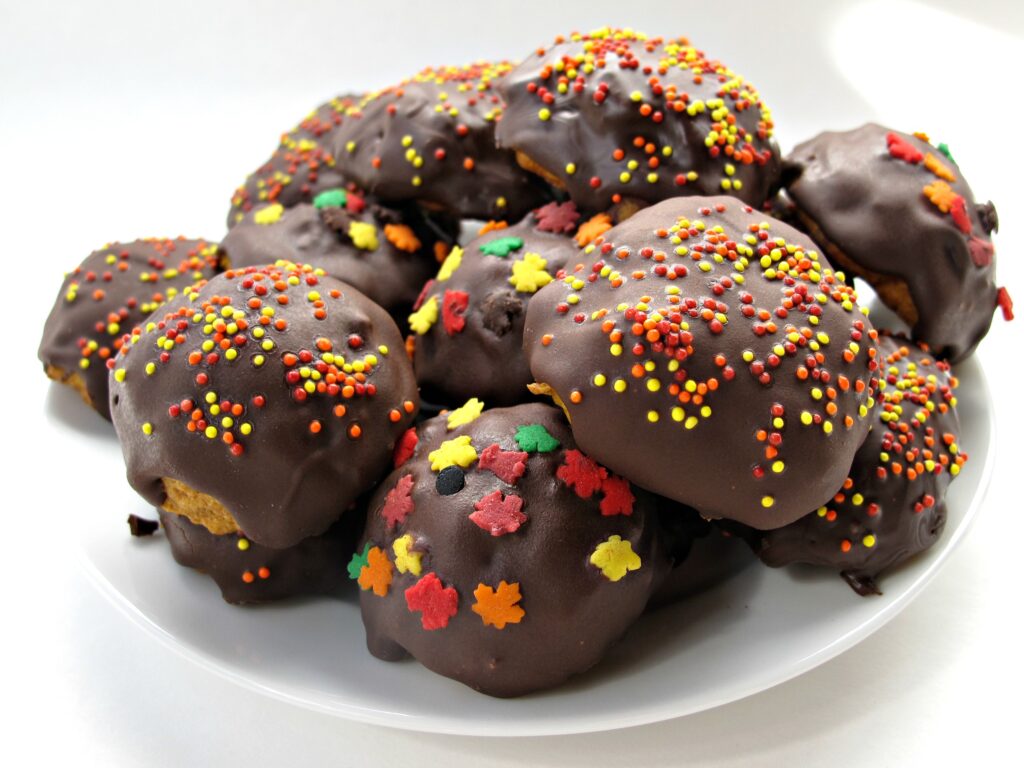 At this moment, I have an absurd amount of flour in my kitchen. There may be more than forty pounds. Absurd even for a baking blogger. My canisters were already filled with a variety of flours (all-purpose, bread, cake, self-rising) when my Cookie Month goodies arrived from Bob's Red Mill.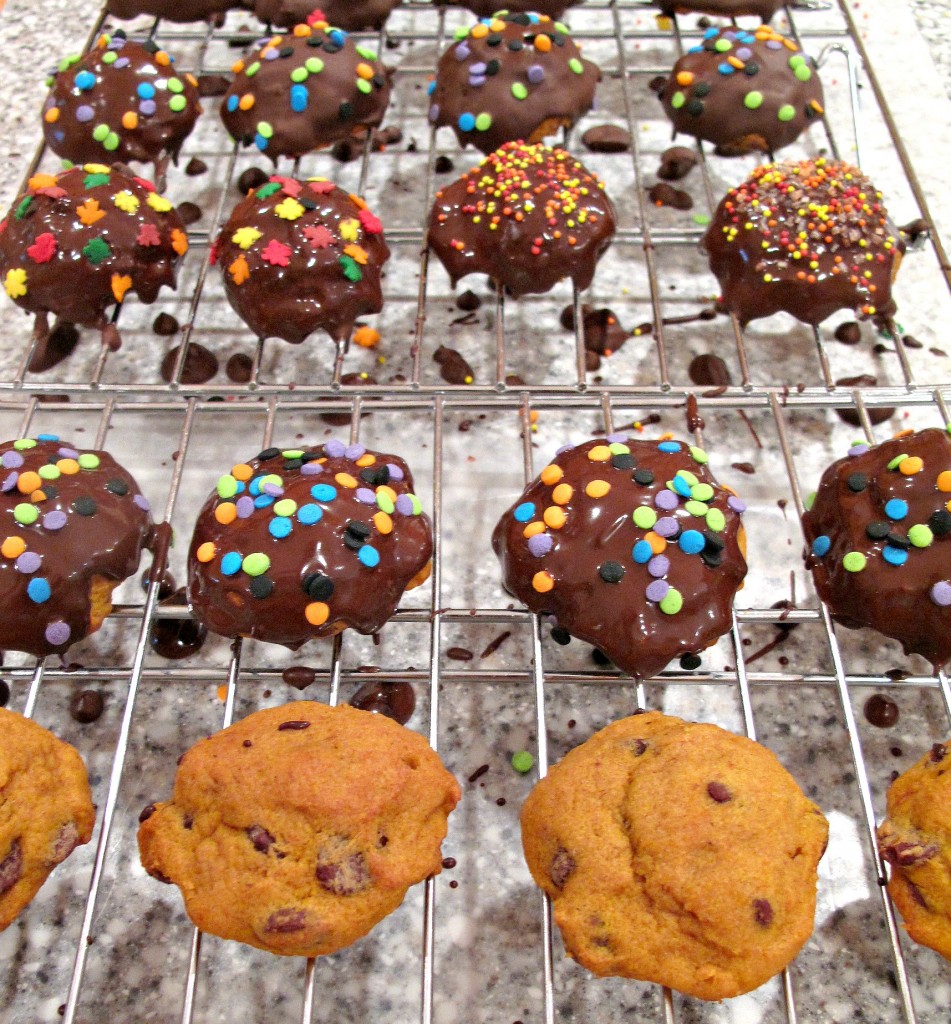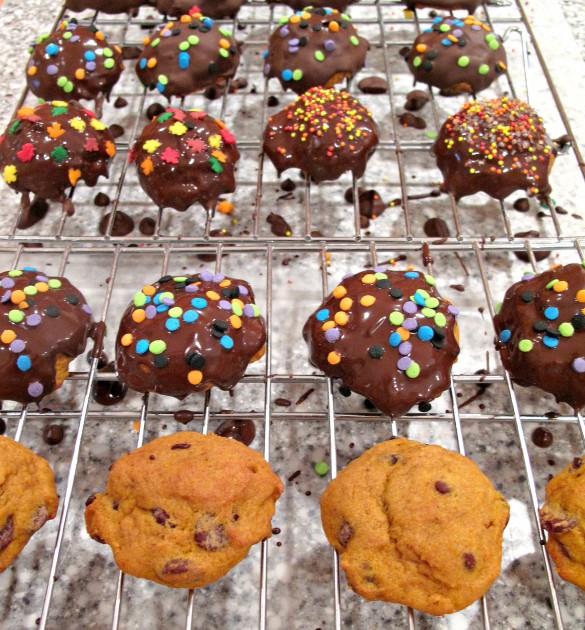 The supportive folks at Bob's sent me 15 pounds of flour to play with, as I tried out Cookie Month recipes. The bags contained unbleached all-purpose organic flour, whole wheat organic flour, and 1-to-1 Gluten Free Baking Flour.

My gluten sensitive daughter was especially excited about the wheat free baking flour. She gets a little frustrated not being able to taste test my baking endeavors. My objective was a recipe in which any of the three types of flour could be used interchangeably. I was hoping for a recipe that produced delicious cookies with any of the flours, not necessarily the same taste with each flour, but delicious regardless of which flour was used. I did not have instant success. Maybe I am overly picky (my daughter says I am), but I wasn't happy with the texture of several recipes I tried. The gluten free honey cake was tasty but rubbery. The gluten free gingerbread cookies were a little dry and grainy. Finally, not being able to resist the seasonal pull of pumpkin, I tried the flours in one of our family favorites, Pumpkin Chocolate Chip Pillow Cookies. Bingo!
I am attributing the versatility of this recipe to the high moisture content of the pumpkin puree. All three versions of Pumpkin Chocolate Chip Pillow Cookies are moist and soft, like little round chocolate coated bites of cake. The taste and texture of all three versions is so similar that you could sneak some nutritious whole wheat into your cookie jar and no one would know, or you could serve a gluten free cookie that everyone would enjoy.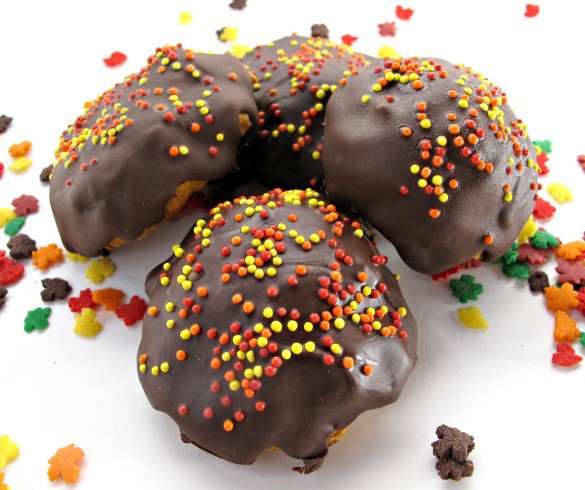 I used dark melting chocolate to decorate these cookies. Drizzling chocolate over the cookies is fast and creates a pretty cookie. Coating the tops of the cookies in chocolate takes a little longer (and requires more chocolate), but in addition to tasting great and looking irresistible, I think being coated helps the cookies retain their moisture and stay fresh longer.
Though this recipe makes a LOT of little cookies(60), they are each only one or two bites. It is way too easy to eat numerous Pumpkin Chocolate Chip Pillow Cookies at a time. You will be glad the recipe makes a lot.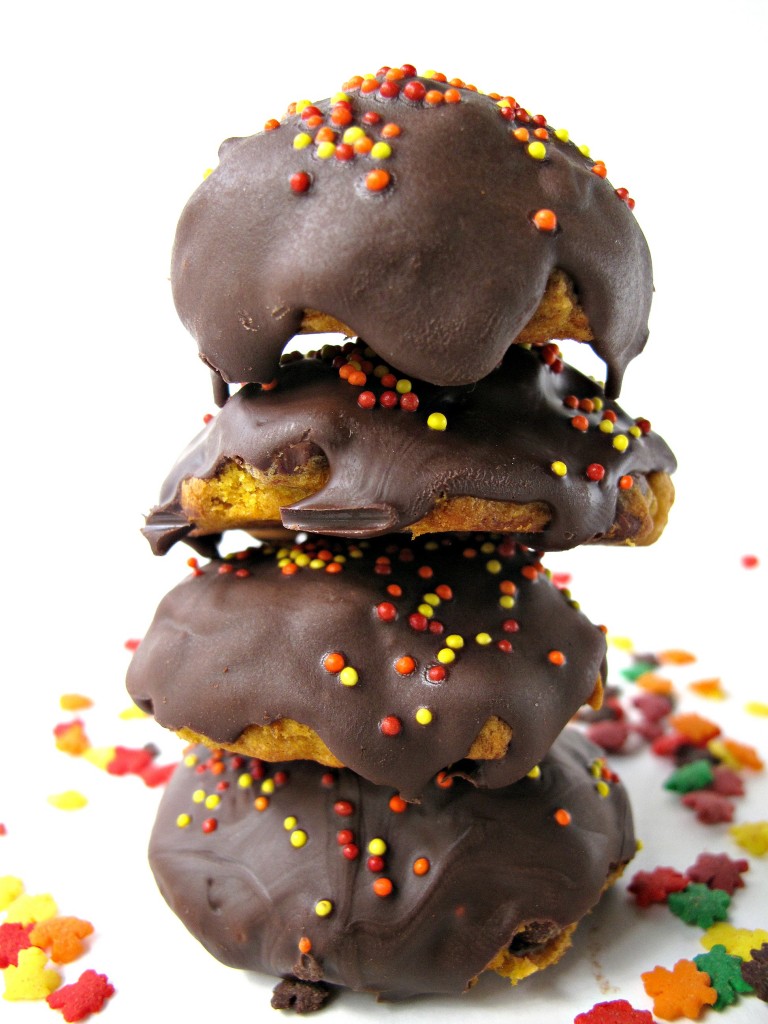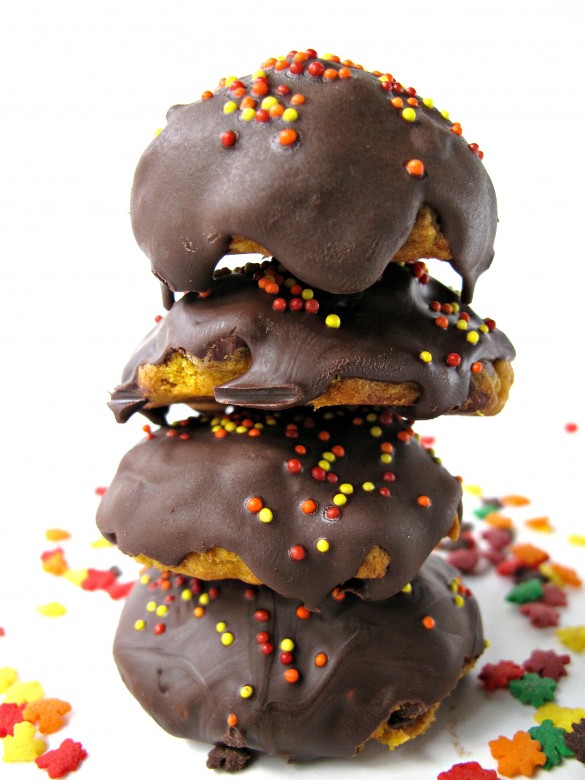 Care package shipping note: These cookies stay fresh for at least 5-7 days, but should only be shipped in cool/cold weather. Warm temperatures can melt the chocolate and cause the moist cookie to mold.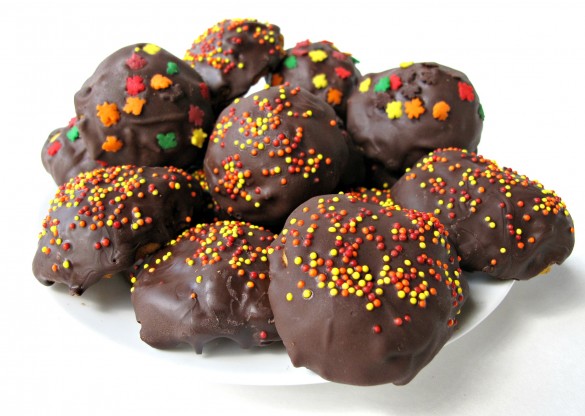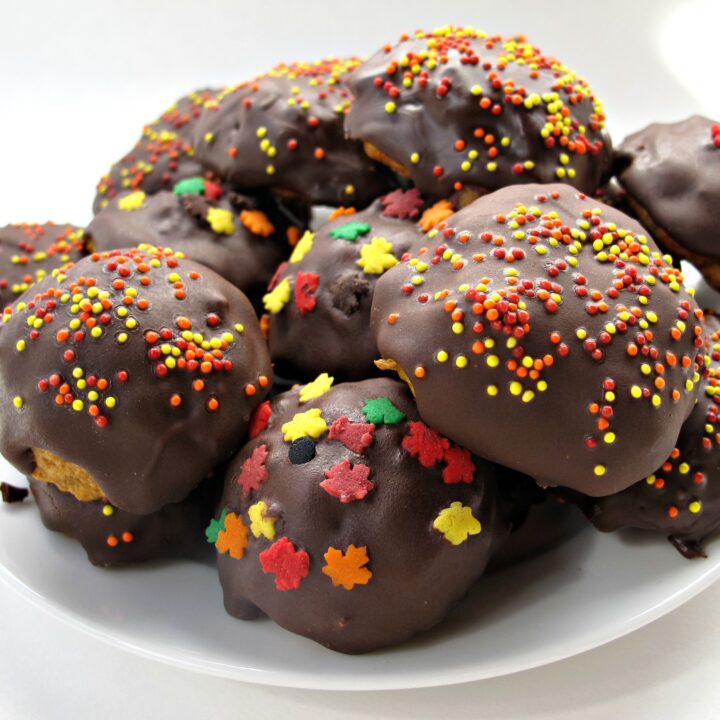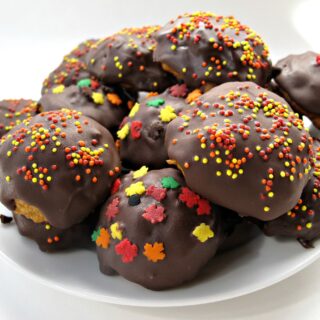 Pumpkin Chocolate Chip Pillow Cookies
Bite sized pillows of soft, cake-like cookies.
Print
Rate
Adapted From:
Nestle's verybestbaking.com
Ingredients
Cookies
2 ¼

cups

all-purpose

whole wheat, or Bob's Red Mill Gluten Free Baking Flour

1

teaspoon

baking powder

½

teaspoon

baking soda

¼

teaspoon

salt

2 ½

teaspoons

cinnamon

1

cup

unsalted butter

room temperature

½

cup

granulated sugar

½

cup

brown sugar

packed

1

can

pumpkin puree

15 ounces

2

large eggs

2

teaspoons

vanilla extract

2

cups

semi-sweet chocolate chips
Decorating
4

cups

dark chocolate melting discs

sprinkles
Instructions
Preheat oven to 375˚F. Line a baking sheet with parchment paper.

In a medium bowl, whisk together flour, baking powder, baking soda, salt, and cinnamon.

In the bowl of an electric mixer, cream together butter and sugars. Beat in pumpkin, eggs and vanilla until incorporated.

Gradually add flour mixture.

Stir in chocolate chips.

Scoop rounded tablespoon balls of dough onto prepared baking sheet, 2" apart.

Bake for about 15 minutes or until the bottom edges are lightly browned.

Cool for 5-10 minutes on the baking sheet before placing on a wire rack to cool completely.

Decorating: Once completely cool, cookies can be drizzled or coated in melted chocolate. Melt the chocolate over a double boiler or in a microwave at 50% power.

To drizzle, place cookies on a baking sheet lined with wax paper. Using a spoon or fork drizzle melted chocolate over cookies. Top with sprinkles while the chocolate is still wet. To coat, place cookies on a wire rack positioned over a wax paper lined baking sheet. Spoon melted chocolate over cookies. Top with sprinkles while the chocolate is still wet.

Place the baking sheet of drizzled/coated cookies in the refrigerator for 5-10 minutes until the chocolate is set.

Store cookies for 5-7 days in an airtight container at room temperature with wax paper between layers.
Notes
Packing tips
Pumpkin Chocolate Chip Pillow Cookies should be mailed only in cool/cold weather care packages. In warm weather the chocolate coating will melt and the high moisture in the cookie would promote mold.
For shipping, double wrap pairs of cookies (with bottoms together) in plastic wrap, then place in an airtight container.
Nutrition
Calories:
167
kcal
|
Carbohydrates:
16
g
|
Protein:
2
g
|
Fat:
11
g
|
Saturated Fat:
6
g
|
Trans Fat:
1
g
|
Cholesterol:
14
mg
|
Sodium:
32
mg
|
Potassium:
143
mg
|
Fiber:
2
g
|
Sugar:
9
g
|
Vitamin A:
1213
IU
|
Vitamin C:
1
mg
|
Calcium:
23
mg
|
Iron:
2
mg
**This post is sponsored by Bob's Red Mill. They are one of our Cookie Month sponsors, partnering with us to create delicious cookie recipes for you to enjoy. **
Be sure to check out my Cookie Month partners and their amazing recipes: Jess at The 104 Homestead – Kathie at Homespun Seasonal Living – Tessa at Homestead Lady – Chris at Joybilee Farm – Sheila at Life, Love, and Good Food – Nikki at Nik Snacks – Shari at Pure Grace Farms – Angi at Schneiderpeeps – Lauren at Wicked Spatula
The following companies generously sponsored this and other cookie month projects. I may not have used all of them in my recipes, but this project is in no small part thanks to them and their incredible contributions: Bob's Red Mill, The Daily Meal, India Tree, KerryGold, King Arthur Flour, Products of GIR, KaTom, SunButter & Wilton.