This is a mug cake for everyone who can't get enough of autumn's biggest flavor sensation, pumpkin spice latte. 3-2-1 Pumpkin Spice Chai Latte Cake is a microwave mug cake ready in 1 minute to satisfy seasonally induced Starbucks cravings.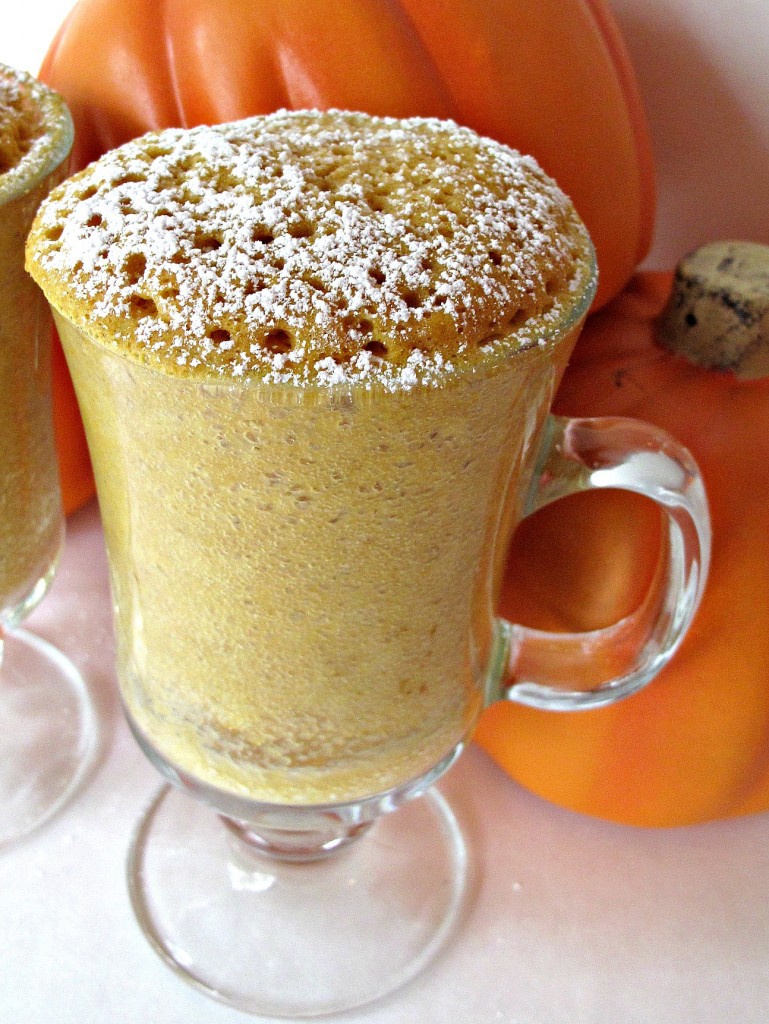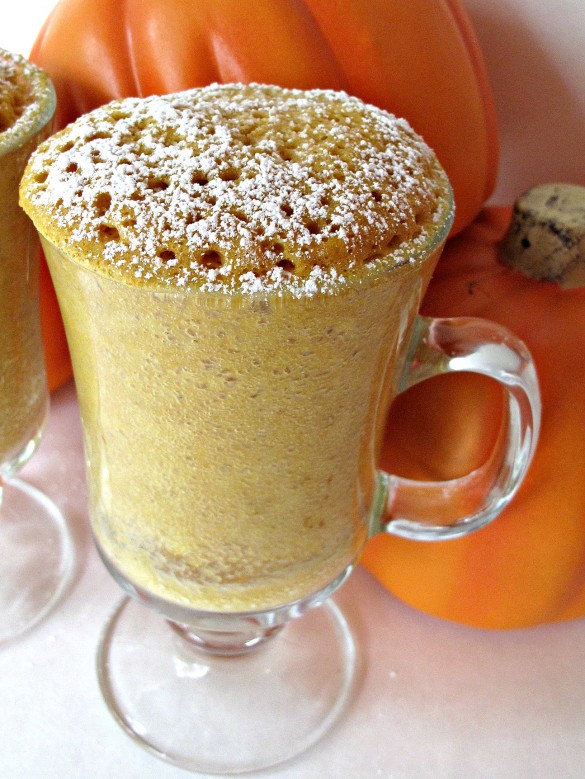 A frenzy of enthusiasm for pumpkin treats peaks in October. Have you seen all of the pumpkin items at Trader Joe's this time of year? There are more than 40!
For a limited time, sweet or savory pumpkin makes its way into beverages, soups, snacks, and desserts. Some of the products are great. I stock up on pumpkin bread mix and turn it into pumpkin muffies that taste just like Panera pumpkin muffies.
Some of the products are less appealing to me. Pumpkin mochi ice cream and pumpkin spice coffee won't be in my shopping cart.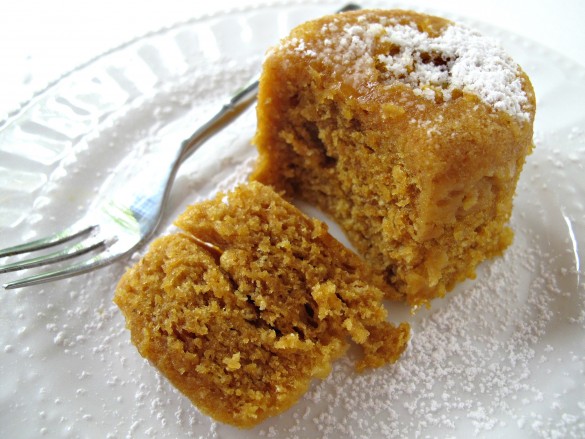 Though pumpkin is a flavor obviously loved by many, it is mysteriously reserved for enjoyment only in the fall. Who created this pumpkin rule? I know it is a fall harvested vegetable, but many people use pumpkin from a can and canned pumpkin is always available.
As a pumpkin fan, I like to have pumpkin on the menu all year. 3-2-1 Pumpkin Spice Chai Latte Cake quenches seasonable or unseasonable cravings for a quick and easy pumpkin dessert.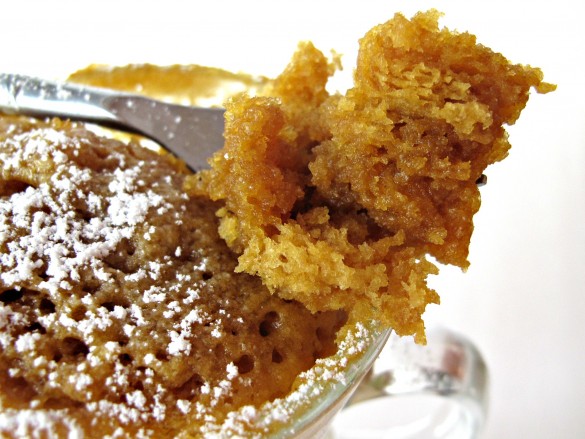 I tried several ways to make a pumpkin 3-2-1 cake. Gingerbread cake mix or spice cake mix (often available only seasonally) can be used, but the pumpkin flavor is hidden by the prominent spices.
Pumpkin pie filling can be used instead of the pumpkin puree, but it contains a lot of sugar. The sweet pie filling and the sweet cake mix is too much sweetness.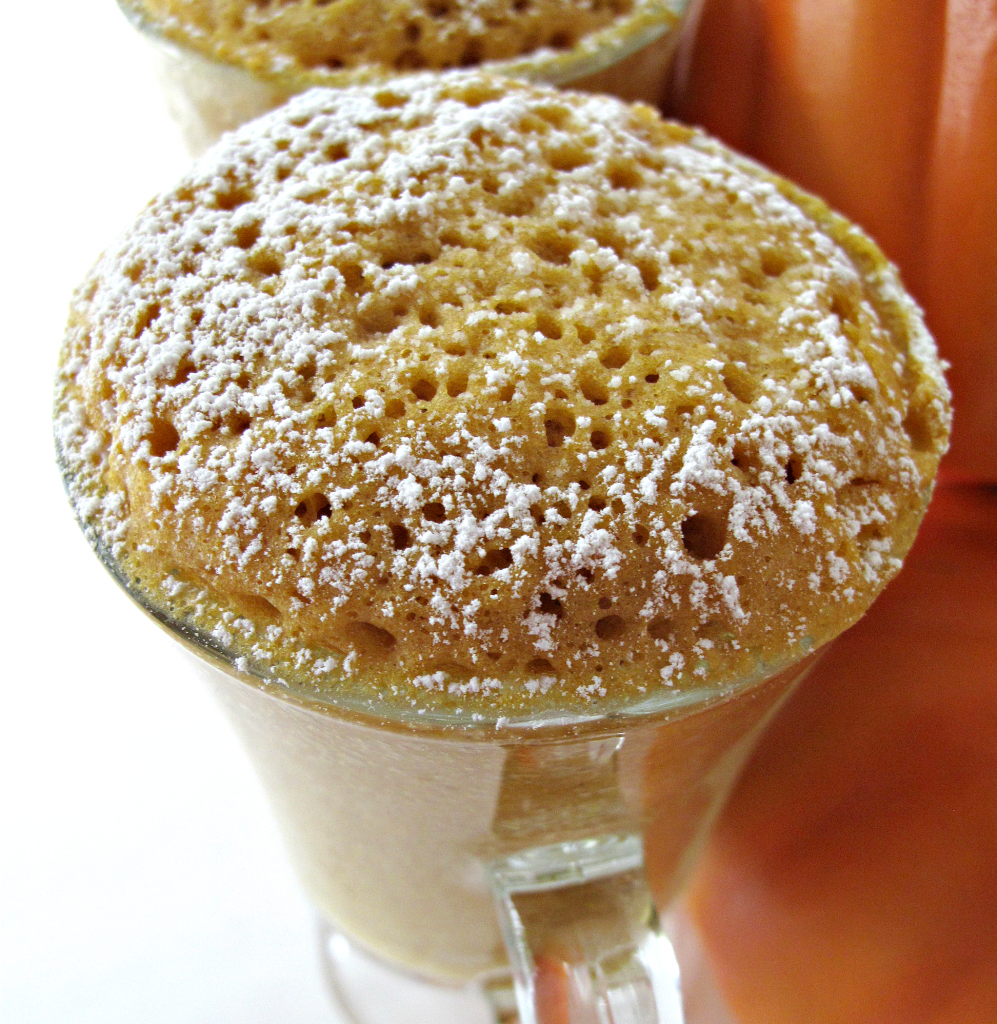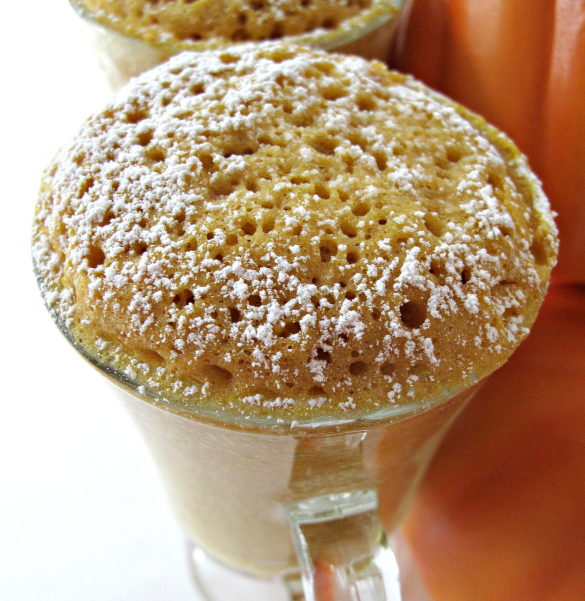 The recipe below, made with ingredients that are available all year, is the winner. I keep a bag of vanilla "3-2-1 cake magic mix" in the pantry. Vanilla is a great base for adding flavors.
The pumpkin and chai are complimented by the warm vanilla. There is just enough sweetness from the cake mix and chai powder. The pumpkin puree (not pie filling) makes such a moist cake that this 3-2-1 cake tastes just as good once it cools as it does straight from the microwave!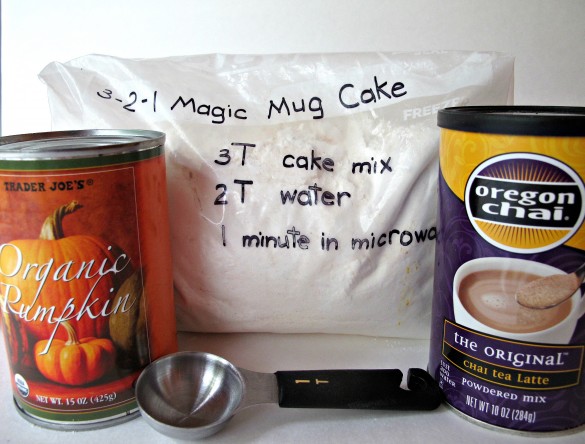 Using just 3 shelf-stable ingredients, 3-2-1 Pumpkin Spice Chai Latte Cake is great for college or military care packages, as well as at home. Feel free to bend foodie rules and enjoy 3-2-1 Pumpkin Spice Chai Latte Cake any time of year.

More microwave mug cakes
Cake Mix Mug Cakes teaches you all the tips and tricks for making one minute microwave cakes using shelf stable ingredients.
Red, White, and Blueberry Mug Cake is an individual serving of patriotic funfetti cake bursting with sweet cherry and blueberry pie filling.
Boston Cream Pie Cake in a Mug is a one minute microwave cake with two layers of vanilla sponge cake filled with vanilla custard and topped with a chocolate glaze!
Strawberry Lemonade Mug Cake has soft, fluffy strawberry cake topped with creamy lemon filling and crunchy freeze dried strawberries.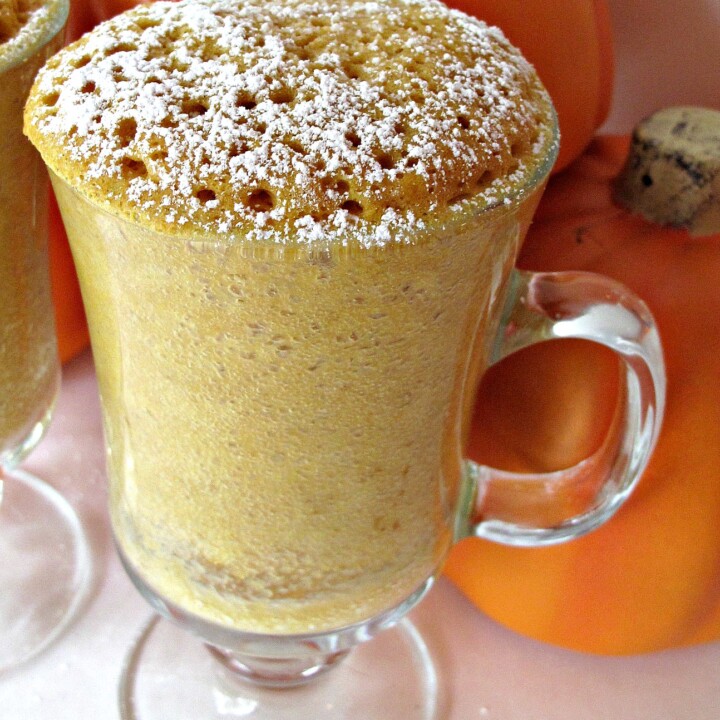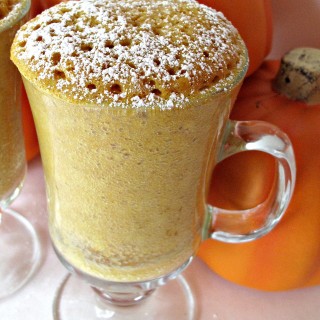 3-2-1 Pumpkin Spice Chai Latte Cake
This microwave mug cake tastes just like the popular Starbucks drink and it's ready to eat in just one minute!
Print
Rate
Ingredients
1

box

Angel Food Cake mix

1

box

vanilla cake mix

Water

Non-stick spray

1

can

pumpkin puree

1

can

chai latte powder mix

Confectioners' sugar

optional
Instructions
In a gallon sized ziplock bag, combine the two boxes of cake mix. Shake the bag to mix thoroughly.

Lightly coat the inside of a microwaveable mug with non-stick spray or use a disposable microwave-safe paper cup. Without the spray, the cake will not transfer out of the mug and the mug is harder to clean. If using a microwave-safe paper cup, no spray is needed.

Into the prepared mug/ paper cup, stir together 3 tablespoons of cake mix, 2 tablespoons of water, 1 tablespoon pumpkin puree, and 1 teaspoon chai latte powder mix. Microwave on high for 1 minute.

Sprinkle the top of the cake with confectioners' sugar, then eat it right out of the mug. To transfer the cake onto a plate, run a knife around the edge between the cake and the mug to loosen, turn out onto a plate, then add the confectioners' sugar.
Notes
Packing tips
Combine the two cake mixes into a gallon-size ziplock bag labeled with directions.
Include a measuring spoon, pumpkin puree, and chai latte mix.
If the care package is international, include microwave safe paper cups and omit the non-stick spray.
If the care package is domestic, add either a can of non-stick spray (for use with a ceramic mug) or microwave safe paper cups (highly recommended for college students).
Don't forget to include the "recipe".
Nutrition
Calories:
155
kcal
|
Carbohydrates:
35
g
|
Protein:
2
g
|
Fat:
1
g
|
Saturated Fat:
1
g
|
Trans Fat:
1
g
|
Sodium:
305
mg
|
Potassium:
67
mg
|
Fiber:
1
g
|
Sugar:
21
g
|
Vitamin A:
2756
IU
|
Vitamin C:
1
mg
|
Calcium:
81
mg
|
Iron:
1
mg