Boston Cream Pie Mug Cake is a cake masquerading as a pie, with it's two layers of vanilla sponge cake filled with vanilla custard and topped with a chocolate glaze. It's a wondrous combination of flavors and textures.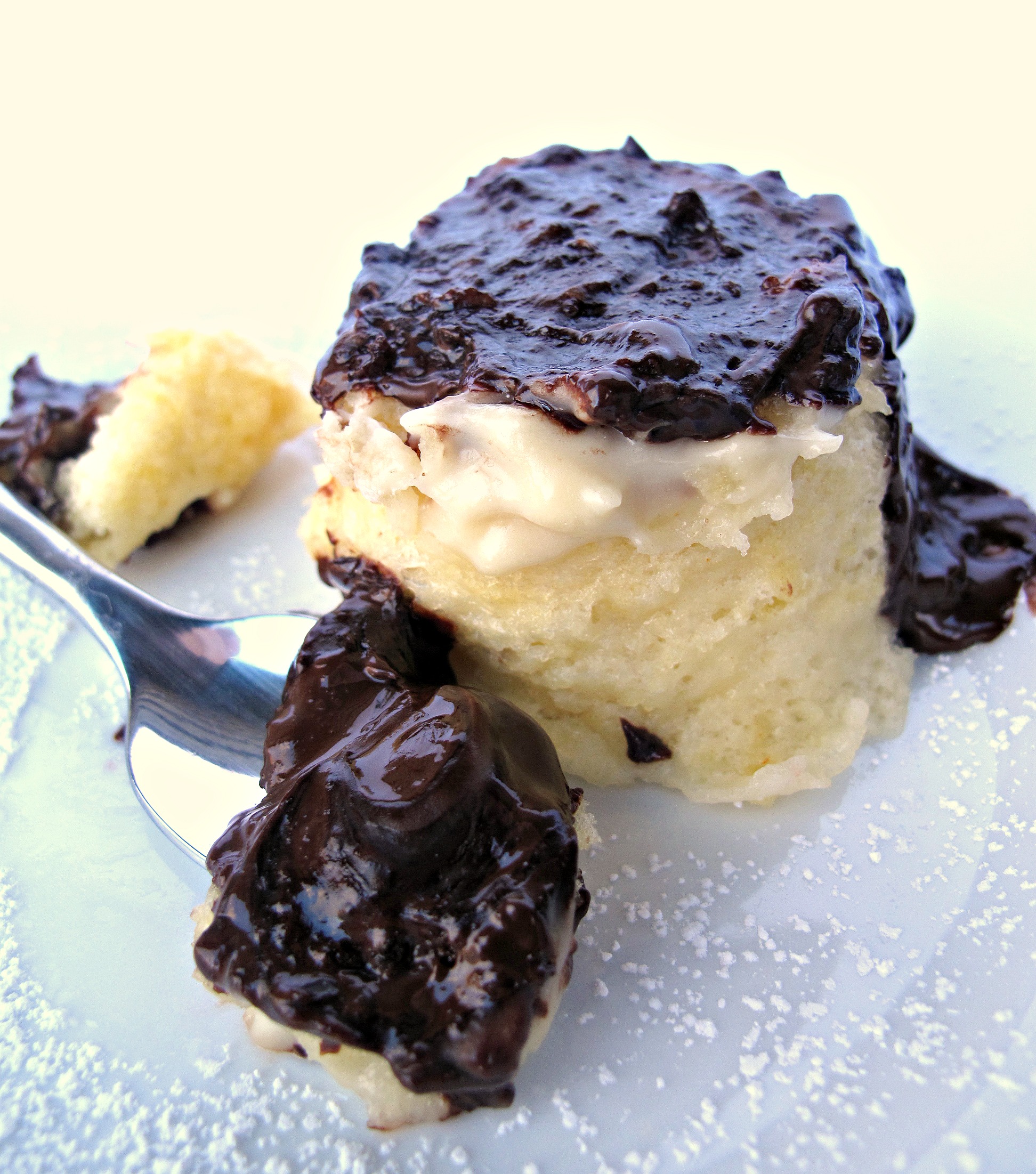 I am not a major pie enthusiast because I generally don't like crust. As far as my taste buds are concerned, graham cracker or Oreo crusts are a step up from pastry crusts, but not good enough to induce cravings.
Ultimately, I would probably be happiest with a bowl of pie filling and a spoon unless we are talking about Boston Cream Pie. Then I would savor the whole thing.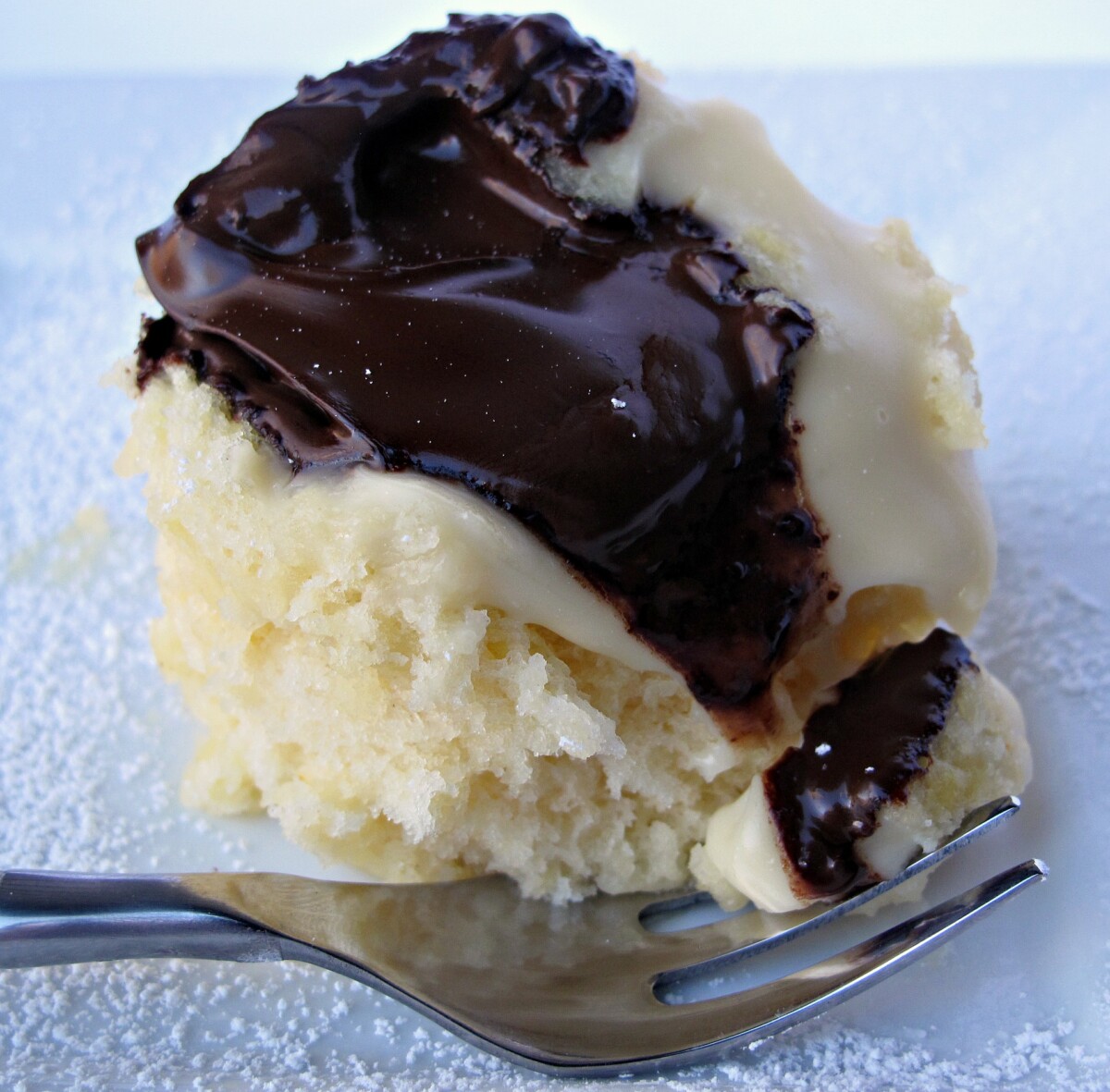 Like all of the Monday Box mug cake recipes, anyone with access to a microwave can enjoy this fluffy sponge cake, creamy vanilla filling, and melted dark chocolate topping. This version of 3-2-1 mug cake is made with the magic mixture of one box of vanilla cake mix plus one box of angel food cake mix.
To make an individual cake, three tablespoons of this cake mixture is combined with two tablespoons of water. Toss in two squares of dark chocolate and a tablespoon of shelf-safe vanilla pudding.
In less than one minute in the microwave, your Boston Cream Pie Mug Cake is ready to impress! Allow the cake to cool slightly (to avoid burning your mouth on the hot pudding) or completely (if you are extremely patient).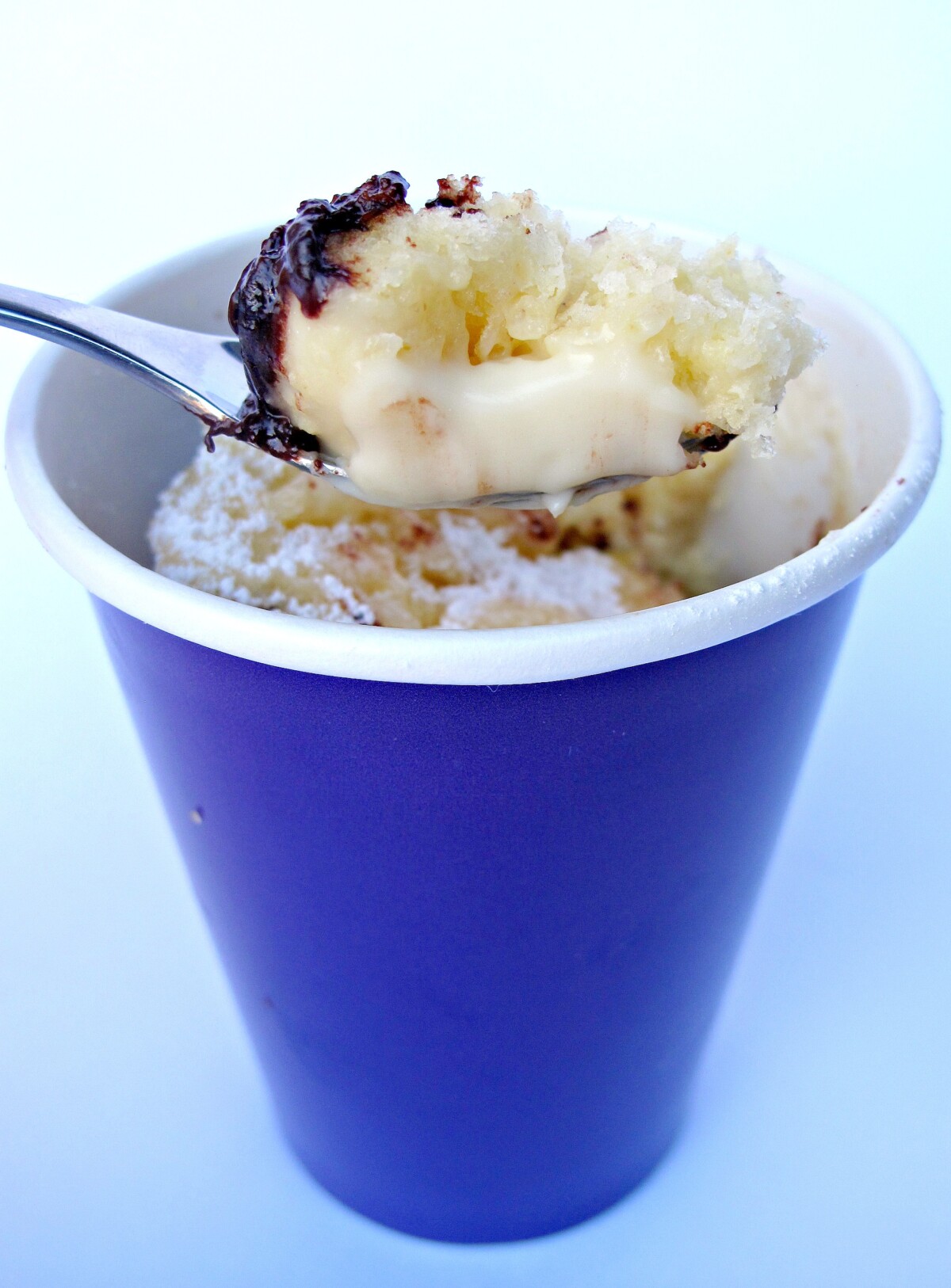 This cake is best eaten right from the mug or paper cup in which it is cooked. It can be turned out onto a plate, but doesn't always hold together. If cooking in a mug, spraying with cooking spray before adding the ingredients makes removing the cake possible and clean-up much easier.
For care package use, pour the two cake mixes into a gallon-size zip lock bag labeled with directions, add a bag of chocolate squares, snack packs of shelf-safe vanilla pudding, a measuring spoon and a package of microwave safe paper cups or a can of non-stick spray.
Please note that aerosol cans are not allowed in international care packages. To mail internationally and/or for no clean-up, I highly recommend adding microwave safe paper cups to your military or college care packages.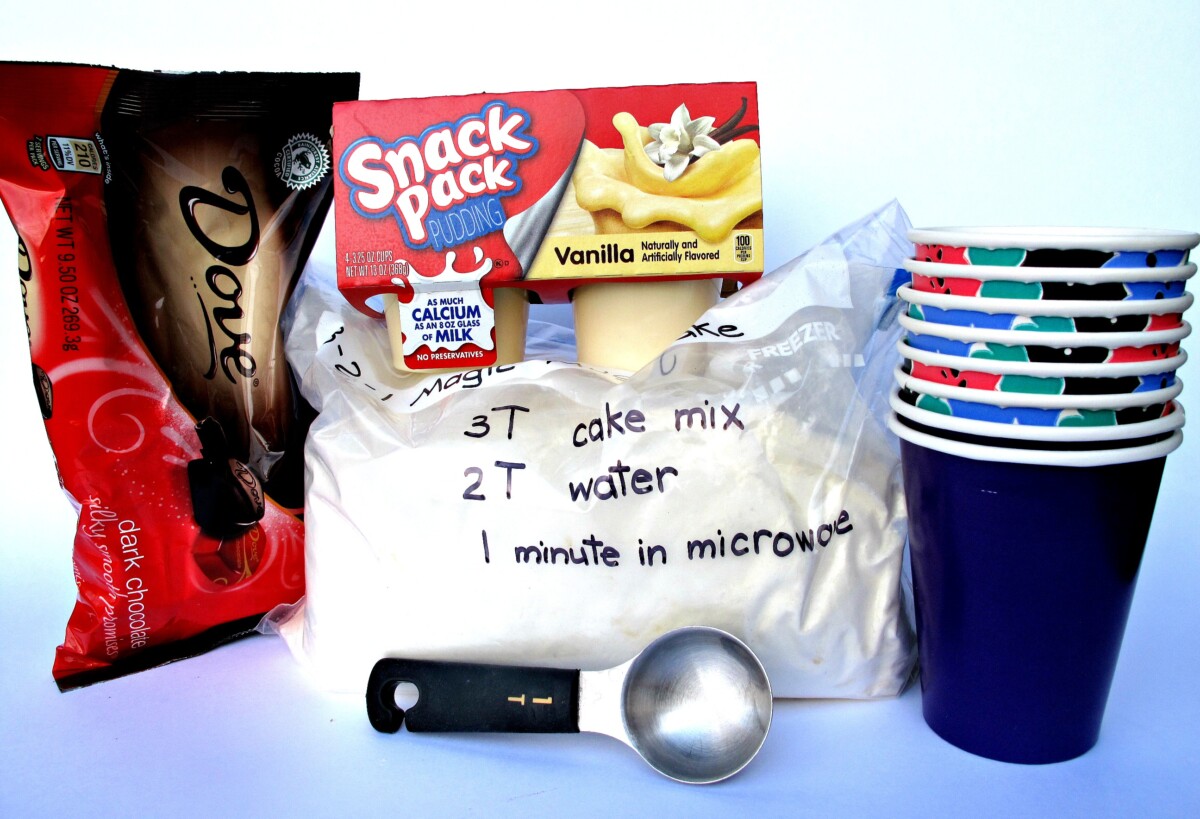 An important baking note: Every other microwave mug cake I have made adheres faithfully to the 1 minute cooking time. This cake takes less than 1 minute to cook.
I found repeatedly that if this cake is cooked for a full minute, the pudding overheats. The steam from the boiling pudding pushes the cake above it causing the cake to pop.
Sometimes the whole top popped off, attaching itself to the top of the microwave. Not a good thing. Even putting a small plate as a cover on top of the cup did not help. The cake pushed the plate right off! In 40 seconds on high power, my Boston Cream Pie Mug Cake was cooked to perfection.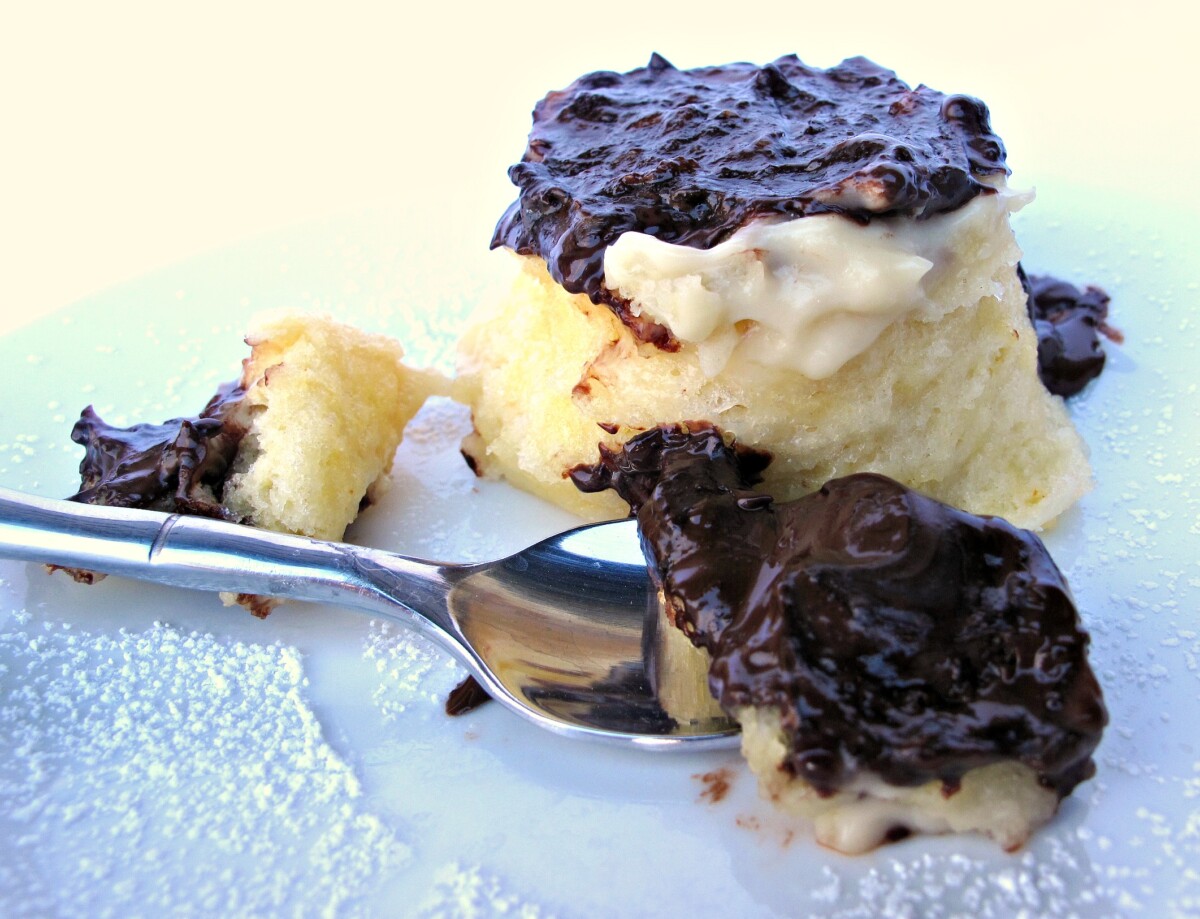 More microwave mug cakes
Orange Mug Cake is a sunshiny cup of vanilla cake and sweet-tart marmalade.
Combine fluffy yellow mug cake and pineapple sundae topping for a moist and flavorful Pineapple Mug Cake.
4th of July Mug Cake is a red, white, and blue serving of patriotic funfetti cake bursting with sweet cherry and blueberry pie filling.
Ready to bake? Join the free membership group to get new recipes and a newsletter delivered to your inbox! You can also stay in touch on Facebook, Pinterest, and Instagram. I'd love to stay in touch!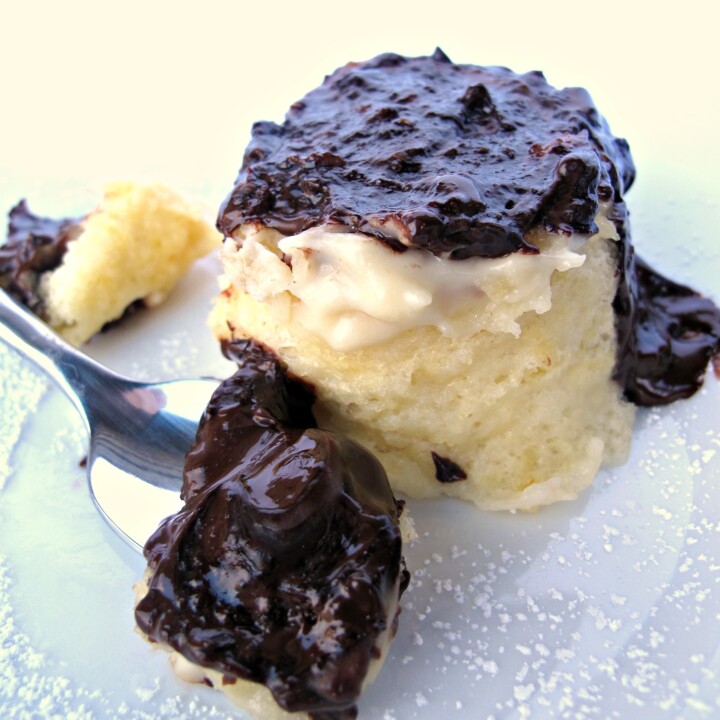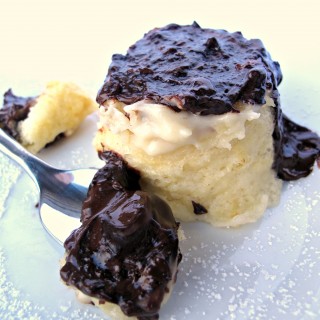 Boston Cream Pie Mug Cake
This 1 minute microwave mug cake has two layers of vanilla sponge cake  filled with vanilla custard and is topped with a chocolate glaze. 
Print
Rate
Ingredients
1

box Angel Food Cake mix

1

box vanilla cake mix

Non-stick spray

Water

48

Chocolate squares

2 per mug

8

Shelf-safe vanilla pudding snack packs

1 individual snack pack container per 3 mugs
Instructions
In a gallon sized ziplock bag, combine the two boxes of cake mix. Shake the bag to mix thoroughly.

If using a microwaveable mug, lightly coat the inside with non-stick spray (without the spray the cake will not transfer out of the mug.) or use a microwave safe paper cup.

(Here comes the 3-2-1 part) Into the prepared mug or paper cup, stir together 3 tablespoons of cake mix and 2 tablespoons of water. Drop two chocolate squares, then 1 tablespoon of pudding, into the center of the batter.

Microwave on high for 40 seconds- 1 minute. (The pudding heats quickly and can cause the mug cake to pop. In my microwave 40 seconds cooked the cake, any longer and the cake popped.)

The cake can be eaten right out of the mug/paper cup. If you want to transfer the cake onto a plate, run a knife between the cake and the mug to loosen, then dump out onto a plate. The melted chocolate can be spread with a knife across the top of the cake, to resemble a Boston Cream Pie.
Notes
Packing tips
Combine the two cake mixes in a gallon-size ziplock bag labeled with directions. Include a measuring spoon, bag of chocolates, 1 or more vanilla pudding snack packs, and a can of non-stick spray or microwave-safe paper cups.
Nutrition
Calories:
165
kcal
|
Carbohydrates:
27
g
|
Protein:
2
g
|
Fat:
7
g
|
Saturated Fat:
2
g
|
Sodium:
300
mg
|
Potassium:
135
mg
|
Fiber:
1
g
|
Sugar:
14
g
|
Vitamin A:
1
IU
|
Calcium:
56
mg
|
Iron:
2
mg