If you would like to drink your hot chocolate and eat it too, file this microwave magic recipe under "required eating". Hot Chocolate Mug Cake is rich and chocolaty with lots of gooey marshmallow topping. Best of all, a Hot Chocolate Mug Cake can be cooked and on your fork in just one minute!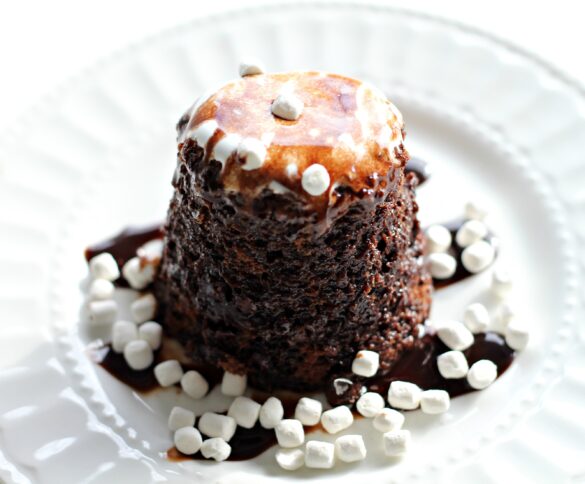 I had a strange credit card experience yesterday. The vigilant members of my credit card fraud department left a message on my home phone and sent me an urgent sounding email, both asking me to contact them as soon as possible.
I called and was connected to my new buddy, Eric. Much to my dismay, Eric and I went from mere strangers to buddies during the hour and a half call.
It appears that a musical thief had spent the morning online upgrading his/her instruments; key boards, guitars, amplifiers. The thief then needed to upgrade his/her wardrobe as well, with a quick shopping spree from a major athletic wear company.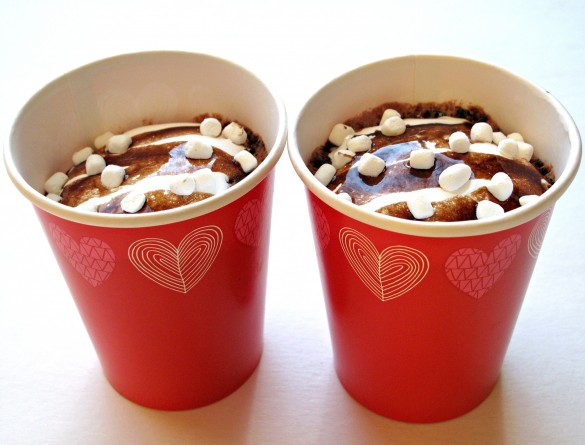 The good news is that my buddy Eric and his coworkers flagged the morning purchases for possible fraud, and since credit card companies cover you for fraud, I am not responsible for the unlawful charges. The bad news is that I have to get a new credit card with a new number. So do the other three family members who use that card.
Not that big a deal, except that this is the THIRD time in the past 12 months that we have had to do this. The first two times were due to the credit card company being proactive after two major retailers had data security breaches. This time we have no idea where the thief got my information. And he/she has too much information for my comfort.
After Eric filed all of the necessary credit card company paperwork, we then proceeded to call each of the online retailers to notify them of the fraud and attempt to cancel the purchases. We were mostly successful, but when I asked questions about the shipping address, I was told that it was protected information.
The retailers are restricted by law and couldn't tell me or the credit card company any details about the purchaser. Supposedly that law is to protect me from turning into Rambo Cop and personally inflicting violence on the perpetrator. No worries, thieves of the world. You are safe from me.
The thief stole my credit card number and was having hundreds of dollars worth of merchandise delivered. Wouldn't you think the police might be interested in that address? Apparently, that would take a police report and a court ordered subpoena, neither of which are likely to happen because the police and courts are too busy with bigger crimes.
It might be considered emotional eating, but I NEEDED a Hot Chocolate Mug Cake after that call. I needed forkfuls of warm chocolate cake and melted marshmallow, generously doused in chocolate syrup. It helped.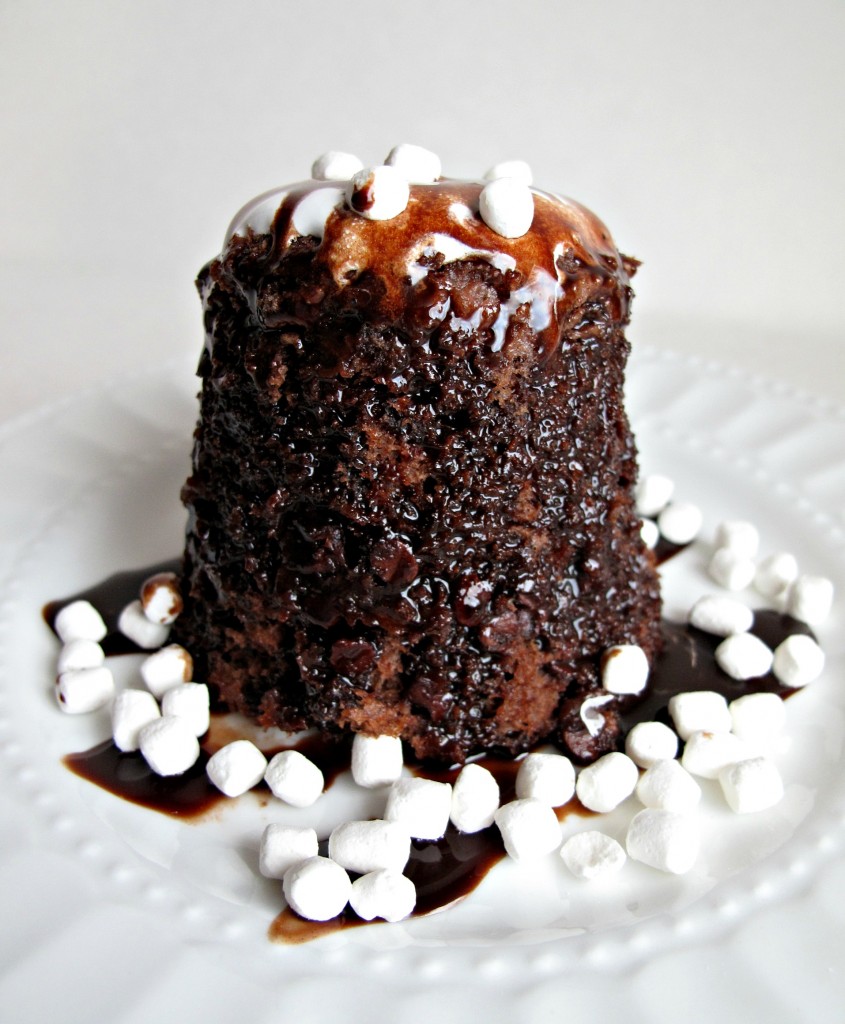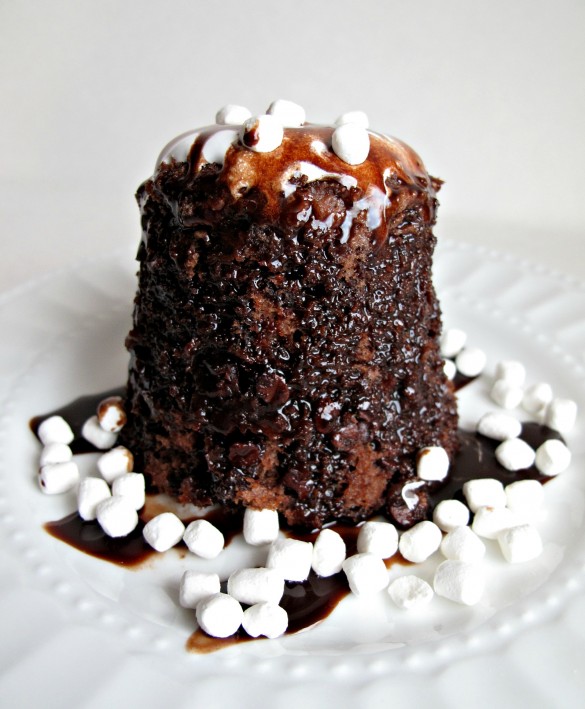 This newest version of microwave mug cake, includes a fudgy flavor enhancement on the original. Most people who try microwave mug cakes enjoy them, but the one complaint I have heard several times is that the chocolate cake isn't chocolaty enough.
The magic mix for 3-2-1 mug cakes requires mixing a box of any flavor cake mix, in this case chocolate, with a box of angel food cake mix. The angel food diminishes the chocolate-ness.
The Monday Box test kitchen has solved this dilemma. Mixing in a tablespoon of chocolate syrup (in addition to the 2 tablespoons of water) adds the missing color and flavor to the mug cake. An additional chocolate boost comes from mini chocolate chips which are added before baking but not mixed in.
Regular sized chocolate chips sink to the bottom of the cake during baking. The mini chips disperse and melt throughout the cake adding fudgy flavor. Chocoholics rejoice.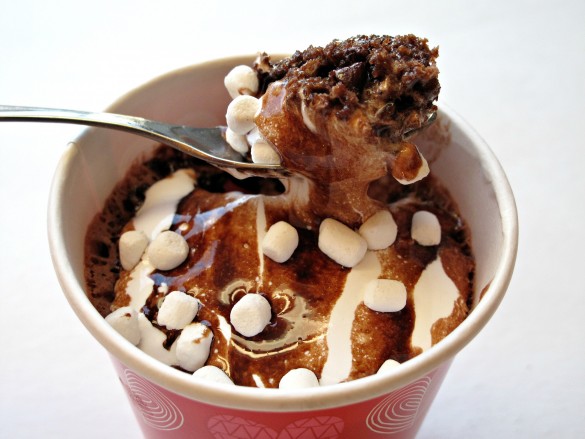 One warning. Hot Chocolate Mug Cake has no marshmallows inside the cake because it just doesn't work. I tried. Many times. I tried giant marshmallows, regular marshmallows, mini marshmallows, and tiny marshmallows.
Mostly, marshmallows melt into sugary hard spots in the cake, but if the marshmallow is big enough it will either explode, leaving sticky bits of hardened chocolate cake all over your microwave, or foam up like lava from a volcano and pour molten marshmallow down the sides of the mug.
The delicious solution is marshmallow cream. One heaping tablespoon of marshmallow cream plopped onto a warm, cooked microwave mug cake, melts into just the right ratio of cake to marshmallow topping in each soothing bite.
I have two tidbits of advice. First, check your credit card statements carefully. It's a crazy world out there and it's good to be cautious. Second, make a Hot Chocolate Mug Cake. It's a crazy world out there and sometimes life requires comfort in a cup.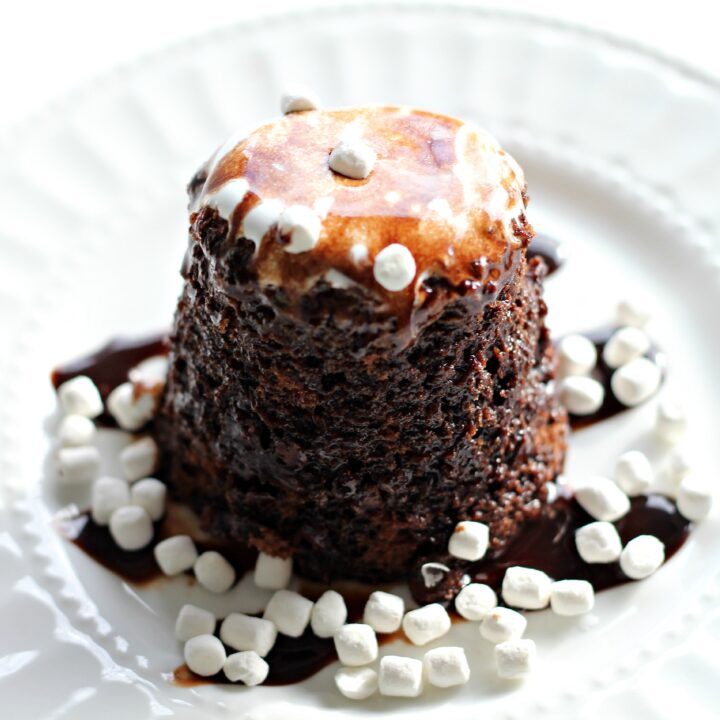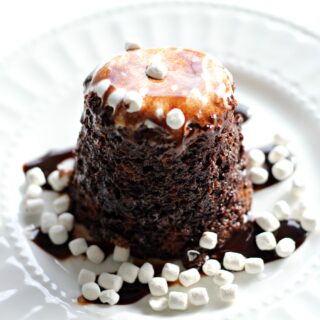 3-2-1 Hot Chocolate Mug Cake
 This mug cake recipe makes moist chocolate cake with lots of gooey marshmallow topping. Ready to eat in just one minute. Sure to satisfy your sweet tooth.
Print
Rate
Ingredients
1

box

Angel Food Cake mix

1

box

chocolate cake mix

Non-stick spray

if not using disposable cups

Water

1

bag

mini chocolate chips

1

bottle

Chocolate Syrup

1

jar

marshmallow cream

1

bag

mini marshmallows
Instructions
In a gallon sized ziplock bag, combine the two boxes of cake mix. Shake the bag to mix thoroughly.

If using a microwaveable mug, lightly coat the inside of a with non-stick spray. Without the spray the cake will stick to the mug and the mug is harder to clean. If using a disposable, microwave safe paper cup, no non-stick spray is needed.

(Here comes the 3-2-1 part) Into the prepared mug/cup, stir together 3 tablespoons of cake mix and 2 tablespoons of water. Stir.

To this basic magic cake mixture add 1 table spoon of chocolate syrup. Stir to combine. Allow to sit for about 1 minute, then sprinkle with 1 tablespoon of mini chocolate chips.

Microwave on high for up to 1 minute until cooked. (My microwave takes 45 seconds.

Top the hot cake with one tablespoon of marshmallow cream, a dousing of chocolate syrup, and a sprinkle of mini marshmallows. Then eat it right out of the mug. If you want to transfer the cake onto a plate, run a knife around the edge between the cake and the mug to loosen, dump out onto a plate, then top with one tablespoon of marshmallow cream, chocolate syrup, and a sprinkle of mini marshmallows.

Eat warm.
Notes
Because all of the ingredients are shelf stable, they can be included in a care package for a fresh, sweet treat in just one minute.
Mug cakes are the perfect treat for college student dorms and deployed military.
Packing tips
Combine the two cake mixes into a gallon-size ziplock bag labeled with directions.
Include a measuring spoon, bags of mini marshmallows and mini chips, a bottle of chocolate syrup, and a jar of marshmallow cream.
If the care package is international, include microwave safe paper cups.
If the care package is domestic, add either a can of cooking spray (for use with a microwave-safe mug) or microwave safe paper cups.
Don't forget to include the "recipe".
Nutrition
Calories:
282
kcal
|
Carbohydrates:
56
g
|
Protein:
3
g
|
Fat:
6
g
|
Saturated Fat:
3
g
|
Trans Fat:
1
g
|
Cholesterol:
2
mg
|
Sodium:
323
mg
|
Potassium:
77
mg
|
Fiber:
1
g
|
Sugar:
40
g
|
Vitamin A:
32
IU
|
Vitamin C:
1
mg
|
Calcium:
73
mg
|
Iron:
1
mg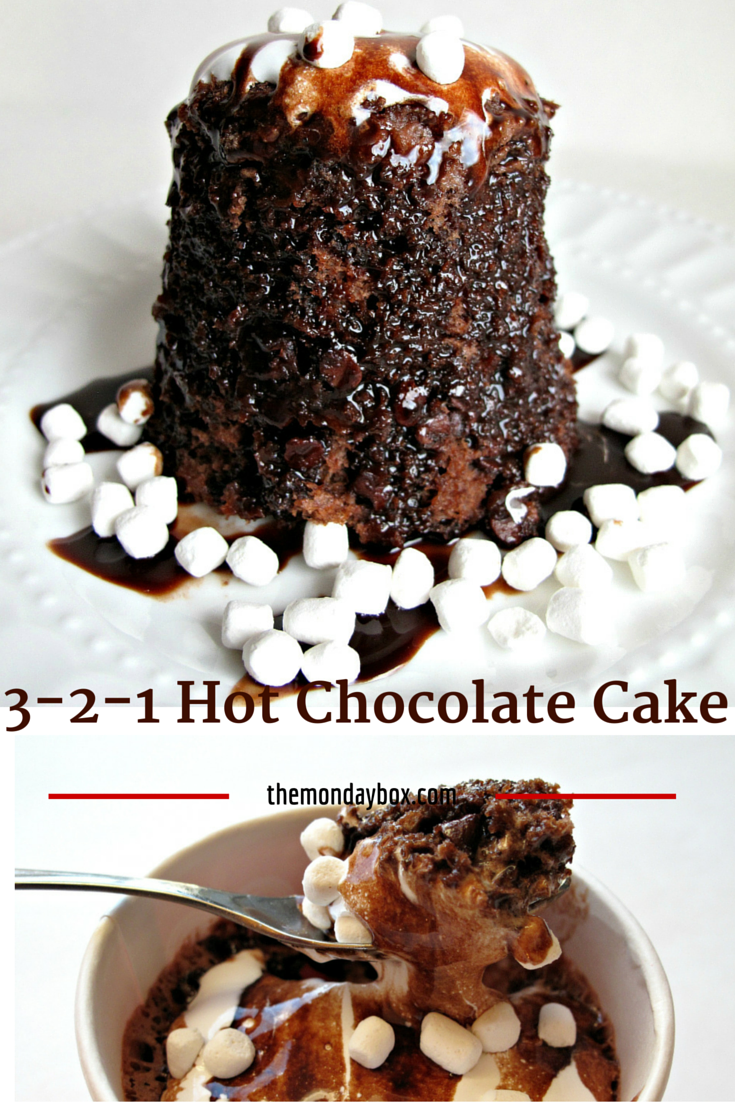 Save
Save