Chocolate Covered Marshmallow Cookies have a crunchy graham cracker base topped with a marshmallow and a creamy chocolate coating. Chocolate covered cookies are always a favorite!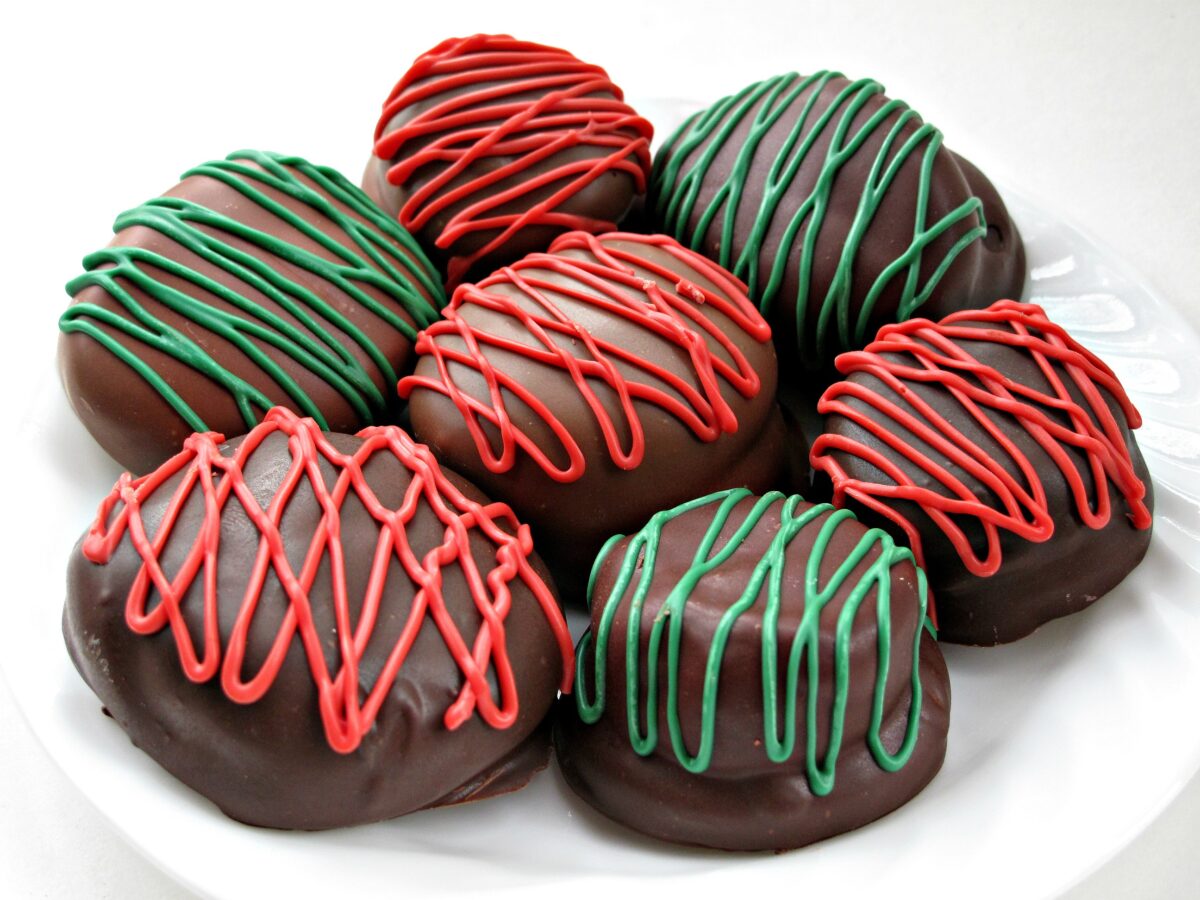 Why you will love this recipe
Tempering is a method of heating and melting chocolate so that it will solidify into a shiny, crisp confection. It turns out that tempering chocolate is rather tricky.
If I wrote my recipe summarizing my chocolate tempering experience it would go something like this: Buy 2 pounds of chocolate at Trader Joes. Attempt to temper. Fail. Failed chocolate "blooms" with white snowflake looking spots. Throw them out.
Decide the problem is the quality of chocolate. Buy 1 pound of Valrhona chocolate. Attempt to temper. Fail. Failed chocolate also doesn't harden for a very long time (if ever).Throw it out.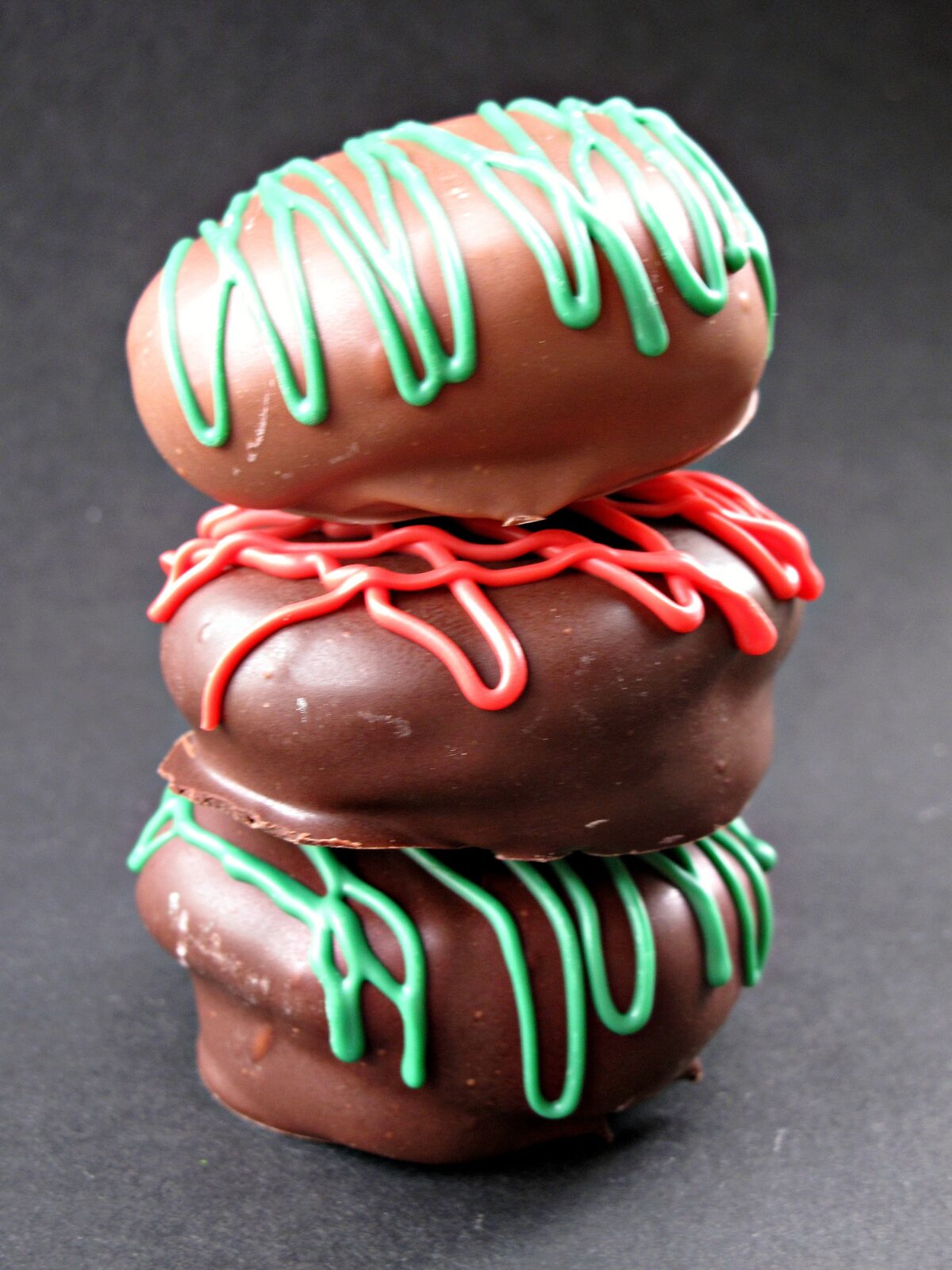 Bring in the most experienced chocolate friend you know.( My friend Ora tried so hard to pass her expertise on to me. I even used a fancy digital candy thermometer.) Fail again. Tastes good but looks ugly. Throw it out.
So, I gave up and used chocolate candy coating. No, candy coating doesn't taste like gourmet chocolate. But I will tell you what it does do.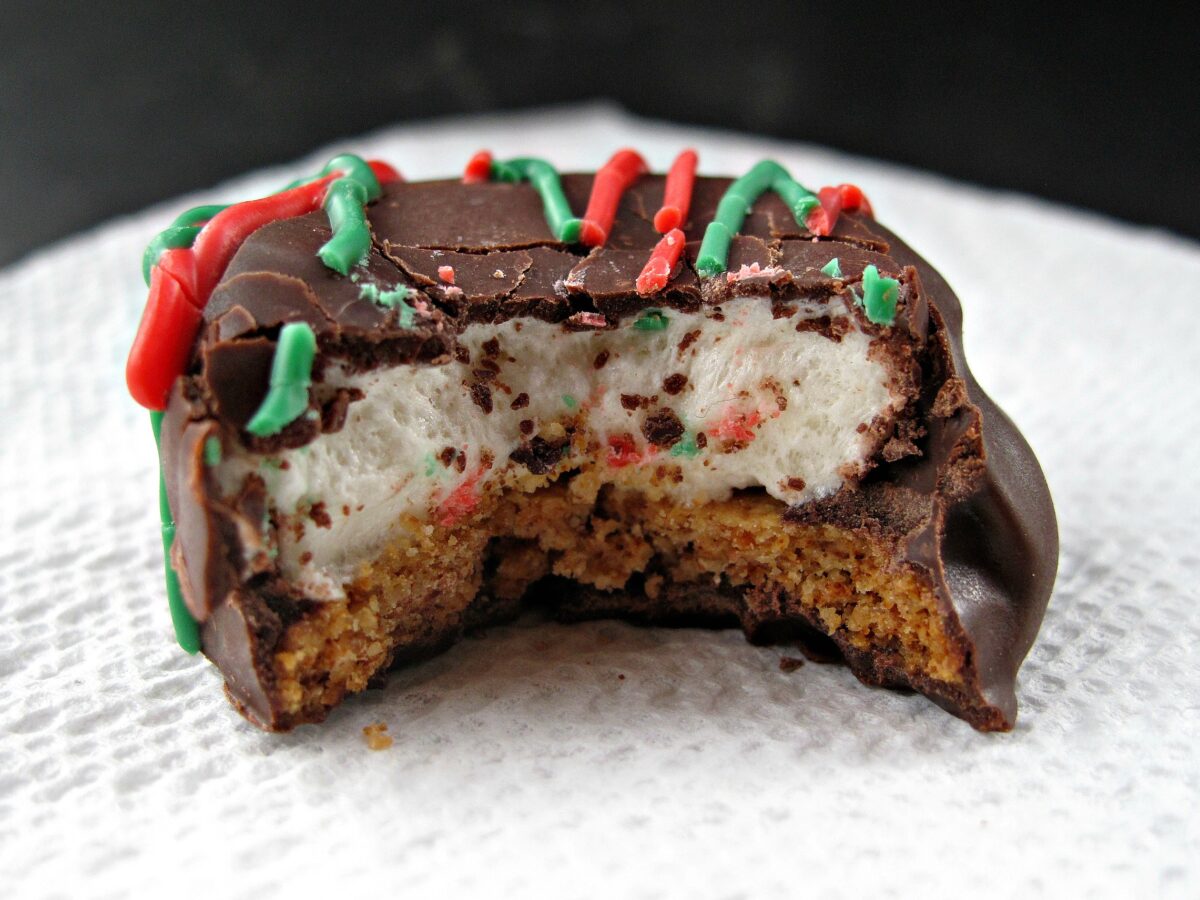 It melts like a dream in the microwave. It covers the cookies in a smooth even coating which quickly sets up shiny and hard after 15 minutes in the fridge.
The next day (and numerous days after that) the cookies still looks as pretty as the day you dipped them. Best of all, combined with the marshmallow and graham cracker, it tastes really good.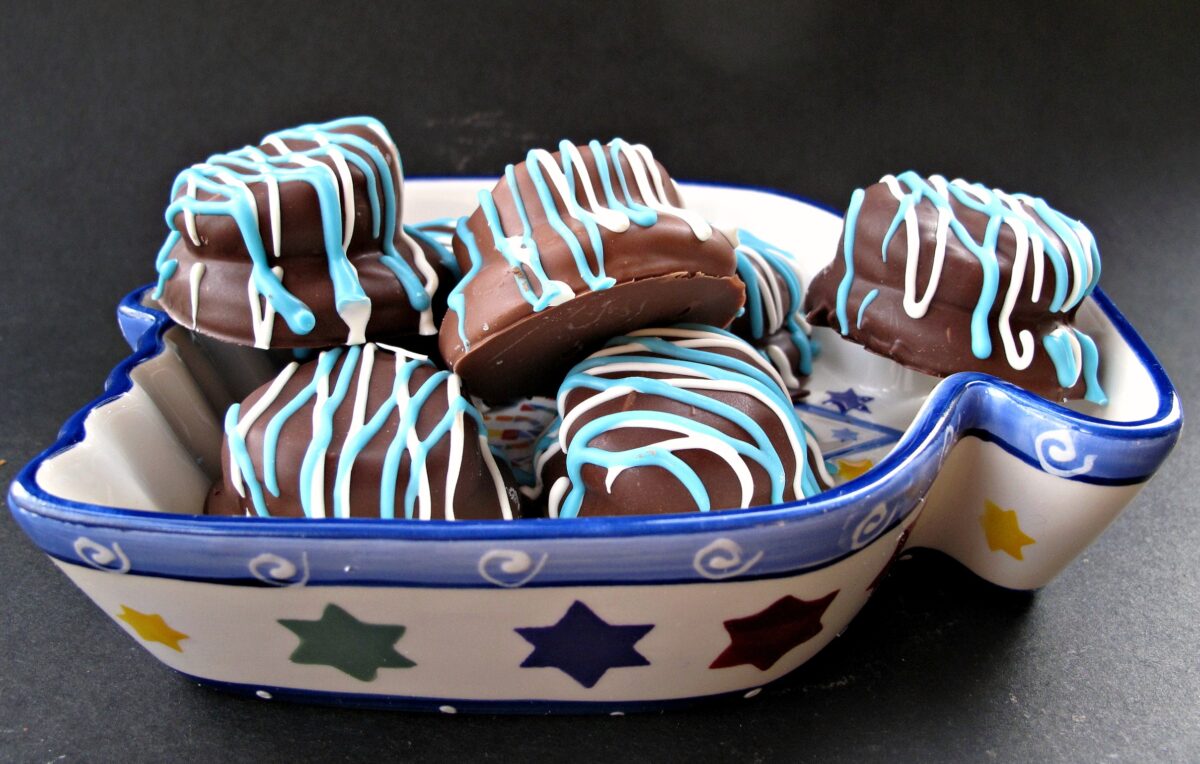 Changing the color of the decorating candy could make these cookies a special addition to all kinds of care packages or holiday cookie trays.
Think red/green for Christmas, blue/white for Chanukah, orange/black for Halloween, any school color or favorite color for a birthday or graduation.
Most people, however, don't need a special occasion to eat chocolate. So feel free to skip the zig-zags or zig-zag in contrasting colored chocolate.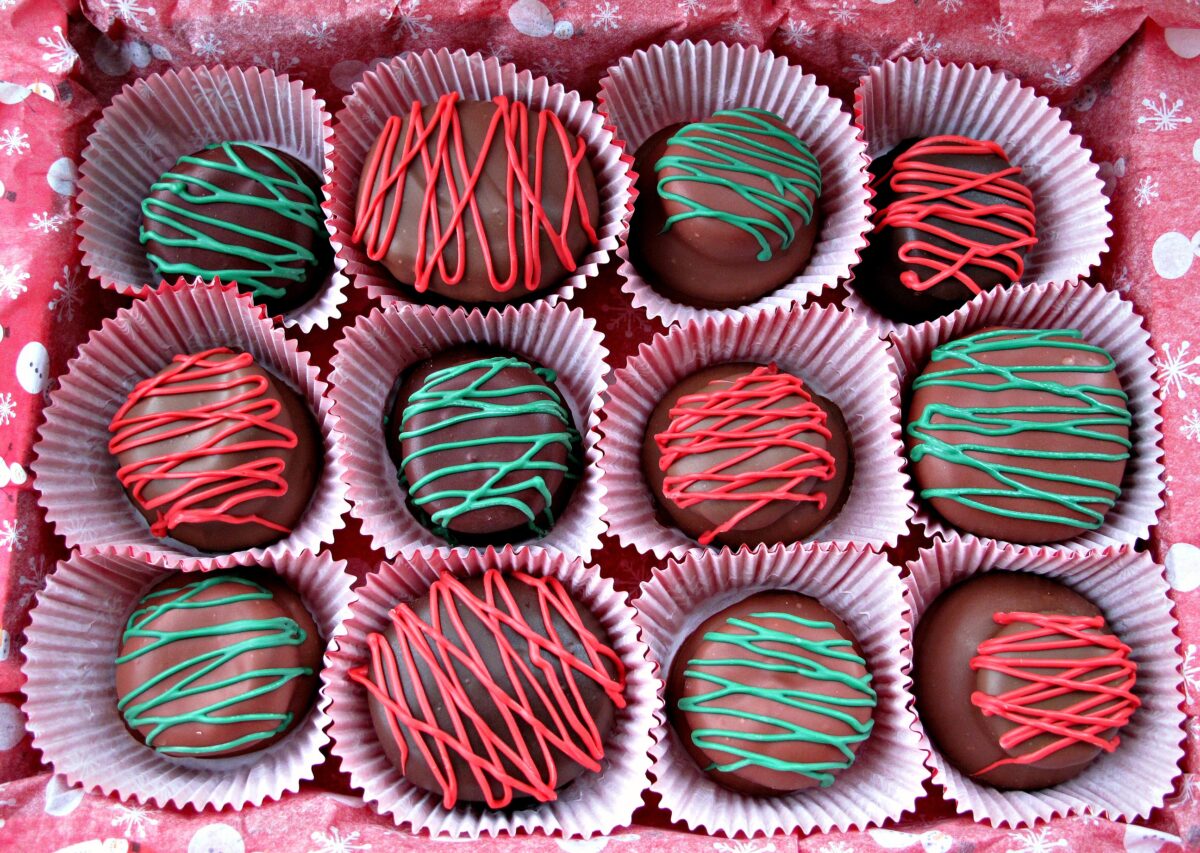 Chocolate Covered Marshmallow Cookies are very sturdy cookies. I packaged them like bonbons, sitting individually on cupcake papers in a tissue paper lined box.
For shipping, I encased the box in plastic to help keep the cookies fresh. As always the keys to shipping cookies are to be sure the cookies can't move at all in their container and to pad the container inside the shipping box.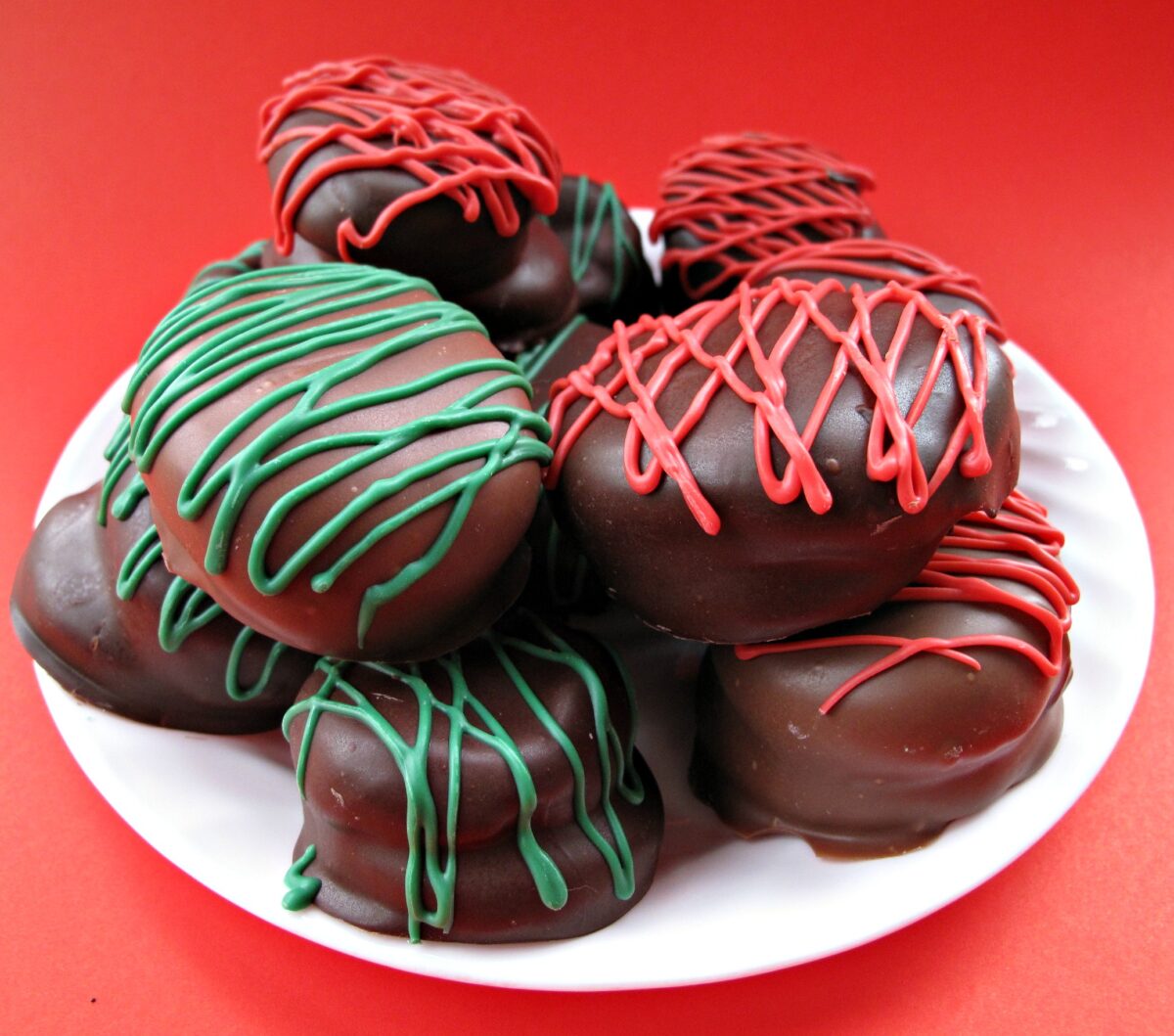 More chocolate covered cookies
Ready to bake? Join the free membership group to get new recipes and a newsletter delivered to your inbox! You can also stay in touch on Facebook, Pinterest, and Instagram. I'd love to stay in touch!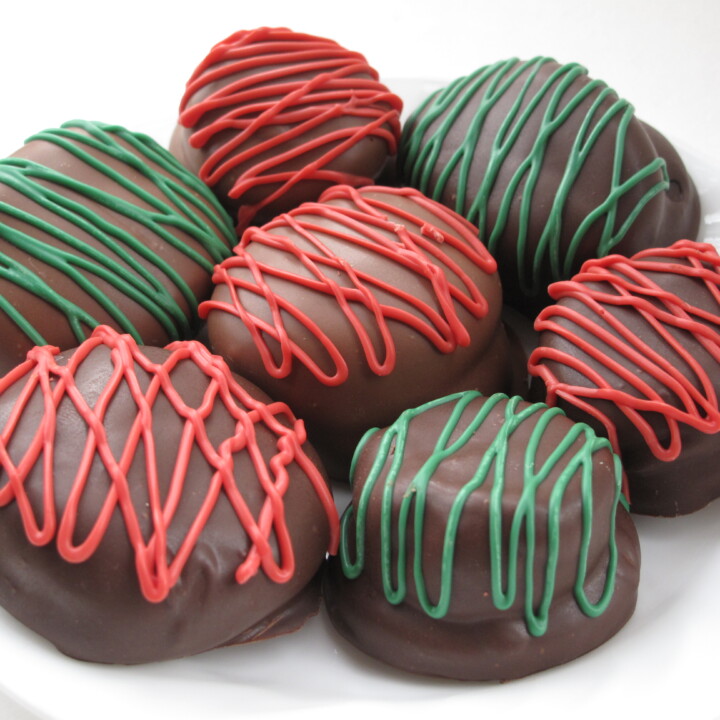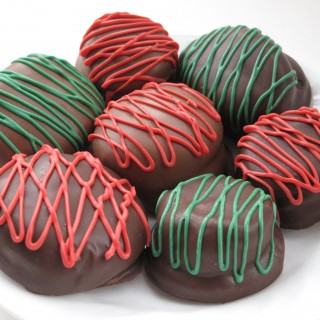 Chocolate Covered Marshmallow Cookies (Mallomar)
These chocolate marshmallow cookies have graham cookiesas the base topped with marshmallows and coated in creamy chocolate.
Print
Rate
Adapted From:
Graham Crackers from "Chewy Gooey Crispy Crunchy" by Alice Medrich
Ingredients
1 ¾

cups

whole wheat graham flour

I used Hodgson Mills

½

cup

+ 1 tablespoon oat flour

or ½ C + 1 T rolled oats ground fine in food processor

¼

cup

granulated sugar

½

teaspoon

salt

½

teaspoon

baking powder

½

teaspoon

baking soda

6

tablespoons

cold unsalted butter

cut into 1 inch cubes

3

tablespoons

milk

3

tablespoons

honey

1

teaspoon

vanilla extract

24

Large or jumbo marshmallows

cut in half

1

lb

Chocolate candy coating discs

light or dark

Colored candy coating discs for decorating
Instructions
In a food processor add flours, sugar, salt, baking powder, and baking soda. Pulse to combine.

Add butter cubes. Pulse until crumbly mixture forms.

In a bowl mix milk, honey, and vanilla.

Add the liquid to the flour mixture in the food processor. Pulse until the dough comes together in a ball.

Flatten the dough into a disc, wrap in plastic wrap, and refrigerate until firm. (about 30 minutes) (Can be left overnight)

Preheat oven to 350 degrees F. Line two baking sheets with parchment paper.

Remove the dough from the refrigerator and place between the sheets of parchment.

Roll out to ⅛ inch thickness.

Remove the top sheet of parchment.

Use a 1.75" circle cookie cutter to cut out rounds of dough and place on prepared baking sheet about 1" apart. (scraps can to reused)

Bake for 12-15 minutes until golden brown with light brown edges. Remove from oven.

Place marshmallows, cut side down on graham cracker circles. Return to oven for about 2 minutes until marshmallows are soft

Remove from oven and use a spatula to slightly flatten each marshmallow.

Cool completely on wire racks.

Line two cookie sheets with wax paper.

Melt chocolate discs in a microwave safe bowl.

Using a fork and large spoon, place a marshmallow cookie in the chocolate. Turn to coat. Lift on the fork and let excess chocolate drip off.

Place the cookie on the wax paper lined cookie sheet.

When all of the cookies have been dipped, place the cookie sheets in the refrigerator until the coating is set, about 15 minutes.

Decorating colors of candy discs can be melted inside of a plastic decorating bag or a plastic sandwich bag. Microwave (10-15 second intervals) the a handful of discs until liquid.

Cut off a tiny opening at the tip of the bag. Zig-zag colored stripes over the cookies.

Return the cookie sheets to the refrigerator for another 15 minutes to set the decorating candy coating.

Store cookies in airtight containers at room temperature for at least 1 week.
Notes
Packing tips
Place cookies in an airtight container. Separate layers of cookies with wax paper. Fill the container completely with cookies and/or tissue paper to keep cookies from moving at all. Mail padded (again to prevent movement) inside a shipping box. I olnly recommend mailing these cookies to and from cooler weather.
Nutrition
Calories:
244
kcal
|
Carbohydrates:
41
g
|
Protein:
1
g
|
Fat:
9
g
|
Saturated Fat:
7
g
|
Trans Fat:
1
g
|
Cholesterol:
8
mg
|
Sodium:
108
mg
|
Potassium:
16
mg
|
Fiber:
1
g
|
Sugar:
33
g
|
Vitamin A:
91
IU
|
Vitamin C:
1
mg
|
Calcium:
10
mg
|
Iron:
1
mg
First Published: December 12, 2012. Last Updated: May 27, 2021. Updated for better reader experience.