3-2-1 Black Forest Mug Cake is an individual chocolate cake drenched in chocolate syrup and topped with cherry pie filling, adding a German twist to the list of Monday Box mug cakes. They may not be totally authentic Black Forest cake, but they are totally delicious.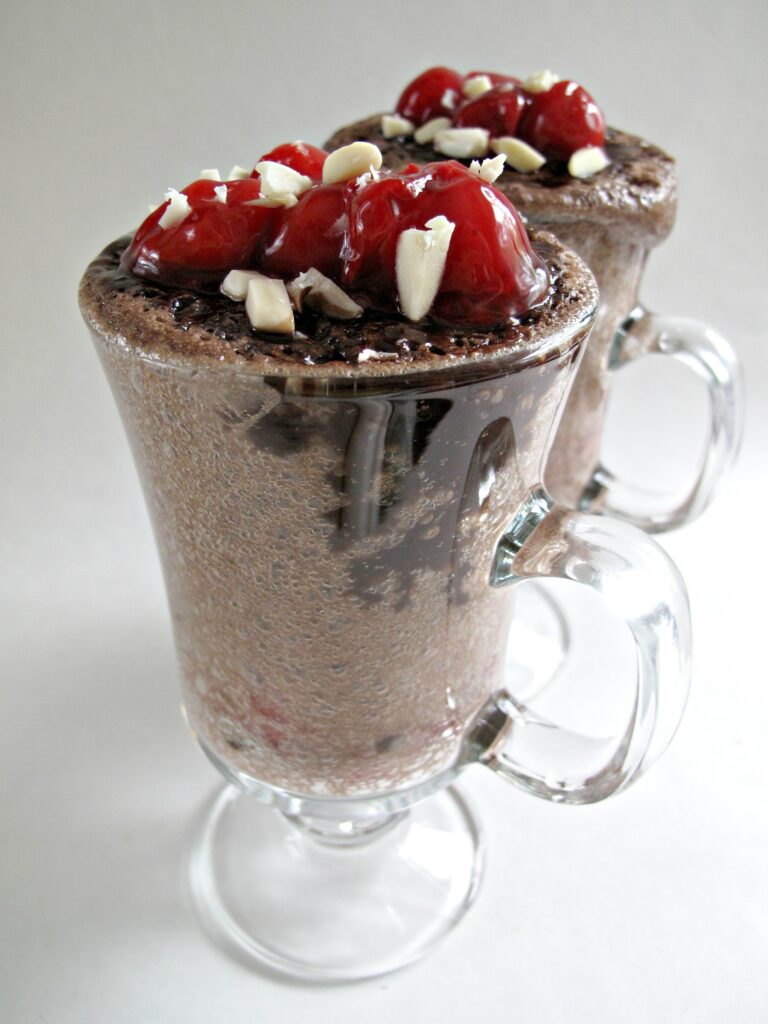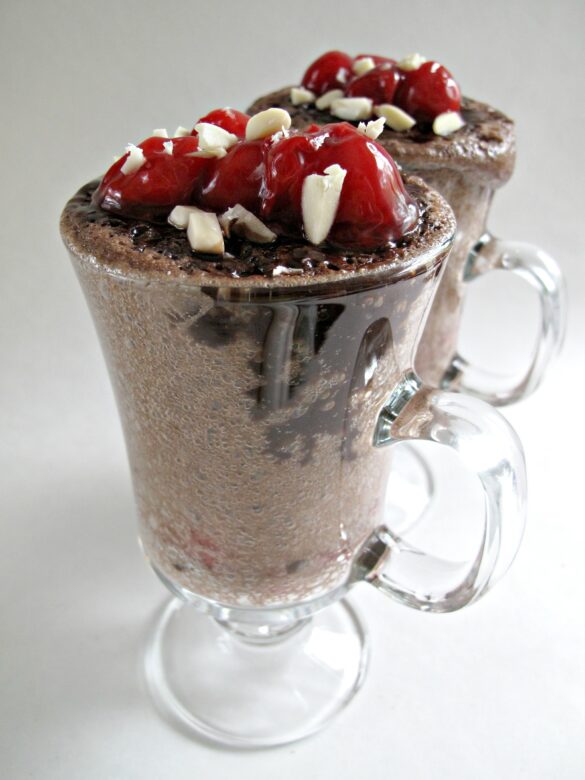 My parents gave my husband and me our first microwave as a housewarming gift 26 years ago. Over the years, it zapped countless cups of hot water and defrosted infinite amounts of frozen food.
Most recently, it magically produced mug after mug of 3-2-1 cake experiments. The weakest link on that appliance was the plastic door opening button. The microwave was still fully functional but some bit of internal plastic would crack and the door wouldn't open.
My husband used superglue to repair the mechanism several times but this last time the plastic was no longer salvageable. I had no choice but to get a new microwave.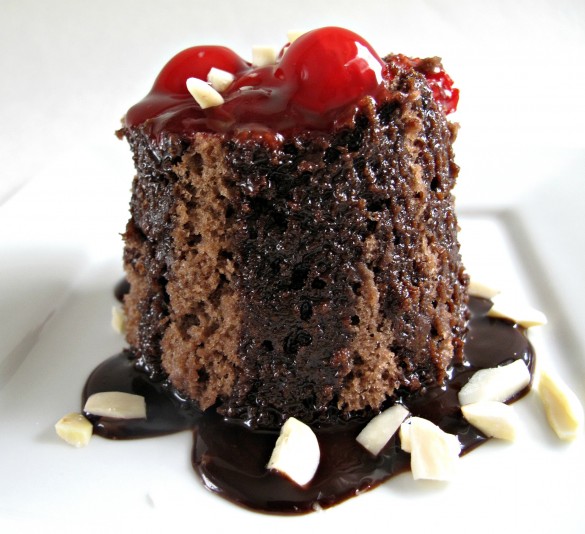 I don't like getting new machines. If I am happy and comfortable with what I have, I don't want to deal with learning new buttons and gadgets. I get something new, I complain a lot, then I get used to it and life goes on.
With my new washing machine that means a number of highly wrinkled loads before I get the knack of high efficiency (Where is all the water?!?). With my new microwave that meant a number of 3-2-1 cake explosions and a few 3-2-1 cake hockey pucks before I fully grasped how much stronger my zapping power now is.
My 3-2-1 Black Forest Mug Cake was fully cooked in my new microwave in 35 seconds. "3-2-35 second cake" doesn't have the same ring to it, so I am not changing the name, but I am adding this note. Zap your 3-2-1 cakes until done.
Done means the wet batter has turned into cake. After "done" comes dried out. After "dried out" comes the hockey pucks I previously mentioned. More powerful microwaves perform faster magic. Adjust cooking times to your appliance.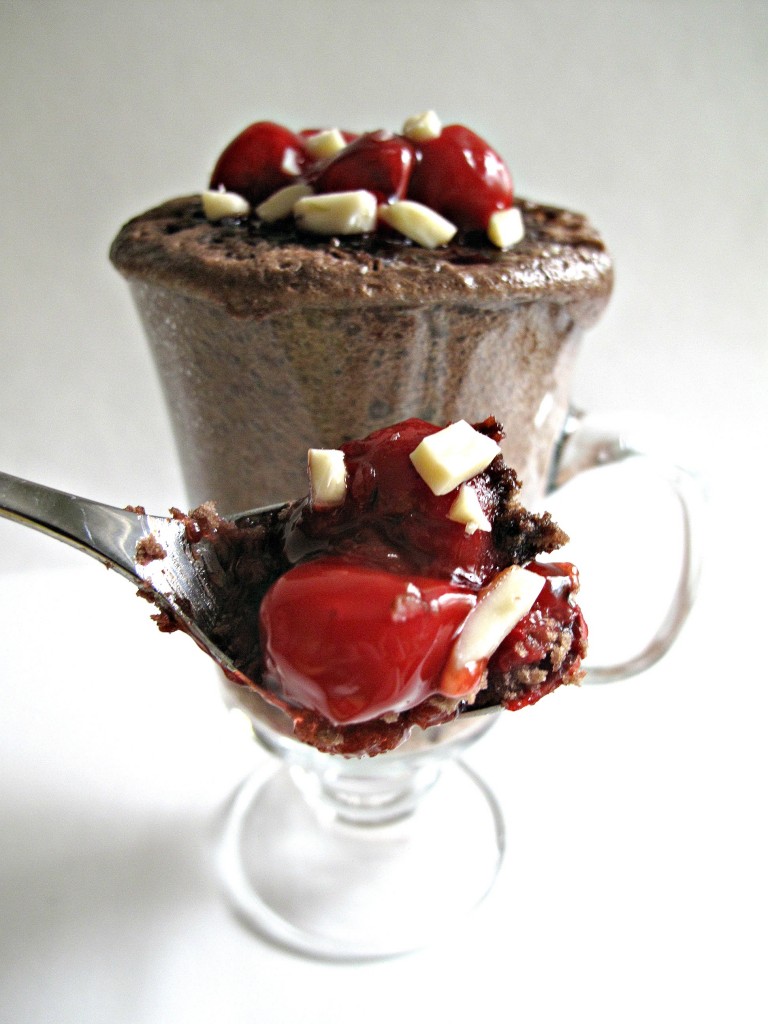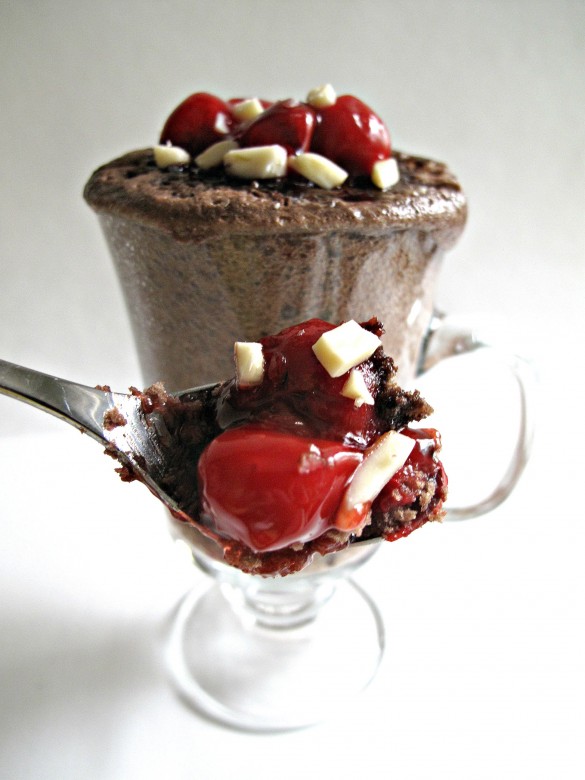 Real Black Forest Cake includes layers of chocolate cake, whipped cream, and cherries. In Germany, where the cake originated, it is traditional (and legally mandated) to add a tart cherry liquor. 3-2-1 Black Forest Mug Cake doesn't share all of those characteristics, but it is chocolaty and full of cherries.
The ingredients are all shelf stable and care package mailable. However, if you are enjoying 3-2-1 Black Forest Mug Cake at home, add a dollop of whipped cream on top give this microwave wonder more traditional flavor.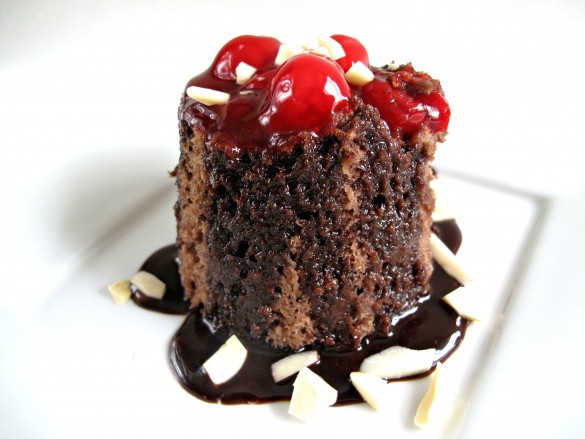 You can read more about desert safe ingredients and find an index of all of the desert safe recipes on The Monday Box by clicking here.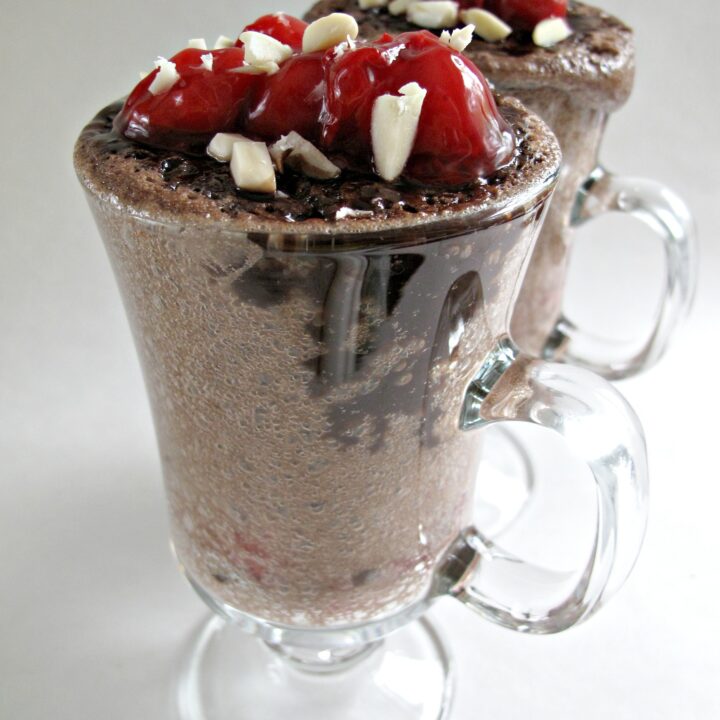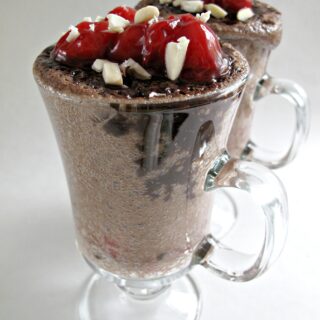 3-2-1 Black Forest Mug Cake
This chocolate microwave mug cake is drenched in chocolate syrup and topped with cherry pie filling.
Print
Rate
Ingredients
1

box

Angel Food Cake mix

1

box

chocolate cake mix

Non-stick spray

if not using disposable cups

Water

1 ½

cups

slivered almonds

1 bag

3

cups

cherry pie filling

2 cans

1 ½

cups

chocolate syrup

1 bottle
Instructions
In a gallon sized ziplock bag, combine the two boxes of cake mix. Shake the bag to mix thoroughly.

Lightly coat the inside of a microwaveable mug with non-stick spray or use a disposable microwave safe paper cup. (Without the spray the cake will not transfer out of the mug and the mug is harder to clean.)

(Here comes the 3-2-1 part) Into the prepared mug, stir together 3 tablespoons of cake mix and 2 tablespoons of water. Add a rounded tablespoon of cherry pie filling.

Microwave on high for up to 1 minute until cooked. (My microwave takes 40 seconds.)

Add a generous drizzle of chocolate syrup, another tablespoon of cherry pie filling and a sprinkle of chopped almonds. Then eat it right out of the mug. If you want to transfer the cake onto a plate, run a knife around the edge between the cake and the mug to loosen, dump out onto a plate, then add the syrup, cherries, and almonds.
Notes
Packing tips:
Combine the two cake mixes into a labeled gallon-size ziplock bag.
Include a measuring spoon, a bottle of chocolate syrup, a can of cherry pie filling, and a bag of slivered almonds.
If the care package is international, include microwave safe paper cups.
If the care package is domestic, add either a can of non-stick spray (for use with a ceramic mug) or microwave safe paper cups.
Nutrition
Calories:
125
kcal
|
Carbohydrates:
22
g
|
Protein:
2
g
|
Fat:
4
g
|
Saturated Fat:
1
g
|
Trans Fat:
1
g
|
Sodium:
19
mg
|
Potassium:
121
mg
|
Fiber:
1
g
|
Sugar:
10
g
|
Vitamin A:
61
IU
|
Vitamin C:
1
mg
|
Calcium:
24
mg
|
Iron:
1
mg
If you enjoy this 3-2-1 cake, you might also enjoy: