Soft Chocolate-Toffee Cookies are great stress relief cookies for care packages or cookie jars. The soft, chewy chocolate dough coated with buttery toffee crunch is cookie comfort.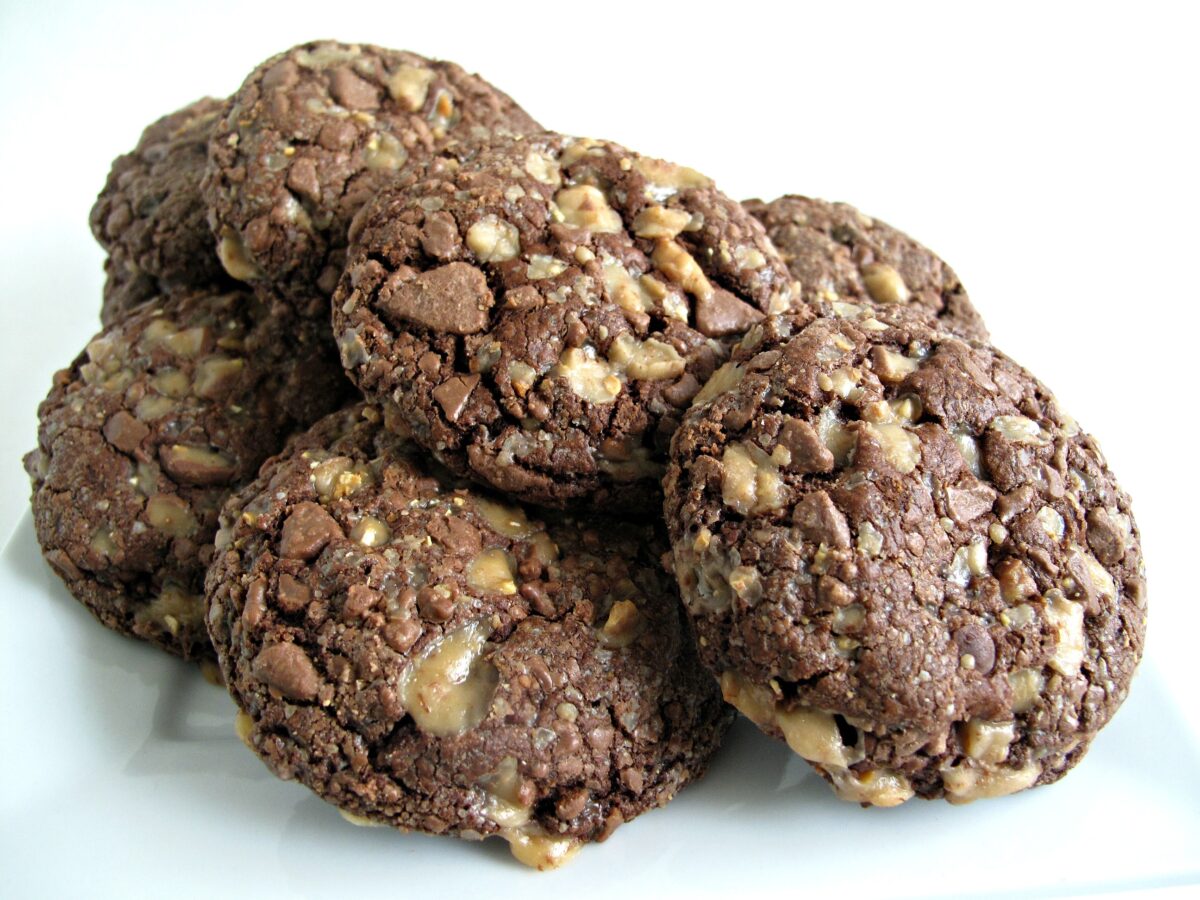 Shetland Sheepdogs are considered one of the smartest breeds of dogs. While I bake, my Sheltie, Pax, hangs out in the kitchen alternating between sleeping and asking for samples.
Cocoa is poisonous for dogs, so of course I wasn't giving out any samples of these Soft Chocolate-Toffee cookies. When I told Pax he couldn't have any because they weren't good for him, he paused, cocked his head to the side thinking, and then left the room.
I was busy baking and didn't notice that Pax had left my sight. It's rarely a good thing. When I realized he wasn't in the room and that the house was strangely quiet, I went to investigate.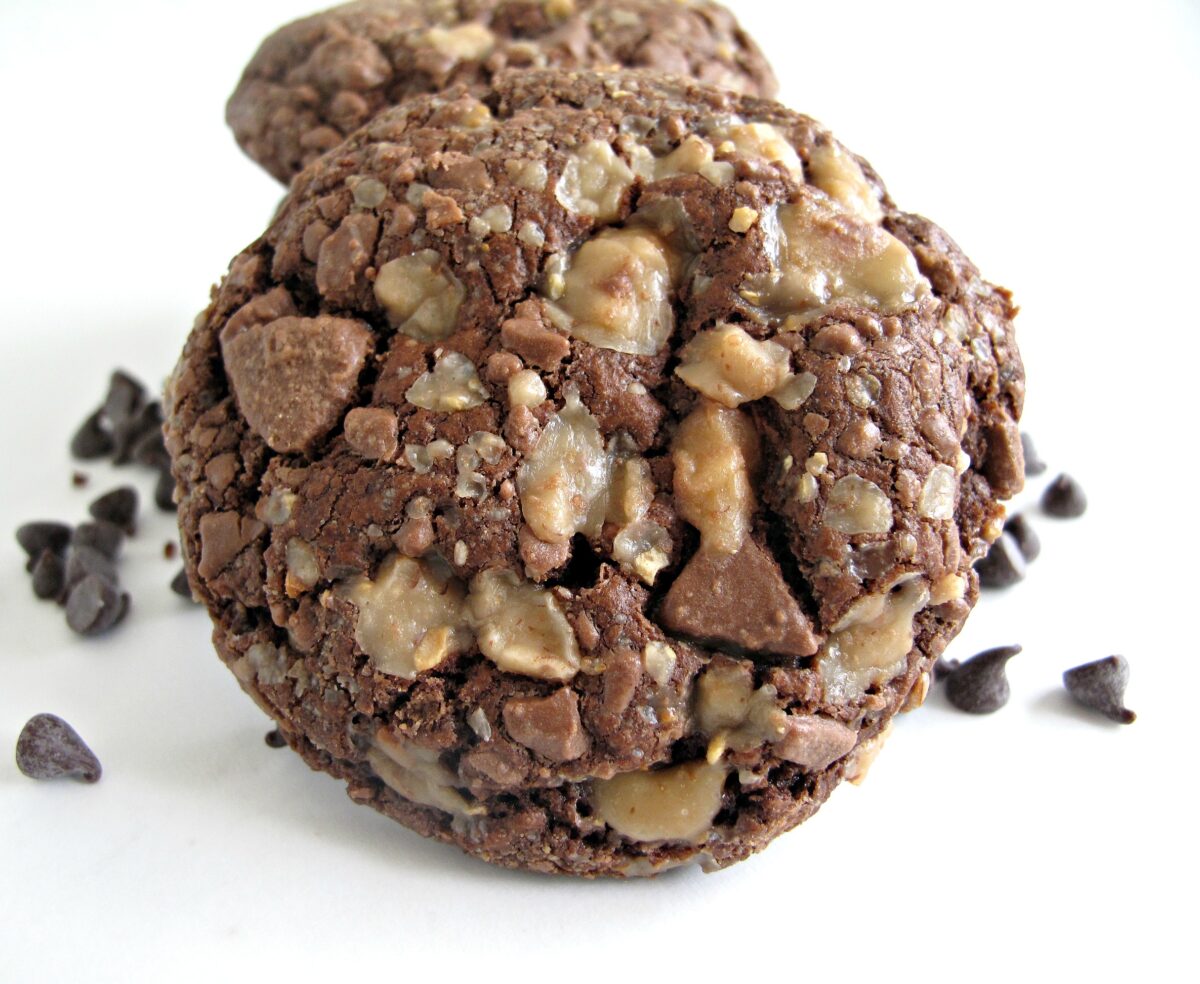 Apparently, Pax had considered the "no cookie" situation and had determined that perhaps he was lactose intolerant. So he went in search of some Lactaid chewable tablets.
I told you he was smart. I found him sitting on his dog bed with a half-eaten cardboard box between his paws.
Blister packs of Lactaid tablets lay all over the floor. Quite a few had tablets missing. He may be smart but he can't read the dosage instructions.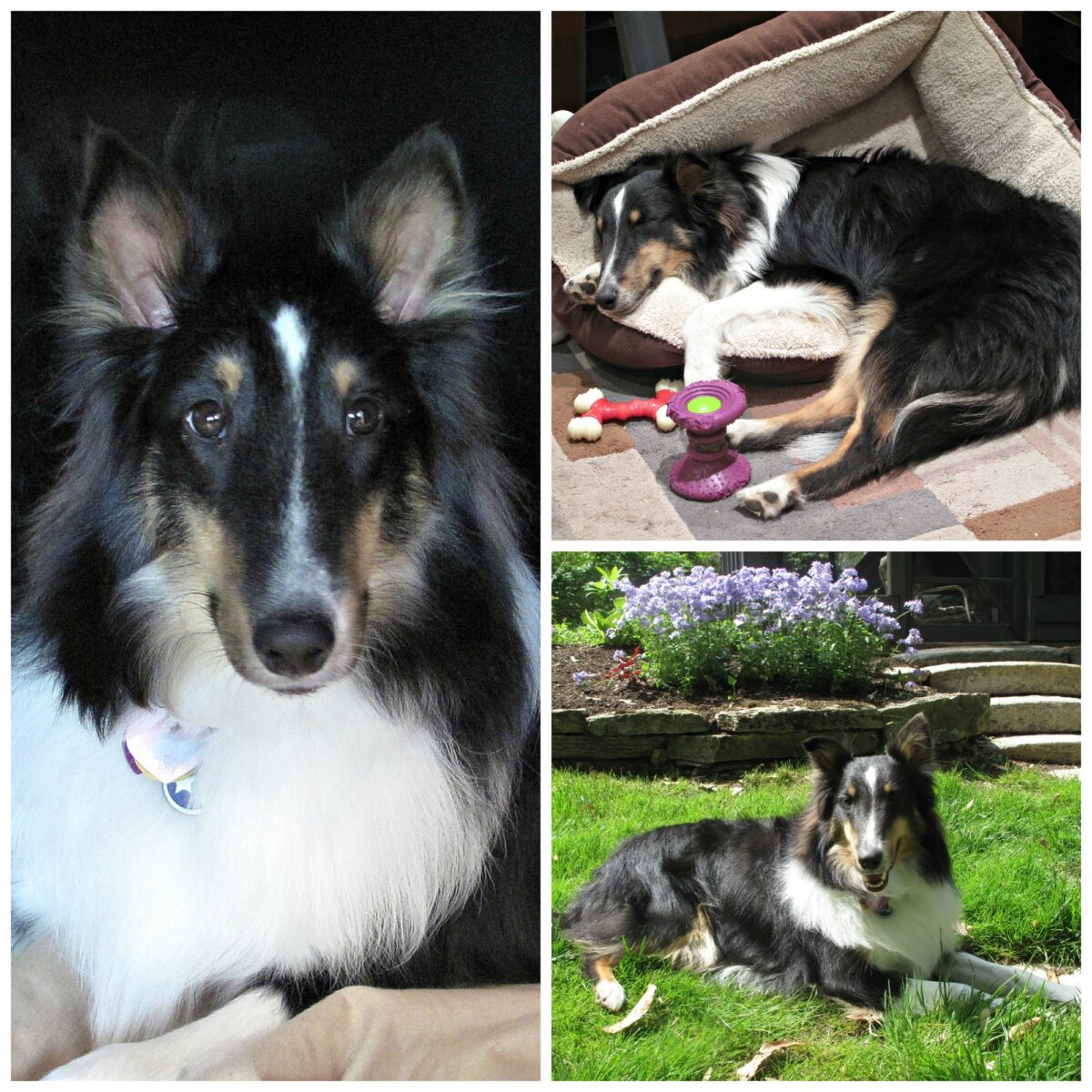 In a panic, I called the vet's office. The receptionist explained that they would look up the ingredients and call me back.
In the meantime I called Lactaid to find out overdose information. However, Lactaid told me they couldn't help me because they don't test their product on dogs.
I guess that means lactose intolerant canines will have to miss out on ice cream. Luckily, my vet called back immediately and said there was nothing to worry about. By then, Pax was full of vanilla flavored Lactaid tablets and no longer interested in cookies.

Luckily, humans can fully indulge and enjoy these Soft Chocolate-Toffee Cookies. The chocolate dough is made even more chocolaty with the addition of mini chocolate chips.
Mini chips are great for dispersing evenly throughout the dough, providing a boost of flavor. All of that soft chewiness is coated with buttery toffee crunch.
I considered waiting until after the summer to post this as a care package recipe. The milk chocolate toffee pieces could get a bit melted if mailed in hot weather.
But this is finals time for many college students and these are perfect stress relief cookies. Each bite provides a moment of m-m-m-m.
A care package with Soft Chocolate-Toffee Cookies could make finals week less nerve-racking. At the very least, they would make finals week more delicious.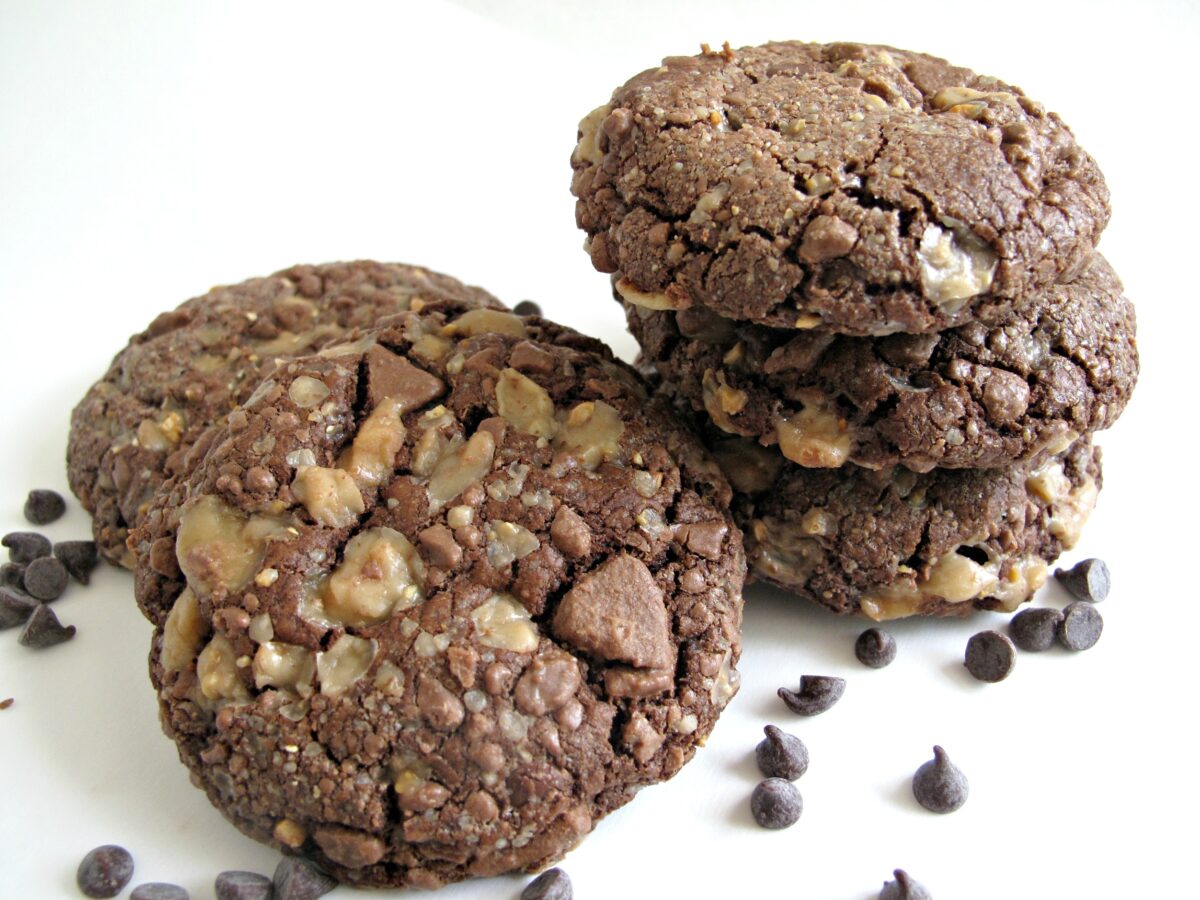 More chocolate cookie recipes
For a soft, super chocolaty cookies with extra chocolate crunch, Chocolate Cookies with Cocoa Nibs are the best!
Chocolate Rugelach have a crunchy, flaky pastry dough rolled up around fudge filling.
You simply can't find a cookie that's more full of fudgy deliciousness than these Ultimate Brownie Cookies.
Triple Chocolate Chunk Cookies will have chocolate lovers swooning with triple the chocolate goodness in a chewy cookie with crisp edges.
Coconut lovers will swoon over Chocolate Coconut Cookies! They are ultra chocolaty and full of chewy coconut.
These chocolate pretzel shaped cookies are soft, chewy, and have a rich chocolate flavor.
Italian Chocolate Cookies are thick, soft, chewy cookies coated in vanilla icing.
Ready to bake? Join the free membership group to get new recipes and a newsletter delivered to your inbox! You can also stay in touch on Facebook, Pinterest, and Instagram. I'd love to stay in touch!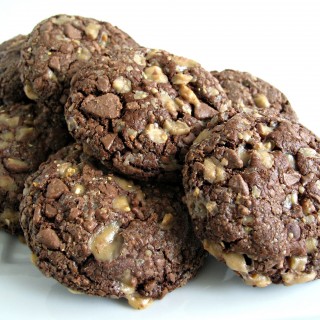 Soft Chocolate-Toffee Cookies
Luscious, chewy chocolate cookies with a buttery toffee crunch.
Print
Rate
Adapted From:
MelsKitchenCafé.com
Ingredients
1 ½

cups

plus 2 tablespoons all-purpose flour

¾

cup

cocoa

Dutch processed

½

teaspoon

baking soda

¼

teaspoon

baking powder

¼

teaspoon

salt

14

tablespoons

unsalted butter

1 ¾

cup

dark brown sugar

packed

1

tablespoon

vanilla extract

1

large egg plus 1 egg yolk

slightly beaten together

½

cup

mini chocolate chips

1-8

oz.

package Heath Milk Chocolate Toffee Bits or 8 oz. chocolate coated toffee bars finely chopped
Instructions
Preheat oven to 350° F. Line a cookie sheet with parchment paper.

In a medium bowl, whisk together flour, cocoa, baking soda, baking powder, and salt.

In a large microwave safe bowl, melt the butter. Allow to cool about 10-15 minutes until room temperature. (If the butter is not sufficiently cooled, the batter will be too loose to scoop into balls and will need to be refrigerated for an hour before scooping.)

To the slightly cooled, melted butter add brown sugar and vanilla. Stir until smooth.

Mix in the egg.

Add the flour mixture and stir until combined.

Fold in the chocolate chips.

Pour the Heath bits onto a plate.

Using a 2 tablespoon scoop, scoop dough, roll into a ball, and roll the ball in the Heath bits to coat completely.

Place the coated dough balls 2-3" apart on the prepared cookie sheet.

Bake for 12 minutes.

Allow the cookies to cool for about 10 minutes on the cookie sheet before transferring to a wire rack to cool completely.

When completely cool, store at room temperature in an airtight container for at least 7 days. Zapping a cookie in the microwave for 10-20 seconds will help restore chewiness if the cookies begin to dry out.
Notes
Packing tips
Double wrap pairs of cookies in plastic wrap with bottoms together. Place wrapped cookies in a column inside an airtight container or ziplock bag (with as much air squeezed out as possible). Soft Chocolate-Toffee Cookies travel best in cooler temperatures.
Nutrition
Calories:
245
kcal
|
Carbohydrates:
36
g
|
Protein:
2
g
|
Fat:
11
g
|
Saturated Fat:
7
g
|
Trans Fat:
1
g
|
Cholesterol:
35
mg
|
Sodium:
86
mg
|
Potassium:
102
mg
|
Fiber:
2
g
|
Sugar:
25
g
|
Vitamin A:
315
IU
|
Vitamin C:
1
mg
|
Calcium:
38
mg
|
Iron:
1
mg