Pineapple Upside Down Cake is a trendy vintage favorite. This mug cake version of Pineapple Upside Down Cake creates individual servings of moist yellow cake topped with pineapple rings, maraschino cherries, and melted brown sugar, just like the baked cake, but with 3-2-1 Pineapple Upside Down Mug Cake, dessert is ready in just one microwave minute.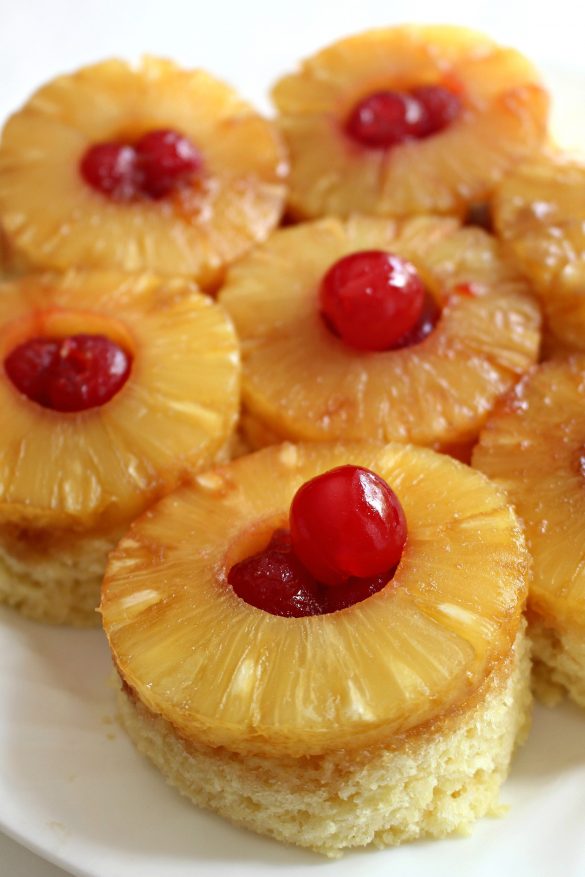 As with all microwave mug cakes on The Monday Box, 3-2-1 Pineapple Upside Down Mug Cake is made with shelf stable ingredients that can be packed as a kit in a care package. There are a LOT of 3-2-1 cake recipes on The Monday Box. Most, like 3-2-1 Molten Lava or 3-2-1 Mandarin Orange, give the option of eating the cake straight out of the mug in which it's cooked, or turned out onto a plate for a fancy presentation.
This recipe requires turning the cake out of the mug onto a plate. Pineapple Upside Down Mug Cake wouldn't be upside down unless it was turned over.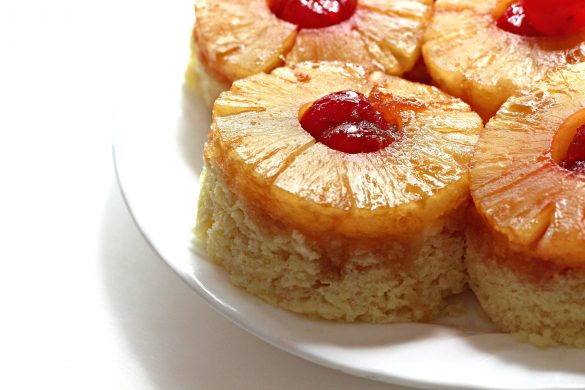 Usually when making mug cakes, the batter is mixed in the same mug in which it is cooked. For 3-2-1 Pineapple Upside Down Mug Cake, the brown sugar, pineapple, and cherries are positioned at the bottom of the cooking bowl, and the 3-2-1 magic batter is mixed in a separate bowl, then poured on top.
In the microwave, the brown sugar melts into a syrup and the cake batter rises. One minute later, dessert is ready!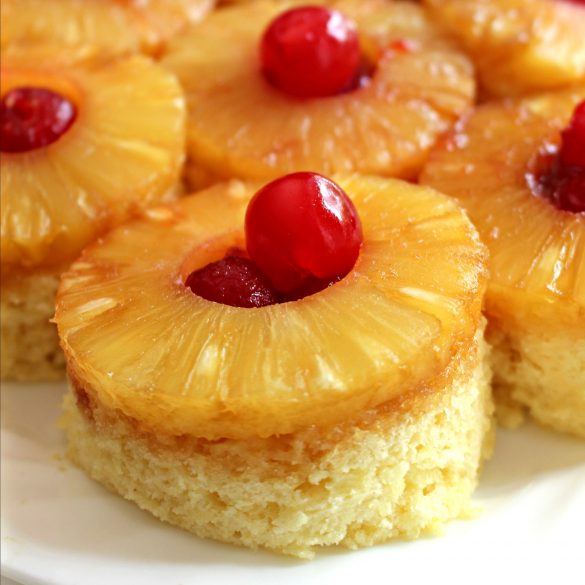 TIPS: I made my 3-2-1 Pineapple Upside Down Mug Cakes in the little cardboard snack bowls found in the dollar bin or party aisle at Target. Small microwaveable dessert bowls work too.
I recommend placing the bowl on a plate for microwaving just in case there is any overflow while cooking. Be sure to run a butter knife all the way around the sides of the cake immediately after zapping so that the cake doesn't stick to the bowl when turned over.
Also, you may be tempted to skip adding the pineapple topping (found in the ice cream aisle), but don't. Adding the topping keeps the cake from being spongy.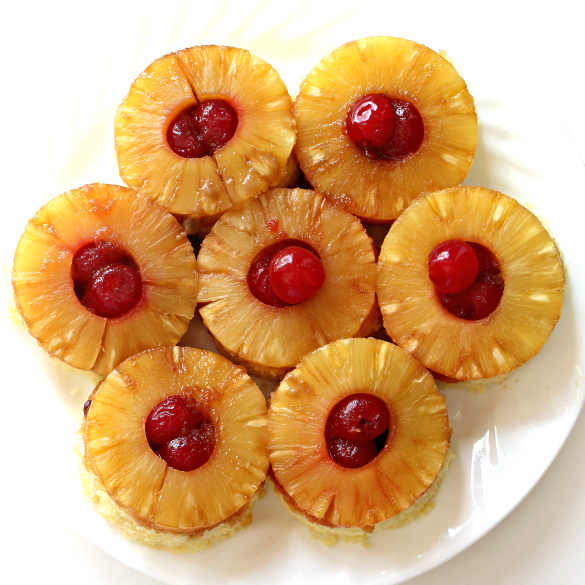 Everyone will be amazed and delighted with 3-2-1 Pineapple Upside Down Mug Cake! At home, this is a great way to create an impressive dessert without turning on the oven, or an indulgent one minute snack.
A care package filled with the ingredients and directions for 3-2-1 Pineapple Upside Down Mug Cake is sure to be a welcome surprise and a taste of home.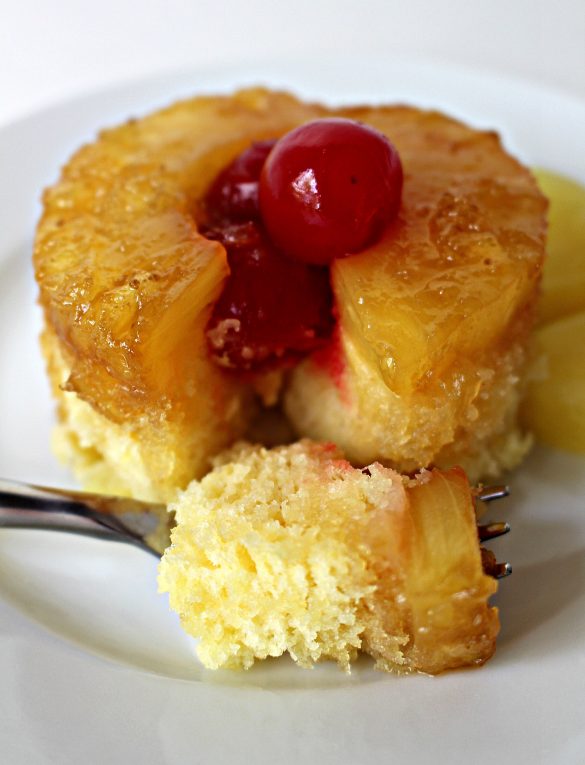 You can read more about desert safe ingredients and find an index of all of the desert safe recipes on The Monday Box by clicking here.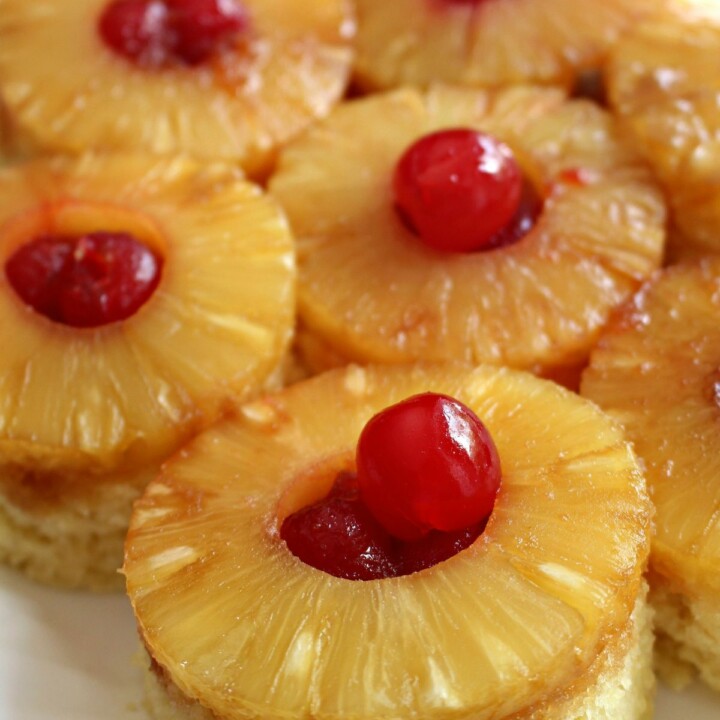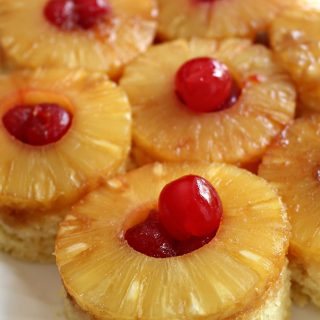 3-2-1 Pineapple Upside Down Cake
These fluffy, vanilla microwave mug cakes are topped with a slice of pineapple and a cherry.
Print
Rate
Ingredients
1

box

Angel Food Cake mix

1

box

yellow cake mix

Non-stick spray

if not using disposable cups and not shipping by air

Water

1

jar

pineapple ice cream topping

1

bag

brown sugar

2

jars

maraschino cherries

2

20 oz.

cans pineapple rings

10 rings in each can, packed in pineapple juice, drained
Instructions
In a gallon sized ziplock bag, combine the two boxes of cake mix. Shake the bag to mix thoroughly.

Lightly coat the inside of a small microwaveable bowl with non-stick spray or use a disposable microwave safe paper snack cup. (Without the spray the bowl is harder to clean.)

Sprinkle 1 tablespoon of brown sugar at the bottom of the cup/bowl.

Place 1 pineapple ring on top of the brown sugar and 2 cherries in the hole of the ring.

(Here comes the 3-2-1 part) In a separate mug/bowl, stir together 3 tablespoons of cake mix, 2 tablespoons of water, and 1 tablespoon pineapple syrup/topping . Mix to combine thoroughly.

Pour the batter into the prepared cooking bowl on top of the pineapple.

Place the bowl on a small plate to catch any possible overflow drips and microwave on high for 1 minute.

Immediately upon removing from the microwave, run a knife gently around the sides of the bowl to loosen the cake from the bowl.

Dump the cake onto a plate and eat immediately.
Notes
Packing tips
Combine the two cake mixes into a labeled gallon-size ziplock bag.
Include a measuring spoon, a bag of brown sugar, pineapple rings packed in juice, a jar of maraschino cherries, and a jar of pineapple ice cream topping.
Include microwave safe paper snack cups/bowls, small paper plates, and plastic spoons.
Nutrition
Calories:
147
kcal
|
Carbohydrates:
30
g
|
Protein:
2
g
|
Fat:
3
g
|
Saturated Fat:
1
g
|
Polyunsaturated Fat:
1
g
|
Monounsaturated Fat:
1
g
|
Cholesterol:
1
mg
|
Sodium:
304
mg
|
Potassium:
77
mg
|
Fiber:
1
g
|
Sugar:
19
g
|
Vitamin A:
1
IU
|
Vitamin C:
1
mg
|
Calcium:
56
mg
|
Iron:
1
mg
Amazed at how quick, easy, delicious, AND care package friendly these are? I know you will love these recipes too! Click on the photo for the recipe.