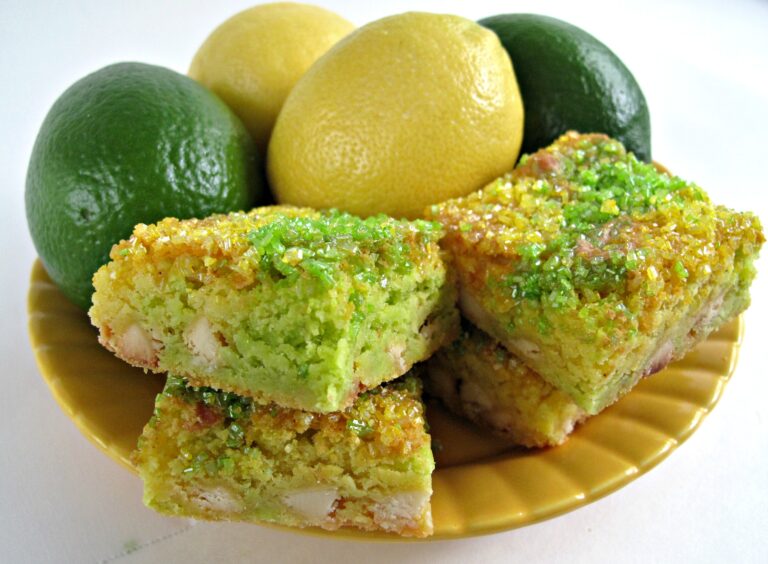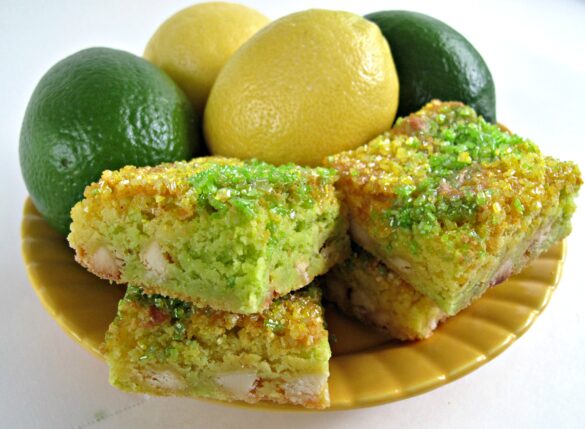 Life changes in the summer. Some people have their kids home from school. Whether the kids are underfoot or attending summer programs, schedules change. Some people change location, traveling in the welcoming warmth of the season. Gardens demand attention (unless you are nurturing a maintenance-free weed jungle). Farmers' markets tempt with a bounty of fruits and vegetables, easing the transition to lighter meals.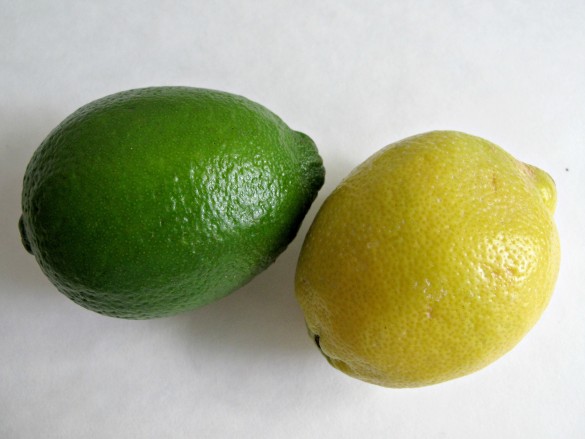 For me, June means renewing my "Crazy Mom" title. I am not even kidding. Now that my kids are young adults, there aren't as many opportunities for me to go overboard with onlookers rolling their eyes and shaking their heads. To remedy that, I seem to have started a tradition last June which renews my coveted "Crazy Mom" title for another year.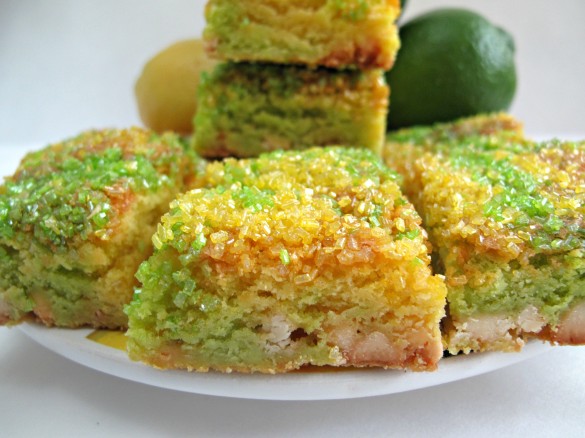 My 21 year old son just completed his junior (!) year of college in Chicago. As an end-of-the-school-year celebration, before summer quarter classes or jobs begin, he and some buddies drive from Chicago to Manchester, Tennessee for Bonnaroo. Think modern day Woodstock. Four days of non-stop concerts while camping on an organic farm with 30,000 other music festival enthusiasts. My role in this pilgrimage is to enable my son to drive (12 hours!) by giving him my car. Here comes the Crazy Mom part. Tomorrow I will drive the six hours to Chicago, turn over the keys (plus a quick hug, words of advice, and best wishes) and spend the night in a hotel before taking Amtrak back to Saint Louis the next day. Then, next Tuesday, I will make the return train trip to Chicago to help my son move into his summer housing and retrieve my car. At some point, when I have exhausted my motherly helpfulness, I will drive home. Surely right about now you are rolling your eyes and muttering, "Crazy Mom"!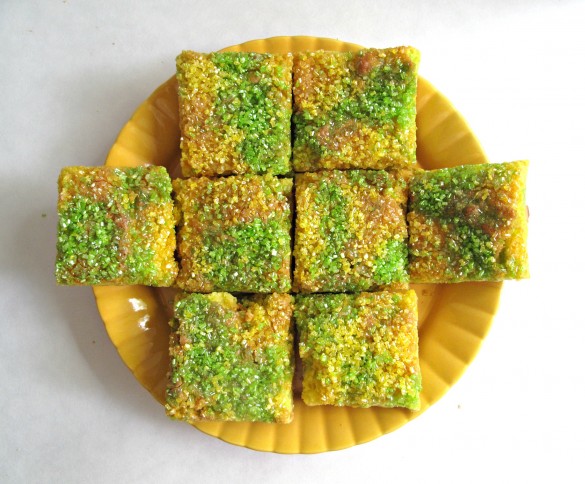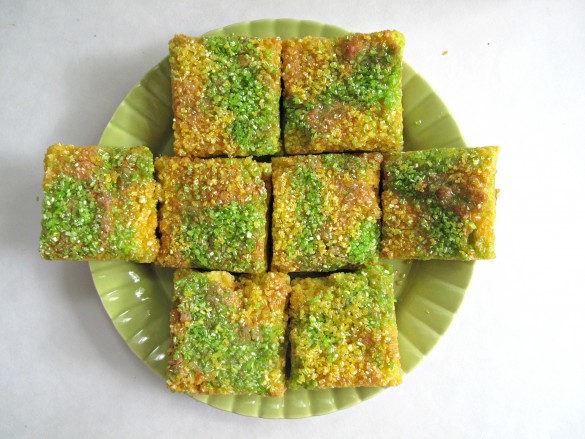 All of that driving, mine and the Bonnaroo guys, requires snacks. The snacks have to be melt resistant and likely to stay fresh for the week. Gooey chocolate fingers on the steering wheel are undesirable. Consequently, most of the munchables will be supermarket goodies, but a few homemade treats are required to cinch the Crazy Mom title. These Lemon-Lime Bars will be savored across numerous state lines.
Lemon-Lime Bars are based on my desert safe Lemon Bar recipe. Adding lime ups the citrus fresh flavor. For visual appeal, a few drops of gel food coloring (totally optional) create a lemon-lime swirl. The bling-y colored sugar makes an impact on the pretty factor too. Wondering where I found decorating sugar to match the batter? I didn't find it. I easily made it! One half cup of white decorating sugar mushed around in a ziplock sandwich bag with 1 drop of gel food coloring, produces any color decorating sugar you need!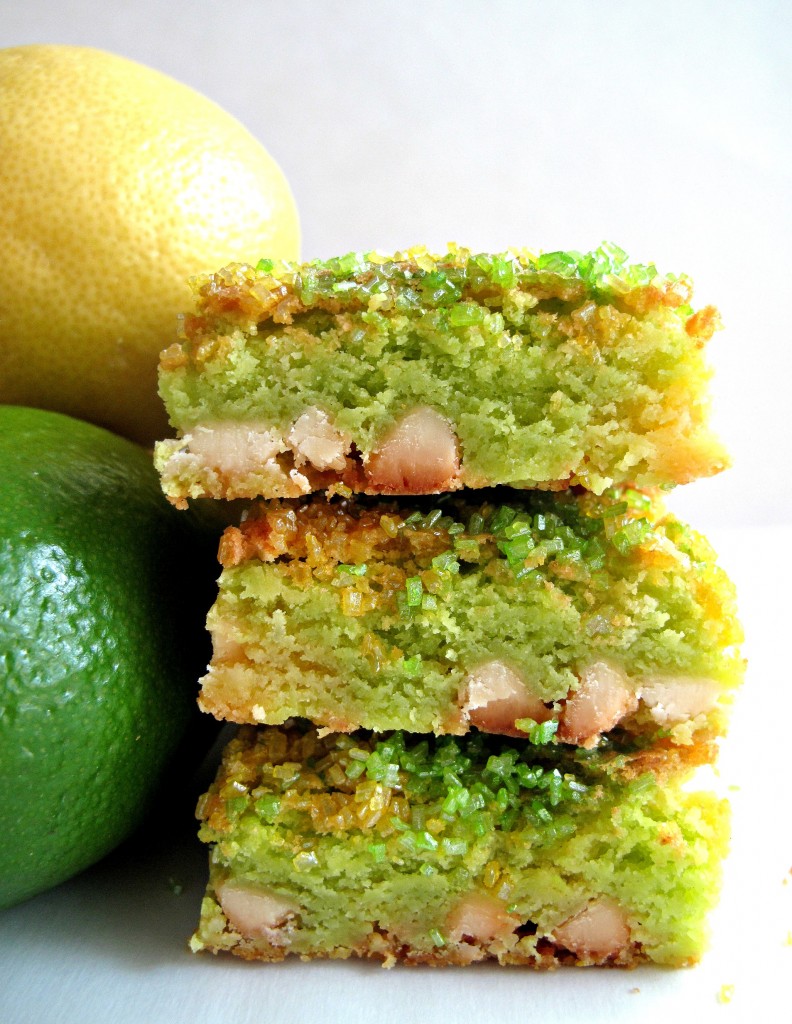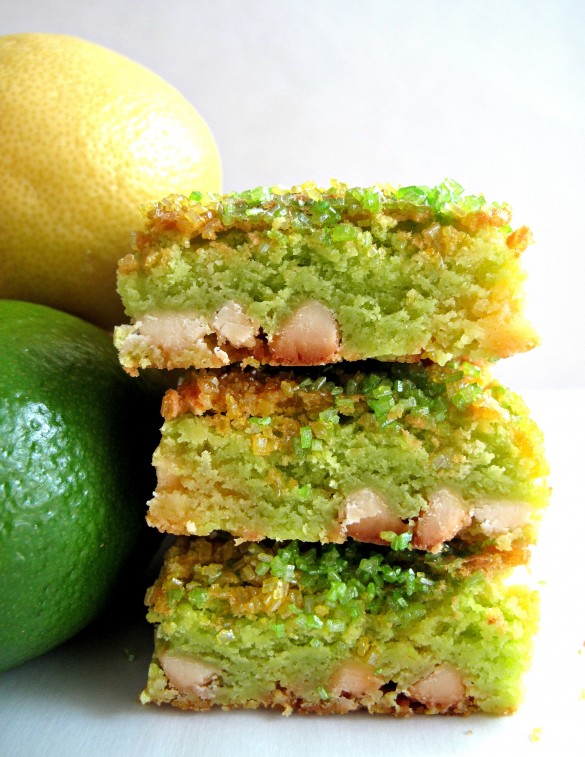 White chocolate chips add sweet, creamy vanilla to the bars. I found Guittard Vanilla Milk chips at World Market for the same price I pay for Ghirardelli at the supermarket. I couldn't resist trying them. The flavor, so vanilla, and the texture, so creamy and softer than other white chocolate chips, are wonderful. I am going back to buy more. However, perhaps due to the different texture, the Guittard chips overcooked a bit when I baked these bars for the usual 25 minutes. It was a good flavor, like caramelized white chocolate, but the chips hardened slightly. If you prefer a traditional white chocolate chip taste and texture, I suggest using Nestle's or Ghiradelli white chocolate chips in this recipe.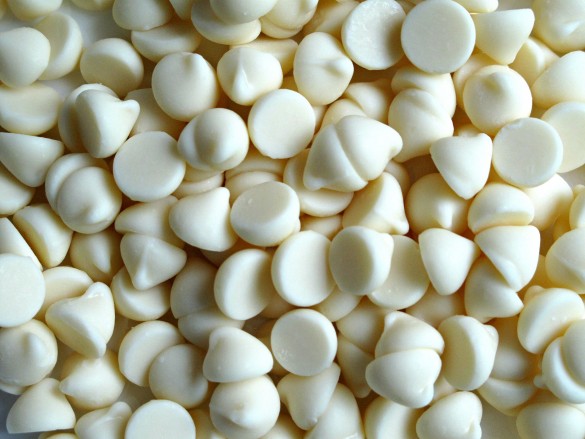 Lemon-Lime Bars are great travel companions for summer road trips or picnics. Long lasting freshness make Lemon-Lime Bars perfect for adding some citrus zip to care packages too.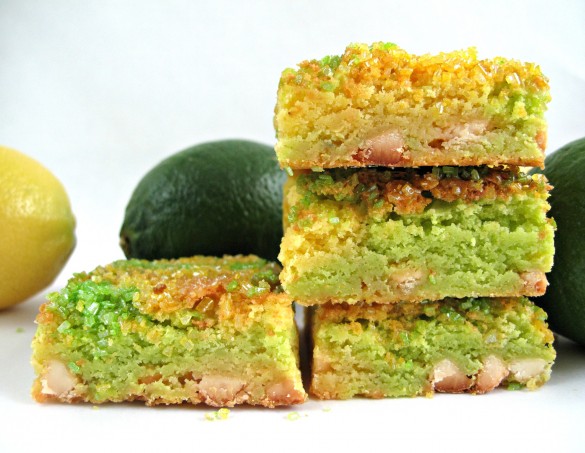 You can read more about desert safe ingredients and find an index of all of the desert safe recipes on The Monday Box by clicking here.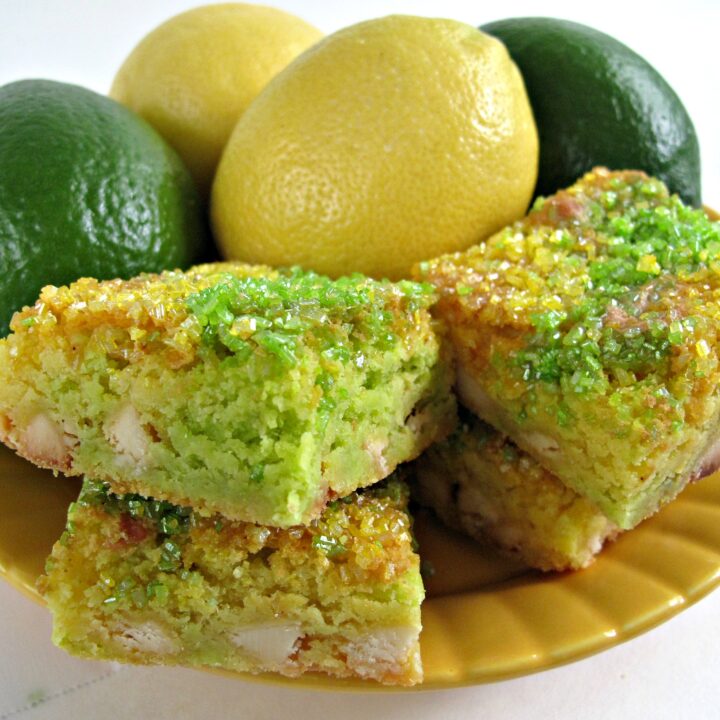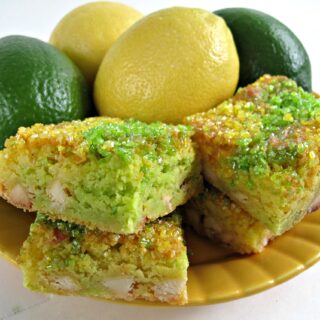 Lemon Lime Bars
These soft, chewy citrus flavored blondies have the added creaminess from white chocolate chips.
Print
Rate
Adapted From:
PillsburyBaking.com
Ingredients
1

cup

all-purpose flour

½

teaspoon

baking powder

¼

teaspoon

salt

½

cup

butter flavor vegetable shortening

1 ¼

cups

granulated sugar

2

large eggs + 1 egg yolk

1

teaspoon

vanilla extract

1

teaspoon

lemon zest

2 ½

teaspoons

lemon juice

2

drops

yellow food coloring gel

1

teaspoon

lime juice

2 ½

teaspoons

lime juice

2

drops

green food coloring gel

1

cup

white chocolate chips

¼

cup

yellow decorating sugar

¼

cup

green decorating sugar
Instructions
Preheat oven to 350 degrees F. Line a 9" x 9" pan with foil extending over the edges. Spray the foil with non-stick spray.

In a medium bowl, whisk together flour, baking powder, salt.

Place vegetable shortening in large microwave safe bowl and microwave about 1 minute until melted.

Into the bowl of melted shortening add flour mixture, sugar, eggs and yolk, and vanilla. Mix with a large spoon until smooth.

Remove 1 cup of batter and place in a medium bowl with lemon zest, lemon juice, and yellow food coloring. Mix until smooth. Stir in ½ cup of white chocolate chips.

To the batter remaining in the large bowl add lime zest, lime juice, and green food coloring. Mix until smooth. Stir in ½ cup of white chocolate chips.

Place spoonfuls of batter into the prepared pan, alternating colors. When all batter is in the baking pan, use a knife to spread batter up to all edges. Then run the knife up and down the length of the pan to create a marbled effect.

Sprinkle the decorating sugar, in a random pattern of colors, until the top of the batter is completely covered. With fingertips, press the sugar gently to make sure it sticks to the batter.

Bake for 25-30 minutes until just golden brown and a toothpick inserted in the center comes out clean.

Cool completely in pan on a wire rack.

When cool, remove from pan by lifting the overhanging foil.

Cut into bars.

Store at room temperature in an airtight container or ziplock bag for up to 2 weeks.
Notes
Packing tips
Double wrap bars individually or in pairs in plastic wrap before placing in airtight containers or ziplock bags.
For longer shipping times, I recommend not cutting into individual bars, but double wrapping the entire square to help keep the chewy texture as long as possible.
Nutrition
Calories:
192
kcal
|
Carbohydrates:
28
g
|
Protein:
2
g
|
Fat:
8
g
|
Saturated Fat:
3
g
|
Trans Fat:
1
g
|
Cholesterol:
18
mg
|
Sodium:
55
mg
|
Potassium:
41
mg
|
Fiber:
1
g
|
Sugar:
23
g
|
Vitamin A:
27
IU
|
Vitamin C:
1
mg
|
Calcium:
28
mg
|
Iron:
1
mg