Lemon Biscotti are a delicious blast of citrus sunshine. These are crunchy biscotti, not hard. Enjoy them on their own or as a dunking cookie with tea, iced or hot. Lemon Biscotti are also wonderful served with fruit or ice cream. This versatile cookie is a must for cookie jars and care packages.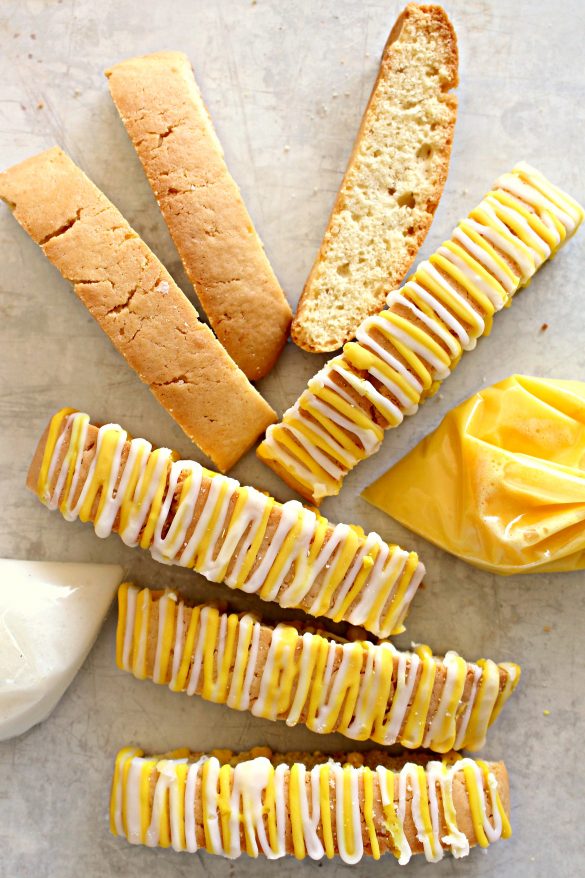 I love biscotti. They are deliciously crunchy cookies that stay fresh for a really long time. I like having biscotti on hand for drop-in guests, as well as for packing into long distance care packages. Biscotti can be made in so many flavors!
There are currently 15 biscotti recipes on The Monday Box! I've made biscotti that are ultra chocolaty and I've made them with fruit jam. I've made them decked out in icing, coconut, and sparkling sugar. I've even made them marbled or in two layers!
Lemon Biscotti are a great addition to the collection. The refreshing lemon flavor makes these biscotti a lovely warm weather treat. You don't have to add icing to the already lemony dough, but the extra flavor boost from in the sweet-tart icing will make lemon lovers super happy.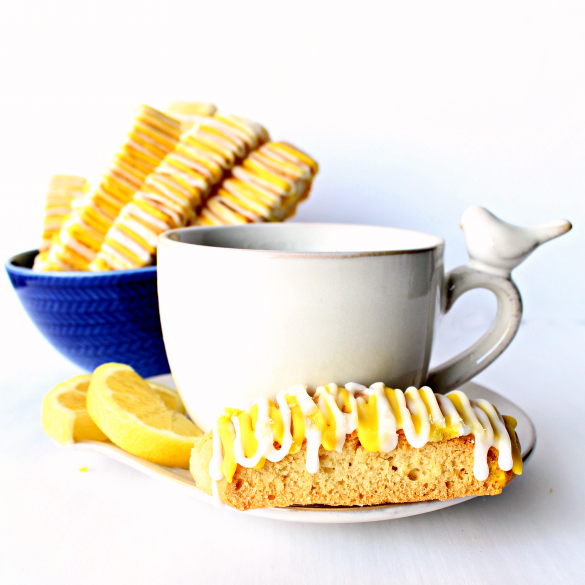 BAKING TIPS FOR LEMON BISCOTTI
This dough is sticky. Chilling the dough for several hours reduced the stickiness a bit, but not enough to be worth the extra time. To shape the sticky dough into the required log shape, use damp-wet hands and/or a damp rubber spatula. Smooth the tops and sides of the dough log with wet hands.
After baking the log, use a serrated knife to cut the dough into individual biscotti. If the dough is crumbly, dampen the crust (top and sides) slightly to soften.
During the second baking, be sure to bake until dry and firm. If, after the biscotti cool, you find that they are not dry and crunchy, return them to the oven to dry out further. Biscotti without icing can be returned to the oven, even weeks later, to bring back crunch that may be lost over time.
Lemon biscotti made with lemon extract instead of lemon zest and/or lemon juice, stay fresh and crunchy longer. Icing made with lemon juice/powder tends to get spotted after a few days. Use lemon extract instead of lemon juice/powder in the icing if you want the biscotti to look good longer.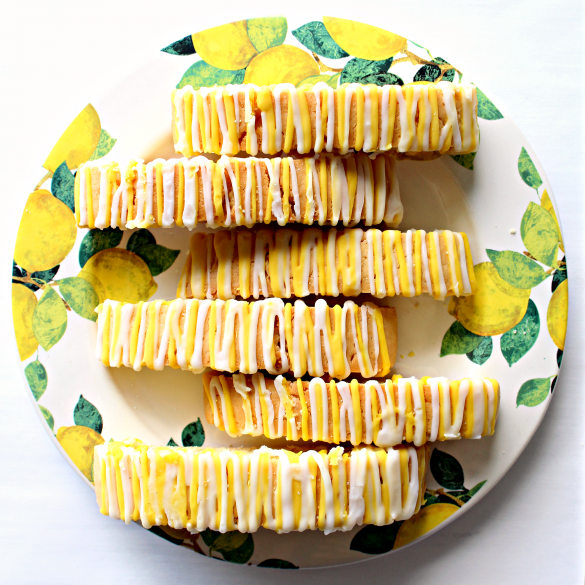 RECIPE VARIATIONS FOR LEMON BISCOTTI
Lemon Biscotti are delicious in their simplicity. With or without icing, lemon lovers will be delighted. For variety, there are many add-ins that pair well with the lemon dough. Fold ½ cup – ¾ cup of any of these items into the dough before shaping.
Chocolate chips (white, dark, semi-sweet, milk)
Chopped or slivered almonds
Dried fruit bits (cranberry, cherry, blueberry)
My Lemon Biscotti are decorated with zigzags of lemon icing. For shipping in hot weather you may want to skip icing and send the biscotti plain or topped with large crystal decorating sugar before baking.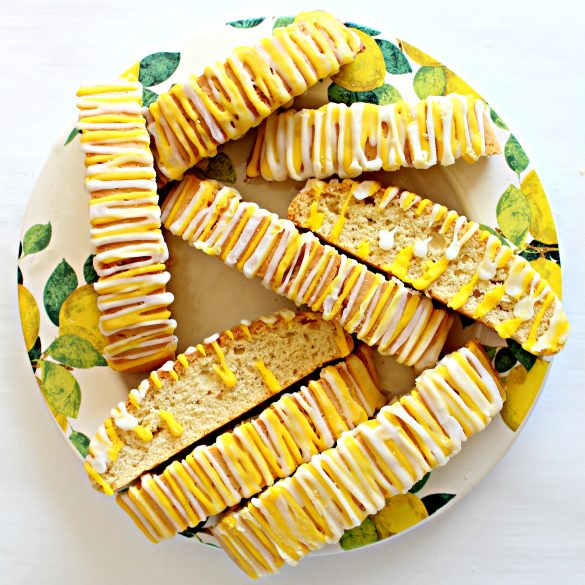 These Lemon Biscotti were baked for my most recent military care package. Be sure to check back for my next post which will share the care package theme and directions for creating Lemon Slice Sugar Cookies!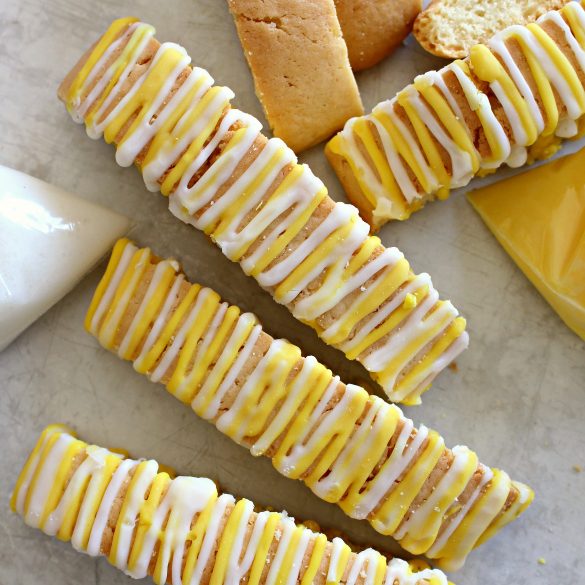 You can read more about desert safe ingredients and find an index of all of the desert safe recipes on The Monday Box by clicking here.
MORE BISCOTTI RECIPES
LEMON BISCOTTI RECIPE
Is it finally warming up where you are? We've had some glorious weather the last few days in St. Louis! For the spring weather that's here and the summer heat that is around the corner, Lemon Biscotti and a glass of iced tea are sure to satisfy.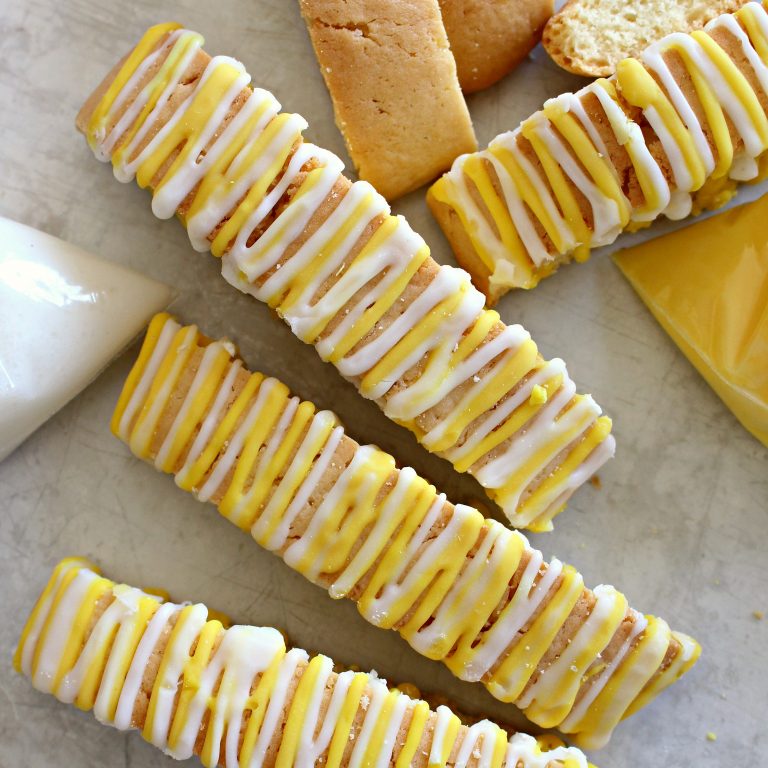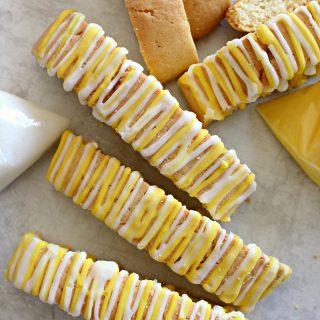 Ingredients
COOKIES:

6

tablespoons

unsalted butter

room temperature

⅔

cup

granulated sugar

¼

teaspoon

salt

grated rind of 1 medium lemon

about 1 tablespoon

1

teaspoon

vanilla extract

2 to 3

tablespoons

freshly squeezed lemon juice

or 2 teaspoons lemon extract

1 ½

teaspoons

baking powder

2

large eggs

2

cups

all-purpose flour

ICING:

1

cup

confectioners' sugar

1-2

teaspoons

lemon juice powder or ½ - 1 teaspoon lemon extract

to taste

2-3

teaspoons

water

Yellow food coloring
Instructions
Preheat the oven to 350°F. Line a baking sheet with parchment paper.

In the bowl of an electric mixer, cream the butter, sugar, salt, lemon rind or lemon extract, vanilla extract, and baking powder.

Beat in the lemon juice (if using) and eggs. The batter may look slightly curdled.

Mix in the flour until combined. The dough will be sticky.

Scrape the dough onto the prepared baking sheet. Using damp hands and a scraper or spatula, shape the dough into a 13"x 3"log, about ¾" thick. With wet hands, smooth the top and sides.

Bake for 25 minutes. Remove from the oven, and cool on the pan 10 - 25 minutes.

Reduce the oven to 325°F.

With a serrated knife, cut the log crosswise into ½"slices. If the dough crumbles while cutting, dampen the crust lightly to make slicing easier.

Stand the biscotti on the prepared baking sheet. Return the baking sheet to the oven, and bake for 30- 35 minutes, until very dry and beginning to turn golden around the edges.

Remove the biscotti from the oven, and transfer them to a wire rack to cool.

TO ICE:

In a small bowl, mix the confectioners' sugar, lemon juice powder or extract, and water.

Place half of the icing in a small ziplock bag.

Color the other half of the icing yellow with a few drops of food coloring (or ½ teaspoon of natural food coloring powder).

Place the yellow icing in a small ziplock bag.

Line up the completely cooled biscotti on a wire rack with wax paper under the rack to catch drips.

Use one color of icing at a time, to allow the first color of icing to begin to dry before using the second, so that the colors don't blend together. Cut a small corner piece off the ziplock bag, and zig zag the icing over the biscotti. Repeat with the second icing color.

Dry completely (at least 2 hours) before storing.

Store in an airtight container at room temperature for 2-3 weeks.
Notes
Do not add icing to the biscotti if mailing to or from a hot location. Double wrap two or three biscotti in plastic wrap, cut sides together. Place bundles in an airtight container or ziplock bag.