Announce the changing season with Spring Blossoms White Chocolate Bark! Quick and easy to create, this beautiful bark can be celebration ready in under an hour!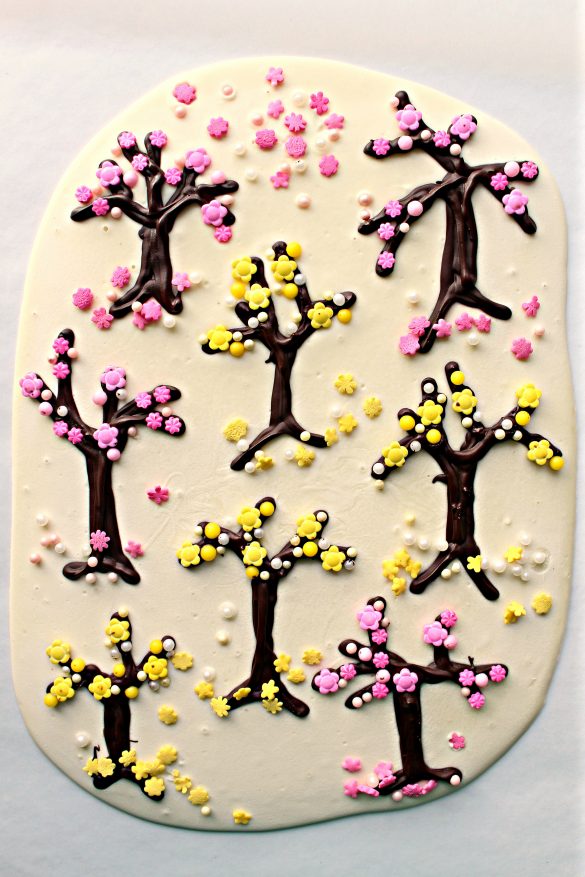 Though spring weather is playing hide-and-go seek around here, our trees and flowers are proceeding according to schedule. In St. Louis, we've been getting one teaser day of spring weather, blue skies and temperatures close to 70, followed by days back into the 20's and 30's with snow flurries.
My dog walking strolls through my garden still require bundling up on most days, but the grass is green, the trees are budding, and my hostas are popping up in bunches.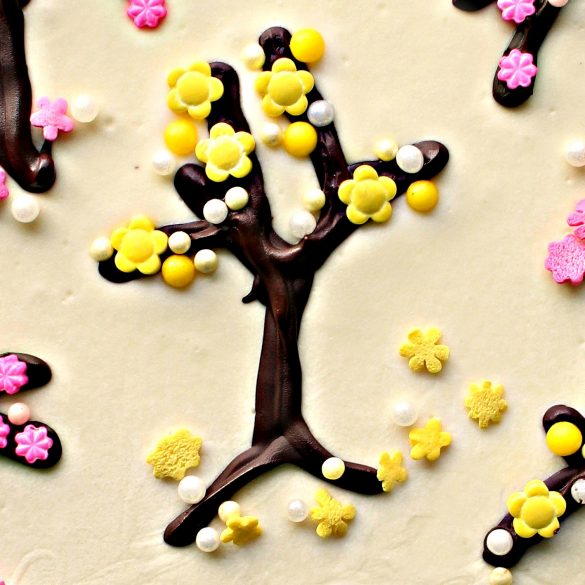 My mom and I used to talk on the phone every day. Without fail, regardless of the time of year, she would ask what was growing in my garden.
My mom lived in South Carolina where the blooming season is about a month ahead of Saint Louis, and many plants which hibernate here, stay green in South Carolina all year. For so many months I'd have to say that absolutely nothing was growing in my brown and dreary back yard.
Now, finally, with spring's arrival, I would have been able to report on the daily changes and probably would have sent her a celebratory package of Spring Blossoms White Chocolate Bark.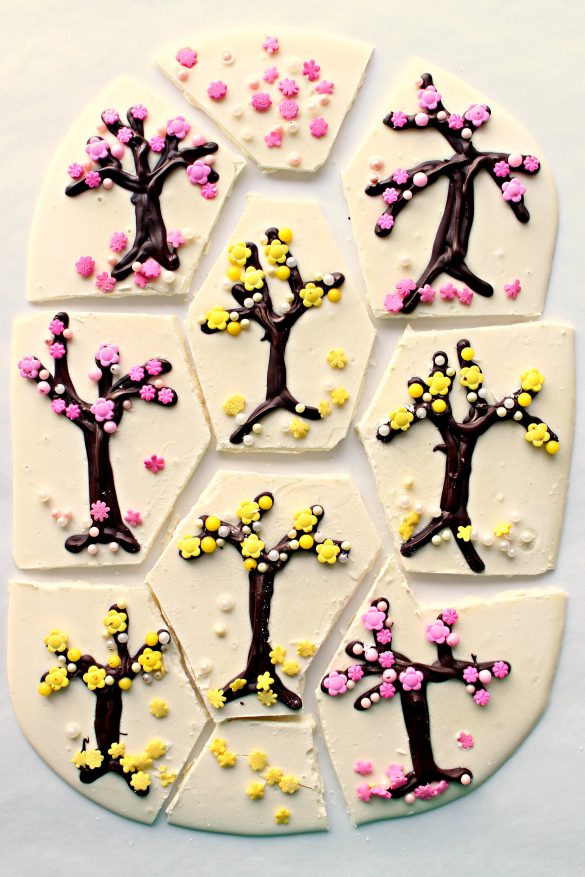 Remember the Thanksgiving White Chocolate Bark that I made in the fall? Those same chocolate trees are now blooming in yellow and pink for Spring Blossoms White Chocolate Bark!
HOW TO MAKE SPRING BLOSSOMS WHITE CHOCOLATE BARK
Melted white chocolate is spread on a wax paper lined pan to create a blank canvas.
Melted dark or milk chocolate is piped on to form preschool style tree trunks with branches.
Pastel flower sprinkles and pastel pearls turn the bare trees into spring trees, and create an eye catching chocolate bark that makes a special Mother's Day treat or gift.
When cut into individual portions and wrapped in cellophane candy bags, Spring Blossoms Chocolate Bark makes a lovely gift, or a sweet surprise for each place setting for a Mother's Day brunch.
Care packages of Spring Blossoms Chocolate Bark, can help bring the beauty of spring to loved ones away from home.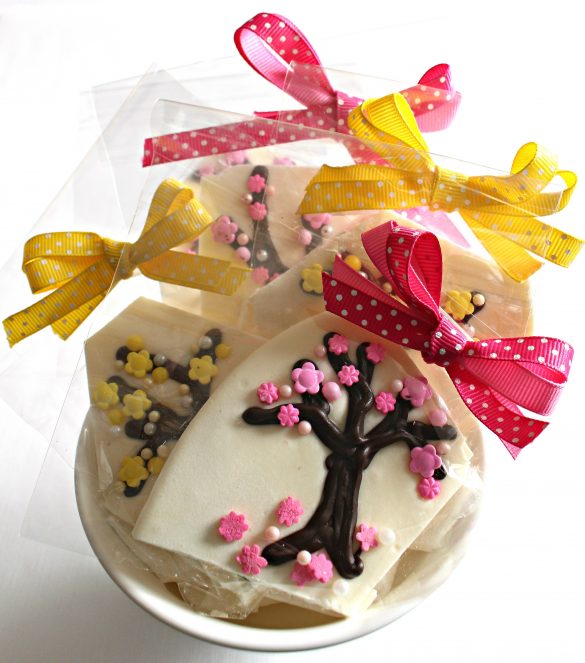 (The Monday Box participates in affiliate marketing programs. As an Amazon Associate I earn from qualifying purchases. Additional affiliate programs may be linked when applicable. If you choose to purchase a product after following a link on this page, I will receive a small commission, at no cost to you, which helps make The Monday Box possible.)
INGREDIENTS FOR DECORATED WHITE CHOCOLATE BARK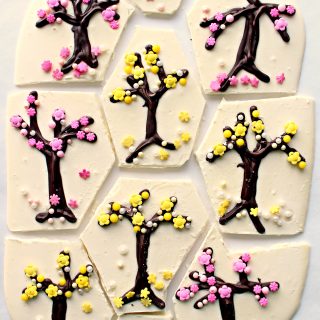 Ingredients
2

cups

white melting chocolate

¼ - ⅓

cup

dark or milk melting chocolate

Sprinkles

pastel colored flowers, matching pastel colored pearl sprinkles
Instructions
Line a baking sheet or jelly roll pan (12" x 17") with wax paper. Set aside.

Put the dark or milk melting chocolate in a small ziplock bag. Microwave at 50% power for about 45 seconds, or until just melted. Set aside.

In a medium bowl, melt the white chocolate in the microwave at 50% power for 1 minute. Remove and stir. Return to the microwave and heat at 50% power for 1 minute or until just melted. Stir until smooth.

Pour the melted white chocolate onto the prepared pan. Spread evenly with a knife or spatula to desired thickness (⅛" -¼"). Gently shake the pan side to side to even out the chocolate and smooth the surface.

Cut a tiny corner off the bottom of the ziplock bag containing the melted chocolate. Pipe 8 or 9 tree trunks with branches, randomly around the white chocolate surface. Sprinkle the trees with pastel flower sprinkles and a few pearls. Add additional sprinkle flowers and pearls over the entire surface.

Place in the refrigerator for 15-20 minutes, or until set. Use a knife to cut around the trees for individual portions.

Can be stored for at least 2 weeks at room temperature, wrapped in cellophane candy bags or in an airtight container with wax paper between layers.
Notes
Wrap individual portions of bark in sealed cellophane candy bags. Place the bags in a freezer weight ziplock bag or plastic storage container. Only ship chocolate during cool weather.