In my opinion, Italy is the home of the best coffee and the best cookies for munching and dunking along with that coffee. The Italian dunking cookie most familiar to Americans is biscotti, a true wonder of crunchy delight and a fabulous care package cookie. Another, perhaps less well known, Italian cookie designed to withstand the rigors of beverage dipping is the Taralli, which comes in many forms both savory and sweet. Taralli Dolce Di Pasqua are Italian Easter cookies, lightly sweet with a crunchy sugar icing flavored with citrus.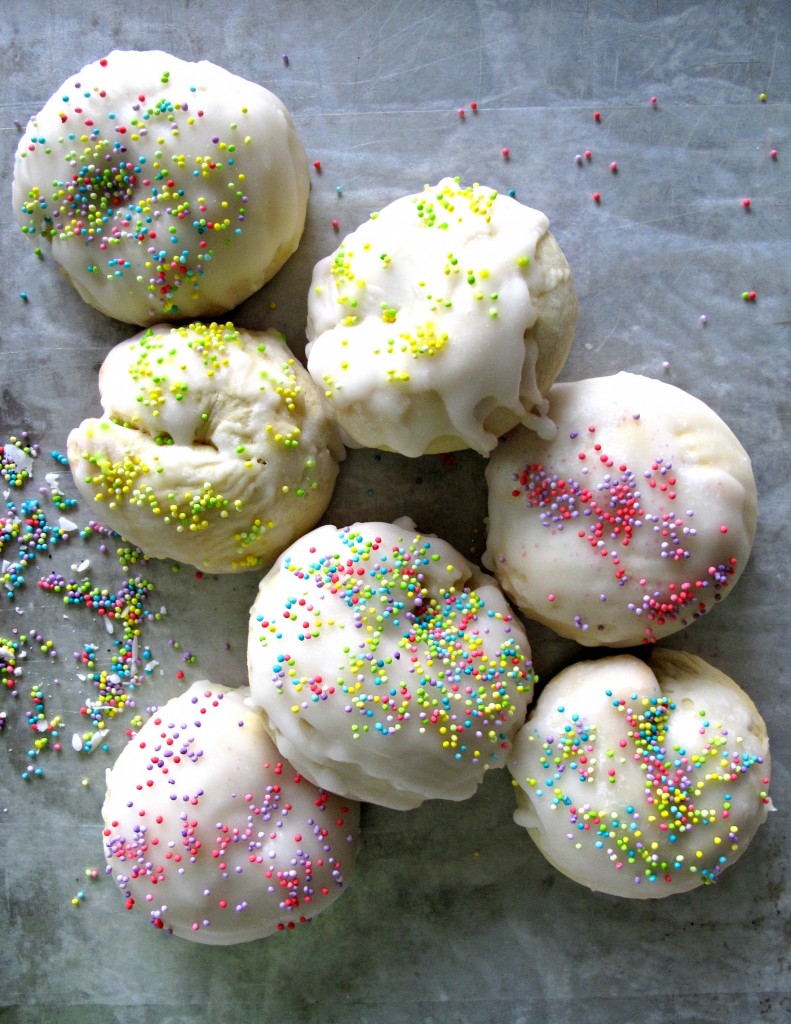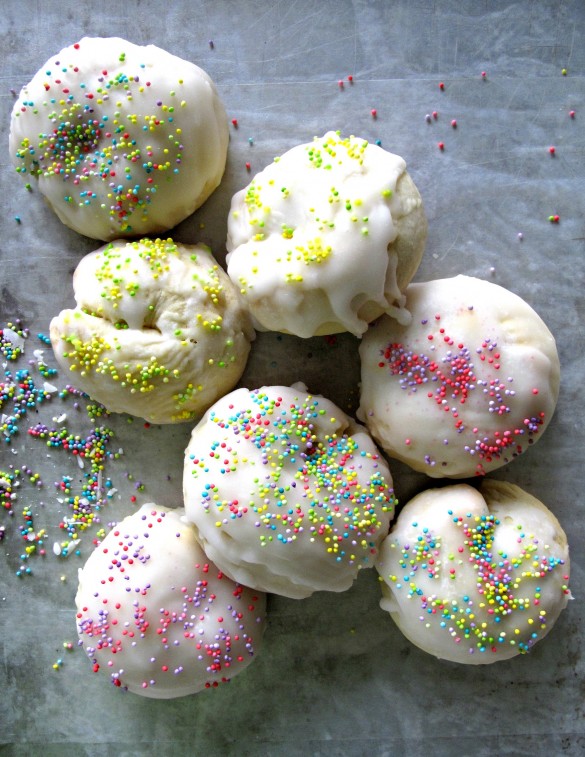 I have been to Italy twice; once as a child and once as an adult. When I was twelve and thirteen, my family lived in Europe. In the summer, we hitched a travel trailer to the back of our VW minibus and traveled all over Europe, stopping at camp grounds along the way. I have vivid memories of traipsing through site after site of Roman ruins in blistering Italian summer heat and the cooling relief of dimly lit churches painted with Renaissance frescos. However, I have no memory from that trip of Italian food or drink other than an occasional gelato.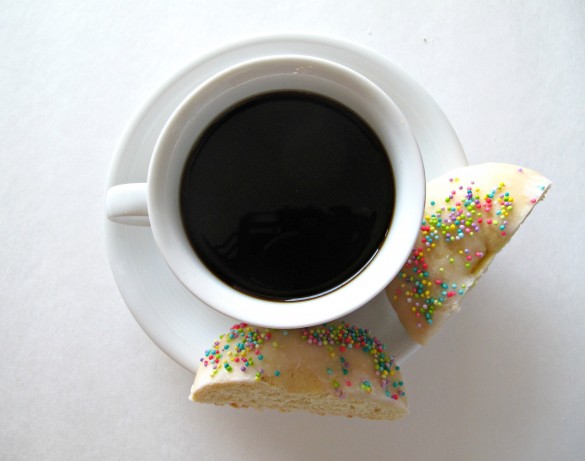 My Italian trip as an adult was a week in Rome with my then 16 year old son. Vast amounts of research was done before that trip to pin point every award winning gelateria and pizzeria in Rome. I dreamed of sipping espresso from one end of Rome to the other. With a map in hand we planned to visit archeological sites and museums on our way to and from our culinary destinations.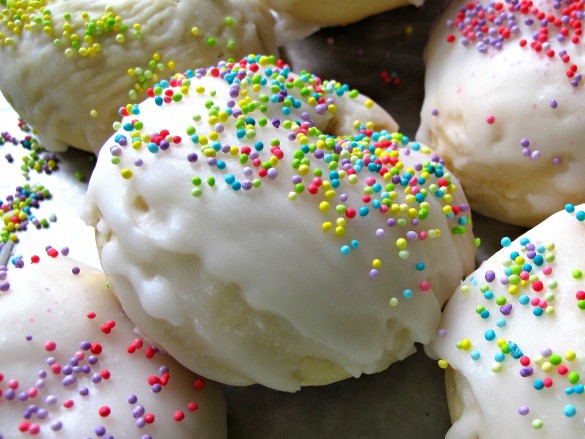 Now comes the pathetic part of my tale. Right before we boarded the plane for our 10 hour flight, I began to feel nauseous. Maybe something I ate at the airport? I popped a few Pepto pills and hoped for the best. Unfortunately, somewhere over the Atlantic it became obvious that the Pepto wasn't helping. I just felt more and more nauseous and weak. I have never been sick while traveling before (or since, thank goodness) and there I was alone with my teenage son feeling so suddenly sick that I needed a wheelchair to get off the plane! The good news is that an English speaking doctor came to our hotel and gave me an Italian wonder drug. The nausea disappeared, but I was warned to eat very lightly. I was immensely glad to feel up to our anticipated adventure, even if I wasn't able to eat or drink as planned. I was in the land of espresso, pasta, pizza, and gelato consuming tea and toast. I will just have to hope that the coin I threw in the Trevi Fountain will ensure a return trip to Rome someday.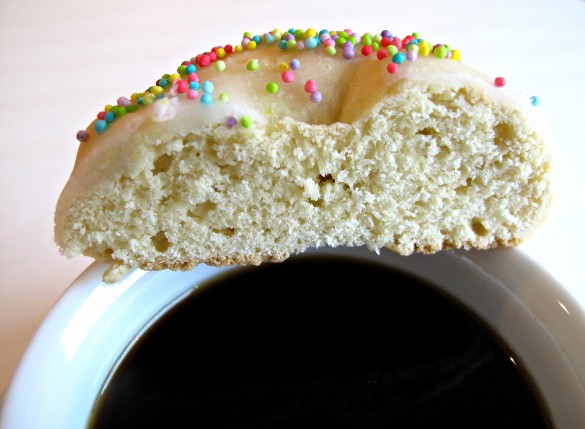 In the meantime, I sip plenty of espresso here at home. Italian Easter Cookies are the perfect accompaniment. Taralli are firm rather than crunchy, with a lightly sweet vanilla dough encased in crisp citrus icing. The icing is a mystery to me, another one of those baking moments when I wish I understood the chemistry better. The ingredients for this icing look like the typical ingredients for a simple confectioner's sugar glaze, but something changes when those ingredients are gently warmed. The resulting icing is thicker, crunchier, and hardens VERY quickly, so quickly that I had a hard time getting the sprinkles to stick. I tried coating some of the Taralli with icing that had not been heated. The flavor was the same, but the crunch of the heated icing was better.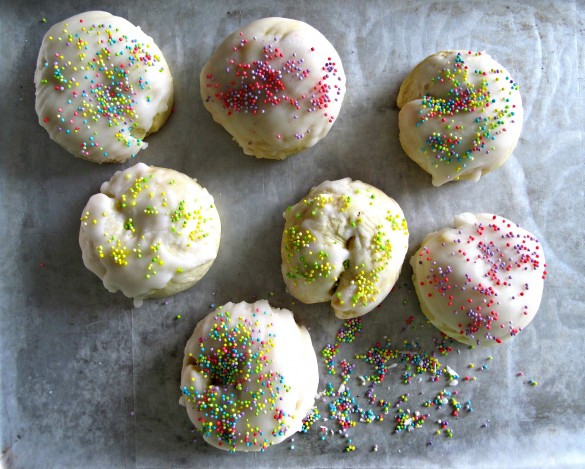 Italian Easter Cookies make a great care package cookie even when it isn't Easter. They stay fresh for at least a week and travel well. Taralli are also great to fill the cookie jar at home and enjoy alongside a cup of coffee or a glass of milk.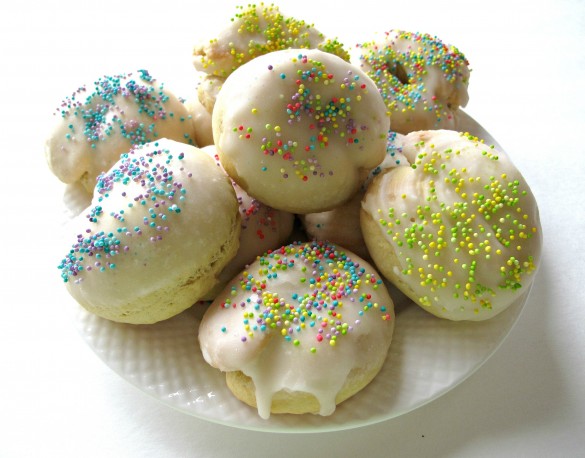 Never miss a new delicious recipe! Sign up to receive email updates from The Monday Box and bake some love today! 
Check out our informative posts on Facebook and fabulous finds on Pinterest too!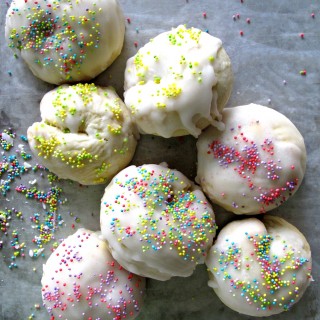 Italian Easter Cookies (Taralli Dolce Di Pasqua)
Ingredients
Cookie Ingredients:

5 ½

cups

all-purpose flour

1 ½

tablespoons

baking powder

6

eggs

1 ¼

cups

sugar

12

tablespoons

1 ½ sticks unsalted butter

2

tablespoons

vanilla

Icing Ingredients:

3

cups

confectioner's sugar

4

tablespoons

water

½

teaspoon

lemon extract or 1/8 teaspoon Fiori di Sicilia

Nonpareil sprinkles
Directions
Melt butter in the microwave and set aside to cool slightly.

In a large bowl whisk together flour and baking powder.

In the bowl of an electric mixer, whisk the eggs then beat in the sugar.

Mix in the melted butter and vanilla.

Gradually add in the flour mixture to form a soft dough.

Refrigerate the dough 1 hour- overnight, until firm enough to handle.

When ready to bake, preheat oven to 350°F. Line a baking sheet with parchment paper.

Divide dough into 32 even pieces ( about 46 grams/1.6 ounces each).

Roll dough pieces into a ball, then into a 7" rope. Press the ends of the rope together to form a circle.

Place dough rings on baking sheet 2"- 3" apart. These cookies expand while baking.

Bake for 10-14 minutes, until puffed and just turning golden.

Cool completely on wire racks before icing.

To make the icing, stir confectioner's sugar, water, and extract in a small saucepan, over low heat just until combined and barely warm. WARNING: This icing hardens VERY quickly and must be used immediately. The cookies and sprinkles should be ready to use before making the icing. It is helpful if one person can do the icing, while a second person quickly adds the nonpareil sprinkles before the icing hardens.

Dip the cookie tops into the icing or use a pastry brush to coat the cookies with icing, and immediately add sprinkles. Once the icing in the saucepan hardens, do not try to reheat it. The sugar will crystallize and make a sandy icing.

Store cookies in an airtight container at room temperature for up to 7 days.
Packing Tips
Wrap the cookies individually in plastic wrap and place in a ziplock bag or plastic storage container. If using a storage container, add crumples tissue paper between the cookie and the lid, if necessary, to prevent ANY movement while shipping.
Readers who loved Italian Easter Cookies also loved these Italian cookies! Click on the photo for the recipe.