This July 4th, celebrate Independence Day with a patriotic dessert that is cooked and ready to enjoy in just one minute! Eaten as a mug cake or turned out onto a plate, Red, White, and Blueberry Mug Cake is an individual serving of patriotic funfetti cake bursting with sweet cherry and blueberry pie filling. Americana in a mug!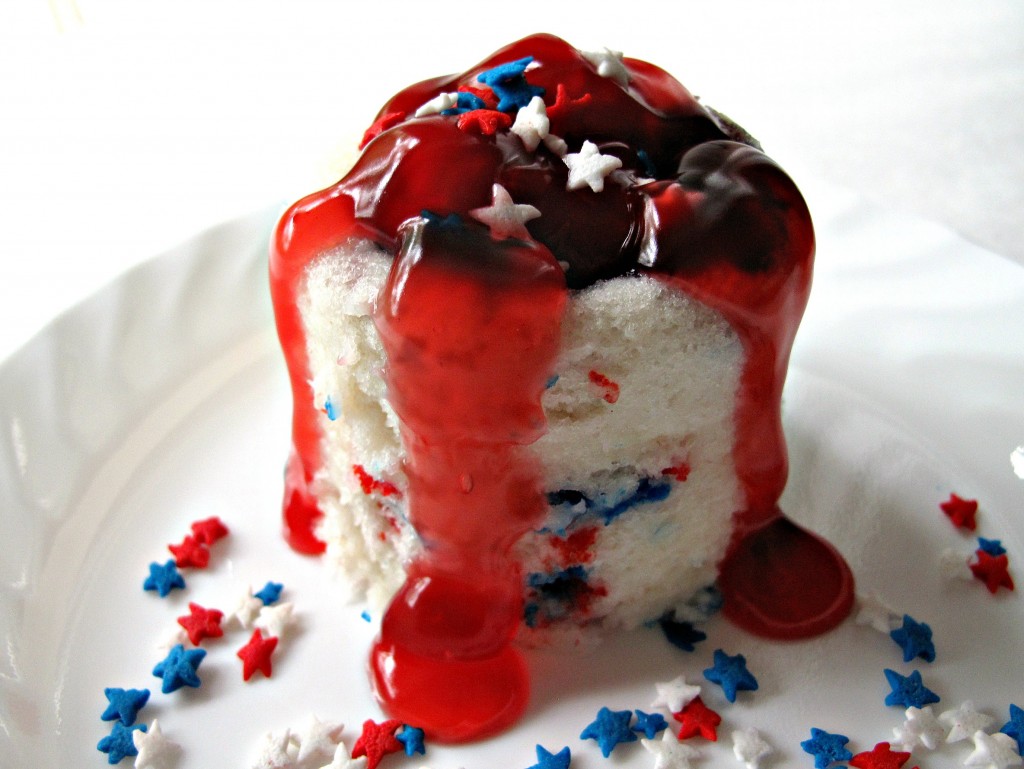 I believe in making a big deal about birthdays; human birthdays, dog birthdays, country birthdays. The USA will celebrate its 239th birthday this year. Certainly that deserves a celebration! Personally, I think cake and fireworks should be standard for any birthday.
I love fireworks. Not just like them. Really love them. St. Louis has some amazing fireworks downtown over the Mississippi. For many years our family shuffled along with thousands of others to watch those colorful explosions at Fair St. Louis.
Now that we are a wee bit older and less inclined to deal with the heat, crowds and traffic, our family opts for a slightly less crowded pyrotechnics display over the Missouri River in St. Charles, Missouri.
In St. Charles, we set up our folding chairs on the cobble stoned streets by the river. A local radio station broadcasts the audio for the choreographed explosions. For almost an hour we sit mesmerized by the dancing lights in the sky. A beautiful way to gather in appreciation of our country!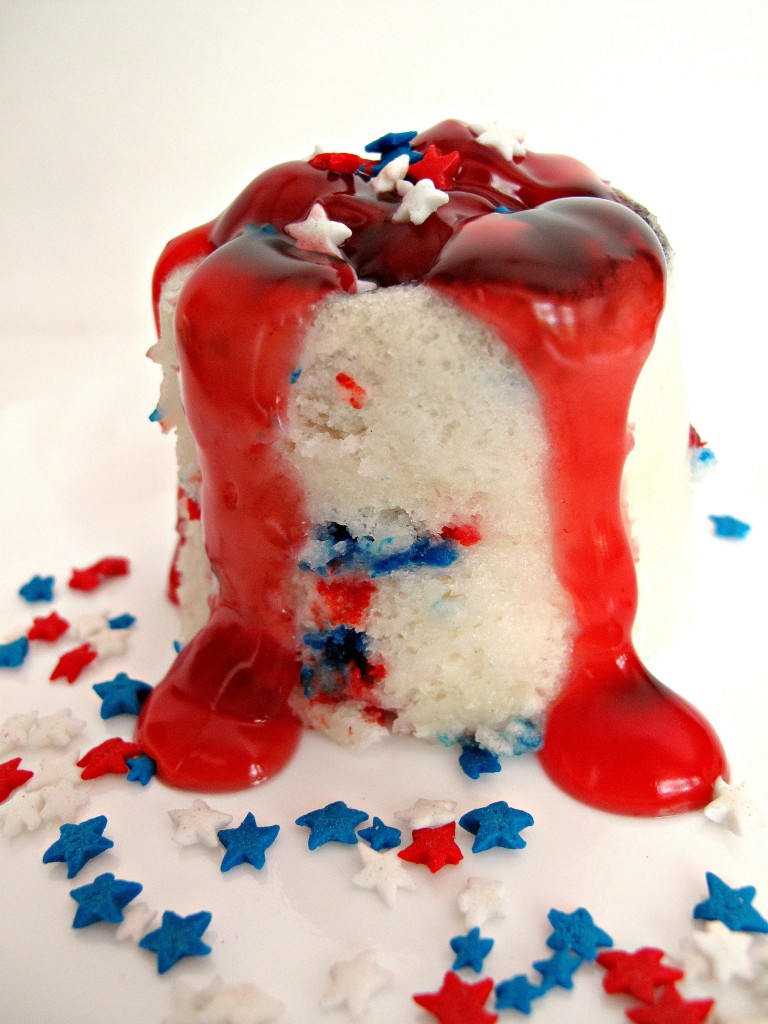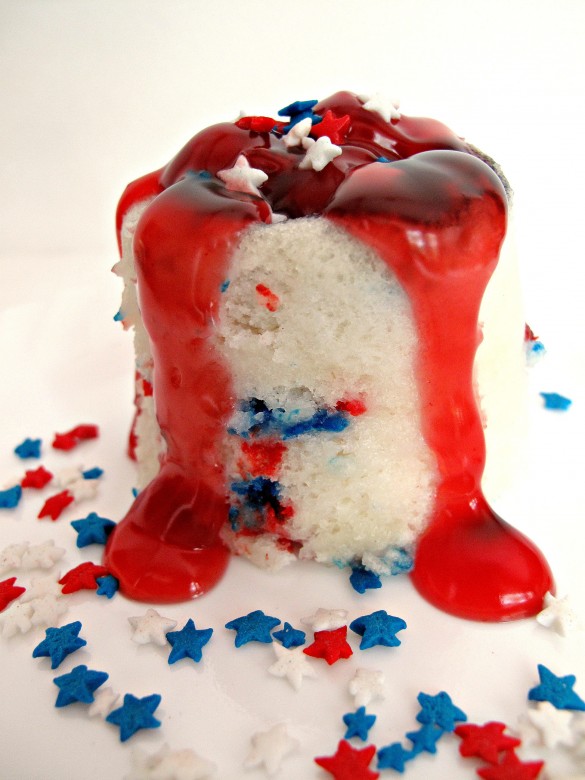 Independence Day is yet another opportunity to pause and offer our thanks to those who serve in the military, past and present, and their families. It is through their sacrifices that we are able to celebrate independence and freedom.
I have mentioned before that one of my favorite ways to say, "Thanks!" is with the Cup of Joe program. For only $2 (payable online) you can gift a cup of coffee to deployed military. There is even a place to write a 4th of July thank you note. A simple cup of coffee goes a long way in letting the troops know that their service is appreciated.
Red, White, and Blueberry Mug Cake is a celebration in a mug. Practically instant dessert! As with all Monday Box mug cakes, all of the ingredients in this one are shelf stable. The ingredients are easily kept on hand at home for an instant Independence Day treat or safely packed into care packages to be savored across the world.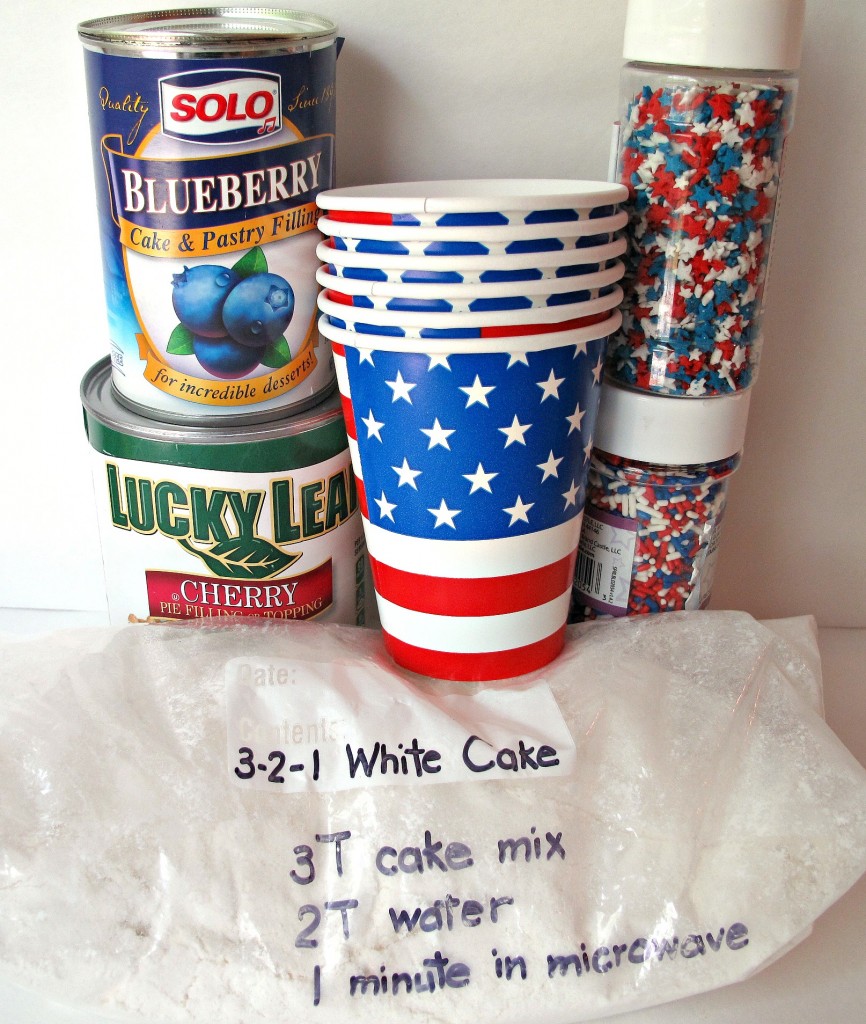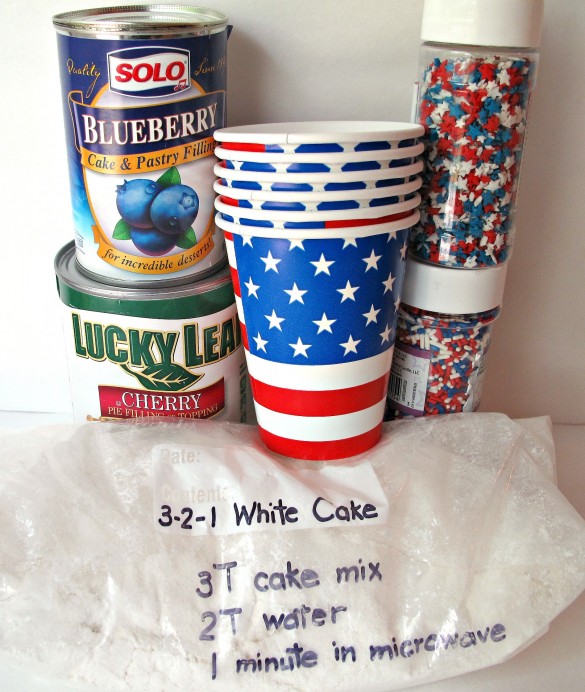 Tips
In order to end up with a white cake, the magic mix uses white cake mix. If vanilla cake mix is used, the cake will be yellow, which is still tasty, but won't look like the colors of the American flag.
In the trial runs for this recipe, I tried using various quantities of the add-ins with mixed results. Less fruit filling results in less fruit flavor. More fruit filling can result in anything from a cobbler-like creation to a cup of fruit flavored mush. If you want a flavorful cake, stick close to the heaping teaspoon indicated in the recipe.
Generally, I believe that the more sprinkles the merrier, but not with this cake. Too many sprinkles mixed into the batter will give you pockets of melted blue/red goo instead of funfetti. Stick with 1 teaspoon of jimmies (sprinkles) and barely fold them in. The patriotic funfetti effect will be just right.
Wishing everyone a safe and happy Independence Day! Happy Birthday, USA!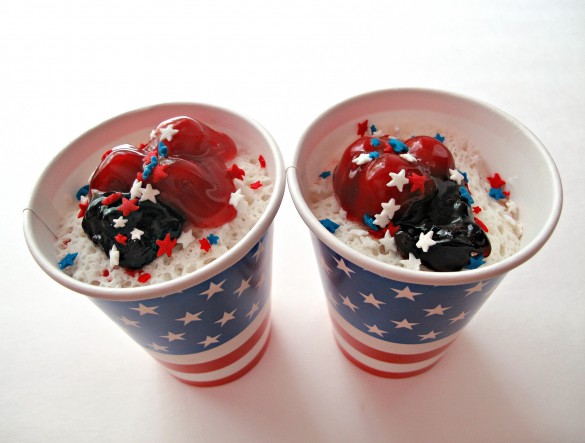 More mug cakes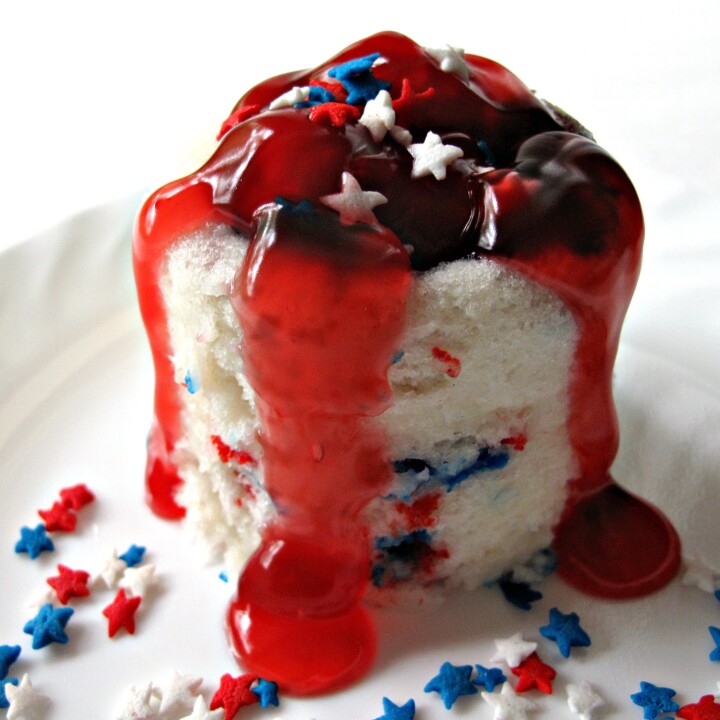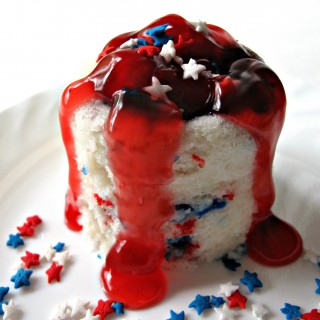 Red, White, and Blueberry Mug Cake
One minute cake in a cup with patriotic funfetti cake and sweet cherry and blueberry pie filling.
Print
Rate
Ingredients
1

box

Angel Food Cake mix

1

box

white cake mix

Non-stick spray

if not using disposable cups

Water

1

can

blueberry pie filling

1

can

cherry pie filling

Sprinkles: red

white, and blue stars and jimmies
Instructions
In a gallon sized ziplock bag, combine the two boxes of cake mix. Shake the bag to mix thoroughly.

Lightly coat the inside of a microwaveable mug with non-stick spray or use a disposable microwave-safe paper cup. Without the spray the cake will not transfer out of the mug and the mug is harder to clean. If using a microwave-safe paper cup, no spray is needed.

(Here comes the 3-2-1 part) Into the prepared mug/ paper cup, stir together 3 tablespoons of cake mix and 2 tablespoons of water. Fold in 1 teaspoon of jimmies sprinkles. Add (without mixing) a heaping teaspoon of blueberry filling and a heaping teaspoon of cherry filling.

Microwave on high for 1 minute.

Sprinkle the top of the cake with additional cherry pie filling and star sprinkles, then eat it right out of the mug. If you want to transfer the cake onto a plate, run a knife around the edge between the cake and the mug to loosen, dump out onto a plate, then add the cherry filling and star sprinkles.
Notes
Packing tips
Combine the two cake mixes into a gallon-size ziplock bag labeled with directions.
Include a measuring spoon, canned fruit, and sprinkles.
If the care package is international , include microwave safe paper cups.
If the care package is domestic, add either a can of non-stick spray (for use with a ceramic mug) or microwave safe paper cups ( highly recommended for college students).
Don't forget to include the "recipe".
Nutrition
Calories:
175
kcal
|
Carbohydrates:
36
g
|
Protein:
2
g
|
Fat:
3
g
|
Saturated Fat:
1
g
|
Sodium:
308
mg
|
Potassium:
103
mg
|
Fiber:
1
g
|
Sugar:
18
g
|
Vitamin A:
51
IU
|
Vitamin C:
1
mg
|
Calcium:
59
mg
|
Iron:
1
mg
Save