Mug cakes are still in demand and just as popular as when I posted my first basic mug cake in 2013! I'm adding to the collection of microwave mug cakes with new flavors that readers have been searching for, starting with Pineapple Mug Cake. This fluffy yellow mug cake is made moist and flavorful with pineapple sundae topping and can be ready to savor in one microwave minute!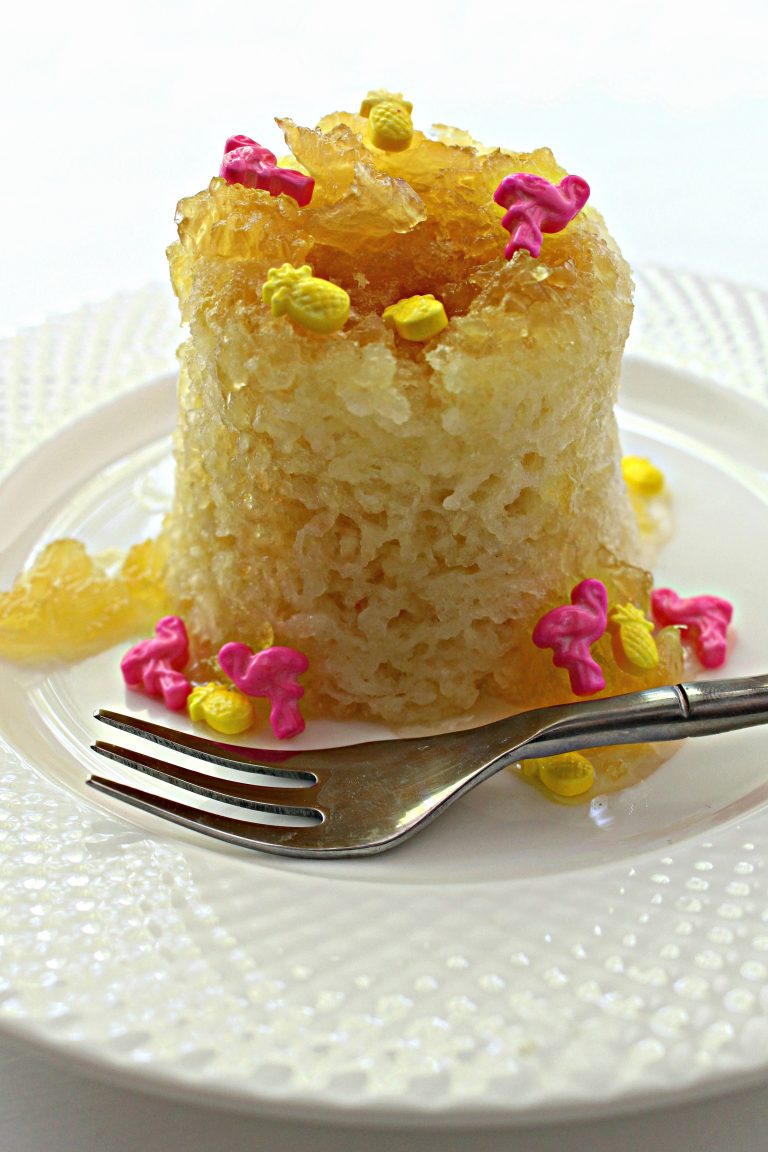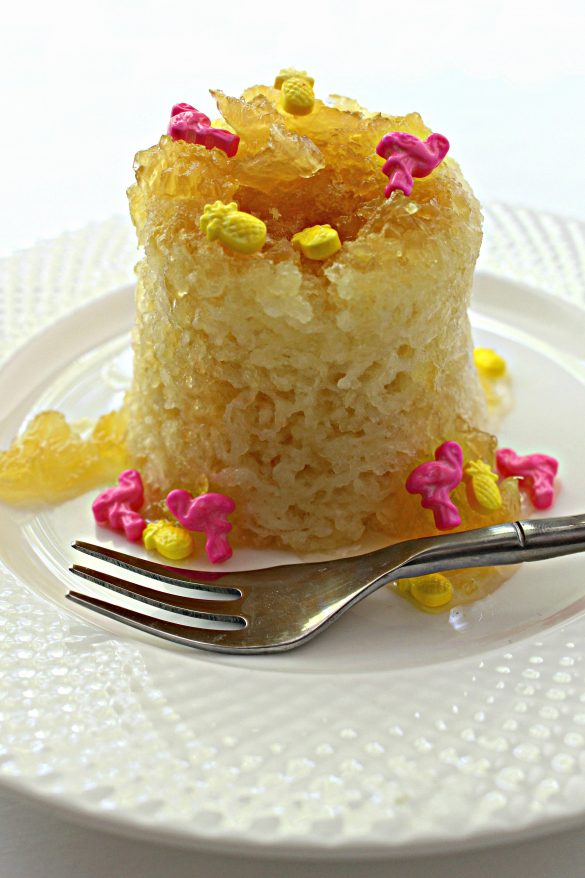 Mug cake is fun for lots of reasons. To begin with, it's instant gratification in a mug. Mix the ingredients together right in the mug. Zap. Eat. Cake doesn't get faster or easier.
Although one mug cake is ideal portion control, you may want to go back for more. The recipe tweaks I have learned while testing dozens of mug cake recipes have resulted in truly tasty mug cakes that you will want to make more of, again and again. Pineapple Mug Cake fits that "truly tasty" description.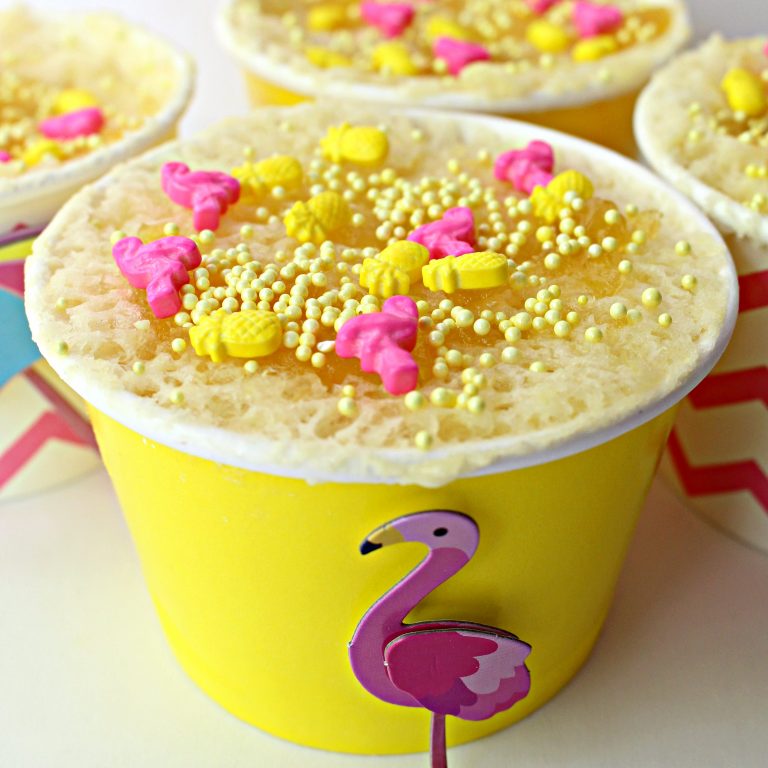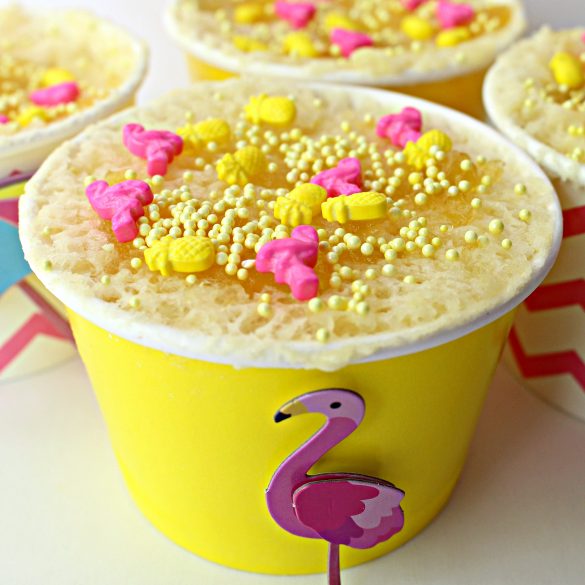 Pineapple Mug Cake is super simple. There are other mug cake recipes on The Monday Box that use canned pineapple or combine the pineapple with other ingredients.
All you need for this Pineapple Mug Cake is the basic cake mix mug cake mixture (one box of vanilla/yellow mix combined with one box of angel food cake mix) and a jar of pineapple sundae topping. The topping adds bits of pineapple and moisture to the inside of the cake. Extra topping can be spooned on top of the cooked mug cake for shine.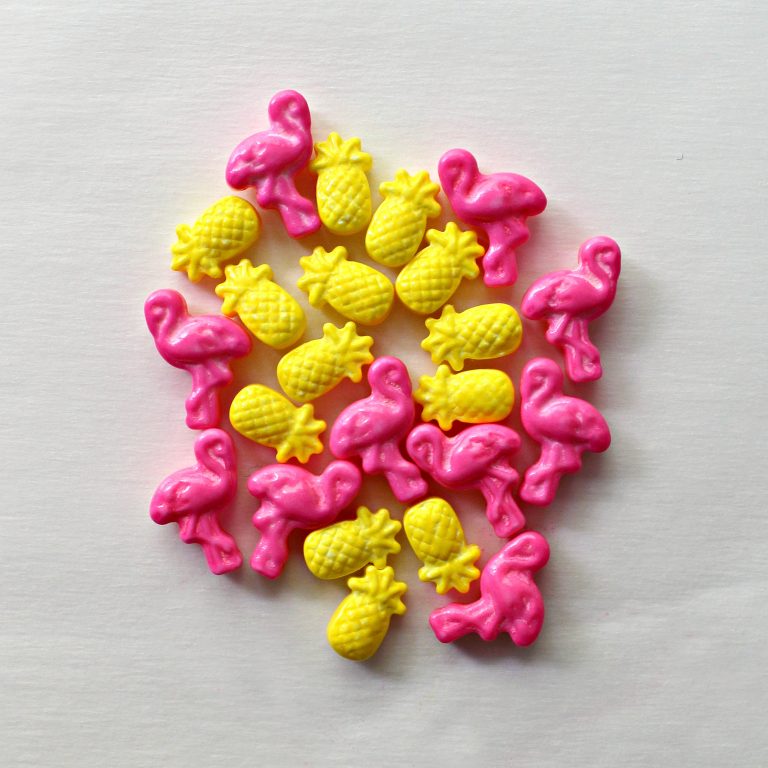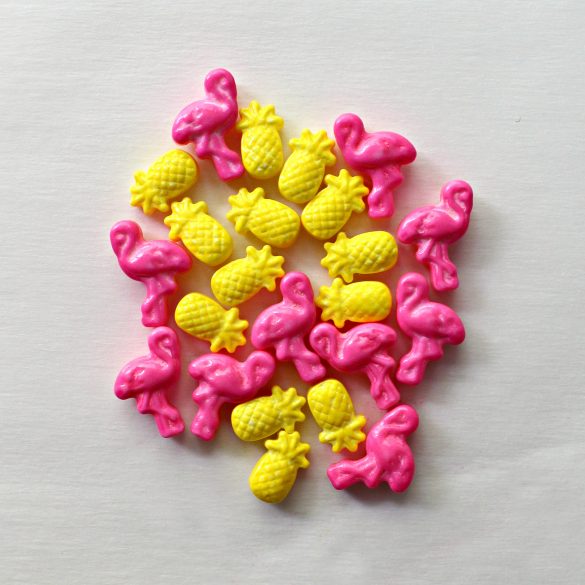 The pineapple and flamingo sprinkles are totally optional, but irresistible. Have you seen the adorable sprinkle shapes that Wilton makes? I bought mine at Michaels and the packages only cost US$1 each! The little packets are the ideal size for a mug cake care package. I may have purchased each of the designs. My sprinkle addiction is real.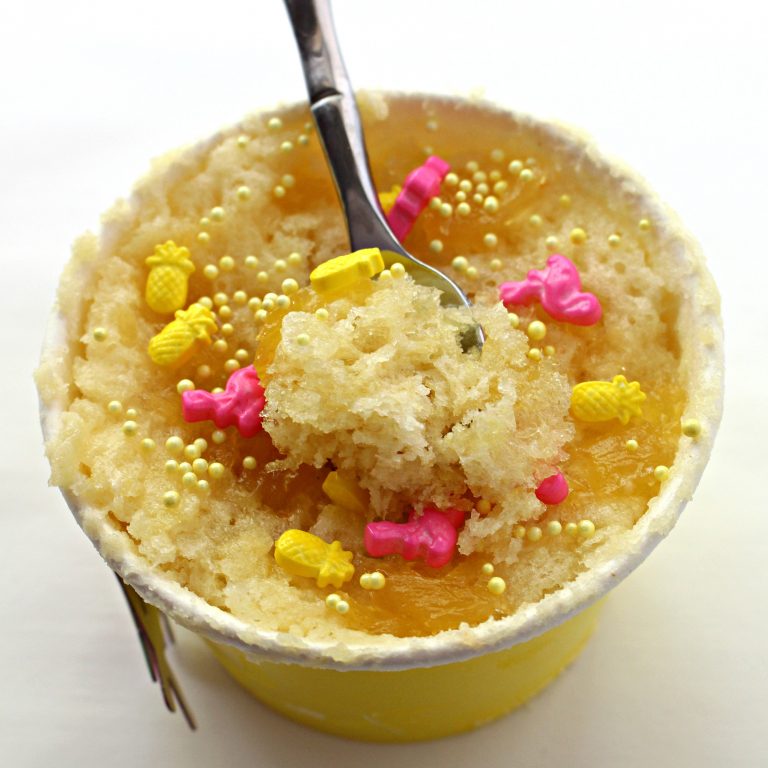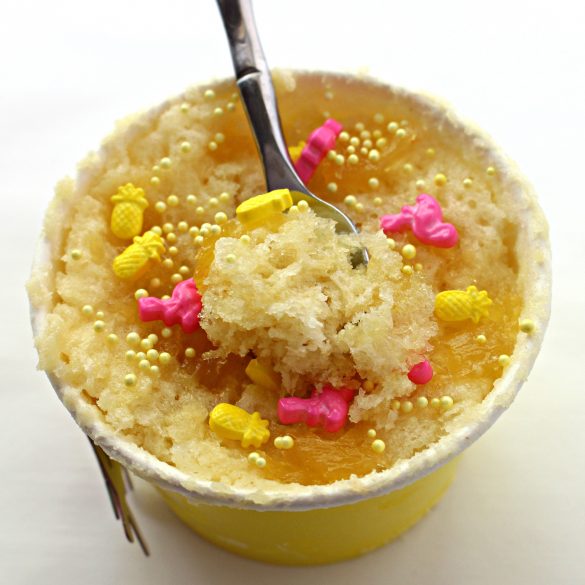 All mug cake recipes on The Monday Box are made only with shelf stable ingredients. No ingredient requires refrigeration, making it possible to ship the ingredients in a care package to some lucky mug cake making recipient.
Those shelf stable ingredients can also hang out in your kitchen pantry for a quick satisfying snack with only one minute notice. That means, right now, you're only one minute away from deliciousness!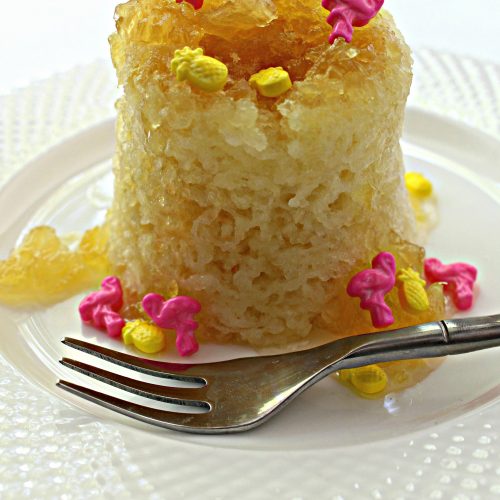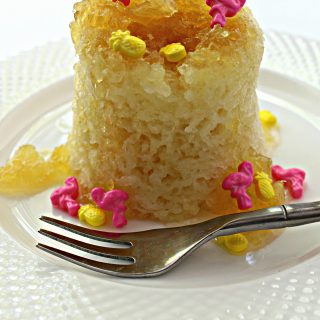 Print
Pineapple Mug Cake
As an Amazon Associate I earn from qualifying purchases.
Ingredients
1

box Angel Food Cake mix

1

box vanilla yellow cake mix

Non-stick spray if not using disposable cups

Water

1

jar pineapple sundae topping

Sprinkles
Directions
In a gallon sized ziplock bag, combine the two boxes of cake mix. Shake the bag to mix thoroughly.

If using a microwaveable mug, lightly coat the inside of a with non-stick spray. Without the spray the cake will not transfer out of the mug and the mug is harder to clean. If using a disposable, microwave safe paper cup, no non-stick spray is needed.

Into the prepared mug/cup, stir together 3 tablespoons of cake mix and 2 tablespoons of water.

Stir in 1-2 tablespoons of pineapple sundae topping.

Microwave on high for up to 1 minute until cooked.

Add a bit of sundae topping and a generous dusting of sprinkles on top of the pineapple mug cake. Then eat it right out of the mug. If you want to transfer the cake onto a plate, run a knife around the edge between the cake and the mug to loosen, dump out onto a plate then add toppings.
Notes
Combine the two cake mixes into a gallon-size ziplock bag labeled with directions. Include a measuring spoon, a jar of pineapple topping, and sprinkles. If the care package is international, include microwave safe paper cups. Snack sized or 6-8 oz drinking cups work well. If the care package is domestic, add either a can of non-stick spray (for use with a ceramic mug) or microwave safe paper cups. Don't forget to include the "recipe".