Coconut Milk Snack Cake is ideal for after-school snack, coffee breaks, and late night study sessions. Lightly sweet, with a soft, tender texture, this cake is back-to-school fuel!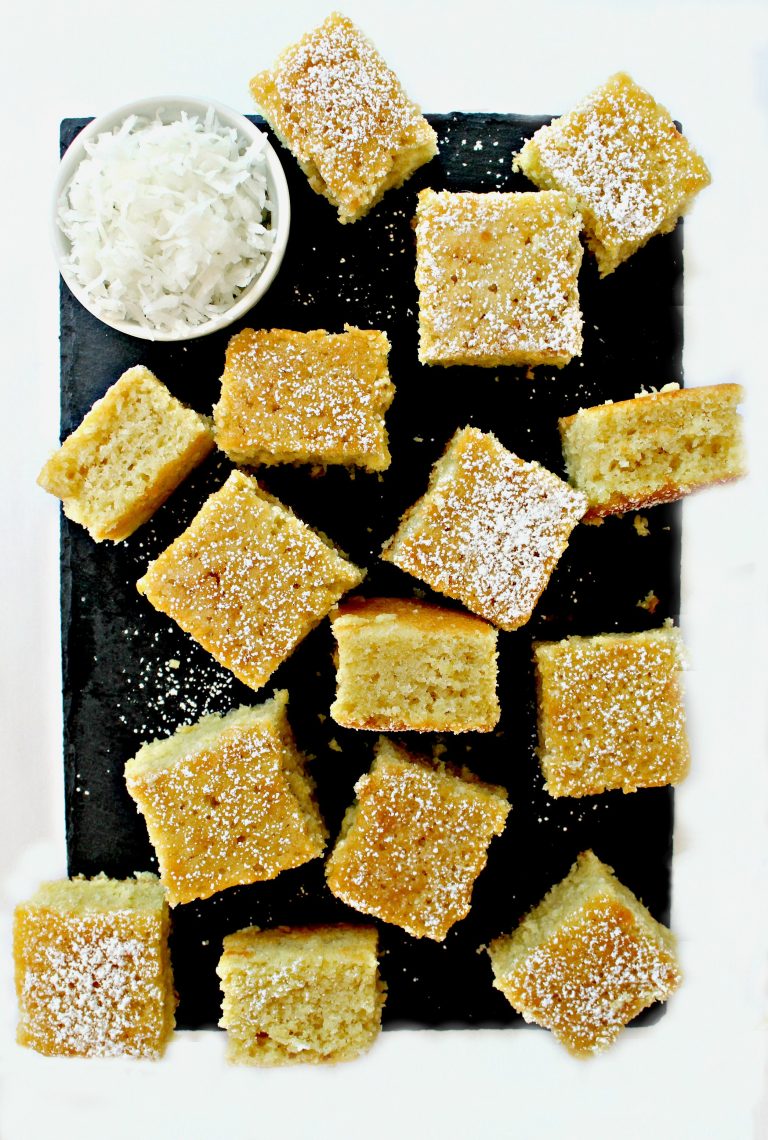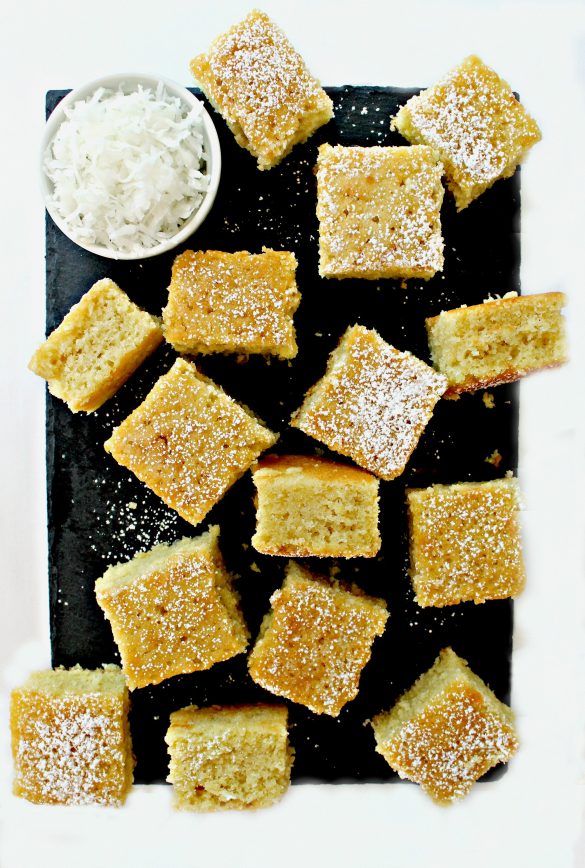 I didn't plan on a series of four recipes using coconut milk. The Thai recipe for Coconut Milk Cookies fell into my lap because I am forever intrigued by cookbooks with international cookie recipes. Every culture has baked goods developed to stay fresh as long as possible, and I'm hunting for them all! For those searching the internet for coconut milk recipes, the Coconut Milk Cookies have been very popular. So to meet the demand, I continue to find ways to use this delicious ingredient. The cookies were followed by Coconut Milk Chocolate Chip Pound Cake and Coconut Milk Toffee Blondies. This recipe for Coconut Milk Snack Cake was a lucky fail turned into a win.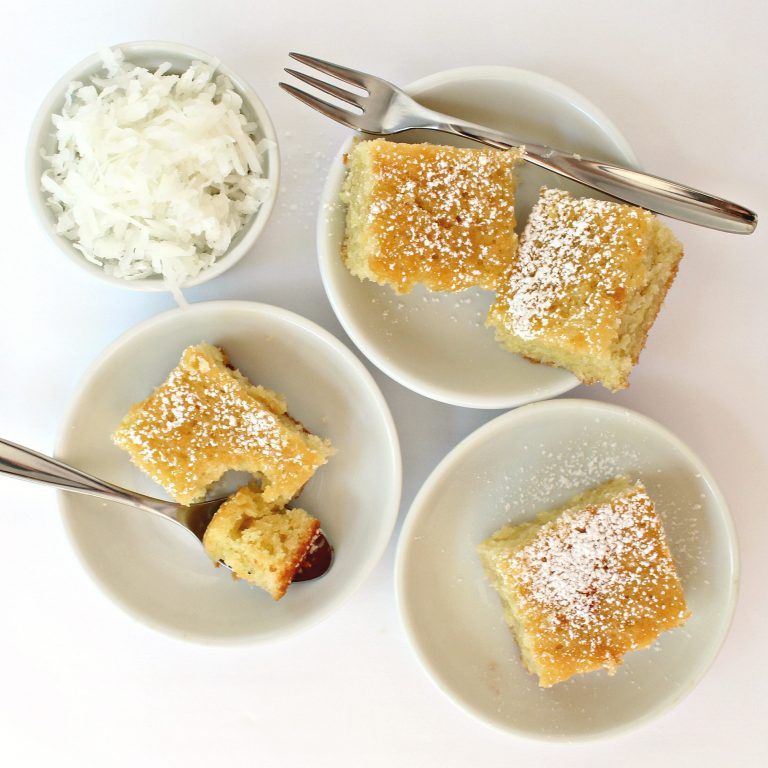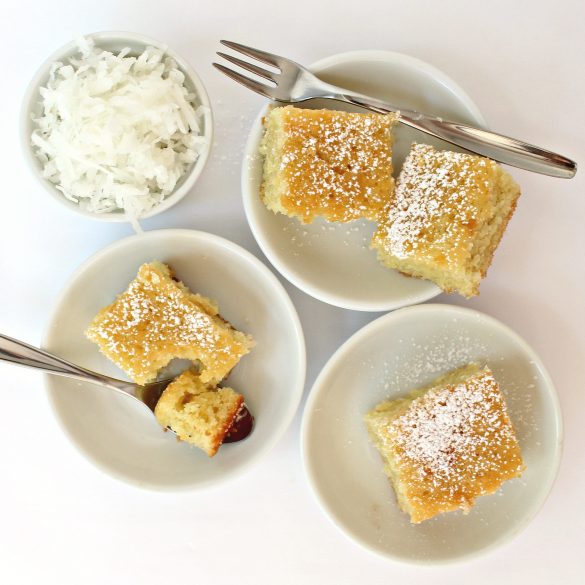 As I was working on the recipe for coconut milk blondies, one version looked like a fail when I took it out of the oven. Though beautifully golden with a heavenly smell, the supposed-to-be blondies had risen while baking. The texture was sure to be un-blondie like. I was disappointed, until I tasted this creation. Definitely not blondies, the cake is simultaneously sturdy enough for shipping yet soft and tender, with such a lovely vanilla-coconut flavor, that adding frosting would be a crime.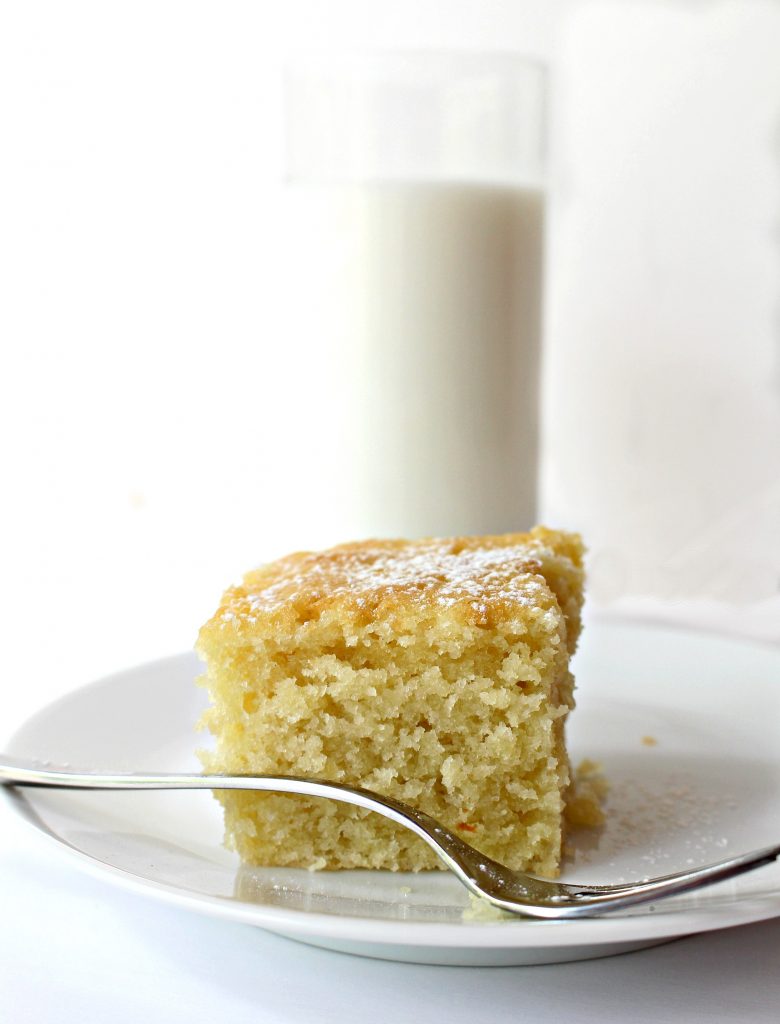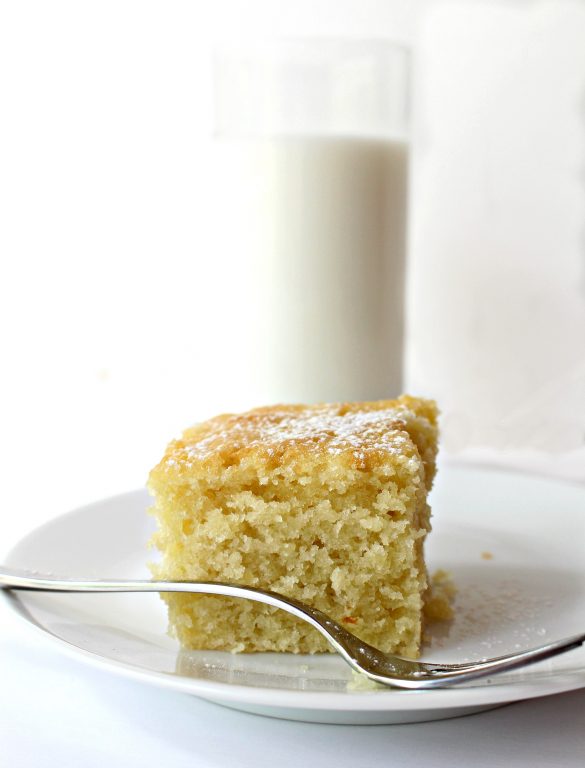 To mail Coconut Milk Snack Cake in a care package, I recommend baking in a disposable foil pan and wrapping the cake in the pan, uncut. The foil pan provides protection. Leaving the cake uncut, keeps the cake from drying out while shipping.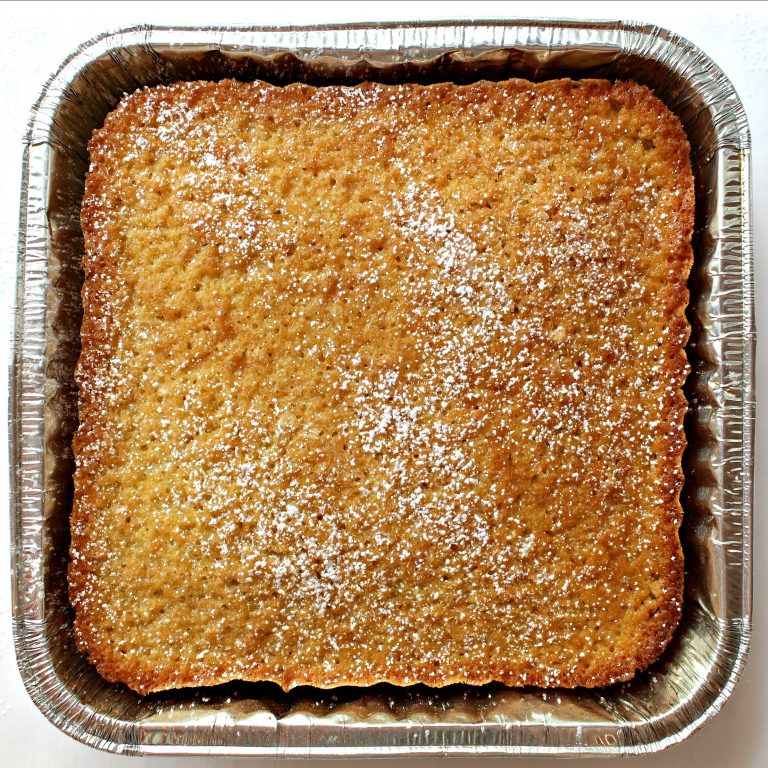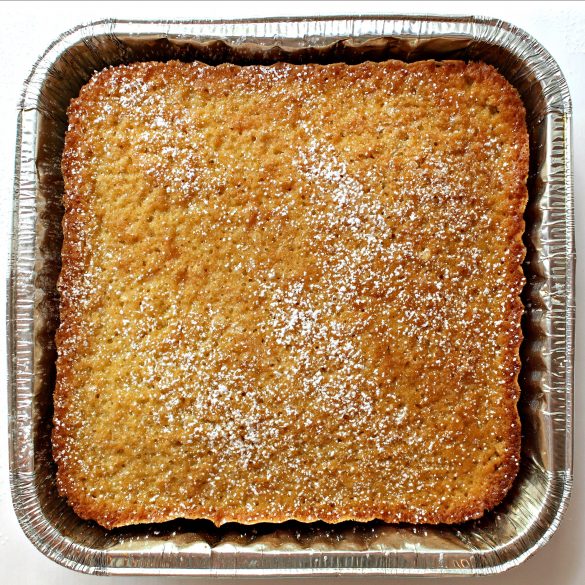 Coconut Milk Snack Cake was never destined to be a blondie. It's a delicious, easy to make (no mixer needed), snack cake that compliments a glass of milk or a mug of coffee or tea. With a shelf-life of about 7 days, Coconut Milk Snack Cake can be enjoyed all week as an after-school snack, or shipped to your favorite college student for a sweet start to the semester!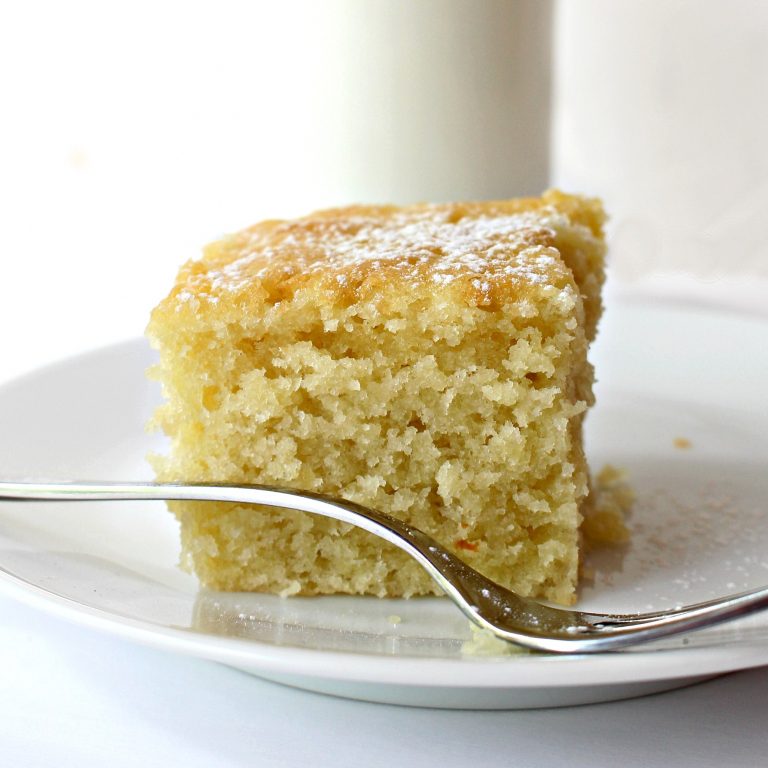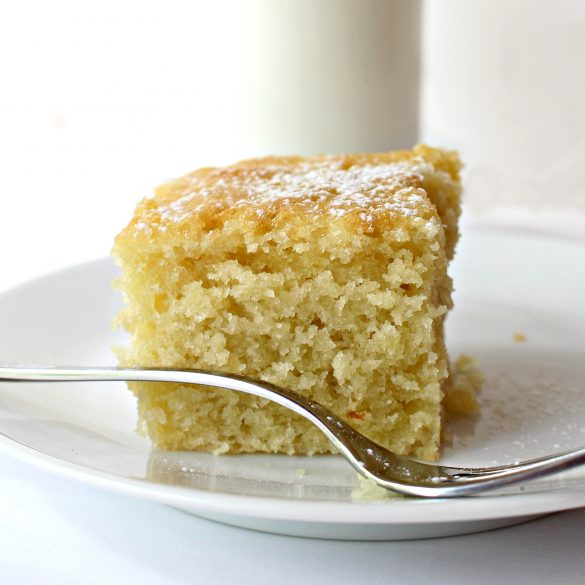 MORE COCONUT MILK RECIPES
Coconut Milk Chocolate Chip Pound Cake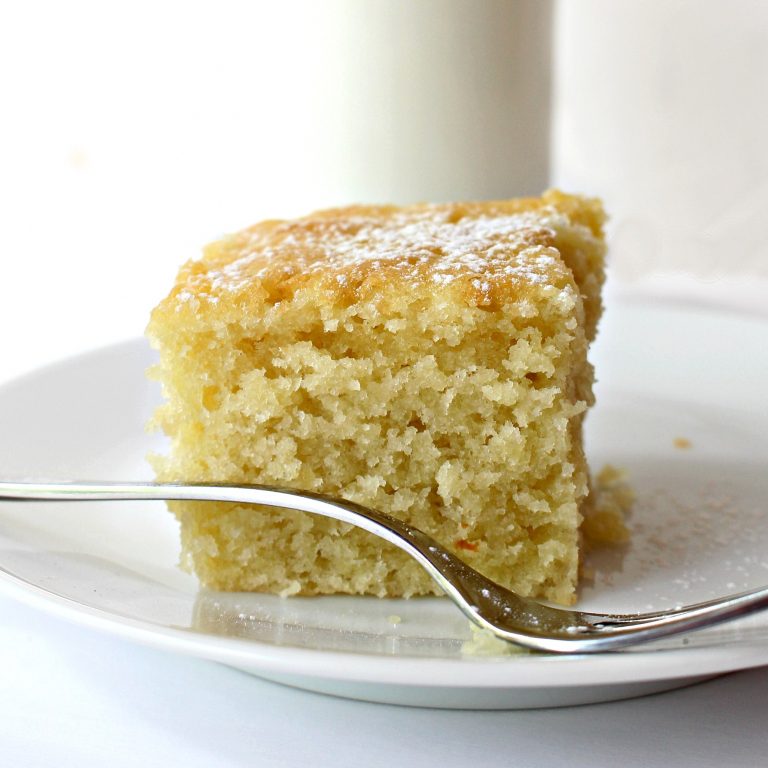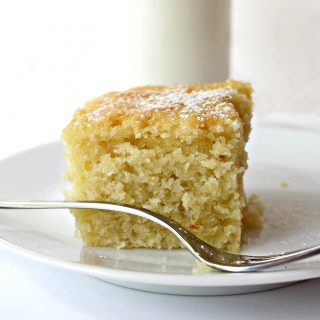 Coconut Milk Snack Cake
A quick and easy coconut milk dessert recipe for a moist cake that's lightly sweet, with a soft, tender texture. Ideal for after-school snack, coffee breaks, and late night study sessions, this is a cake for coconut lovers.
Print
Rate
Ingredients
1

cup

unsweetened coconut milk, canned

full fat, not low fat

¼

cup

coconut oil

melted

2

large eggs

1

cup

granulated sugar

½

tablespoon

vanilla extract

1 ¼

cup

all-purpose flour

½

cup

unsweetened coconut

shredded

¾

teaspoon

baking powder

2

tablespoons

confectioners' sugar

optional
Instructions
Preheat oven to 375° F. Grease an 8×8 baking pan (If shipping, use a disposable foil pan.)

Open the can of coconut milk and combine the contents THOROUGHLY. The thick, heavy fat separates from the thin milk and MUST be recombined before using. This is most easily done in a blender, food processor, or electric mixer, but can also be done with vigorous whisking. When the fat is completely blended with the liquid the consistency should be similar to dairy cream or milk.

In a large mixing bowl, stir together the homogenized coconut milk, melted coconut oil, eggs, granulated sugar, and vanilla.

In a medium bowl, whisk together the flour, shredded coconut,  and baking powder, then add to the wet ingredients. Mix until just combined.

Pour batter into the prepared pan and bake for 30-40 minutes until the top is golden brown and a toothpick inserted in the center of the pan comes out clean.

Remove the cake from the oven and allow to cool completely in the pan before cutting or storing. If shipping, leave the cooled cake in the disposable pan and ship uncut.

When cooled, the top of the cake can be sprinkled with powdered sugar (optional).

Wrapped well or stored in an airtight container at room temperature, Coconut Milk Snack Cake remains fresh for up to 1 week.
Notes
Coconut Milk Cake has a very mild coconut flavor, almost neutral. For more pronounced coconut flavor add ½ - 1 teaspoon coconut extract.
Use shredded coconut, not coconut flakes. The larger pieces would change the soft, smooth texture of the cake.
This cake batter can be used to create cake layers for a coconut layer cake. Make a double recipe for two 8-9 inch layers.
Packing tips
Bake the snack cake in a disposable pan. When completely cool, wrap the entire pan (with the cake uncut) first in foil, then in plastic wrap. Include plastic knives in the care package.
Nutrition
Calories:
238
kcal
|
Carbohydrates:
30
g
|
Protein:
3
g
|
Fat:
12
g
|
Saturated Fat:
10
g
|
Cholesterol:
27
mg
|
Sodium:
42
mg
|
Potassium:
96
mg
|
Fiber:
1
g
|
Sugar:
19
g
|
Vitamin A:
40
IU
|
Vitamin C:
1
mg
|
Calcium:
25
mg
|
Iron:
1
mg