Coconut is a tropical flavor that brings to mind warm weather and ocean breezes. We have the warm weather here in the Midwest, but no ocean breezes. Do Mississippi River breezes count? I didn't think so. I can conjure up the tropics year round anyway, with a batch of Coconut Milk Toffee Blondies. These caramel gold bars are chewy and sweet with a touch of crunch from toffee bits. Coconut Milk Toffee Blondies are a taste of the tropics wherever you live or wherever you send them!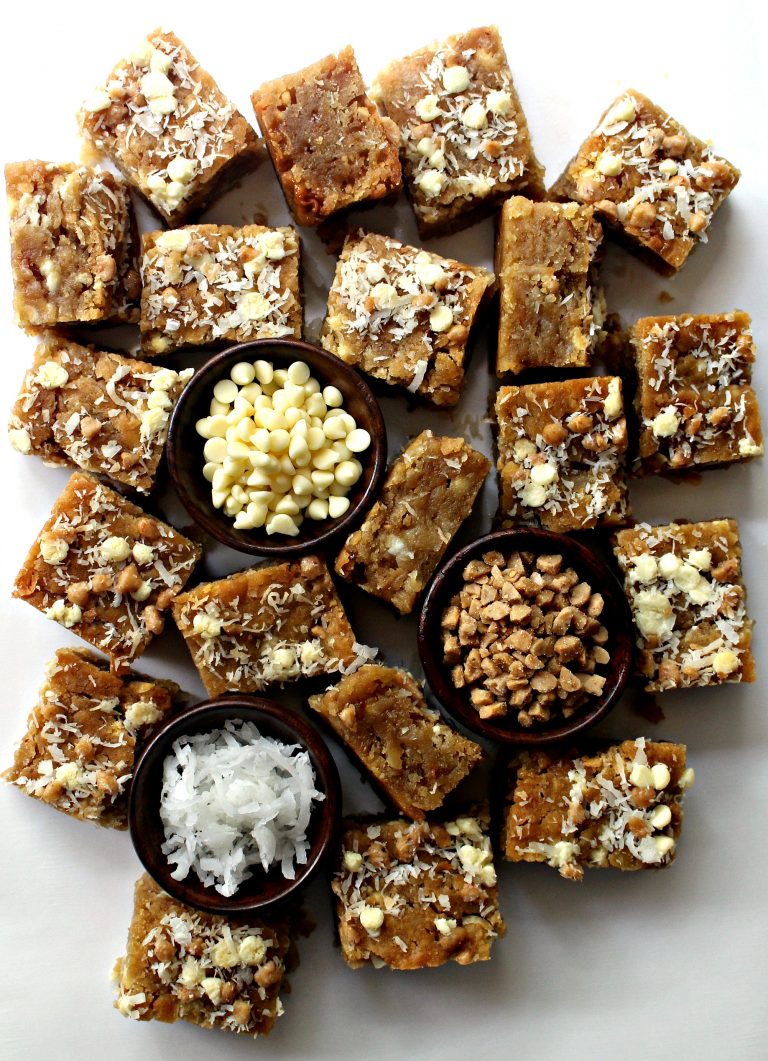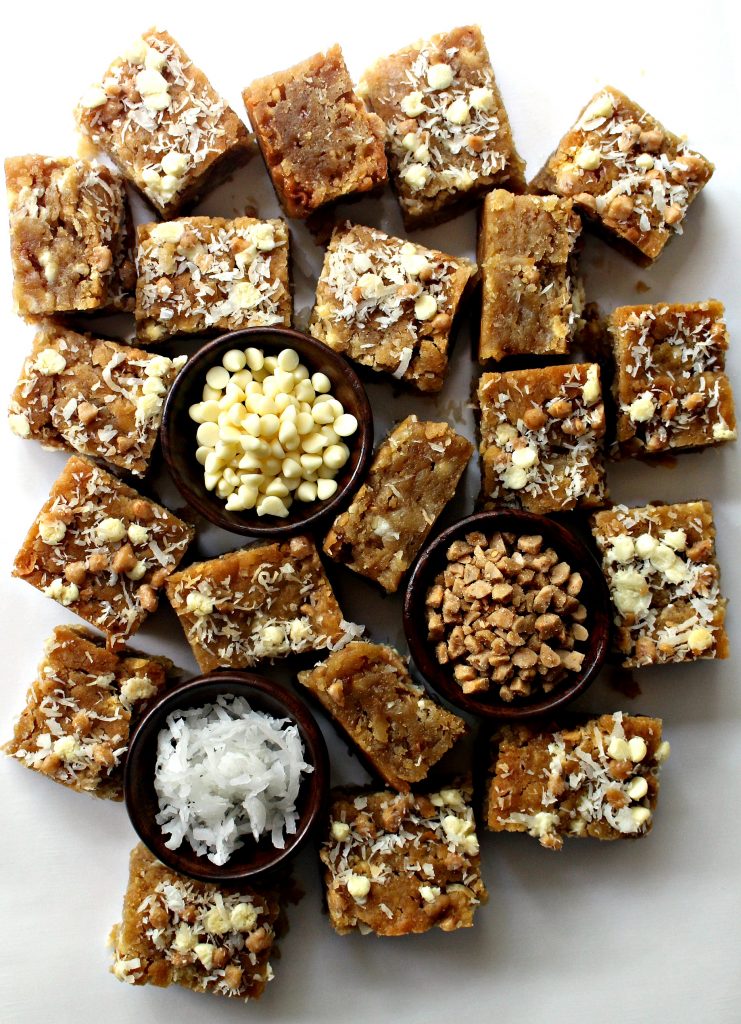 So far this summer, our weather in St. Louis has been mild. We've had a week or so of days in the 90's, but many days have been pleasantly in the 70's and 80's, cooling down delightfully at night. My thick coated Sheltie has ancestors from much cooler regions (Scotland) and he doesn't enjoy the heat at all. With temperatures in the 90's, he trudges along on a walk, but can't muster up the energy to chase a ball or dog-wrestle at the park. At my house, we call cooler weather "Sheltie weather". Lower temperatures spark the energy for Pax to race around like a lunatic and he is a happy camper. Pax would definitely not be happy in the tropics. I am not a fan of high temperatures either. I get my tropics fix on occasional vacations and while munching on Coconut Milk Toffee Blondies.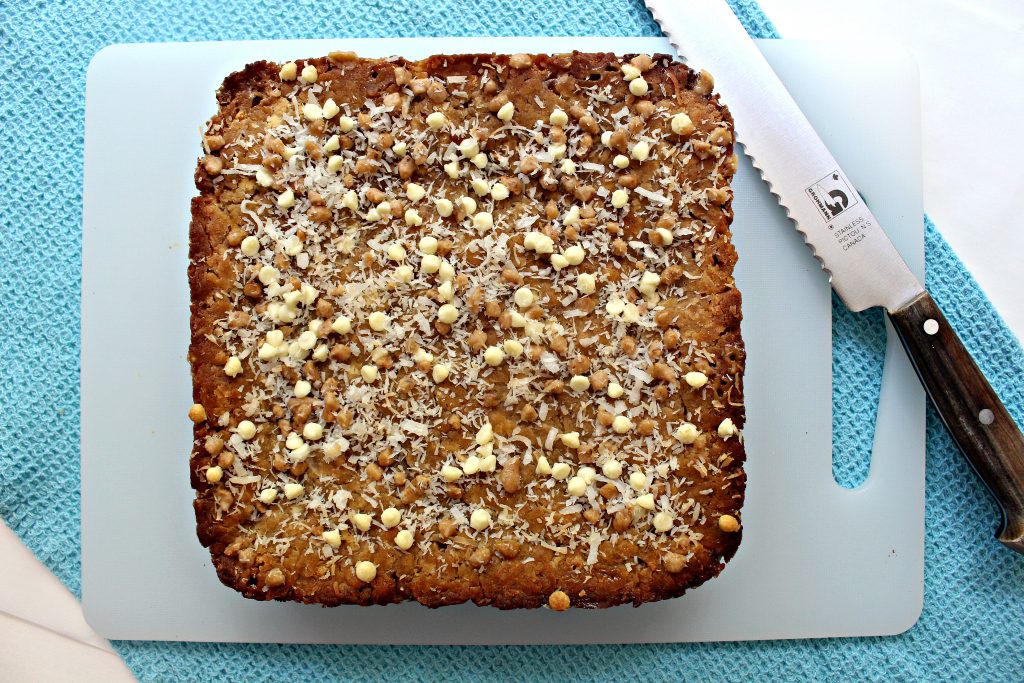 Ever since I experimented with a Thai recipe for Coconut Milk Cookies, I have been hooked on baking with coconut milk. Though coconut milk adds only a light background coconut flavor, it creates a wonderful tender texture in baking. I was wowed by the softness of Coconut Milk Chocolate Chip Pound Cake, and am equally delighted with these Coconut Milk Toffee Blondies. In this recipe, brown sugar combined with coconut milk caramelizes while baking, providing a beautiful golden color, irresistible flavor, and traditional blondie chewiness.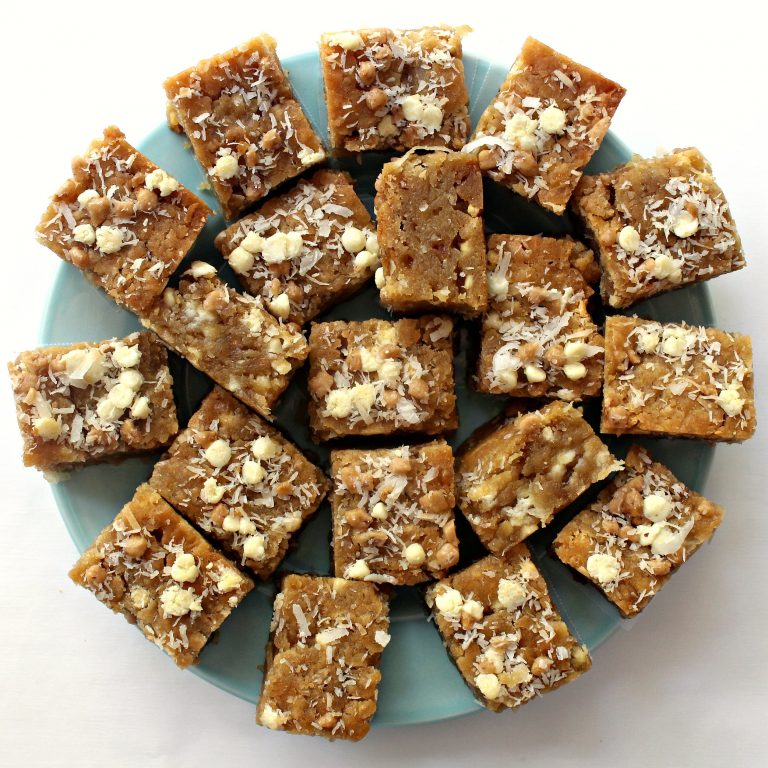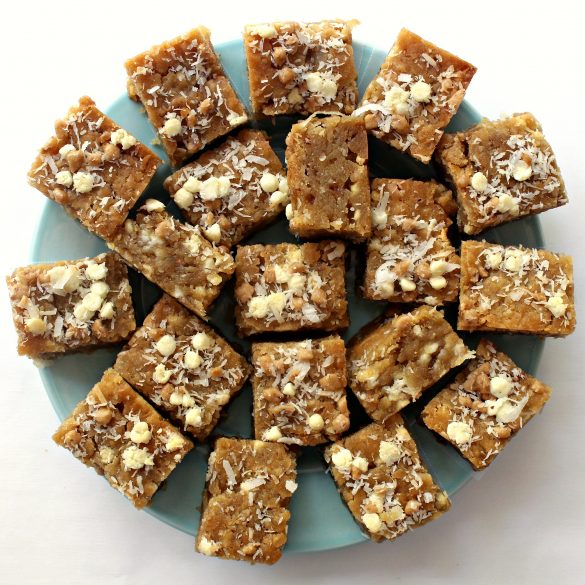 Coconut oil, on the other hand, is an ingredient I struggle with. So many cooks and bakers are in love with coconut oil, that I feel I should keep trying to embrace it. Depending on the brand of coconut oil you use, it may add a bit of coconut flavor or none at all. Though I have searched extensively, I can't find an explanation for why my baked goods with coconut oil often come out oily to the touch. All of the charts I have found, indicate that coconut oil can replace other fats 1:1. Not in my kitchen. If anyone else has found this to be true, I would love to hear about it! I now reduce the amount of coconut oil when I am replacing another fat in a recipe. With the adjusted amount of coconut oil, Coconut Milk Toffee Blondies aren't oily at all, just moist and delicious.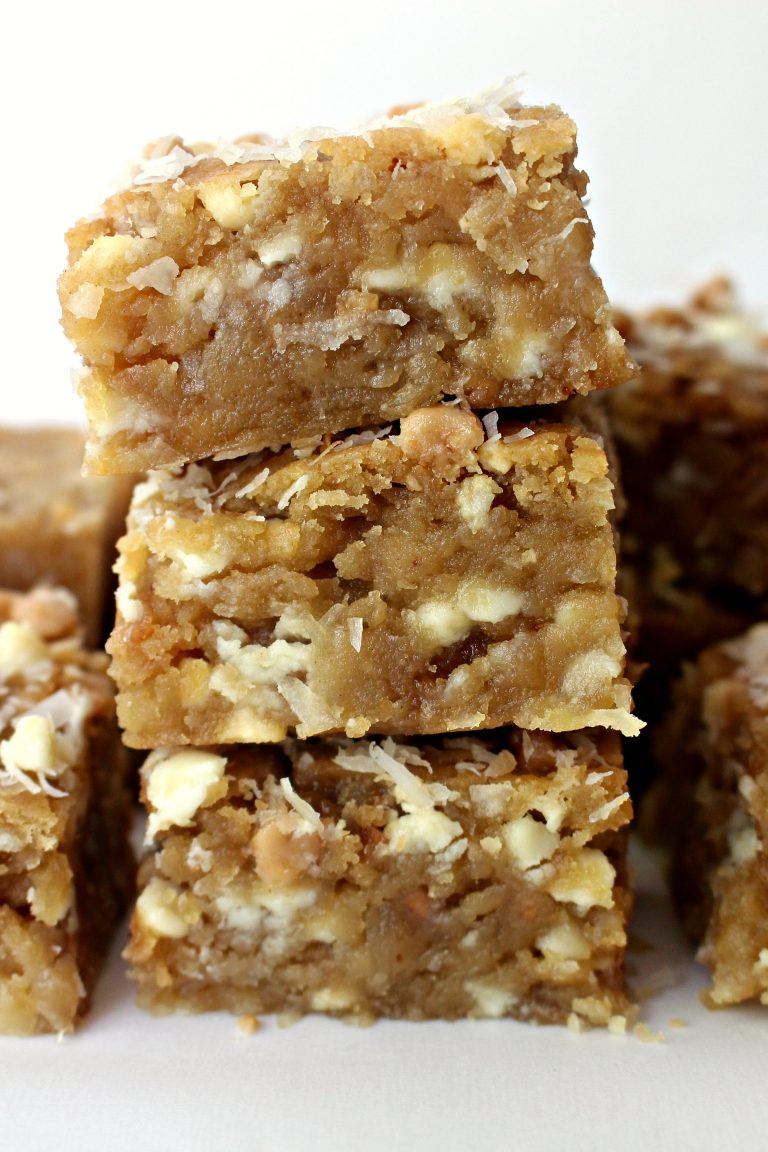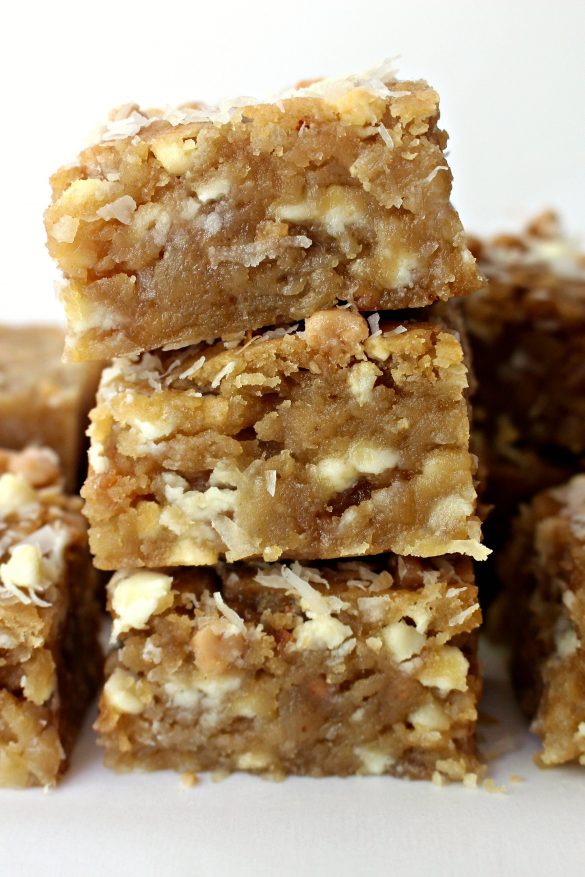 MORE COCONUT MILK RECIPES
Coconut Milk Chocolate Chip Pound Cake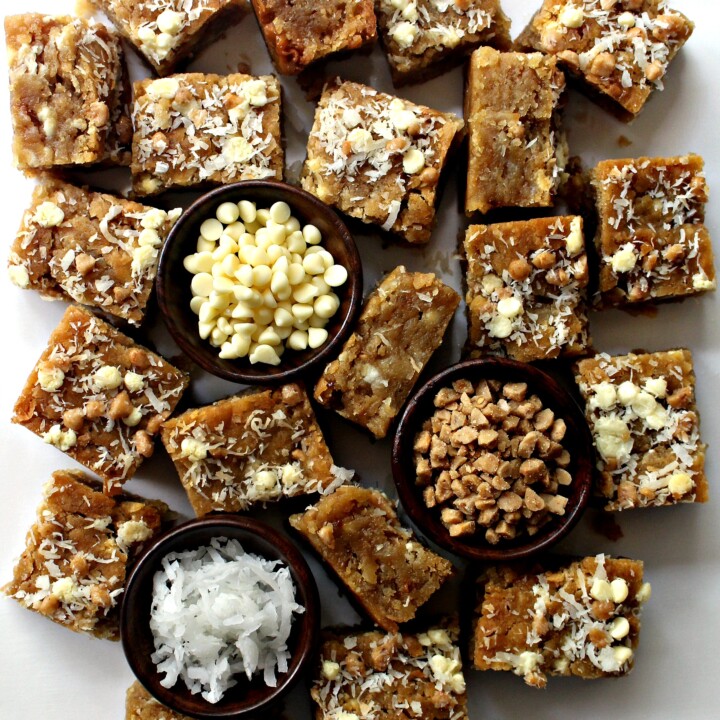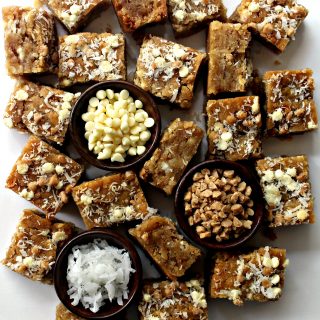 Coconut Blondies
Chewy white chocolate coconut blondies made with toffee bits for crunch.
Print
Rate
Ingredients
Blondie batter
2 ½

cups

all purpose flour

1

teaspoon

baking powder

½

cup

coconut oil

⅔

cup

coconut milk

canned

1

cup

packed light brown sugar

1

cup

sweetened shredded coconut

1

tablespoon

vanilla extract

1

teaspoon

coconut extract

⅔

cup

white chocolate mini chips

I use Whole Foods 360 brand mini chips

⅔

cup

toffee bits
Topping
2

tablespoons

shredded coconut

sweetened

1

tablespoon

toffee bits

1

tablespoon

white chocolate mini chips
Instructions
Preheat oven to 375° F. Line an 8"x8" baking pan with parchment paper.

In a large mixing bowl, whisk together flour and baking powder.

In a medium mixing bowl, microwave coconut oil to melt.

Mix in the coconut milk and brown sugar until combined. Stir in shredded sweetened coconut, vanilla, and coconut extract.

Add the liquid mixture to the flour mixture and mix until combined.

Fold in white chocolate chips and toffee bits.

Spread the batter evenly into the prepared baking pan.

Bake for 25 minutes. Sprinkle with the topping coconut, toffee, and white chocolate and bake an additional 5 minutes.

Remove from the oven and cool completely before cutting into bars.

Store at room temperature in an airtight container, with wax paper between layers, for up to 1 week.
Notes
Packing tips
For longer shipping times, don't cut into individual bars. Wrap the entire 8"x 8" square in plastic wrap, then foil. Include a plastic knife in the package for slicing on arrival.
To package individual coconut bars, place snuggly in an airtight plastic container, with wax paper between layers.
Fill any empty space with wrinkled wax paper to prevent any movement in shipping.
Wrap the closed container in plastic wrap or place in a large, freezer weight zip lock bag.
Nutrition
Calories:
274
kcal
|
Carbohydrates:
35
g
|
Protein:
2
g
|
Fat:
14
g
|
Saturated Fat:
11
g
|
Trans Fat:
1
g
|
Cholesterol:
10
mg
|
Sodium:
57
mg
|
Potassium:
91
mg
|
Fiber:
1
g
|
Sugar:
23
g
|
Vitamin A:
101
IU
|
Vitamin C:
1
mg
|
Calcium:
42
mg
|
Iron:
1
mg