Though there are many similar coconut loaf recipes available, this recipe for Coconut Milk Chocolate Chip Pound Cake has been adapted for ultimate coconut flavor and long shelf life. Using coconut milk and coconut oil helps this loaf cake retain moisture and flavor for a full week!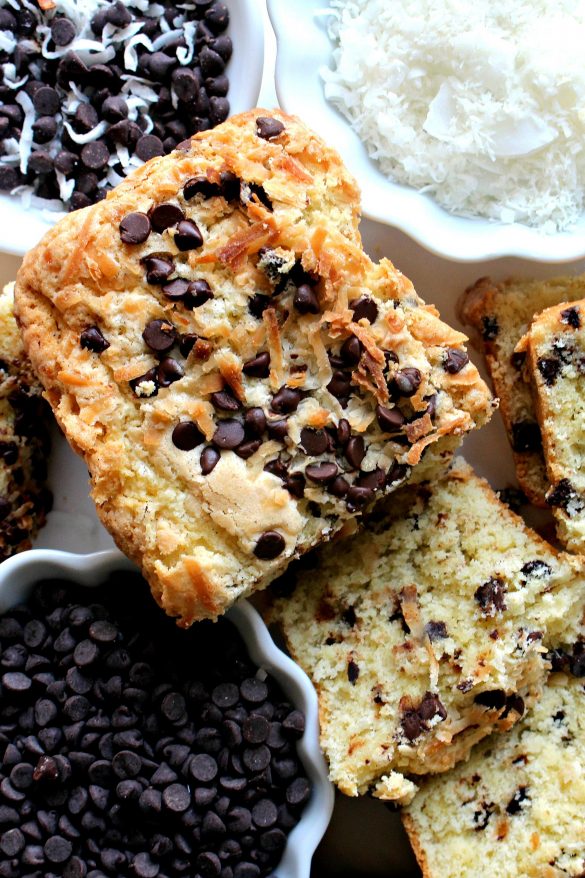 When I first started writing The Monday Box, I honestly had no idea why one baked good stayed fresh longer than another. Without any baking chemistry knowledge, I had to learn through research and practice. Five years and hundreds of recipes later, I can tell you that there are certain ingredients that are a big help when you need a care package recipe that will be still be delicious once it arrives at its destination. Crunchy, butter based cookies like shortbread and butter cookies, are great for care packages. Butter not only tastes great, but keeps the cookies crunchy for a long time. Plain shortbread keeps for months and the flavor improves over time. Though butter is great for crunchy things, it's not the fat of choice for keeping cakes moist. I've had some success with sour cream, yogurt, and buttermilk, but oils are my number one choice. Olive oil makes lovely moist cookies and cakes with longer than average freshness. For Coconut Milk Chocolate Chip Pound Cake, I used coconut oil for additional coconut flavor.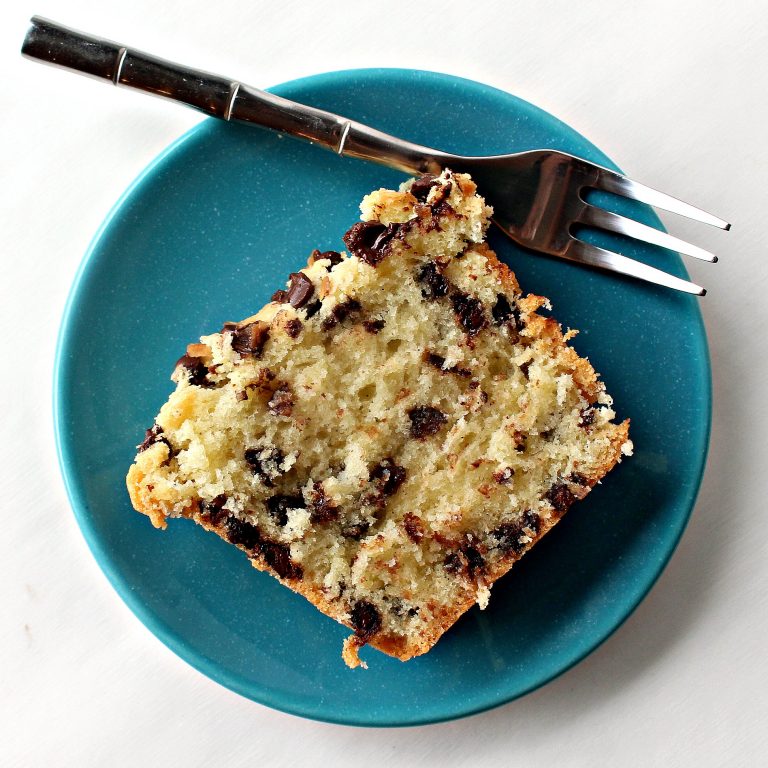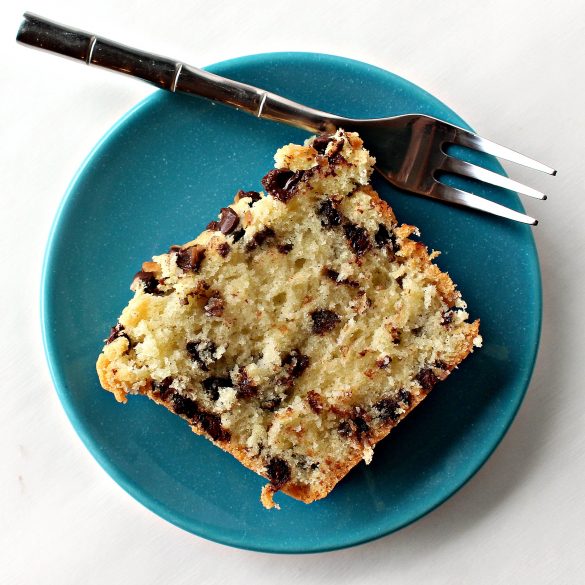 Coconut milk adds another layer of coconut flavor and another boost of moisture to Coconut Milk Chocolate Chip Pound Cake. I tried two versions of this recipe. For the first, I used butter and milk. For the second, I used coconut oil and coconut milk. The cake made with dairy, tasted like vanilla cake with added coconut. The cake made with coconut ingredients, not surprisingly had a completely coconut flavor. What was a surprise to me, was the difference in shelf life. The Coconut Milk Chocolate Chip Pound Cake made with coconut oil, stayed moist and fresh for twice as long as the cake made with dairy!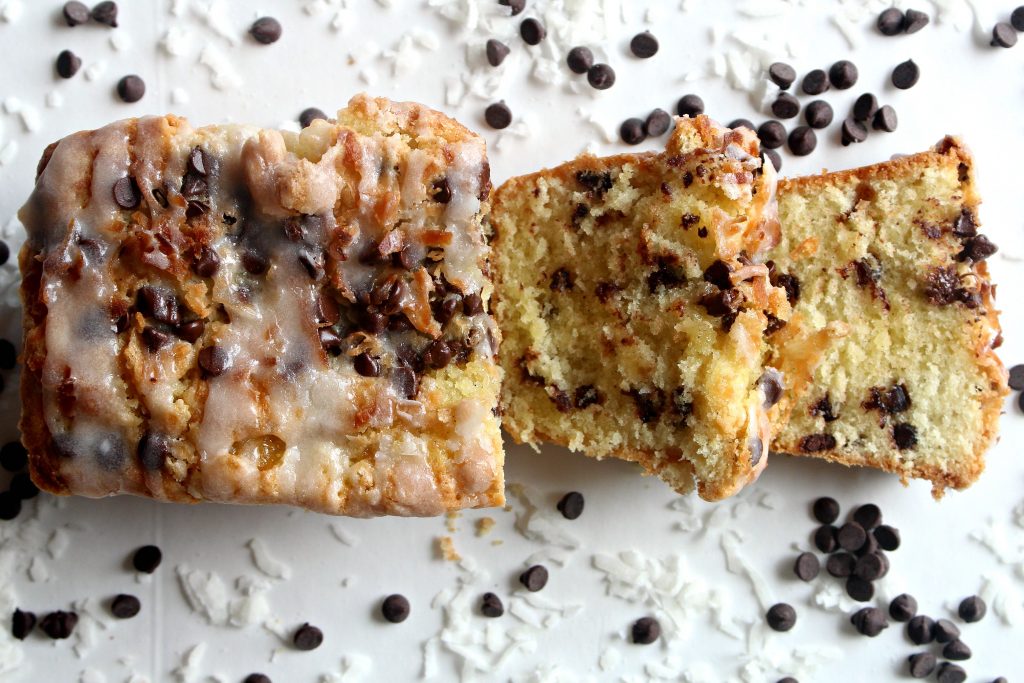 This recipe can make one standard sized loaf cake, but I prefer mini-loaves. Mini-loaves are just the right size for mailing, gifting, or nibbling. Eat one, mail one, and freeze the rest for whenever the craving hits for tropical coconut flavor. The optional glaze using coconut milk is both pretty and delicious for cakes that will not be shipped. I recommend skipping the glaze for care package use.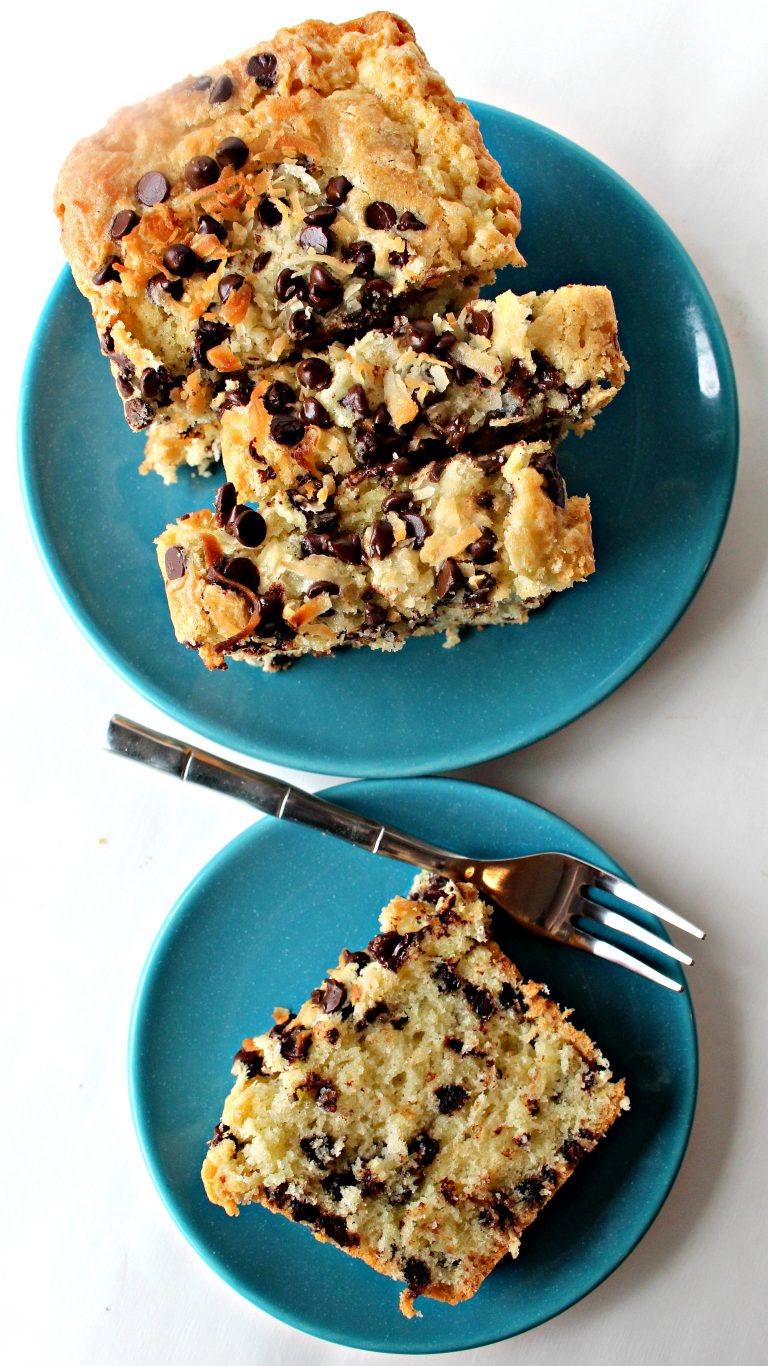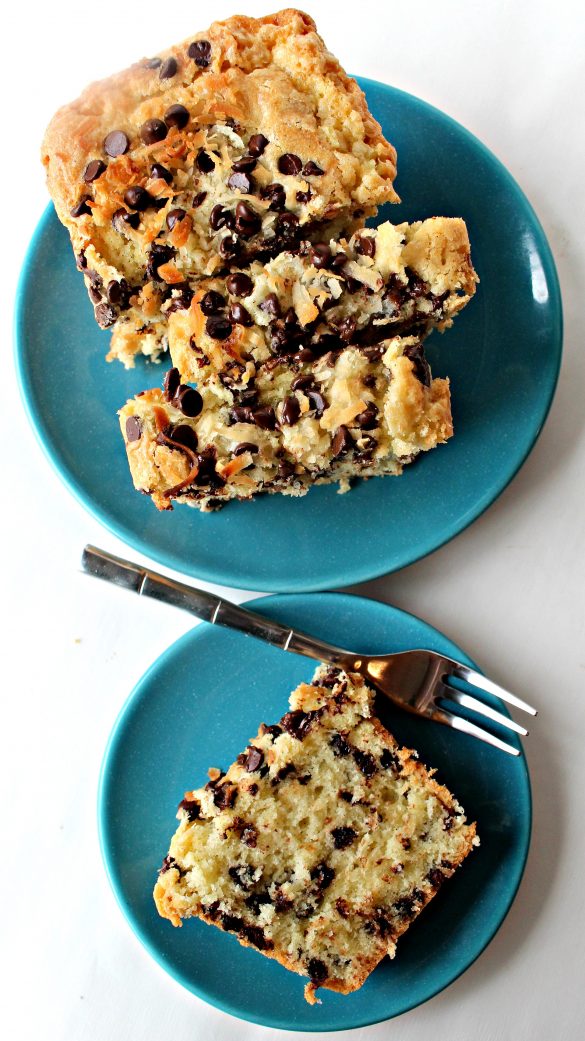 MORE COCONUT MILK RECIPES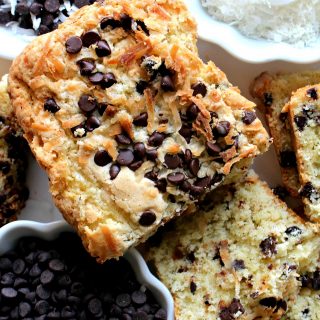 Coconut Milk Chocolate Chip Pound Cake
Coconut milk adds extra flavor, moisture, and a lovely soft texture to this quick and easy loaf.
Print
Rate
Ingredients
Cake batter
2

cups

all-purpose flour

¾

teaspoon

baking powder

¼

teaspoon

salt

½

cup

shredded coconut

unsweetened

¾

cup

coconut oil

1 ¾

cups

granulated sugar

4

large eggs

room temperature

¾

cup

coconut milk

1

tablespoon

vanilla paste or extract

½

teaspoon

coconut extract

¾

cup

mini chocolate chips

I use Whole Foods 365 Brand, Fair Trade
Topping
¼

cup

mini chocolate chips

I use Whole Foods 365 Brand, Fair Trade

¼

cup

shredded coconut

sweetened or unsweetened

Glaze

optional and not recommended for shipping

½

cup

confectioner's sugar

3

tablespoons

coconut milk

¼

teaspoon

coconut extract
Instructions
Preheat the oven to 325° F. Grease and flour the 4 mini-loaf pan cavities (or 1 regular loaf pan).

In a medium bowl, whisk together the flour, baking powder, salt, and shredded coconut. Set aside.

In the bowl of an electric mixer, combine the coconut oil and granulated sugar until light and fluffy.

Mix in the eggs, one at a time. Then mix in the vanilla and coconut extracts.

Alternate adding the coconut milk and the flour just until combined.

Stir in chocolate chips.

Pour the batter into the prepared pan, smoothing the top of the loaves with a spatula.

For the topping, combine the shredded coconut and chocolate chips in a small bowl, then sprinkle over the top of each loaf.

Bake mini-loaves for 40 minutes (regular single loaf bakes for 1 hour and 15 minutes), or until the top is golden brown and a toothpick inserted in the center of a loaf comes out with no batter and few crumbs. If the loaf (and coconut topping) is brown but requires more baking, lay a sheet of foil on top of the loaves to prevent burning.

Remove from oven and allow to cool in the pan for 10 minutes before removing from the pan onto a wire rack to cool completely.

If using the coconut glaze (not recommended for shipping), in a small bowl mix together the glaze ingredients and drizzle over the loaves while they are still warm. Be sure the glaze has set completely before storing.

Coconut Milk Pound Cake can be stored in an airtight container at room temperature for up to 7 days.
Notes
Packing tips
Wrap each loaf in plastic wrap, then place in an airtight container or freezer weight ziplock bag. I suggest skipping the chocolate chips in the topping during warm weather, and skipping the glaze at all times for shipping.
Nutrition
Calories:
491
kcal
|
Carbohydrates:
64
g
|
Protein:
5
g
|
Fat:
25
g
|
Saturated Fat:
20
g
|
Trans Fat:
1
g
|
Cholesterol:
57
mg
|
Sodium:
124
mg
|
Potassium:
102
mg
|
Fiber:
1
g
|
Sugar:
47
g
|
Vitamin A:
113
IU
|
Vitamin C:
1
mg
|
Calcium:
48
mg
|
Iron:
2
mg
Wondering what to do with the extra coconut milk? Coconut Milk Cookies and Coconut Milk Toffee Blondies are calling your name!