Our weather has been acting quite tropical. We've had weeks of extra hot and rainy, humid days. Tropical cookies fit right in! Coconut Milk Cookies are a crunchy treat inspired by Thai cookies called Tong Ek (Golden Cookies). Coconut milk plus shredded coconut add tropical flavor and cacao nibs add crunch. These cookies are a little bit exotic and a lot delicious.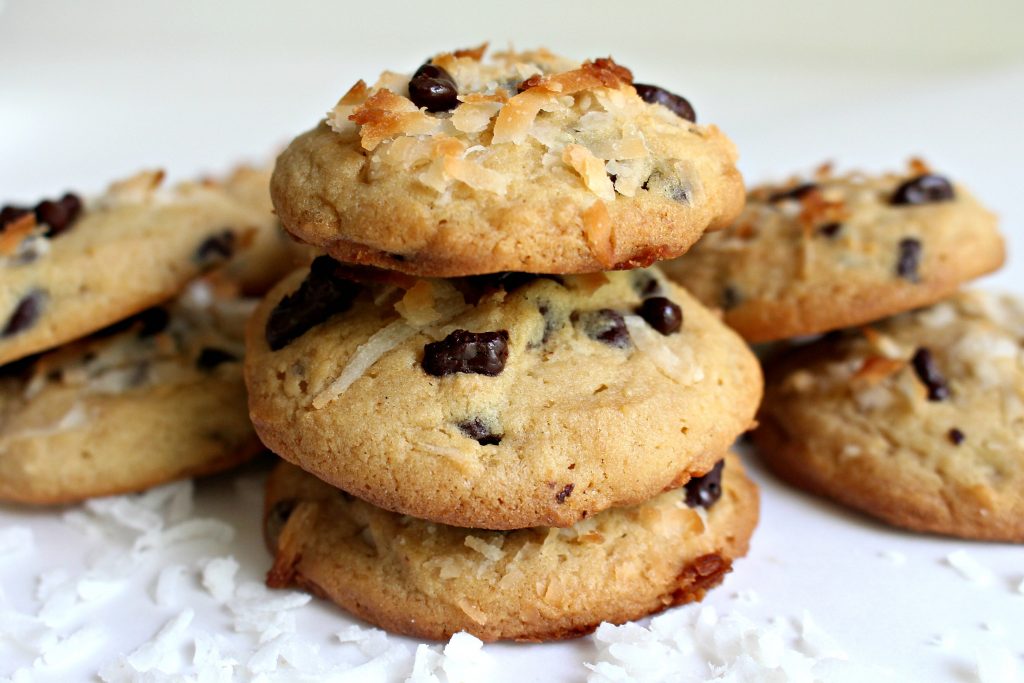 In the United States, both in big cities and smaller towns, it is usually easy today to find ethnic foods at the regular supermarket. Salsas and Sriracha are stocked along with ketchup and mustard. Tofu, hoisin sauce and won ton wrappers are generally easy to acquire. Belgian Biscoff and Italian Nutella sit on the shelf right next to all-American peanut butter. I am so accustomed to this convenience, that I sometimes forget that supermarket inventory wasn't always so diverse.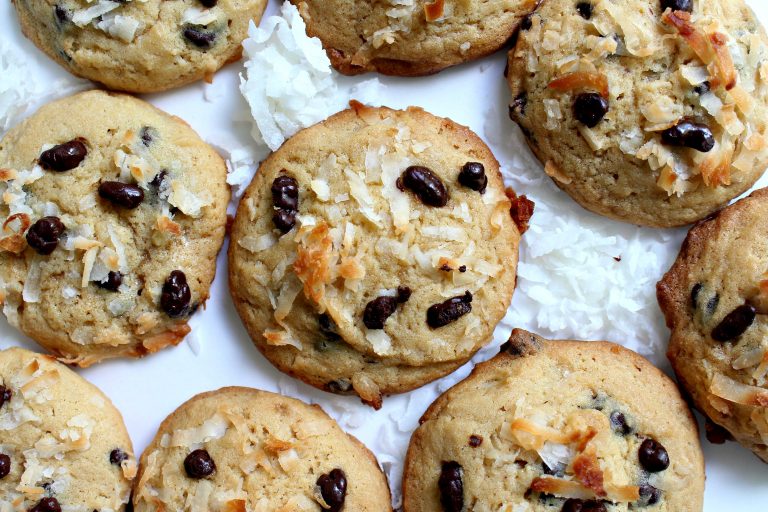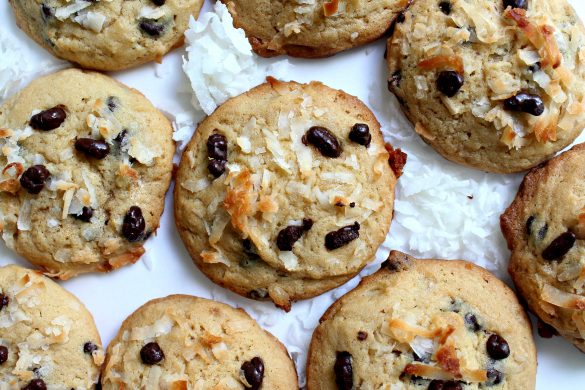 A long time ago, when I was in high school, my family moved from New York (via 2 years in Europe) to South Carolina. Grocery shopping produced culture shock. Supermarkets in the 70's weren't the coast to coast companies we are used to today. Small regional stores stocked products for the local palate. There was no internet to expose and flaunt the world of food. For the first time, we encountered pimento cheese, black eyed peas, greens (such as collard greens, mustard greens, turnip greens, or poke), and okra. No one seemed to know what a bagel was. Today, national chain supermarkets provide a wide array of choices.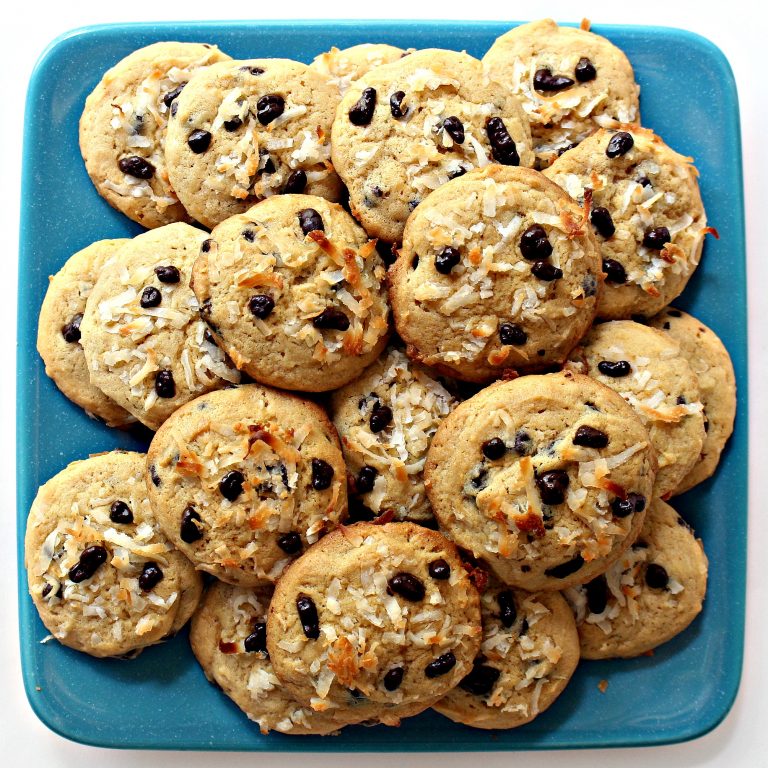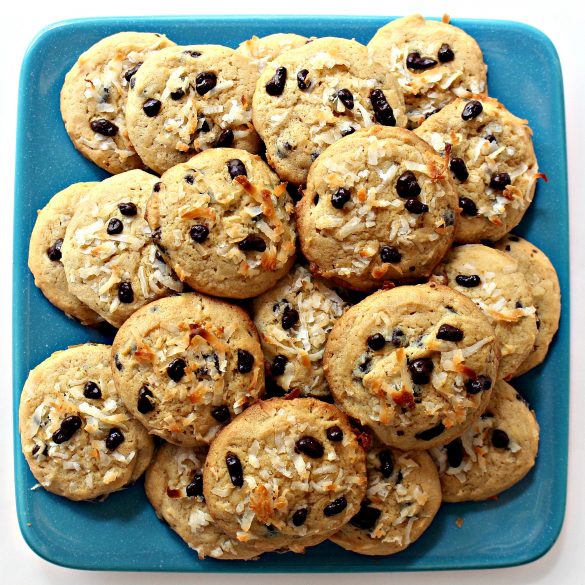 The inspiration for Coconut Milk Cookies came from a newspaper article from 1967 and a cookbook published in 1987. The recipe in both sources was identical, though the directions for making the dough were quite different. Both recipes, published 20 years apart, noted that coconut milk was a "hard to find" and gave directions for making it at home. I was amazed. First, I can't remember when coconut milk wasn't a standard supermarket item. Second, homemade coconut milk is easy to make? Who knew? Because we are all up-to-date, modern world, never-have-enough-time people, I decided to make the Coconut Milk Cookies with canned coconut milk. It worked great and saved time. The coconut milk gives the cookies a delicate coconut taste and smell.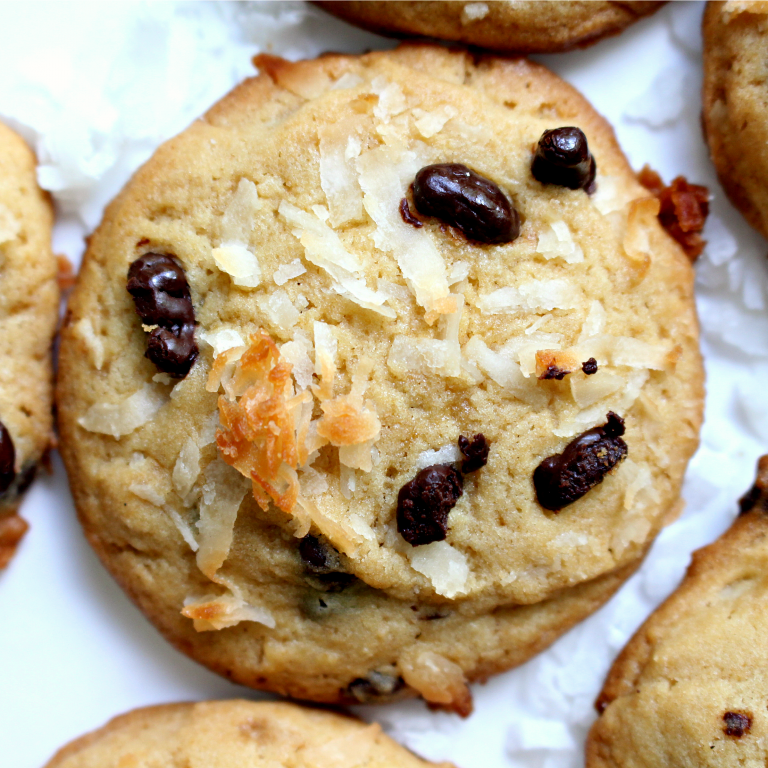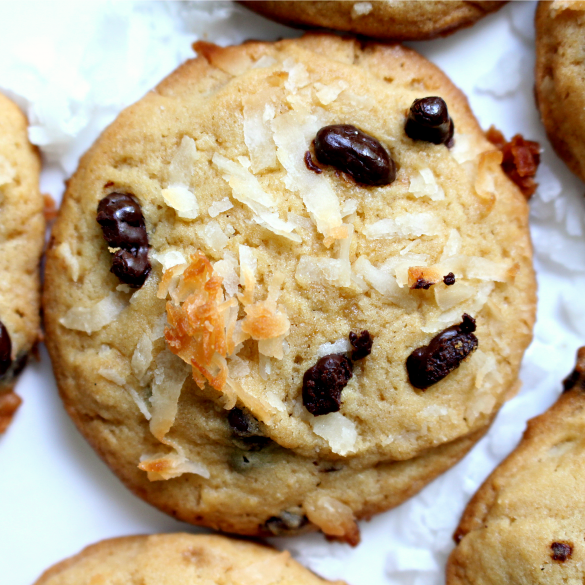 However, have you ever read the ingredients on a can of coconut milk/cream? Technically, coconut milk is a liquid extracted from coconut meat. The can of Trader Joe's coconut cream I used, lists as the ingredients as: coconut extracted, sodium carboxy methyl cellulose (a synthetic gum that provides creamy taste), xanthan gum (another thickening agent), and water. If that bothers you at all, and you have an extra 30 minutes, my Coconut Milk Cookies recipe includes optional directions for easily making your own coconut milk or cream. I love finding out that I can easily make things myself that I had never considered making before. For ½ cup of coconut milk, combine 1 cup of unsweetened shredded coconut with ½ cup of water in a small sauce pan. Bring to a boil. Remove from the heat and allow the coconut to seep for 30 minutes. Strain out the coconut and the remaining liquid is coconut milk! For coconut cream, follow the same process using milk instead of water.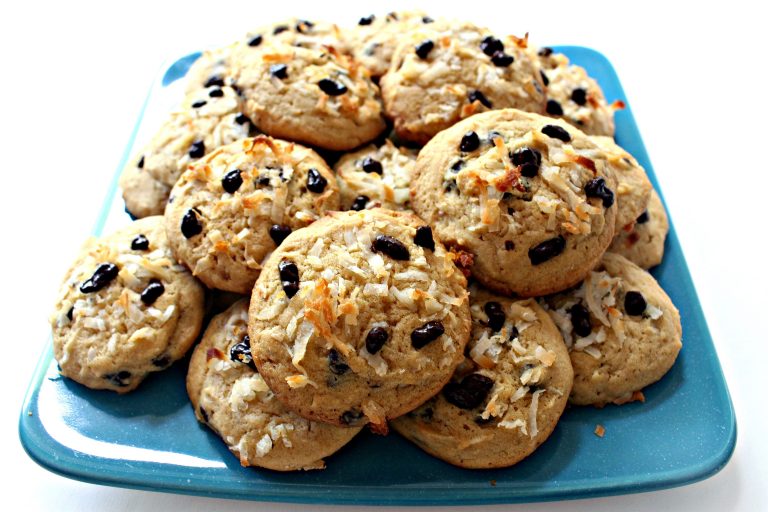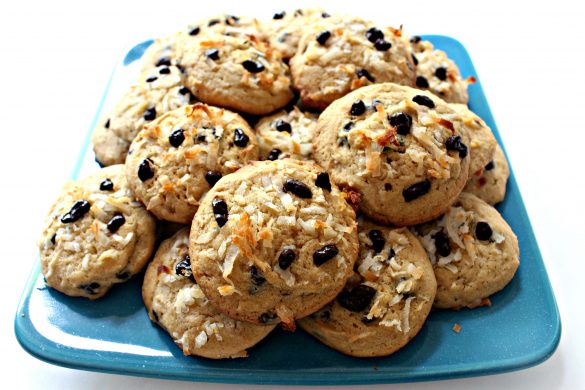 Coconut Milk Cookies are quick and easy to whip up (even if you make your own coconut milk)! No mixer is needed for this easy dough. Coconut lovers are sure to be delighted with each crunchy bite!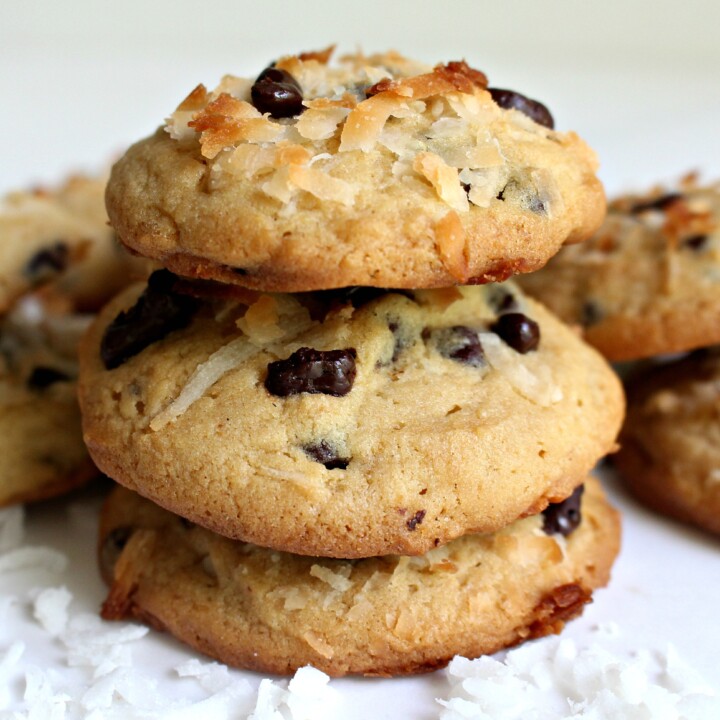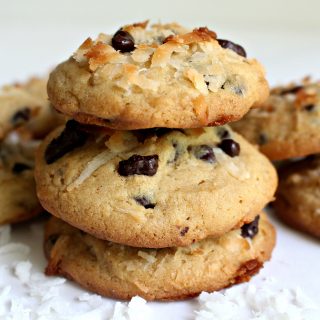 Coconut Milk Cookies
These crunchy cookies are inspired by Thai cookies called Tong Ek (Golden Cookies). Baking with coconut milk plus shredded coconut adds tropical coconut flavor and cacao nibs add crunch. These delicious cookies are ideal for every coconut fan!
Print
Rate
Adapted From:
"The Joy of Cookies" by Sharon Tyler Herbst and Milwaukee Journal (historic recipes 1967)
Ingredients
Cookies
1 ½

cups

all-purpose flour

1

teaspoon

baking powder

¼

teaspoon

salt

¾

cup

brown sugar

½

cup

unsalted butter

room temperature

2

egg yolks

1

teaspoon

vanilla extract

½

cup

coconut milk or coconut cream**

¾

cup

cacao nibs

or mini chocolate chips

¼

cup

unsweetened coconut

shredded
Topping
½

cup

unsweetened coconut

shredded

¼

cup

cacao nibs

or mini chocolate chips
Instructions
Preheat oven to 350 degrees F. Line a large baking sheet with parchment paper.

In a large mixing bowl, whisk together the flour, baking powder, salt, and brown sugar.

Cut in the butter with a fork, until the dough is crumbly like coarse meal.

Mix in the yolks, vanilla, and coconut milk.

Fold in the nibs (or chocolate chips) and coconut until evenly distributed.

Using a small (2 teaspoon)cookie scoop, place balls of dough on the prepared cookie sheet 1"-2" apart.

Top each coconut cookie dough ball with a pinch of shredded coconut and a few cocoa nibs (or mini chocolate chips).

Bake cookies for 12-14 minutes until golden brown.

Cool five minutes on the baking sheet before moving to a wire rack to cool completely.

Store in an airtight container at room temperature for up to one week.

**To make homemade coconut milk: In a small saucepan combine 1 cup of unsweetened shredded coconut with ½ cup of water. Bring to a boil. Remove from heat and allow the coconut to seep for 30 minutes. Strain out the shredded coconut through a sieve. To make coconut cream follow the same process using ½ cup of milk instead of water.
Notes
Turn these into a chocolate chip cookie by using mini semisweet chocolate chips instead of cacao nibs.
Sweetened shredded coconut can be used in place of the unsweetened for a slightly sweeter cookie. 
For more intense coconut flavor, add ½ teaspoon coconut extract.
If you love these cookies, you'll want to try Coconut Blondies, Coconut Pound Cake, and Coconut Milk Snack Cake.
Packing tips
For hot weather care packages, use only a sprinkle of coconut as the decoration on top of the cookies. Cacao nibs or chocolate chips might melt. However, the chocolate is fine inside the cookie.
Wrap small bundles of 2- 3 cookies, bottoms together, in plastic wrap. Stack the bundles in a column in a freezer weight zip lock bag or airtight storage container.
Nutrition
Calories:
83
kcal
|
Carbohydrates:
9
g
|
Protein:
1
g
|
Fat:
5
g
|
Saturated Fat:
3
g
|
Trans Fat:
1
g
|
Cholesterol:
15
mg
|
Sodium:
30
mg
|
Potassium:
23
mg
|
Fiber:
1
g
|
Sugar:
5
g
|
Vitamin A:
80
IU
|
Vitamin C:
1
mg
|
Calcium:
12
mg
|
Iron:
1
mg
I suggest using the left-over coconut milk in Coconut Milk Toffee Blondies or Coconut Milk Chocolate Chip Pound Cake!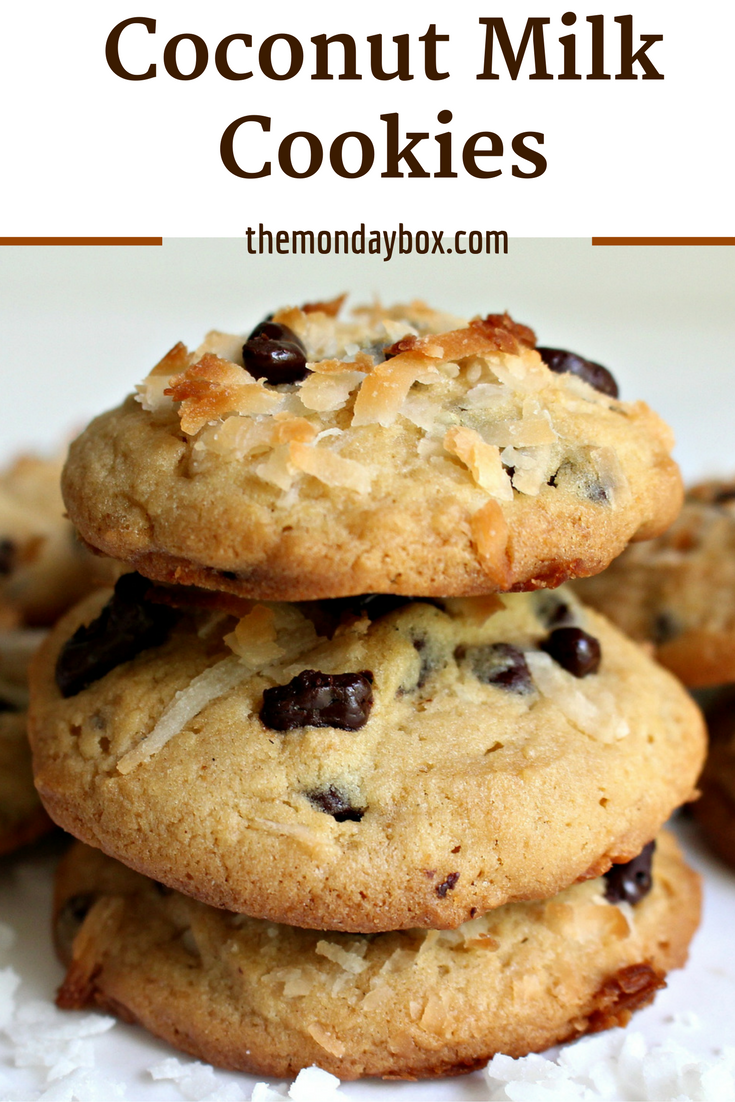 Coconut lovers have also enjoyed these recipes!
Save
Save
Save
Save